Celebrate the holidays in style with these easy and delicious patriotic cake truffles! The fluffy cake balls are coated in icing and chocolate and then topped with colorful sprinkles for a scrumptiously sweet treat.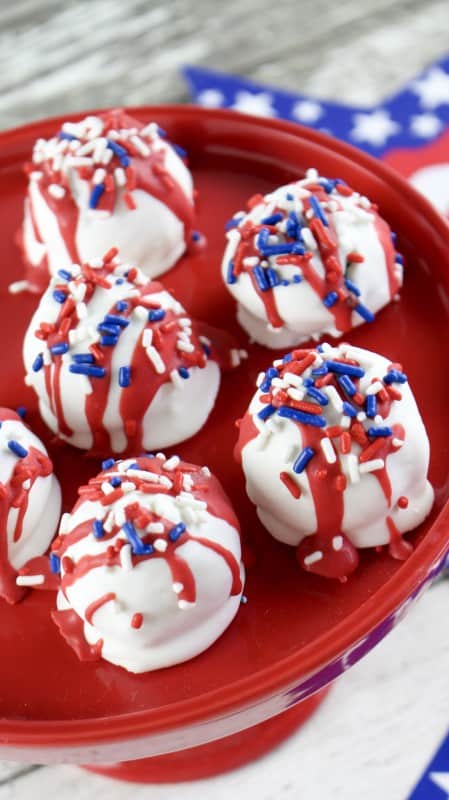 Cake truffles (also known as cake balls or cake pops) are all the rage with the younger crowd right now. Those of us in the older crowd are catching on quickly to how convenient little bites of cake with icing inside and chocolate coating really are.
Today I'm bringing you a great cake truffle recipe to whip up for your summer holiday celebration. These can be made a couple of days ahead of time (I'd keep them in the fridge) and they travel really well. They're also awfully pretty!
So, how do you make cake truffles? The first step is to use a cake mix to make the cake balls. Then we all lots of sweet layers, because one is definitely not enough. Our light and fluffy cake truffles are mixed with vanilla icing, covered with melted chocolate, and topped with colorful sprinkles. They're so sweet and scrumptious, just try and stop at just one cake truffle!
If you're looking for more patriotic treats, check out these blog posts: punch bowl cake, patriotic jello jars, patriotic cereal treats, and patriotic fortune cookies.
Don't let this photo fool ya, the ingredients are simple as can be and I'm showing you what you'd want if you decide to do a big variety. To keep it simple you can simply use white candy coating to dip them in and one type of patriotic sprinkle.
Recipe Ingredients
Cake mix (We are using blue raspberry cake mix, but any flavor will do. Red velvet cake mix would also be great).
White vanilla icing
Colored candy melts
Patriotic sprinkles
Ingredients to make the cake (see the cake box).
How to Make Patriotic Cake Truffles
Prepare your cake mix according to package directions and bake in a 9×13 baking dish until done.
Allow to cool and then crumble the cake up into a large bowl.
Add 1 cup of vanilla frosting and about 1/4 cup of patriotic sprinkles. Mix until well combined. Cover and refrigerate for 20 minutes.
Roll the cake mixture into 1-inch cake balls and place them on a wax paper-lined baking sheet.
Place candy melts in a bowl and microwave at 45-second intervals, stirring after each, until fully melted and smooth.
Dip each cake ball in one at a time and use a spoon to help cover it in the coating. Immediately sprinkle with patriotic sprinkles.
You can also drizzle them with a contrasting candy melt color if you like.
Allow them to harden completely before serving and store in the fridge for longer periods of time. Enjoy!
Storage
Guess what? You can store leftover cake truffles in an airtight container in the fridge for up to 2 weeks. I don't recommend freezing, but luckily they last so long! This is why they also make great party gifts.
Recipe Notes
You can use any kind of cake mix, like chocolate cake mix, yellow cake mix, funfetti cake mix, or red velvet cake mix. You can even make a homemade cake if you like (here's my easy pound cake recipe).
Another option is to use a different flavor of frosting, like chocolate cake and chocolate frosting.
Instead of sprinkles, you can decorate your cake truffles with rainbow jimmies, melted dark chocolate, coconut flakes, cookie crumbs (like crushed Oreos), or chopped nuts of your choice.
Add a teaspoon of flavoring to the melted chocolate, like almond extract, peppermint extract, or vanilla extract.
You can totally double this recipe by baking two cakes and then having extra decorations on hand.
To make them into cake pops, dip a lollipop stick into the melted chocolate, then poke it into the cake truffle, and then dip the whole cake truffle into the melted candy.
Instead of rolling into cake balls, use different shaped cookie cutters to make different shaped cake truffles!
For dipping, you can use melted chocolate like semi-sweet milk chocolate chips, white almond bark, or candy melts as I did.
Check out these other fun bite-sized treats:
Oreo Cookie Balls (3 Ingredients Only)
Chocolate Peanut Butter Balls (No Baking Necessary)
Coconut Macaroons Recipe (3 Ingredients Only)