This is probably one of the easiest recipes you could whip up, perfect for breakfast, game day, appetizers, or just a good hearty snack!
~If you want to hop right to the recipe, just scroll down until you see my ingredients photograph. If you'd like to visit a spell, keep reading~
I just got back from a very busy (and fun) weekend with Katy and her dear friend, Sara Jane. We spent a few days in Knoxville at a My Little Pony Convention there, and did a little Tennessee jetsetting as well.
First a word about "PonyCon" or any other (insert word here)Con. I wanted to offer a few words of caution to parents who may not know…. just because your child tells you that they want to go and it has something to do with an animation/television show/movie that they and/or other kids watch, do NOT assume it is a family friendly event. I repeat, do NOT assume. If anything, I'd go with the way some courts run nowadays and assume guilt until proven innocent. Many "cons" are iffy at best and even those that aren't as "iffy" have to be attended at judicious times of day when traveling with children.
However, My Little Pony Cons do tend to be much more child friendly, mainly, I think, due to the nature of what My Little Pony is and the virtues it represents. Super Speedy Cider Con was an excellent example of this and my girls were treated with the utmost reverence, kindness, and attention throughout our whole weekend. In short, while this event was attended primarily by adults (as most of them are) children were treated as most honored guests.
We headed up to Knoxville Friday morning, with the girls watching Aladdin and Tomorrowland on the way and me listening to my Kirk Franklin via ear buds. Katy and Sara Jane had kindly asked me to "please not play that music" and I had to get my fix somehow. I am at odds with my entire family in my musical selection and have been for years. Ricky listens to Christian pop, Brady is currently going through a seventies and eighties band phase, I am more of a Kirk Franklin/Lecrae type gal, and Katy's current favorite song is this:
So yeah, I cranked up the Kirk Franklin via earbuds and we blasted off to the great state of Tennessee, where I may or may not have a future cabin on top of a remote mountain waiting for me.
Once there, the girls had to get all dolled up. And by all dolled up, I'm talking this:
During the course of conversation I discovered that Sara Jane had NEVER been to Pigeon Forge. Since this is one of my favorite places for fun, I felt obligated to right this terrible wrong so we all piled back in the car and took the semi-short drive in order to ride bumper boats, go carts, and take in a dinner show.
Note: I rode a go-cart. This is not something I would normally do because, in our marriage, stuff like that is Ricky's job. But I am often inconvenienced when I travel without my counterpart, and this was no different. I didn't scream (much) and Katy said I even did a good job! ~pins gold star on self~
I did not ride bumper boats as there is a limit to my willingness to step out on that limb and that limit usually begins at water's edge. Oh I can swim and all that, and it's not like the water was deep, but I'm more cat like when it comes to my lack of appreciation for water based activities beyond showers and baths. However, I did photograph the girls so that still counts as participating in my book – and since I'm the one writing my book we're all good.
The dinner show we went to is one Katy said Sara Jane just HAD to see. SJ was not really excited about it because she thought a dinner show was going to be boring. I've only been to three dinner shows in my life, though, and I have to say this one is the least boring of them all. The girls were grinning, laughing, clapping, and dancing in their seats the whole time and we all had a blast there. It was the Hatfield & McCoy Dinner Show and I'm always impressed with the good food, wonderful entertainment, and how I get a little choked up at the end where they pull God and His will into the storyline as a means of tying up the loose ends and bringing about the happy ending.
It was the perfect happy ending to our weekend, to be sure. I'm so grateful Katy has a friend like Sara Jane. You can see more photos on my instagram if you'd like, including the blue egg one of my hens laid yesterday! 🙂 Click here for that.
Now, lets make us some sausage pinwheels!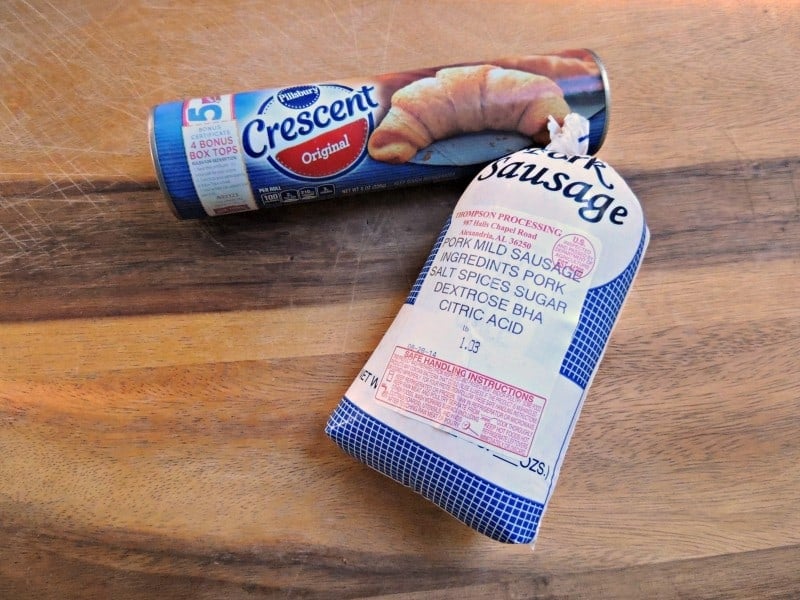 You'll need an 8 ounce can of crescent rolls and about a 1/2 pound of breakfast sausage.
Note: We only use turkey sausage now. I love the Jennie-O Brand.
Roll out your dough onto a lightly greased surface and press the seams together to seal them.
Spread your sausage over the dough, leaving about 1/2 inch edge all around. Roll that up as if you're making cinnamon rolls, pressing the roll together a bit as you do so.
Cut it into about 12 slices. Some folks swear by using dental floss or thread to cut these slices but I've honestly just never seen a problem with using a knife and that seems the simplest solution to me so that is what I go with.
Place slices about an inch or so apart on a greased baking sheet and bake at 350 for 15-17 minutes, or until golden brown.
ENJOY!
Ingredients
1

can Crescent Rolls

1/2

pound

roll turkey breakfast sausage

Mild or Hot
Instructions
Roll out crescent roll dough onto lightly greased surface (I use a baking sheet or cutting board). Press seams together.

Spread sausage with a knife all over top of dough, leaving about 1/2 inch space free on the edges all around.

Roll up dough cinnamon roll style, pressing together as you do so.

Cut into 12 slices. Place on greased baking sheet, about an inch apart to allow for expanding, and bake at 350 for 15-17 minutes, or until golden brown.
Looking for a delicious and healthy breakfast recipe? Check out my Overnight Apple Pie Oatmeal!
Those who guard their mouths and their tongues keep themselves from calamity.
~Proverbs 21:23

Yum