This sausage pinwheels recipe is probably one of the easiest recipes you could whip up. It is perfect for breakfast, game day, appetizers, or just a good hearty snack!
When I have taken these to parties people have hemmed and hawed about how good they look and taste. Those that have made them though, know the secret. It's only two ingredients!
~If you want to hop right to the recipe, just scroll down to the recipe card. But if you want to see the step by step instructions for this sausage pinwheel recipe just scroll a little slower to see how easy it is to make these beauties.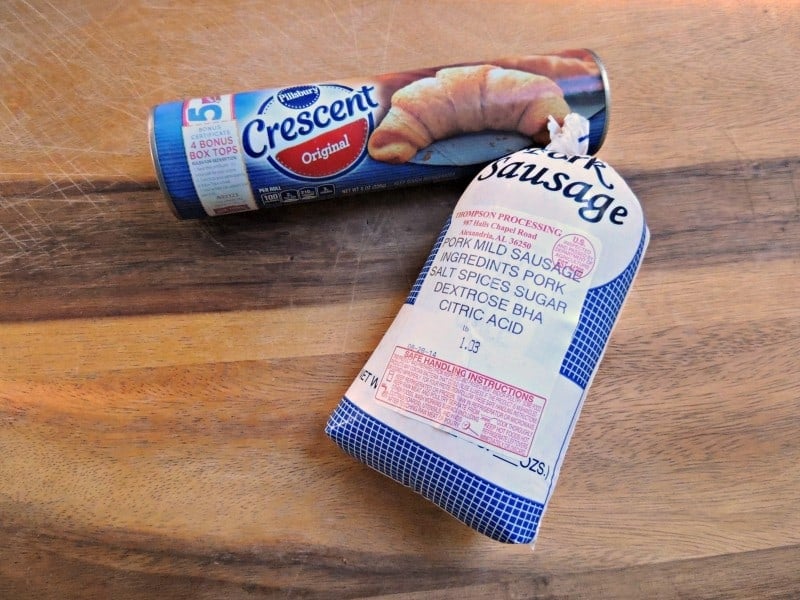 Recipe Ingredients
You'll need
An 8 ounce can of crescent rolls
About a 1/2 pound of breakfast sausage.
How to Make Sausage Pinwheels
Roll out your dough onto a lightly greased surface and press the seams together to seal them.
Spread your sausage over the dough, leaving about 1/2 inch edge all around.
Roll that up as if you're making cinnamon rolls, pressing the roll together a bit as you do so.
Cut it into about 12 slices. Some folks swear by using dental floss or thread to cut these slices but I've honestly just never seen a problem with using a knife and that seems the simplest solution to me.
Place slices about an inch or so apart on a greased baking sheet and bake at 350 for 15-17 minutes, or until golden brown.
Now it can't get much easier than that y'all…ENJOY!
Ingredients
1

can Crescent Rolls

1/2

pound

roll turkey breakfast sausage

Mild or Hot
Instructions
Roll out crescent roll dough onto lightly greased surface (I use a baking sheet or cutting board). Press seams together.

Spread sausage with a knife all over top of dough, leaving about 1/2 inch space free on the edges all around.

Roll up dough cinnamon roll style, pressing together as you do so.

Cut into 12 slices. Place on greased baking sheet, about an inch apart to allow for expanding, and bake at 350 for 15-17 minutes, or until golden brown.
Nutrition
You may also like these recipes:
Caramel Apple Puff Pastry Pinwheels
Game Day Spread In A Wink with Tyson®!
Those who guard their mouths and their tongues keep themselves from calamity.
~Proverbs 21:23