Sausage Pinwheels Recipe (Made With Just Two Ingredients)
This is probably one of the easiest recipes you could whip up. Made with just two ingredients, these flavorful sausage pinwheels are perfect for breakfast, game day, appetizers, or just a good hearty snack.
Now, when I say this is one of the easiest recipes to make, I mean it. See, these easy sausage pinwheels are made using just two ingredients: breakfast sausage and a can of crescent rolls. All you have to do is roll out the dough, add the sausage, cut it into appetizer-sized pieces and bake in the oven. 15 minutes later, your crispy sausage pinwheels are ready to eat!
When I have taken these to parties people have hemmed and hawed about how good they look and taste. Those that have made them though, know the secret (that it only takes two ingredients to make them).
The best part is, this sausage pinwheels recipe is so versatile you can easily add more ingredients. Sprinkle the sausage with your favorite seasoning, top with some shredded cheddar cheese, or add some heat with a can of diced green chilis.
If you're looking for more amazing appetizer recipes to make for the next game day, check these out: cranberry orange meatballs, stuffed zucchini boats, Southern salmon patties, and Chipotle copycat guacamole.
If you want to hop right to the recipe, just scroll down to the recipe card. But if you want to see the step-by-step instructions for this sausage pinwheel recipe just scroll a little slower to see how easy it is to make these beauties.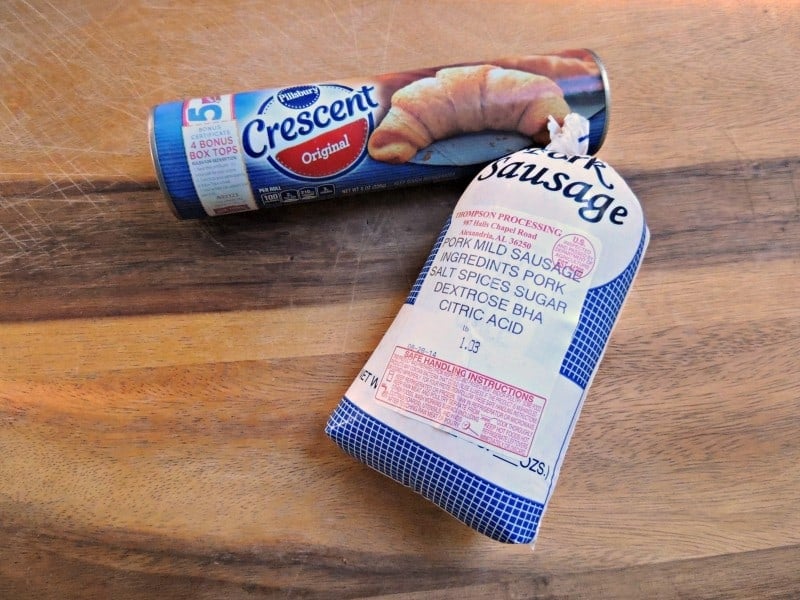 Recipe Ingredients
You'll need
An 8-ounce can of crescent rolls
About a 1/2 pound of breakfast sausage
How to Make Sausage Pinwheels
Roll out your crescent roll dough onto a lightly greased surface.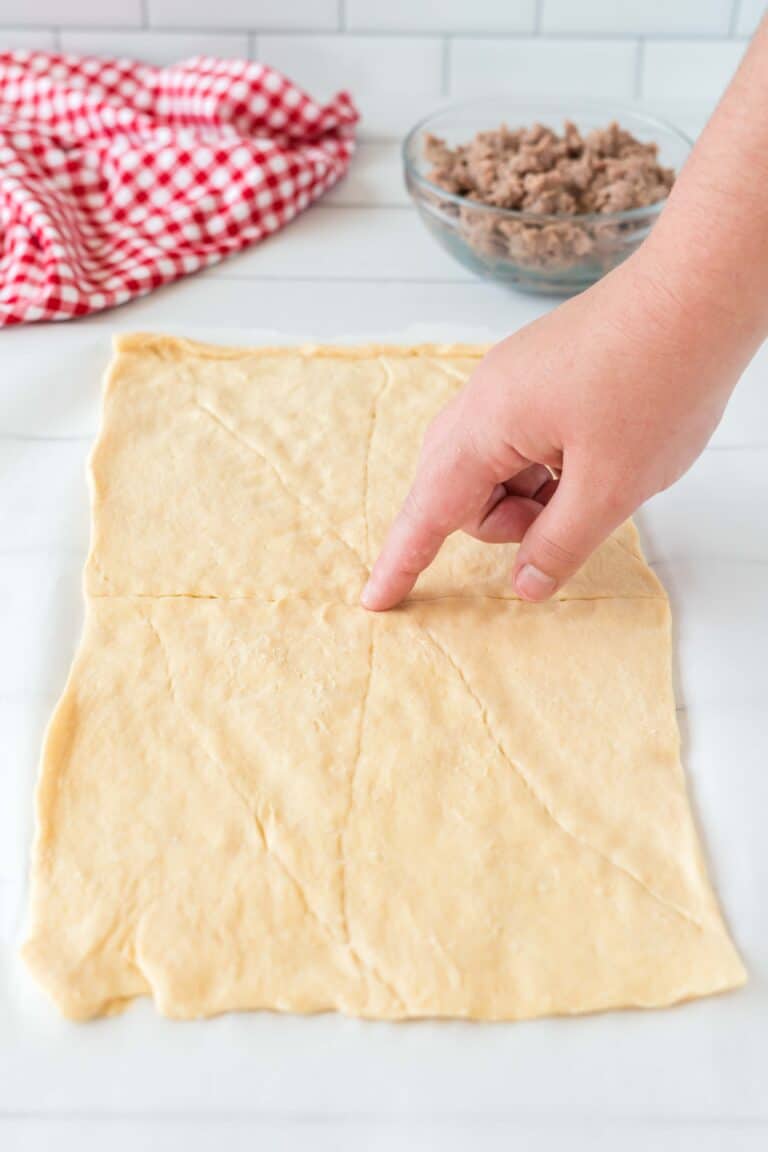 Press the seams together to seal them.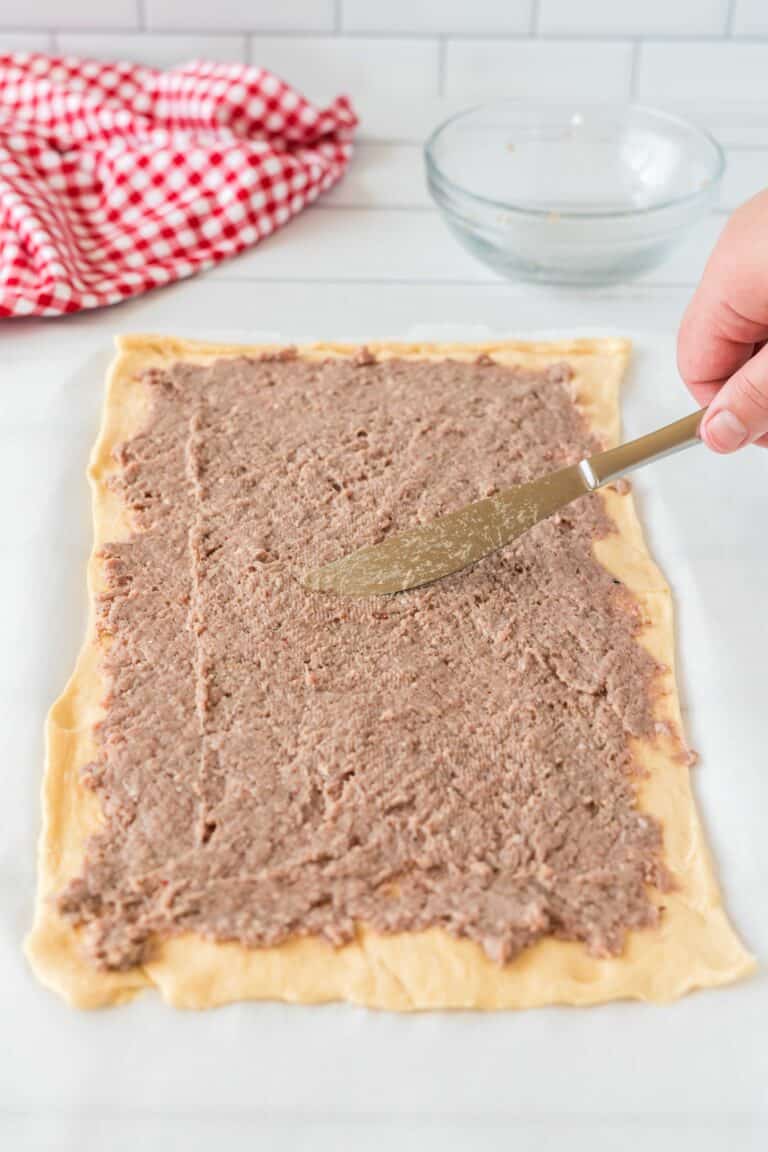 Spread sausage over the dough, leaving about 1/2 inch edge all around.
Roll that up as if you're making cinnamon rolls, pressing the roll together a bit as you do so.
Cut it into about 12 slices.
Some folks swear by using dental floss or thread to cut these slices but I've honestly just never seen a problem with using a knife and that seems the simplest solution to me.
Grease or line a cookie sheet with parchment paper. Then place sausage roll slices about an inch or so apart and bake at 350 for 15 to 17 minutes, or until golden brown.
Now it can't get much easier than that y'all…ENJOY!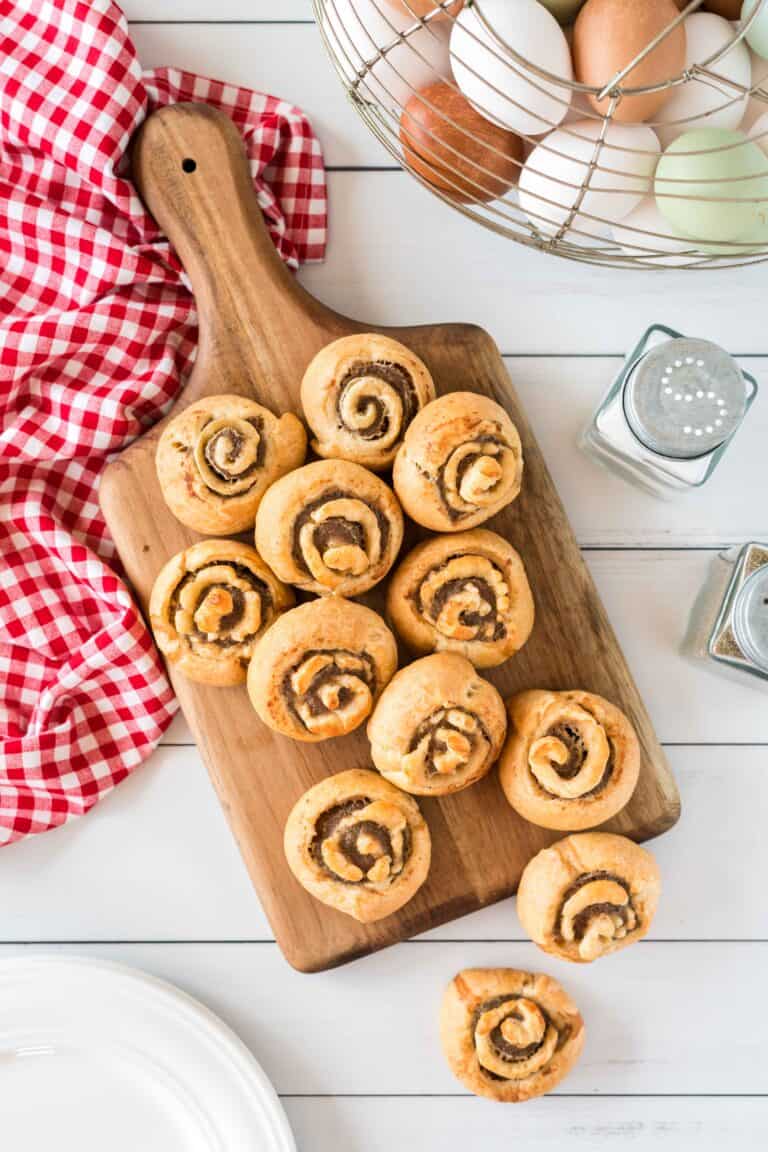 Storage
Store leftovers in an airtight container in the fridge for up to three days. To reheat, bake them again for about five minutes.
You can also store leftovers in an airtight container in the freezer for up to three months. Once thawed, reheat them in the oven.
Recipe Notes
Add your favorite seasonings to this recipe, like onion powder, oregano, or garlic powder.
Add finely diced red pepper for crunch or green onion for flavor.
Opt for Italian seasoning and then serve your pinwheels with a marinara dipping sauce. You could also go one step further and use Italian pork sausage too.
If you need more heat, add a can of diced green chilis to the sausage mixture

and opt for a

.
You can sprinkle a cup of shredded cheddar cheese

or

over the turkey sausage before rolling. Alternatively, mix the sausage with softened cream cheese (8-ounce packet) before spreading it onto the dough.
Instead of the crescent dough, you can use a sheet of puff pastry and follow the same instructions.
Recipe FAQs
Can I make the pinwheels in advance?
Yes, you can make the dough up to a day in advance and place the cut pieces in the fridge. When it's time to cook, simply put them on the baking tray and follow the cooking instructions. You could also store the baked and cooled pinwheels in the fridge and then reheat in the oven.
You may also like these recipes:
Caramel Apple Puff Pastry Pinwheels
Game Day Spread In A Wink with Tyson®!
Sausage Biscuit with Cheese Southern Style
Peaches and Cream Cornbread with Maple Sausage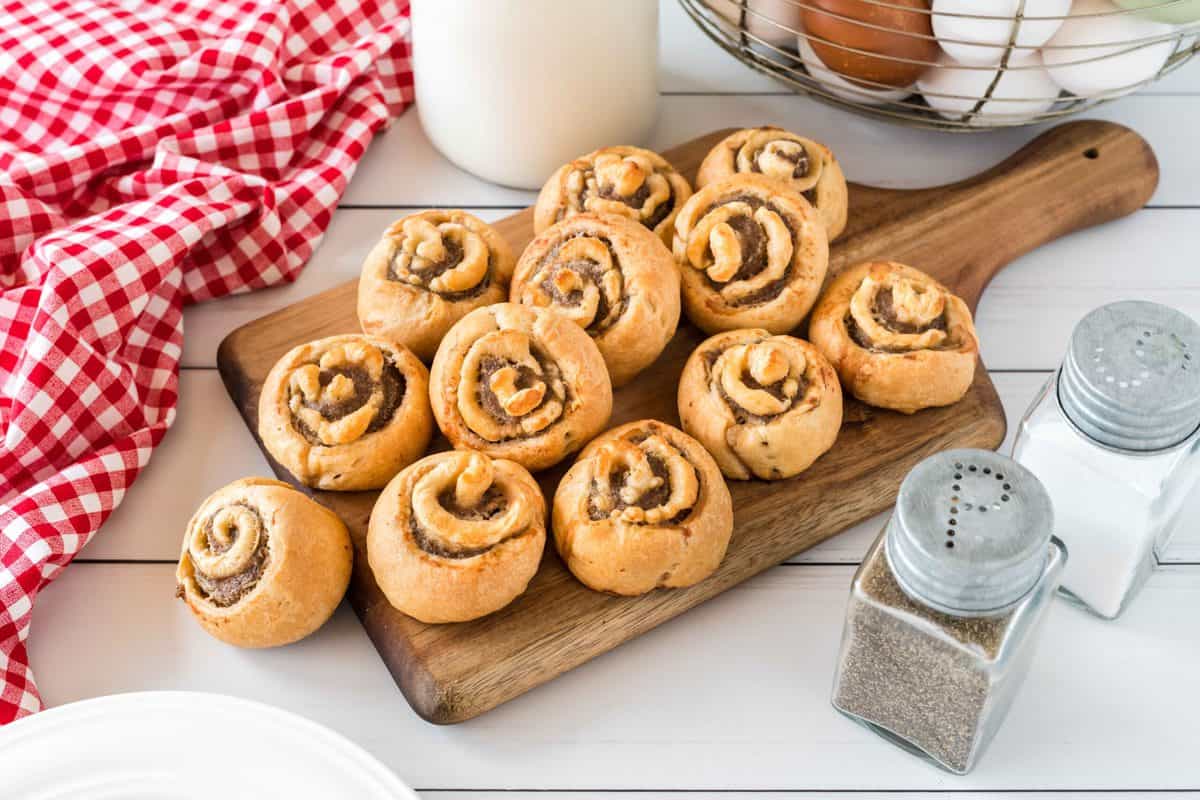 Ingredients
1

can crescent rolls

1/2

pound

roll turkey or your favorite breakfast sausage

mild or hot
Instructions
Roll out crescent roll dough onto a lightly greased surface (I use a baking sheet or cutting board). Press seams together.

Spread sausage with a knife all over the top of the dough, leaving about a 1/2-inch of space free on the edges all around.

1/2 pound roll turkey or your favorite breakfast sausage

Roll up dough cinnamon roll-style, pressing together as you do so.

Cut into 12 slices. Place on a greased baking sheet, about an inch apart to allow for expanding, and bake at 350 for 15-17 minutes, or until golden brown.
Nutrition
Those who guard their mouths and their tongues keep themselves from calamity.
~Proverbs 21:23