Southern Biscuit Recipe (3 Ingredients Only)
Crafted with a mere trio of essential ingredients, this timeless Southern biscuit recipe stands as an enduring cornerstone of Southern culinary tradition. These biscuits, embodying a perfect fusion of simplicity and flavor, hold a cherished place in Southern households. Soft, fluffy, and undeniably delectable, they transcend the boundaries of mealtime, seamlessly transitioning from a morning indulgence to a savory accompaniment for dinner.
Each bite carries with it a taste of Southern heritage, a testament to the art of Southern comfort food. The simplicity of the ingredients belies the rich and comforting flavors that emerge from the oven. Tender and buttery, they exude a warmth that envelopes the senses. Slathered with butter or adorned with gravy, these biscuits become a canvas for a multitude of culinary delights, adapting effortlessly to various accompaniments. These flaky butter biscuits go perfect so many types of soups like Creamy Vegetable Soup, Homemade Cream of Chicken Soup Recipe, Vegan Butternut Squash Soup, and Olive Garden Chicken Gnocchi Soup
Ingredients To Make Homemade Biscuits
(self-rising)
Shortening
Milk or buttermilk
Helpful Kitchen Tools
How to Make This Classic Southern Biscuit Recipe
Place the flour into a medium bowl and add the shortening. Cut in with a fork or pastry cutter.
It will look like this when you are done.
Not incredibly different but you won't be able to really see the shortening anymore once it is incorporated into the flour.
Most recipes will tell you to cut the shortening into the flour until it resembles peas. I've never, in my life, seen peas that look like this, or a flour/shortening mixture that looked like peas. It must have been a high imagination day when that analogy was thought up.
Add in your milk.
Stir that milk in until your dough starts to stick together good.
Sprinkle flour onto a surface. I like to lay out a piece of parchment paper and sprinkle it on top of that for easy clean-up later.
Dump your biscuit dough out onto the floured surface.
Now you need to knead it.
However, you don't want to over-knead it or you'll end up with my Daddy's hockey pucks.
I tell my kids "In biscuits, as in relationships, it's never good to be too kneady." LOL
Then, I cut your Southern biscuits.
Cut your biscuits with a biscuit cutter or small glass that has been dipped into flour to keep the cut biscuits from sticking to it.
Spray a baking sheet with nonstick cooking spray and place your cut biscuits in it, making sure the sides touch. This helps them to rise because they support each other as they bake and rise up.
I tell my kids "You want them touching because biscuits are like good friends, they help each other rise up."
Bake these at 500 for 8-10 minutes, or until golden brown on top.
Remove from oven and brush tops of these classic southern biscuits with melted butter, if you'd like. Enjoy all the delicious flaky layers.
How To Store Homemade Biscuits
Store leftover biscuits in an airtight container at room temperature for up to 3 days. Reheat in a low oven or in the air fryer.

You can also freeze the baked biscuits or unbaked

for up to 3 months. Thaw both the

and

overnight in the fridge before reheating as above or following the

instructions.
Recipe FAQs
Why does the recipe have such a large range for how much milk to use?
Sometimes, your flour will need a little more, sometimes a little less. I could have used a little more in this tutorial but it'll turn out just fine. Biscuits are really hard to mess up, so if yours end up a little dry, no worries, they'll still be delicious! They'll actually absorb honey and butter a little better. My daddy used to make hockey puck biscuits on Sunday morning but they still tasted good and we gobbled 'em all down! What's even better, if there were any left we could use them as weapons on each other out in the backyard. Always a plus side!
How do I avoid over-kneading my Southern biscuit dough?
To avoid over-kneading, I press my dough into a ball and then press it out flat. I do this no more than two or three times. The dough should still stretch. If it rips or tears then it's probably over kneaded. So once the dough is soft and springs back a little, it's done.
Can I Create Any Variations With This Recipe?
Here are some fun variations to make with this Southern biscuit recipe:
For a savory alternative, add shredded cheddar cheese, chopped chives, or chopped bacon to your dough.
For sweet, sprinkle some cinnamon and sugar into your dough.
To make a scone-like biscuit, add dried fruits.
What Can I Serve With These Biscuits?
These fluffy biscuits pair best with your favorite Southern comfort food or toppings. This might be fried chicken, sausage gravy, pimento cheese dip, or bacon, egg, and cheese for the ultimate breakfast sandwich.
You may also enjoy these other Southern biscuit recipes: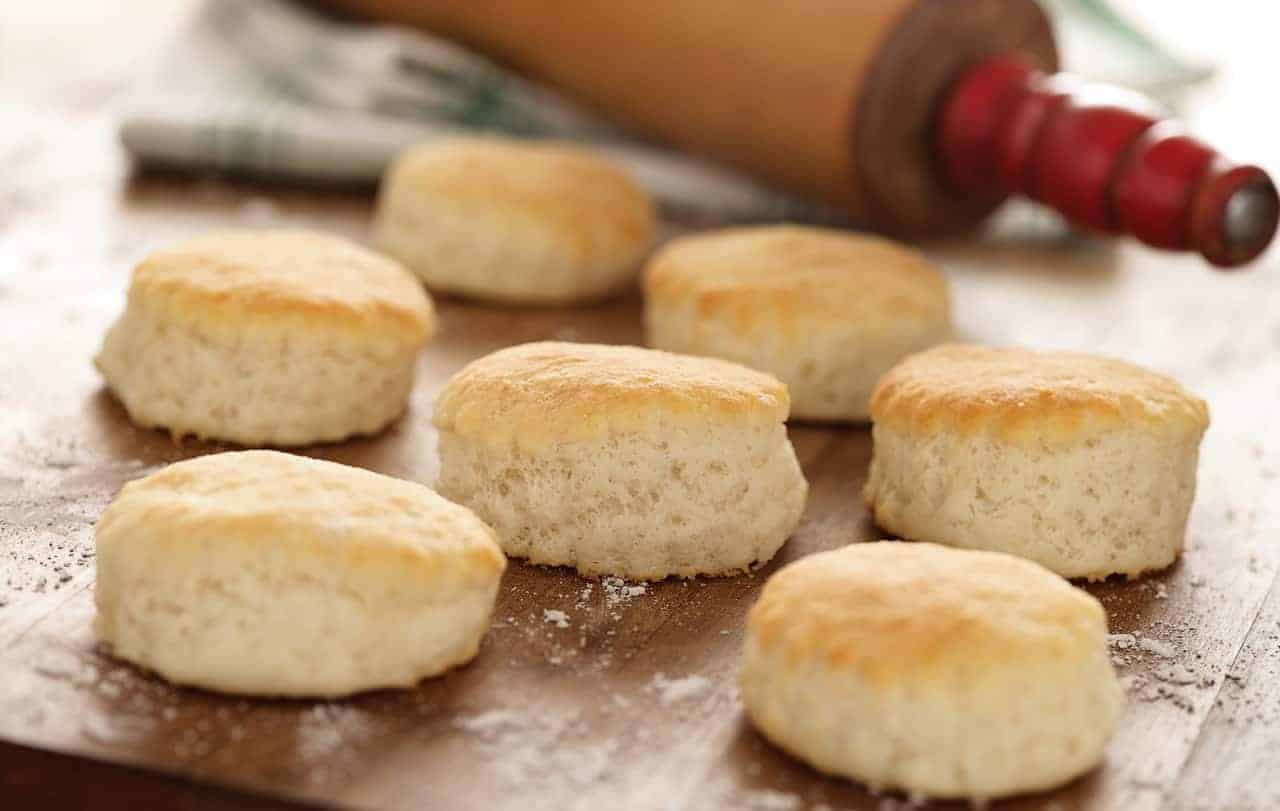 Ingredients
2

cups

White Lily self-rising flour

see notes if using all-purpose flour

1/4

cup

shortening

2/3-3/4

cup

milk
Instructions
Preheat your oven to 500 degrees and lightly spray a baking sheet with cooking spray.

Place flour into a medium bowl and cut in the shortening until well incorporated. Stir in just enough milk until the dough leaves the sides of the bowl.

2 cups White Lily self-rising flour,

1/4 cup shortening,

2/3-3/4 cup milk

Turn dough out onto a lightly floured surface. Gently knead two or three times. Roll dough out to 1/2-inch thickness and cut with a biscuit cutter or small glass that has been dipped in flour. Place the biscuits onto the prepared baking sheet.

Bake for 8-10 minutes, or until golden brown.
Notes
If using all-purpose flour, combine two cups of flour, 1 tablespoon of baking powder, and one teaspoon of salt before cutting in shortening. Follow the rest of the directions as written.
Nutrition
Who taught you how to make biscuits? Who made the biscuits in your family? Maybe you've never had a biscuit or to you, a "biscuit" is what we think of like a cookie – that's just fine, too.
Share a memory with us in the comments on this post.