Stuffed Peppers With Ground Turkey or Beef
This stuffed peppers with ground turkey recipe is a quick and easy gluten-free weeknight supper option that tastes absolutely delicious!
This is my mother's recipe for stuffed peppers with ground turkey or beef and boy are they good. A meal in and of itself, stuffed peppers are classic comfort food, no matter which way you look at it. This stuffed peppers recipe is so simple and uses mostly pantry staples. Plus, it's gluten-free!
To make life even easier, you can make these ahead of time right up to the point of putting them in the oven. Simply cover the turkey stuffed peppers with foil or cling wrap and refrigerate until you're ready to bake them. This would be a great meal to prep on Sunday for a busy night later in the week. Quick, easy, delicious – what more could you want, right?
Recipe Ingredients
Tomato soup
Cheese
Chili powder
Chopped garlic
Cooked rice
Onion
Ground turkey or ground beef
Peppers
Salt and black pepper
Begin by filling a pot deep enough to submerge the peppers in with water and add a teaspoon of salt. Put this over medium-high heat and bring it to a boil while you prepare the filling.
Peel and chop your onion.
Place your onions and garlic in a skillet. Cook over medium heat until onion is lightly browned.
Normally you would add your ground meat along with this and cook until browned, but I usually pre-brown my ground beef and freeze it so it is already cooked.
When those get cooked a bit, move on to the next step.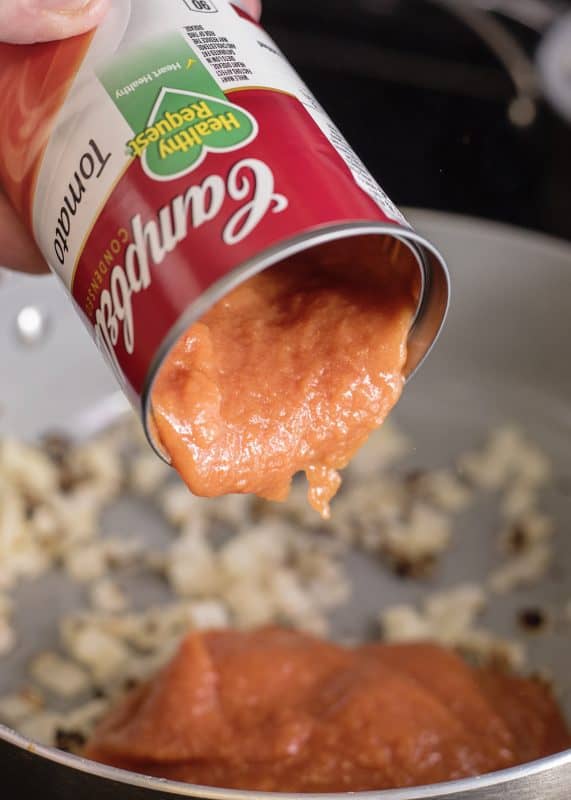 Add in tomato soup.
Did y'all see that post I did on Simple And Delicious Tomato Soup?
Add in cooked ground turkey or beef…
Stir in all of your seasonings and your cooked rice.
Stir it up a bit. Reduce heat to low and let simmer for about ten minutes.
Meanwhile, rinse your bell peppers under water and cut the tops off.
Use a spoon to scoop out the seeds.
Drop them in the boiling water and boil them for about five minutes.
Carefully remove with tongs.
Stir cheese into the ground turkey or beef and rice mixture.
Spray an 8×8 baking dish with cooking spray.
Place peppers inside and stuff with beef or turkey mixture.
Top with additional shredded cheese and place in a 350-degree oven for ten minutes.
When I make stuffed peppers, that's supper! Nothing else needed.
ENJOY!
Recipe Notes
You can easily swap the rice for quinoa in this stuffed pepper recipe for something different. For a lower-carb option, try frozen cauliflower rice.
To make this recipe even lighter, use less cheese or replace it with reduced-fat cheddar cheese.
If you're making this recipe around the holidays, you can also swap the lean ground turkey for leftover roast turkey.
If you want to just prepare the filling in advance, you can store it in an airtight container in the fridge for two days or in the freezer for up to three months.
Storage
You can store leftovers in an airtight container in the fridge for up to four days.
Recipe FAQs
What do you serve with stuffed peppers?
While they're great on their own, I also think they taste great when served with salad. For some tasty salad options, check out this tomato, onion, and cucumber salad, summer corn salad, or my favorite Greek salad.
Ingredients
1

lb

ground turkey or beef

1

small onion

chopped

1

tsp

chopped garlic

2

tsp

chili powder

1

tsp

salt

1/2

tsp

pepper

1

can tomato soup

1

cup

cheddar cheese

plus more to sprinkle on top

1

cup

cooked rice

4

medium-sized bell peppers
Instructions
Fill a large pot with water. Add a teaspoon of salt and set over medium high heat to bring to a boil.

Chop onion. In a large skillet, brown hamburger meat, chopped onion, and garlic until hamburger meat is browned. Drain off grease. Add spices, soup, and rice to the beef mixture. Stir well. Simmer for ten minutes.

While that is simmering, wash peppers and remove tops. Scoop out seeds with a spoon. Drop bell peppers into boiling water and boil for five minutes. Carefully remove with tongs.

Spray 8x8 pan with nonstick cooking spray. Place peppers upright inside. Add one cup cheese to beef and rice mixture and stir until melted. Spoon into peppers. Top with additional cheese.

Bake at 350 for ten minutes.
Video
Nutrition
You may also like these stuffed recipes:
Cornbread Stuffed Bell Pepper Rings: National Cornbread Finalist Recipe!
Low Carb Lasagna Stuffed Chicken