Growing up, we always loved Mama's Hamburger Steaks recipe with fried onions. There was nothing like coming home and smelling the onions bubbling in the pan with the generous hamburger steak patties and knowing we were in for a hearty and delicious supper.
Simple and Affordable Recipe
This is a simple recipe and uses the family favorite: ground beef. You know, in the age where we have entire networks devoted to nothing but food, we have surprisingly few tv peeps using ground beef. This is all good and well, of course, but sometimes I think the food channels have greatly overestimated our grocery budgets :).
I try to bring you ground beef recipes every so often because I know how much I rely on it in budget-friendly main courses. Don't confuse this with a Salisbury steak. In a little over 30 minutes is all it takes to make these burgers.
Recipe Ingredients:
Ground beef (or chuck, or lean ground beef)
All purpose flour (but self rising will work just as well for this. Almond or coconut flour is an option too if you are gluten free. Almond flour is especially good if you are watching your carbs)
Beef broth (or water as a substitute)
A Sweet onion (such as vidalia)
If you like, you can also season your ground beef with some seasoned salt or whatever else you're in the mood for.
How to Make Hamburger Steaks – Step by Step Instructions
Shape your hamburger patties into doughnut shapes.
Help your Hamburger Steaks cook evenly with this technique
The reason we shape them into doughnut shapes (which you don't have to do, of course) is that it helps the meat to cook more evenly and as they cook and shrink up that hole gets filled up anyway.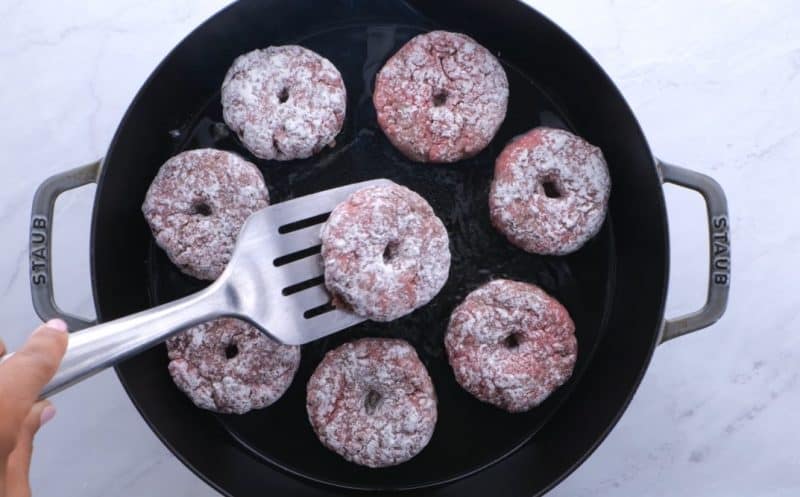 Take your hamburger patties and dip each side in the flour. Toss with flour to coat. The flour acts as a binder but also gives a crispier version of the burger when done.
Add those patties to a skillet which is on medium heat.
NOTE: You may want to add a tablespoon or two of oil to the skillet and let it heat beforehand if you have a really low fat ground beef (such as lean ground beef or ground chuck) or if your nonstick skillet isn't quite as nonstick as it used to be.
Let those brown a few minutes on each side.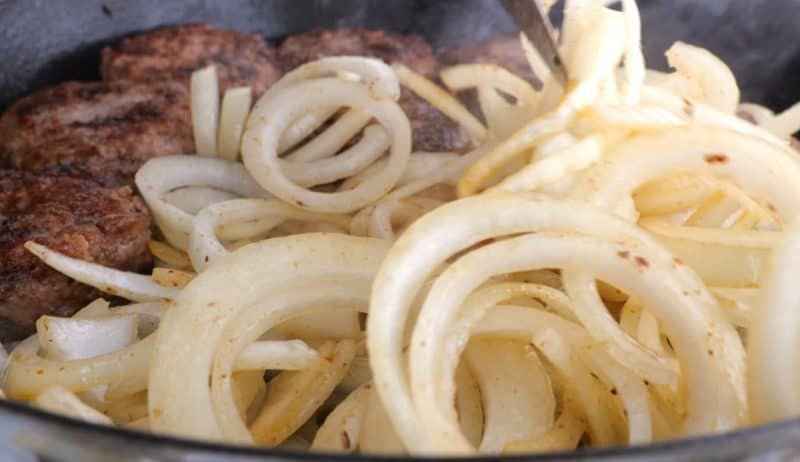 Then add your sliced onions to the pan.
Cook those until they start getting a bit soft and brown on the edges.
At this point you can drain off and discard the grease if you like.
Now pour in your beef broth (or water). I'm only using about a cup here.
Cover and let cook for another ten minutes or so, until your patties are cooked completely through and no longer pink in the center.
When your Hamburger Steaks are done they'll look something like this picture above.
Now I like to scoop out my Hamburger Steaks and then get my onions out with a slotted spoon to serve.
Recipe FAQs
What is a hamburger steak?
Hamburger steaks are a hamburger patty that gets dredged in flour, and then pan fried. You will find it creates a light crust on the burger, that I then paired with sauteed onions. This is such an easy and delicious dinner great for any night of the week.
What can I serve with these?
Not sure what to serve with your hamburger steaks? Reach for a side of mashed potatoes, toss in some mushrooms with onions, egg noodles, coleslaw, potato salad, etc. Make up a brown gravy to drizzle over the top!
How to store leftovers?
If you don't eat all your hamburgers, go right ahead and store in the fridge for 1-3 days. Then when you go to reheat you can warm up in the microwave or even in a skillet on the stove. Just know that over-heating can cause the burgers to dry out a bit.
Can I make ground turkey burgers instead of ground beef?
Go right ahead and use a ground turkey to make burgers in replace of beef. You might need to add a little oil into the pan to help prevent the burgers from burning. Turkey is a lot leaner of a meat than beef is.
Ingredients
Ground Beef

can use lean, ground chuck, etc

1

Cup

Beef Broth

All Purpose Flour

Vidalia or other sweet onion

sliced
Instructions
Heat one or two tablespoons of oil in a large nonstick skillet. Press ground beef into doughnut shaped patties (the hole in the center will allow it to cook more evenly and will fill in as they shrink during cooking). Dip each patty into flour on both sides and place in hot skillet over medium heat. Cook for a few minutes on each side, until browned. Scoot patties to one side and add onions to skillet. Stir and cook for a few minutes until lightly browned. Pour in 1 cup beef broth and cover. Allow to cook until meat is no longer pink in the center, about ten minutes.
Nutrition
Lots of us have little tips and tricks we use when making Hamburger Steaks.
I'd love to hear your ideas in the comments below!
You may also like these potato side recipes:
Optimist: Someone who isn't sure whether life is a tragedy or a comedy

but is tickled silly just to be in the play.

~Robert Brault

Submitted by Jenny. Submit your quote by clicking here or read others!