Sloppy Joes were one of my Mama's favorite weeknight suppers for busy days and I've always loved them. I have my skillet Sloppy Joe recipe on here already (click here) but this Slow Cooker Sloppy Joes recipe is what I use on those days where I don't have time to brown my beef so I just throw it all in the slow cooker. Yup, you don't even have to cook the beef (as long as you use lean ground chuck)! Toss it in, turn it on. Supper is ready when you are.
Now let's make some Slow Cooker Sloppy Joes.
To make Slow Cooker Sloppy Joes you'll need: Diced tomatoes, Ketchup, Mustard (maybe), BBQ Sauce, and Sweet Relish.
And also some LEAN Ground Chuck, buns, and whatever you want to serve with your Sloppy Joes.
Note : A lot of this stuff is optional and you can easily customize this. You might want to add chopped onion, garlic, omit the mustard, etc. You really need to use the ketchup, bbq sauce, and tomatoes, but other than that knock yourself out playing with it.
And I really like to add a tablespoon or so of these puppies.
They aren't enough to make it hot, but it is enough to give it a weeee little kick.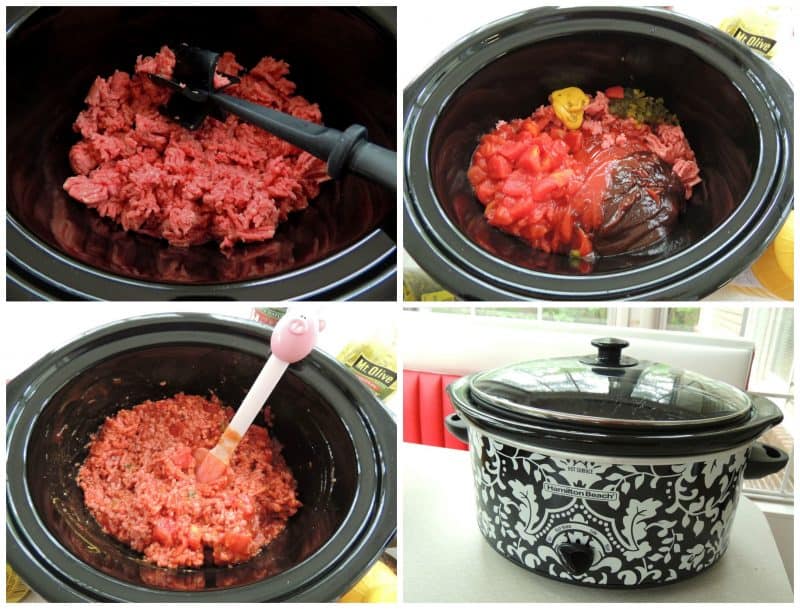 Okay so the beauty of this is that you can put your ground beef in the slow cooker uncooked.
Add ground chuck to slow cooker, chop it up a bit.
Add all of your ingredients in on top of your beef.
Stir that up good.
Put the lid on and place this on low for 6-7 hours or on high for 3-4
DIG IN!
Ingredients
Slow Cooker Sloppy Joes

1

+1/2 pound lean ground chuck*

15

ounce

can diced tomatoes

undrained

1

cup

ketchup

3/4

cup

barbecue sauce

1

tablespoon

mustard

optional

1-2

tablespoons

sweet pickle relish

1

tablespoon

diced jalapeno

optional

8

hamburger buns

for serving
Instructions
Place raw* beef in slow cooker and break up with a beef chopper or large spoon. Pour all other ingredients over beef. Stir well to combine. Cover and cook on high, 3-4 hours or low, 6-7 hours.

Scoop out with slotted spoon onto buns. Serve hot and enjoy!

Makes 8
Notes
*Using lean ground chuck is crucial in this recipe because your meat will be terribly greasy cooking it this way if you use regular ground beef. However, if all you have is regular ground beef, simply brown it in a skillet ahead of time, add it to the slow cooker with all other ingredients, and cut cooking time in half.
Nutrition
Check out these other recipes!
"A pessimist sees only the dark side of the clouds, and mopes; a philosopher sees both sides, and shrugs; an optimist doesn't see the clouds at all — he's walking on them."
~Leonard Louis Levinson
Submitted by Bonny (thanks, Bonny!). Click here to submit your quote. New ones always welcome!