Sloppy Joes were one of my Mama's favorite weeknight suppers for busy days and I've always loved them. I have my skillet Sloppy Joe recipe on here already (click here) but this Slow Cooker Sloppy Joes recipe is what I use on those days where I don't have time to brown my beef so I just throw it all in the slow cooker. Yup, you don't even have to cook the beef (as long as you use lean ground chuck)! Toss it in, turn it on. Supper is ready when you are. If you would like to get straight to the recipe, just scroll down to the printable recipe card. If you have time to visit a spell, keep reading.
I grew up in a small neighborhood populated with families, kids, and bicycles. We'd all congregate at the vacant lot three doors down and across the street from my house. At best, it was only 1/2 an acre but all the neighborhood kids referred to it as "The Big Field".
Once, we had a new neighbor move in named Miss Sandy. She had teenagers mostly and we didn't know what to think about them. Then, one day Miss Sandy opened up her screen door and started making popcorn in her kitchen. It wasn't long before the scent drifted across the road to my yard and curious kids began showing up. She peeped her head out the screen door with a grin and held out two brown paper lunch sacks, filled to the brim with freshly popped kernels. "Who wants popcorn?" We left a dust cloud as we raced over, not believing our luck as more and more sacks appeared until we were all sitting in her driveway on our bicycles, holding brown paper bags like we were some type of popcorn loving huffy bicycle gang.
About the time we finished our popcorn, someone rode by on a bicycle and yelled  "Hey! We're going to play kickball at the big field. You wanna play?" and a slew of bicycles fell in line as we shouted behind us to Miss Sandy's kids to join us, telling them that they just had to because we had so much fun there.
We played with new friends until we heard our Mama's calling us and then we picked our bikes up off the ground and pedaled on back to our waiting suppers and hot baths that would wash our dirt necklaces off. After supper, a few of the kids made an appearance outside again to catch lightning bugs in jars with orders from our Mama's not to get dirty again, then we'd head back into the house and watch a little television in our parents laps before heading off to bed.
I don't think about those as the "good old days" like some people do, though. Because if you spend your time looking too wistfully to days gone by you miss all the good in days that are still here and yet to come. There is just as much good in today as there was in yesterday, that hasn't changed, but often I see that we've lost our ability to appreciate the good times like we used to do. All of this to say: Slow down a bit today. Take it all in. Breathe a little slower and notice a little more. The blessings are there, but we don't see what we don't look at.
Now let's make some Slow Cooker Sloppy Joes.
Don't forget to wash your dirt necklace off before coming to the table. 🙂
To make Slow Cooker Sloppy Joes you'll need: Diced tomatoes, Ketchup, Mustard (maybe), BBQ Sauce, and Sweet Relish.
And also some LEAN Ground Chuck, buns, and whatever you want to serve with your Sloppy Joes.
Note : A lot of this stuff is optional and you can easily customize this. You might want to add chopped onion, garlic, omit the mustard, etc. You really need to use the ketchup, bbq sauce, and tomatoes, but other than that knock yourself out playing with it.
And I really like to add a tablespoon or so of these puppies.
They aren't enough to make it hot, but it is enough to give it a weeee little kick.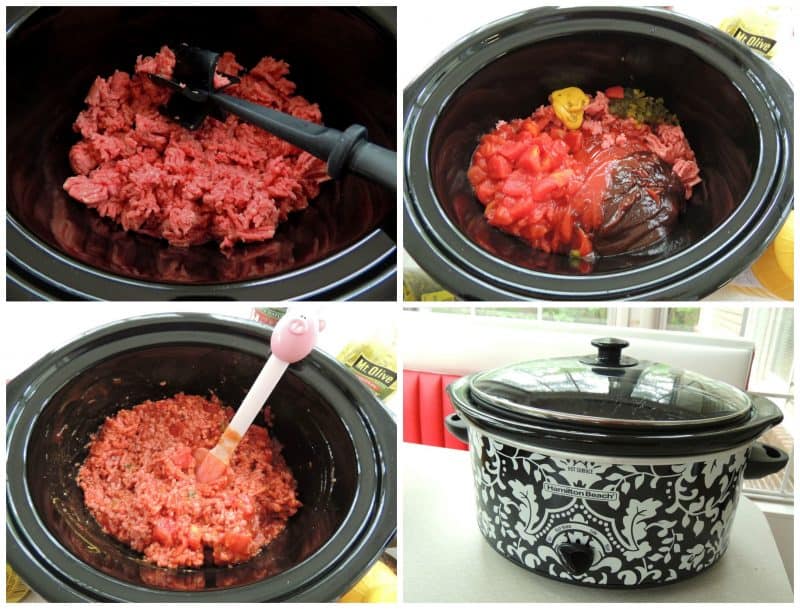 Okay so the beauty of this is that you can put your ground beef in the slow cooker uncooked.
Add ground chuck to slow cooker, chop it up a bit.
Add all of your ingredients in on top of your beef. 
Stir that up good.
Put the lid on and place this on low for 6-7 hours or on high for 3-4
DIG IN!
Ingredients
Slow Cooker Sloppy Joes

1

+1/2 pound lean ground chuck*

15

ounce

can diced tomatoes

undrained

1

cup

ketchup

3/4

cup

barbecue sauce

1

tablespoon

mustard

optional

1-2

tablespoons

sweet pickle relish

1

tablespoon

diced jalapeno

optional

8

hamburger buns

for serving
Instructions
Place raw* beef in slow cooker and break up with a beef chopper or large spoon. Pour all other ingredients over beef. Stir well to combine. Cover and cook on high, 3-4 hours or low, 6-7 hours.

Scoop out with slotted spoon onto buns. Serve hot and enjoy!

Makes 8
Notes
*Using lean ground chuck is crucial in this recipe because your meat will be terribly greasy cooking it this way if you use regular ground beef. However, if all you have is regular ground beef, simply brown it in a skillet ahead of time, add it to the slow cooker with all other ingredients, and cut cooking time in half.
Check out these other recipes!
"A pessimist sees only the dark side of the clouds, and mopes; a philosopher sees both sides, and shrugs; an optimist doesn't see the clouds at all — he's walking on them."
~Leonard Louis Levinson
Submitted by Bonny (thanks, Bonny!). Click here to submit your quote. New ones always welcome!
Yum