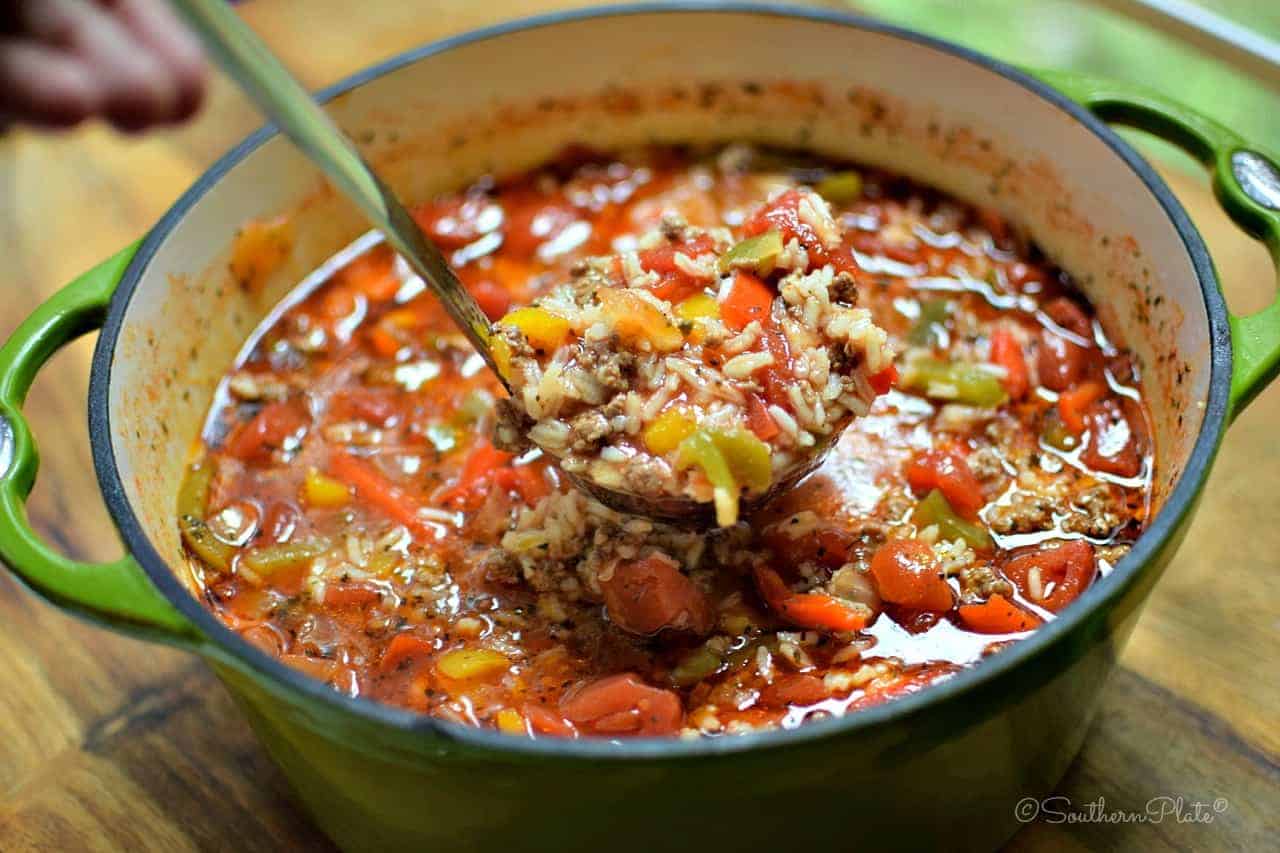 I love soups and stews this time of year and this Stuffed Pepper Soup is no exception. Actually, I love them all year long but my family looks at me funny when they come home from a 100+ degree day in August to find a big pot of chicken stew with hot cornbread on the stovetop, so I have to get my kicks in the fall and winter months in order to tide me over through the summer.
Once that first bit of chill hits the air, I'm off to the races!
I whipped up this soup earlier in the week when I decided I wanted a soup version of Mama's Stuffed Peppers. Basing the recipe loosely off of hers. You know though, whenever I come up with a new recipe and I like it, I worry that it is just me. Kinda like how a Mama always thinks her babies are pretty (but they are, right?).
While I was making this, Katy had some friends over and little Sarah (who is 10) got a whiff of this soup and became my shadow until I was done photographing it. "Do you want a bowl?" I asked her, and she eagerly nodded that she did. I tried not to look surprised. "You know it has lots of onions and peppers in it, right?" Her eyes got big in appreciation as she polished off two bowls. Wow! I sent her home with a quart jar of it.
Then, my husband came home. Now he is not a fan of stuffed peppers so I'd already chalked this up to a meal that he would tolerate but not enjoy. And that's okay. But on his second trip to fill his bowl he kept saying "Wow, this is actually good! Hey Brady did you try this? It's actually good!"
God love him. He is the king of compliments that are really not compliments and he truly doesn't mean to.
The most common phrase he utters whenever he tries a new recipe I've made is: "Wow! This is actually good!".
Last time he did that was when I had to coax him into trying a dish – and he offered that up.
I responded with "You know, that's not actually a compliment."
He thought for a moment and said "Well, it looked weird so I wasn't expecting it to taste good is all."
Me: "Still not a compliment."
Him: "Well, it looked bad but it really ended up good."
Me: "Still not a compliment"
Him: "I was just surprised, but pleasantly surprised?"
Me: "Still not a compliment"
Him: "How about "WOW! This is good!"
"That's better."
Old dogs can be taught new tricks.
But alas, they forget them 🙂
The secret to a long marriage is realizing it isn't meant in offense and then laughing at it rather than being offended. You gotta admit it is funny. With a few hundred thousand cookbooks sold, credits like editor titles at Southern Living and Taste of the South, and the stats on this website, I remind him from time to time that some folks actually consider me to be a good cook.
"You are a good cook!" He'll reply, "It just surprises me sometimes."
Still not a compliment 🙂
Let's make us a soup that is actually good now, shall we?
You're gonna need: Salt, Pepper, Tomato Sauce, Diced Tomatoes, Garlic Powder, Dried Basil, Paprika, Frozen Pepper and Onion Blend*, Ground Beef, and Chili Powder**.
*Frozen Pepper and Onion Blend is sold under a few different brands. It is basically a bag of pre diced assorted colored peppers and onions. Not only does this take a lot of work off of you but it saves a good bit of money over buying a few peppers fresh. I am using a bag that is 1 pound, 6 ounces but you can just use a one pound bag if that is what you find. It will be fine and still taste just as good. This really gives our soup a PUNCH of flavor.
**The chili powder isn't pictured because I thought I could do without it. Mama said it needed just a bit for body but I thought "Hmm, I'll wait and see…". Once again, Mama was right. A tiny bit of chili powder (amount is in recipe at bottom of this post) really helps to fill out the flavor of this soup but doesn't impart a chili taste at all. It just makes it better – actually good, if you will. ~winks~
Brown your beef.
Exciting photo, isn't it?
Like watching paint dry… Life is exciting enough around here without me having to do stunt food photography. Tomorrow is Friday Funday, as my friend Amy calls it, over at the arsenal near my house. That is the day that those of us in our homes are entertained all day while just about every manner of explosion takes place. Shake, rattle, and roll is the name of the game for our walls. BOOM! Booom booom boom!
All. Day. Long. Every. Friday. And some surprise days in between :).
If you ever have a guest over during this time it's always fun to see the constantly growing look of concern on their face. "What was that?" gets asked fifty million times and we just wave it off. I still look outside when the military helicopters fly a little too low over my house, though. I swear they are scoping out landing spots amidst my shingles.
~sigh~ I really need a house in the mountains….
After you've browned your beef, add your onion and pepper blend and continue cooking until your peppers are soft and onions are a bit translucent.
Or until you get tired of fooling with it, whichever comes first.
Add all of your other ingredients to the pot, except for the rice.
You can't see the water in this photo because I haven't added it yet because I wanted you to be able to see the other ingredients in there because I am such a nice person because my mother raised me to be that way.
Giant run on sentence using the word "because" four times. Check!
Oh hey, if you want, you can toss all of this in the slow cooker on low for the day and then add the rice when you get home. All you gotta do is brown that beef and onion/pepper stuff a little first.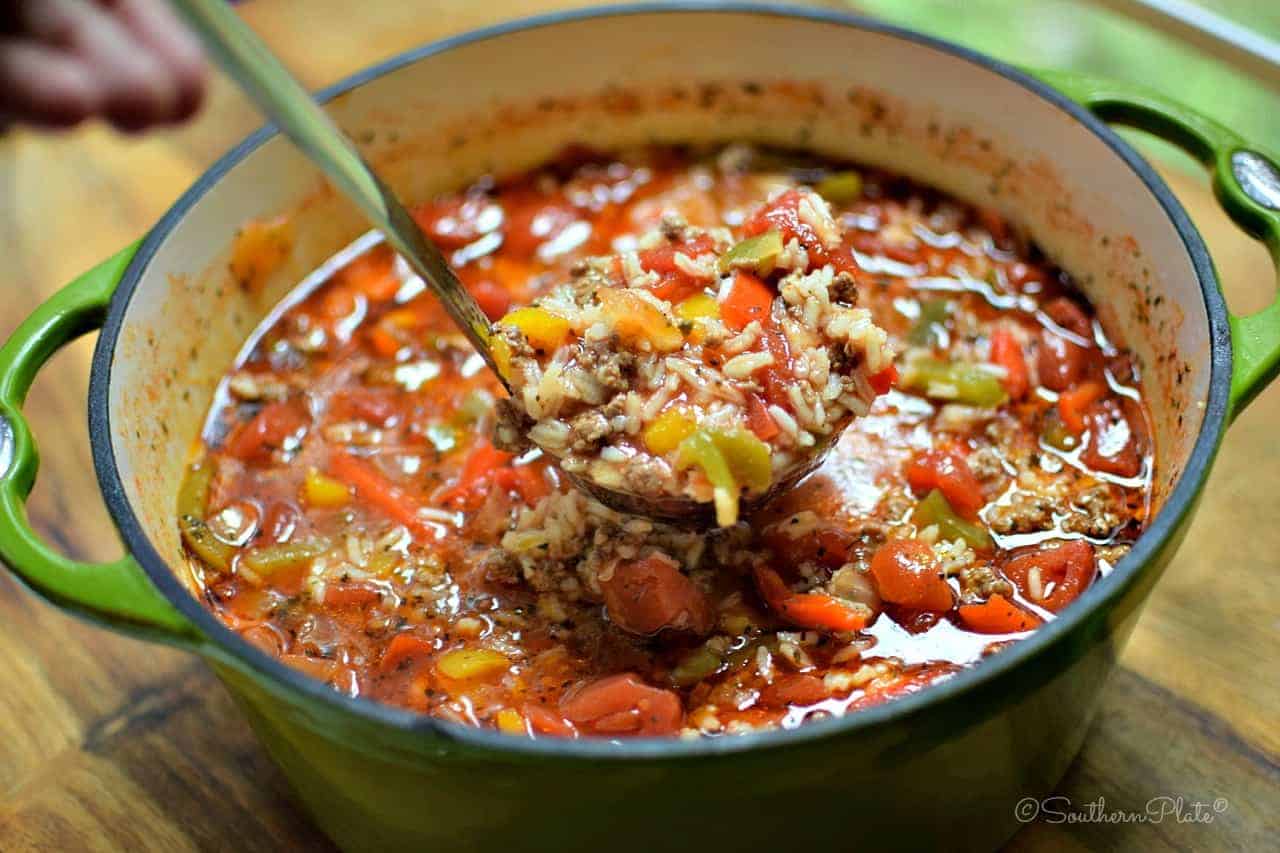 Bring this just to a boil and then reduce heat to simmer for about 30 minutes, or until you just can't wait any longer. Stir in rice just before serving.
Note: If you aren't going to eat it all that day, I suggest stirring rice into each individual bowl of soup rather than the whole pot.
Now eat that up! One pot comfort coming right up!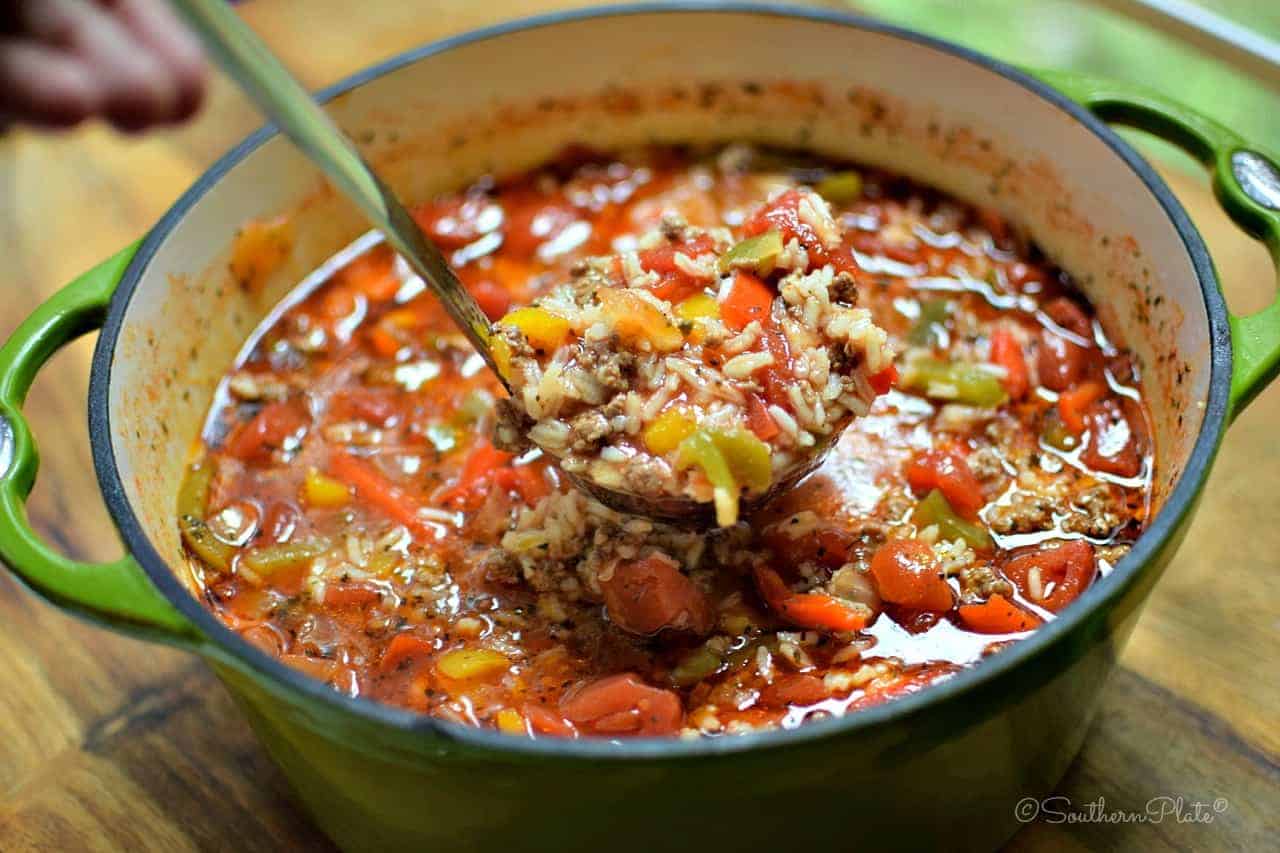 Ingredients
1

pound

ground beef

or sausage

28

ounce

can diced tomatoes

15

ounce

can tomato sauce

4

cups

water

1 to 2

pound

package frozen pepper and onion blend

Mine was 1 lb, 6 oz

2

teaspoons

chili powder

2

teaspoons

paprika

2

teaspoon

salt

1

teaspoon

pepper

1

teaspoon

garlic

2

teaspoon

basil

4

cups

rice

cooked (for serving)
Instructions
In large pot or dutch oven, brown beef over medium high heat until no longer pink. Drain, if needed. Add onion and pepper blend and continue cooking until peppers are tender and onions are slightly translucent.

Stir in all other ingredients except for rice. Bring to a boil over medium heat and then reduce heat and simmer for about thirty minutes, stirring from time to time.

Stir in rice to each bowl or the whole pot just before serving.
Can you do me a favor?
About an three or four inches below this paragraph there is a big box that says "Enjoy this post? Never miss another!" and then a place where you can put in your name and email. If you don't subscribe to my emails yet, I would really love it if you would. Often, we rely on Pinterest or Facebook to get the new recipes to you but they change how they operate so often that you can't really count on them. Generally, about 1% of my Facebook audience is even shown my posts there. If you subscribe, though, I personally have your email address and include you into the emails I send out with new recipes and posts. No one will ever see your email address but me and you'll generally get 2-4 emails a week. I'd sure love to have a reliable way to keep you updated on the latest Southern Plate posts!
"We are taught you must blame your father, your sisters, your brothers, the school, the teachers – but never blame yourself. It's never your fault. But it's always your fault, because if you wanted to change you're the one who has got to change."
~Katharine Hepburn
Yum