Before we get to making some Sugar and Spice Pecans, if you're on Pinterest or Facebook, I'd love it if you could use one of the buttons above to help me get this post out there! Thank you so much!
On Thursdays, I usually post a thankful status on my Facebook page, asking folks to tell me at least three things they're grateful for right now. I can't tell you how much I enjoy reading all of the responses because they're evidence of the true state of our heart and often remind me of new things to be grateful for that I hadn't even thought about before!
Well, since this is Thursday and an unusually busy one at that, let me tell you that today I'm going to be grateful for dentists who are good with kids and take emergency appointments, optometrists, veterinarians, teachers who taught me how to spell veterinarians, my daughter's Christmas program at her school, a car and gas to take me to all of these places today in a span of about four hours, and grace that is given to me on a repeated basis to remain grateful, even when I feel a little frazzled on the outside. Most of all, I'm thankful for God hand picking every single member of my family and putting us together.
I'm also going to be grateful for these sugar and spice pecans when I come home tonight.
Oh how I love these! Some people call them Candied Pecans, some call them sugared or cinnamon pecans, either way this recipe is one that I look forward to making every year because it is just the right blend of sweet, cinnamon, with a hint of salt to set it all off to perfection.
The only problem with making Sugar and Spice Pecans is the price of pecans. Of course, I'm saying this as two giant pecan trees sit in my yard. For the past three years though, I've harvested a grand total of three pecans. Three. However, all is not lost as apparently I am the overseer of the Fat N' Happy Squirrel Refuge! If pecans are a little out of your budget, feel free to make this recipe with other nuts as well. Peanuts, Cashews, and even Almonds would be great prepared this way.
Or, you can just come and shake down some of my squirrels…
Trust me, they've got plenty!
The ingredients for this are as simple as can be!
Sugar, egg, cinnamon, salt, and pecan halves.
*As I said before, you can use other nuts such as peanuts, cashews, or even almonds in this recipe.
Combine sugar, cinnamon, and salt in a small bowl.
Stir that up real good.
In a mixing bowl, place your egg white and 1 tablespoon of water.
Save the yolk for something else if you like, but you won't need it for this recipe.
Beat that egg white with an electric mixer until it is frothy.
Throw your pecan into the bowl with the frothy egg white.
That would be a good name for a music band made up of Moms. The Frothy Egg Whites!
~thinks~
But then again, when would a group of moms have time to form a band or…er…have a social life?
YOU FOUND THE DUCK! 1.Leave a comment on this post. 2. Click here to visit my Facebook Giveaway post and comment "Done". DO NOT TELL ANYONE WHERE THE DUCK IS OR YOU WILL BE DISQUALIFIED! I'll choose a winner at random Sunday morning, Dec 22 to win a $100 Amazon Gift Card!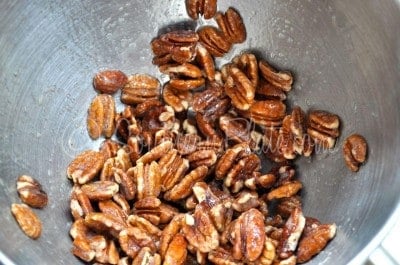 Stir them up until they're coated pretty well.
Spray a rimmed baking sheet with cooking spray.
Taking a few pecans at a time, toss them into your bowl of sugar mixture and flip them around a bit with your hand to coat and place on baking sheet.
Repeat until all pecans are coated.
Place this in a 325 degree oven for 30-40 minutes, stirring every 10 minutes.
Don't cook them any longer than this and keep an eye on them in case your oven cooks hot and they get done faster.
They will lightly brown, but you don't want them to get dark brown.
Remove from oven, stir again, and allow to cool.
Store in gift bags or airtight containers.
These make wonderful gifts, but I never get around to gifting them because we eat every last one! lol
See more Christmas Candy and Gift ideas by clicking here.
Now tell me at least three things you're grateful for right now in the comments below!
Ready….set….GO!
Ingredients
1

egg white

1

Tablespoon

water

1

cup

sugar

1

teaspoon

salt

1

teaspoon

cinnamon

1

pound

pecan halves

about 2 cups *Can use other nuts
Instructions
Lightly grease a large, rimmed baking sheet.

Place egg white and water in mixing bowl. Beat with electric mixer until frothy. In separate bowl, stir together sugar, salt, and cinnamon until well blended.

Pour pecans into frothed egg white and stir to coat well. Take a handful of pecans at a time and gently toss them in the sugar mixture with your hands.

Place onto baking sheet and bake at 300 for 30-40 minutes, stirring every ten minutes.
The best of all gifts around any Christmas tree:
the presence of a happy family all wrapped up in each other.
~Burton Hillis
Yum