Tropical Pink Mocktail (Fun Fruity Summer Drink)
You only need 3 ingredients to make this sweet, refreshing, and deliciously creamy tropical pink mocktail, a non-alcoholic and fun fruity drink everyone can enjoy this summer.
Today I'm bringing you a fun and family-friendly drink that everyone in my house just loves! Often, when you think of cool and fruity drinks the only ones that come to mind contain alcohol. But there is absolutely no reason why those of us who don't drink alcohol have to miss out on paper umbrellas and the fun drink experience!
This is a drink that my son and I whipped up and I dubbed it the "tropical pink". It uses three simple ingredients and is always a favorite with kids and adults alike. No blender is needed, just something to stir with and a straw when you're finished! I even took the ingredients for these to a pool party recently and set us up a little family-friendly bar. This pink mocktail is so sweet and refreshing, thanks to the grenadine and soda. But the pina colada mix gives it a deliciously creamy edge, making it the perfect summer drink.
Ready to sit back with a cool non-alcoholic drink in your hands? Let's go!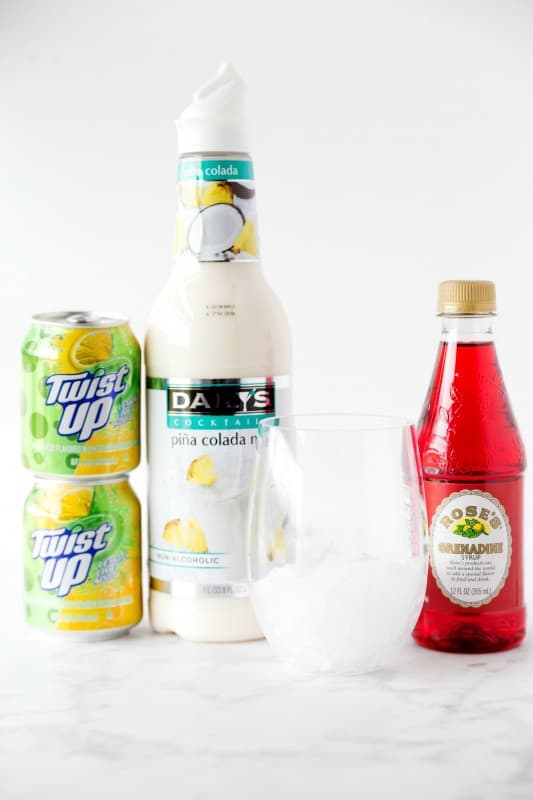 Recipe Ingredients
Lemon-lime carbonated "soda" (in Alabama we just call that 7-up or Sprite, despite the brand)
Pina Colada mix
Grenadine syrup
Helpful Kitchen Tools
How to Make Tropical Pink Mocktail
Put some ice in a glass and add the grenadine.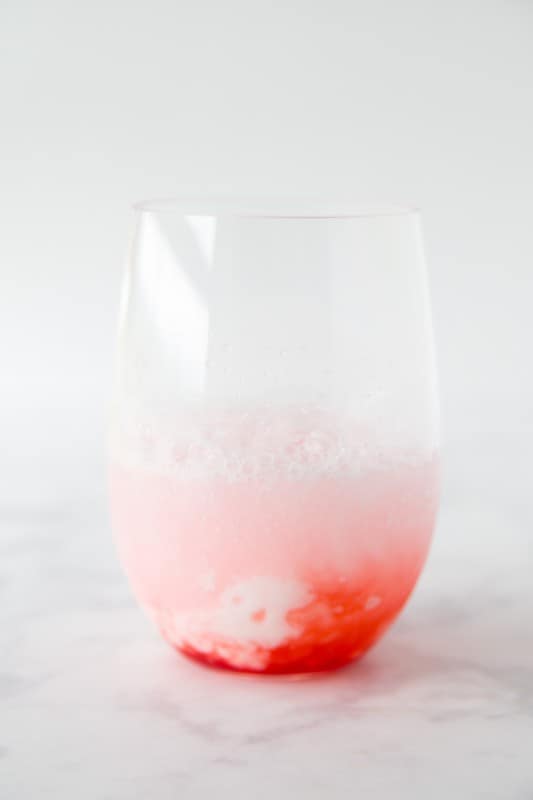 Then add the pina colada mix (exact measurements are at the bottom of this post) and half of your lemon-lime soda. Stir just until well combined.
Add in the rest of your soda, pop in a straw, and enjoy!
Simple as that!
Every summer deserves a little tropical drink, so now you have the tropical pink mocktail!
Storage
Make this drink as you go and there will be no leftovers to store in the fridge.
Recipe Notes
You can get all of these ingredients at just about any grocery store. The pina colada mix and grenadine are found near the alcohol but they do not contain any themselves, they are just mix-ins.
If you like, garnish your pink mocktail with a fresh pineapple wedge

or any

you have on hand, like

or

wedges

.
This

tropical

works great with diet soda as well.

Many mocktails use

or

, but we don't need these citrus additions as we use lemon-lime

instead of sparkling

or

.

If you want to make a big batch in a

, simply quadruple the

(or more, depending on the size).
Recipe FAQs
Can I make this into a tropical pink cocktail instead?
Yes, if you want to turn this pink mocktail into a cocktail, simply stir in 1.5 to 2 ounces of your favorite spirit. You can use gin or vodka, but white rum pairs perfectly with the pina colada mix.
Check out these other non-alcoholic drink recipes:
Ingredients
1/2

tablespoon

grenadine

a teaspoon and a half

2

tablespoons

liquid pina colada mix

12

ounces

lemon-lime carbonated soda

Sprite, 7-Up, etc
Instructions
Fill a large glass at least halfway with crushed ice.

Add the grenadine, pina colada mix, and 1/2 of the Sprite. Stir to mix.

1/2 tablespoon grenadine,

2 tablespoons liquid pina colada mix,

12 ounces lemon-lime carbonated soda

Add the rest of the Sprite and stir gently.

12 ounces lemon-lime carbonated soda

Serve immediately.
Nutrition
At any given moment, you have the power to say,
"This is NOT how the story is going to end".
~Unknown
Submitted by Dianne. Click here to read more readers' favorite quotes and submit your own.