Sweet And Sour Green Beans
A little bit sweet and a little bit tangy, sweet and sour green beans with crispy bacon and onion are one of my favorite Southern side dishes.
This is one of those recipes that was told to me over the phone, beginning with, "you fry you up some bacon…". Now in my experience, any recipe that begins with those instructions is gonna be good. Sweet and sour green beans are the only way I will eat green beans that aren't fresh from the garden.
I haven't bought canned green beans in close to ten years, I can't even be bothered with those mushy things. If you can't have garden-fresh green beans, frozen green beans cooked this way are the way to go! They are absolutely delicious. Don't go thinking the vinegar makes them really sour, either. In this recipe, it just gives them an extra boost of flavor and is the perfect complement to the bacon and onions.
So, what else do you need for this sweet and sour green beans recipe? We've already got green beans, bacon, onion, and white vinegar. Well, we need the sweet to our sour, right? In this instance, we're using sugar to balance out the vinegar for perfect sweet and sour green beans. This side dish pairs perfectly with a meaty main dish. Although, you might be so enamored with the side that you forget about the main. It's that good, folks!
If you like this, you need my German potato salad in your life too.
Recipe Ingredients
Green beans (I like french cut green beans but you can use whichever type you prefer).
Sugar
White vinegar
Onion
Bacon
How to Make Sweet and Sour Green Beans
Chop up your onion.
Place your onion in a large skillet. I'm using my cast iron skillet for this one.
I like to cut my bacon into pieces before I cook it for this. I just take my kitchen shears and cut the bacon strips into one-inch segments.
Kitchen shears are one of the most versatile tools you can have in your kitchen. I have several pairs. Just use them for whatever and plop them in the dishwasher!
The bacon pieces are easy to separate as it gets hot and begins to cook. You want to cook this over medium to medium-high heat until your bacon is done, stirring frequently to prevent the onions from burning.
Like so. See all of that bacon grease in there? I've got a plan for it.
When your bacon and onions are done, remove them to a plate.
Toss your sophisticated green beans in the hot skillet with your bacon grease.
When I did this, I swear those beans let out the biggest sigh of satisfaction.
Stir those often and continue cooking over medium heat until they get a bit tender.
This is where Southerners differ. Tradition deems that we cook the living mess out of our vegetables but I like my beans to have a little bit of life left in them so I stop cooking while there is still a bit of crunch.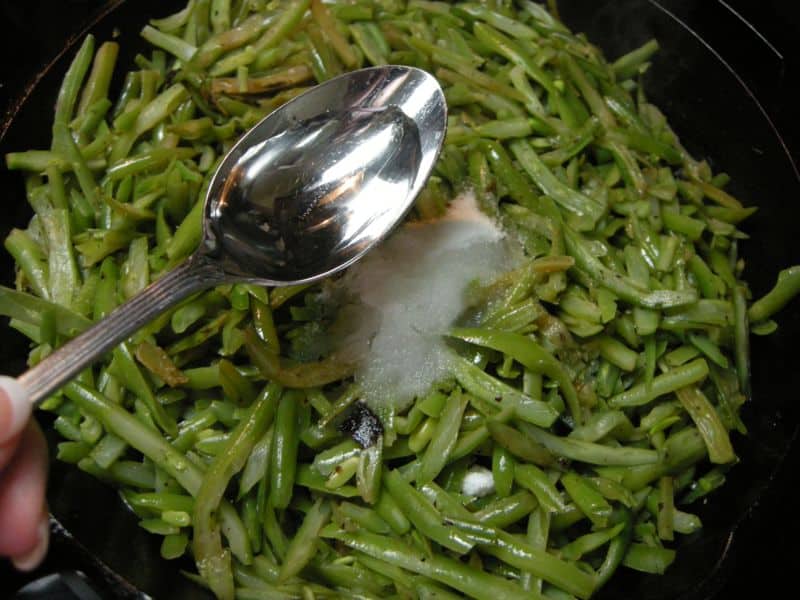 Regardless of which side of the fence you sit on, when they get to your desired tenderness, add about two tablespoons of vinegar and two tablespoons of sugar. Stir that in.
Add your bacon and onions back in.
Stir that up a bit.
Salt and pepper to taste.
I always start with 1/2 teaspoon or so of each.
And that's it! Your sweet and sour green beans are ready for the supper table. How quick and easy was that?
Guaranteed to please!
Storage
Store leftovers in an airtight container in the fridge for up to four days and reheat either in the microwave or on the stovetop.
Recipe Notes
Here are some variations to make this recipe your own:

Substitute the white vinegar for apple cider vinegar or lemon juice if you prefer.
Swap the yellow onion for green onion.
Use brown sugar instead of white sugar.
For added flavor, add 2 teaspoons of Worcestershire sauce.
Substitute the pork bacon for turkey bacon.
Add a can of water chestnuts when you cook the green beans for added texture.
Add one can of corn kernels.

As mentioned, you can use fresh green beans, frozen green beans, or canned green beans. The choice is yours.
Recipe FAQs
What do you serve with sweet and sour green beans?
Green beans are a popular holiday side dish in the South, so serve them for Thanksgiving dinner with turkey breast, baked ham, or roasted chicken. Throughout the year, serve your sweet and sour green beans as a side with any kind of meat main dish, like pork chops or chicken fried steak. Don't forget the cornbread!
Can I make sweet and sour green beans ahead of time?
Yes, you can make sweet and sour green beans up to 24 hours in advance. Simply store the cooked side dish in the fridge and then reheat it on the stovetop quickly before serving.
Check out these other sensational Southern side dishes:
Southern Deviled Eggs Recipe (Keto-Friendly)
Hush Puppies Recipe, Southern-Style
Oven-Baked Mac and Cheese (Southern Plate Favorite)
Southern Dressing With Cornbread
Southern-Style Fried Okra Recipe
Ingredients
1/2

package

bacon

6 or 7 slices

1/2

chopped onion

32

ounces

french-style green beans

or other green beans

2

tbsp

vinegar

2

tbsp

sugar

salt and pepper to taste
Instructions
Cut bacon into one-inch segments and place the bacon and chopped onion in a skillet. Cook over medium heat until browned, stirring often. Remove to a plate.

1/2 package bacon,

1/2 chopped onion

Add beans to bacon grease and continue cooking over medium heat until they are to desired tenderness. Add vinegar and sugar and stir. Add bacon and onions back and let simmer for a few minutes, stirring often. Salt and pepper to taste.

1/2 chopped onion,

32 ounces french-style green beans,

2 tbsp vinegar,

2 tbsp sugar,

salt and pepper to taste
"Have the courage to say no. Have the courage to face the truth. Do the right thing because it is right. These are the magic keys to living your life with integrity." – W. Clement Stone
Contributed by Southern Plate Reader, Jay. To submit your quote, click here!