This is one of those recipes that was told to me over the phone, beginning with "You fry you up some bacon…". Now in my experience, any recipe that begins with those instructions is gonna be good. I've never actually written this one down until now and I've never seen it written down so the way I cook it may vary slightly from the way my sister in law makes it, who is the person that gave me the recipe to begin with, but I can guarantee that its good regardless. To add a bit of humor here, the original person this recipe came from is a vegetarian. A vegetarian who cooks with bacon. Now that's MY kind of Vegetarian!!!
This is the only way I will eat green beans that aren't fresh from the garden. I haven't bought canned green beans in close to ten years, I can't even be bothered with those mooshy things. If you can't have garden fresh green beans, frozen green beans cooked this way are the way to go! They are absolutely delicious. Don't go thinking the vinegar makes them really sour, either. In this recipe, it just gives them an extra boost of flavor and is the perfect compliment to the bacon and onions.
Soon as I get this post up, I'm hitting the ground running to get Katy to her ballet recital rehearsal. I have company coming in this afternoon for that and the house is a mess so it's gonna be one of those days! I hope y'all have a good one and if I haven't responded to your email, I am going to do my best to get to it this afternoon if I have time. If not, I should be able to get caught up tomorrow!
I like french cut green beans but you can use whichever type you prefer. You'll need those, a little sugar, a little white vinegar, an onion, some bacon, and a little sugar.
Exact amounts are below. 🙂
Chop up your onion.
Remember that cajun cooking guy who used to say ON-yon? Loved that guy.
Place your onion in a large skillet. I'm using my cast iron skillet for this one.
A reader asked me in an email (which I haven't answered yet but hope to this afternoon if I have time before my company gets here and we have to go to Katy's recital) if you can use cast iron skillets on glass stop stoves. You sure can! Just be careful because with it being so heavy, it would be a lot easier to break the glass top with.
Trust me, if that can happen, I'll do it eventually.
I like to cut my bacon into pieces before I cook it for this. I just take my kitchen shears and cut it into one inch segments. Kitchen shears are one of the most versatile tools you can have in your kitchen. I have several pairs. Just use them for whatever and plop them in the dishwasher!
You'll end up with this. This is half a package of bacon and 1/2 an onion.
The bacon pieces are easy to separate as it gets hot and begins to cook. You want to cook this over medium to medium high heat until your bacon is done, stirring frequently to prevent the onions from burning.
Like so. See all of that bacon grease in there? I got a plan for it. You see…these poor beans of ours…
Theys sophisticated beans :).
Bless their hearts. No green bean dreams of growing up and being sophisticated.
Nothing brings a snobby bean back down to earth so it can enjoy the good life like a little bacon grease.
I feel pretty sure this would work for snobby people too. Know any snooty folks in your neck of the woods? Invite 'em over, cook 'em up a mess of something in bacon grease, and see if they don't leave happier and humbler.
It brings out the best in folks – and beans.
When you bacon and onions are done, remove them to a plate.
This is a Corelle plate in "Snowflake Blue". Sometimes it is called "Blue Garland". This is the pattern of dishes my grandmother had when we were little.
Whenever I see these plates I think about "fancy food" like Kentucky Fried Chicken. We couldn't ever afford it when we were little but often when we went to eat at my Grandmother's house they would go get KFC chicken and then make homemade mashed potatoes and fried corn to go with it and we'd eat it off of these plates. I always sat beside my great grandmother, Lela, at the big old table in my grandmother's kitchen. You can see a pic of Lela on this post.
I sure do miss Lela and Grandaddy.

Toss your sophisticated beans in the hot skillet with your bacon grease.
When I did this, I swear those beans let out the biggest sigh of satisfaction.
Stir those often and continue cooking over medium heat until they get a bit tender.
This is where Southerners differ. Tradition deems that we cook the living mess out of our vegetables but I like my beans to have a little bit of life left in them so I stop cooking while there is still a bit of crunch.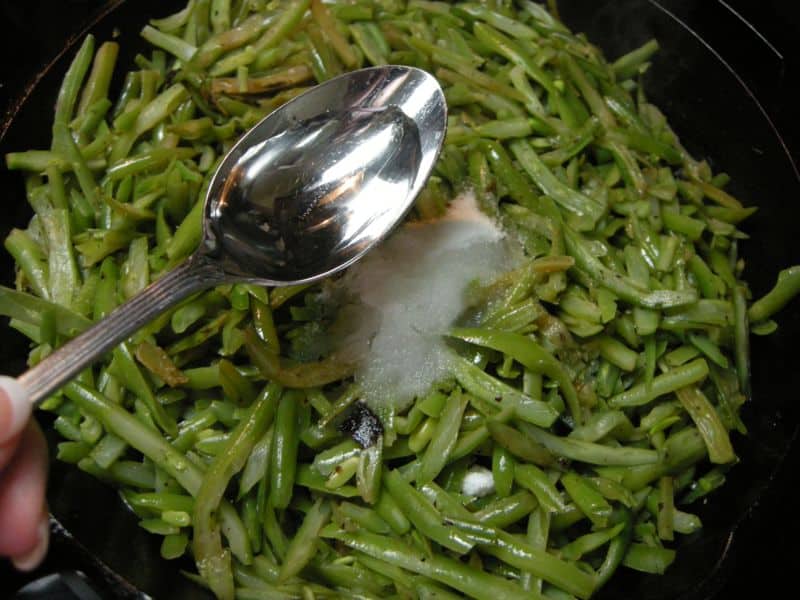 Regardless of which side of the fence you sit on, when they get to your desired tenderness, add about two tablespoons of vinegar and two tablespoons of sugar. Stir that in.
Add your bacon and onions back in.
Stir that up a bit.
Salt and pepper to taste.
I always start with 1/2 tsp or so of each.
We're going to be serving this in a Pyrex bowl in the "Friendship" pattern. This bowl came from my grandmother and I absolutely love this pattern! I have tried to purchase more of it on Ebay but I seem slightly cursed.
The last time I purchased a set of three mini friendship casseroles. I paid far more than I normally would because I really wanted them and they all came with lids. When I received them, however, The casserole dishes hadn't been packed all that well and were in shatters, with only the lids surviving. ~laughs~ Might as well laugh coz crying wouldn't help! I contacted the seller and she refunded me eight dollars of the almost sixty I had paid for them (I told you I bid too much!) but I was still out basically fifty bucks and had three lids to show for it. I've been skittish about ordering this pattern ever since.
It's not that I'm superstitious, I just think some things aren't meant to be gotten the easy way. So now I'm searching high and low at antique shops. So far I haven't run across a single thing in this pattern though! Thrill of the hunt I suppose.
Hint: When purchasing on Ebay, if it is something expensive and breakable, I now email the seller and offer to pay an additional three to five dollars to help them package it carefully. This lets them know that you are concerned and helps them to pay special attention to your package. They are also motivated to buy better packing materials since you are paying them to do so (packing can get expensive!). Getting postal insurance has never helped me with this as every time I've had a problem the post office just blames it on packaging and says it isn't their fault and therefore the damage isn't covered.
So my best bet is to send a nice email, thanking the seller and offering more money. Every time I have done this they have been very appreciative!
Sweet and Sour Green Beans
Guaranteed to please!
Sweet And Sour Green Beans

Ingredients

½ package bacon (6 or 7 slices)
½ onion, chopped
32 ounces french style green beans (or other green beans)
2 T vinegar
2 T sugar
salt and pepper to taste

Instructions

Cut bacon into one inch segments. Place bacon and onions in skillet. Cook over medium heat until browned, stirring often. Remove to plate. Add beans to bacon grease and continue cooking over medium heat until they are to desired tenderness. Add vinegar and sugar. Stir. Add bacon and onions back and let simmer a few minutes, stirring often. Salt and pepper to taste.
Serve warm. Tell friends about Southern Plate so they can get the recipe, too! ~winks~
"Have the courage to say no. Have the courage to face the truth. Do the right thing because it is right. These are the magic keys to living your life with integrity." – W. Clement Stone
Contributed by Southern Plate Reader, Jay. To submit your quote, click here!
A note on comments: To put it simply, I LOVE COMMENTS! Other reader's love them, too! Please feel free to have a conversation in them. You are welcome to reply to other comments and chat among yourselves! Southern Plate is it's own little community and I'm thrilled to have each and every one of you here!