This old-fashioned apple pound cake recipe is tender and just bursting with that sweet fresh apple and cinnamon flavor.
This is an old-fashioned cake recipe that really has the texture and taste of a pound cake with delicious apple-y goodness tossed in. Although the traditional ingredients for pound cake aren't there (there is far less sugar and no butter), you'll still get the feel and taste of pound cake with the dense moistness.
The fresh apple pound cake itself is clean and simple in flavor, just slightly sweet but not enough to fight the apples for the main attraction. This is a great treat to have with coffee or as an afternoon snack. Wouldn't blame ya if you had it for breakfast too!
Ingredients include kitchen essentials like sugar, vegetable oil, baking powder, vanilla, eggs, and flour. But to give it that apple cake edge, we add fresh Granny Smith apples, cinnamon, and orange juice. Yes, orange juice is a secret ingredient that adds so much flavor. Just you wait and see!
Before we dive in, I just wanted to make a note that this is not a really sweet cake. It is more filling like a coffee cake or pound cake. If you're looking for a sweeter apple cake, I suggest trying apple dapple cake. Actually, the best thing you could do is make both 😉. Let's get baking!
Recipe Ingredients
Sugar
Vegetable oil
Orange juice
Baking powder
Vanilla
Eggs
All-purpose flour
Ground cinnamon
Apples
How to Make Apple Pound Cake
Place sugar, flour, eggs, baking powder, oil, vanilla, and orange juice in a large bowl.
Blend with an electric mixer until smooth and well blended.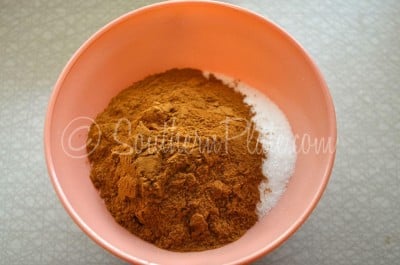 In a small bowl or cup, combine sugar and cinnamon.
Stir them together until they're mixed up well.
Grease the living daylights out of your bundt pan.
Pour in half of your cake batter and top with half of your chopped fresh apples.
Generously sprinkle those with half of the cinnamon sugar mixture.
Then top with the remaining cake batter.
Now add the rest of your apples to the top and sprinkle them with the remainder of the cinnamon sugar mixture.
Bake at 350 for about an hour to an hour and 10 minutes.
This is what it looks like after about 15 minutes.
It was pretty cool looking so I took a photo in case any of y'all are as easily amused as I am.
Whoops! Is that the oven timer?
Our apple bundt cake is done!
Allow the cake to cool in the pan for 10 minutes before turning it out to cool completely.
Before serving, dust with confectioner's sugar.
Enjoy this dense, moist, and lightly sweet cake!
Storage
Store covered leftover cake at room temperature for 3 days or in the fridge for up to 5 days. You can also freeze cake slices for up to 3 months. Thaw at room temperature before dusting with confectioner's sugar and digging in.
Recipe Notes
For added flavor, substitute the granulated sugar in the cinnamon mixture with brown sugar.
Speaking of added flavor, another way to add some texture to your cake is to fold some other ingredients into the cake batter, like raisins, sweetened coconut flakes, and/or chopped nuts (walnuts, almonds, or pecans).
If you like, top your apple bundt cake with a caramel glaze.
If you can't resist the combination of cinnamon and nutmeg, add 1/2 teaspoon of ground nutmeg to the cinnamon mixture.
Recipe FAQs
What are the best baking apples to use in apple pound cake?
I'm personally using a mix of Gala and Granny Smith Apples. But other great baking apples include Honeycrisp, Jonagold, and Fuji.
What do you serve with apple cake?
Serve a slice of apple pound cake on its own or with whipped cream and a drizzle of caramel sauce.
Check out these other appetizing apple recipes:
Apple Snack Cake (Right From The Orchard)
Apple Crumble Cake (Good & Easy)
Ingredients
Cake
3

cups

all-purpose flour

2

cups

sugar

1

tablespoon

vanilla extract

1

cup

vegetable oil

1/2

cup

orange juice

4

eggs

3

teaspoons

baking powder
Filling
1/2

cup

sugar

3

tablespoons

cinnamon

5

medium apples, peeled and chopped
Instructions
Generously grease a bundt cake pan and preheat the oven to 350.

Combine all cake ingredients in a large bowl and mix with an electric mixer until well blended and smooth.

3 cups all-purpose flour,

2 cups sugar,

1 tablespoon vanilla extract,

1 cup vegetable oil,

1/2 cup orange juice,

4 eggs,

3 teaspoons baking powder

Pour half of the cake batter into the bundt pan and top it with half of the chopped apples.

5 medium apples, peeled and chopped

Stir together 1/2 cup of sugar and 3 tablespoons of cinnamon. Sprinkle 1/2 of this over the apples.

1/2 cup sugar,

3 tablespoons cinnamon

Pour the remaining batter over the apples and top this with the remaining apples and remaining cinnamon sugar.

Bake at 350 for 1 hour to 1 hour and 10 minutes. Allow the cake to cool in the pan for 10 minutes before turning it out to cool completely.

Dust generously with confectioner's sugar before serving.
Nutrition
"Good nature will always supply the absence of beauty;
but beauty cannot supply the absence of good nature."
~Joseph Addison