Bananaritas have been a staple in our home for over twenty years. They are a delicious breakfast on the go, great snack, and nice treat as well. I first shared this recipe back in 2008 and here I am, 8 years later updating the photos. I'm leaving the story the same but wanted you to know that as you read about Brady's first day of third grade – he is a sophomore in college now. Time sure does fly!
Today was my son's first day of third grade. He has a fabulous teacher in a fabulous school so there were no qualms about summer ending at this house! Of course, my readers don't have the benefit of knowing Brady, but he is a character if there ever was one. Brady is our little politician. He is a brilliant little boy who has never met a stranger and is just as comfortable addressing two hundred people with a microphone as he is addressing one person across the breakfast table.
A few weeks ago I was brainstorming different ways I could get my website known to more people. Despite the amazing growth, I'm always looking for ways to bring Southern Plate to a wider audience. I said "I need something like a gimmick that I can give away with the web address on it." Brady grinned and quickly chimed in "I got your gimmick right here, Ma, its me!".
Today I found out that he wasn't kidding. I got such a laugh out of seeing this worksheet he brought home from school today! Essentially, its purpose was to help the teacher learn more about her students through their own words. After answering various questions about themselves, each student got a chance to ask the teacher a question about her.
My son wrote "My mom has a website called Southernplate.com. Can you see it?"
That's M'boy! (A scan of the worksheet is at the bottom of this post)
I always think of these smoothies when school starts back for a very funny reason. When I first made them, they were called Non Alcoholic Banana Margaritas. I started making them, fell in love, and always referred to them as "Banana Margaritas". I would make them for breakfast when I had bananas getting too ripe and the whole family just loved them, especially Brady.
Shortly after he had started kindergarten, I made them for breakfast one morning. Brady drank his share and then some, filling up on the tangy smoothie and bragging about how good it was. I didn't give it another thought until I found out later that Brady had marched right into Kindergarten and announced to his teacher that he'd had a margarita for breakfast. Fortunately, she gave us the benefit of the doubt on that one!
So here you go, one more way to use up ripening bananas, another way to keep cool, and a quickie breakfast on school mornings!
You will need: Milk, Sugar, Bananas, Lime Juice, and Ice. I often use honey as a substitute for the sugar and it adds a great flavor as well so go with your preference.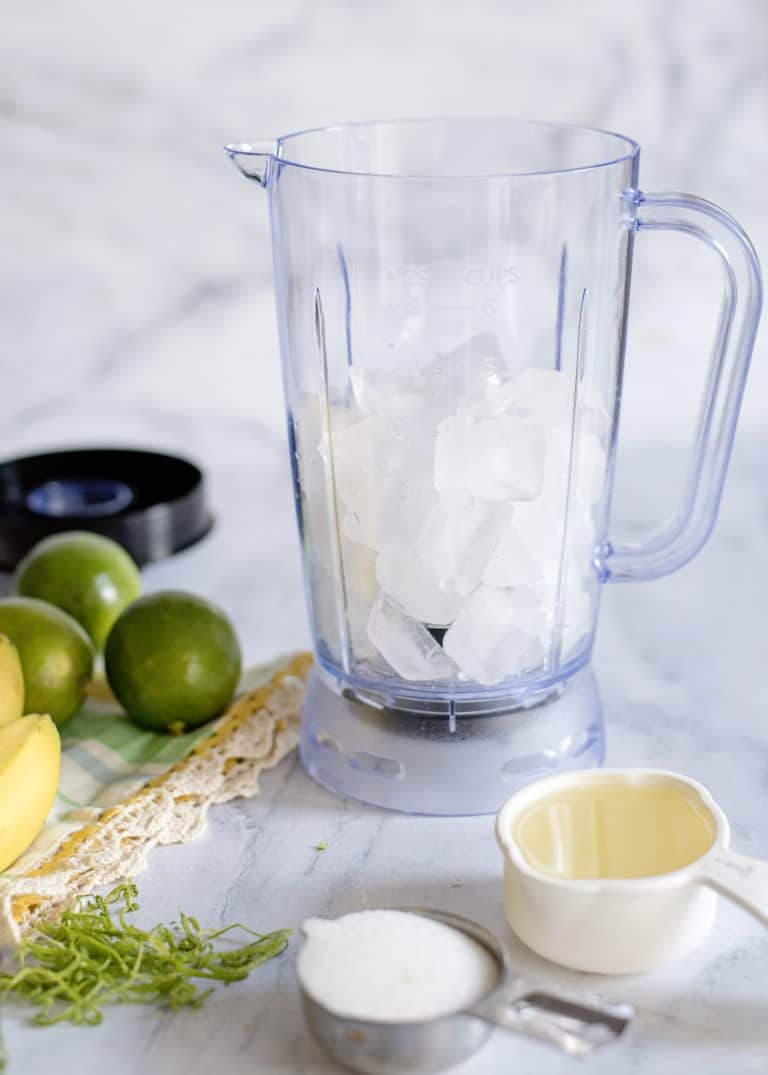 Fill your blender up about halfway with ice cubes.
Add bananas
Add sugar or honey, milk, and lime juice.
Blend that until nice and creamy and drink up!!!
Oooh yum! These are so good, and the riper your bananas the sweeter it is. You may even like it without any sweetener added at all!
I hope you get to try one of our "Margaritas" soon!
Ingredients
4

bananas

1/2

Cup

milk

1/4

Cup

sugar or honey

1/2

Cup

lime juice

(bottled is fine)

Ice
Instructions
Fill blender halfway full of ice. Add other ingredients. Blend until frothy. Serve!
Nutrition
A scan of Brady's worksheet is below. This was not scanned at a time in which we had the best equipment to do so but it's still legible for the most part!