Cheesy Chicken and Corn Casserole
Let me introduce you to your new favorite comfort food dish – this addictive creamy and cheesy chicken and corn casserole.
There are many things to love about this casserole (and casseroles in general, let's be honest). They're quick and easy to make, filling, budget-friendly, freeze well, and feed the whole family in one go. This cheesy chicken and corn casserole is one of my favorites and ticks all these boxes as well. In fact, this casserole might even be too easy to make, as there's minimal prep required. How good does that sound?
Creamy and stuffed with sweet corn, chicken, and cheese, this casserole is total comfort food and a great dish to make for a weeknight dinner. Now, many chicken and corn casseroles use cream cheese instead of cream of chicken soup, but I personally think the canned soup makes the dish more flavorful. Speaking of flavorful… scroll down to the Recipe Notes section to see how you can spice up this corn casserole too.
Recipe Ingredients
Cream of chicken soup
Can of whole kernel corn
Box of yellow rice (we just love Zatarains but you can use any type of yellow rice you have. Mahatma saffron rice is very good in this, too).
Margarine
Cheddar cheese
Chicken (you can leave the chicken out if you want but I like to have chicken in this so I can call it a meal and be done with it).
Dump your corn, margarine, and cream of chicken soup into a mixing bowl.
Pour cheese over the top of it.
Add hot rice, which has been cooking according to box directions. This will melt your butter and such. Add your chicken pieces. This can be canned chicken, leftover chicken, boiled, or shredded chicken – whatever cranks your tractor.
Stir that all up and place this chicken mixture in a casserole dish.
Then cover the top with 1/2 cup of shredded cheese.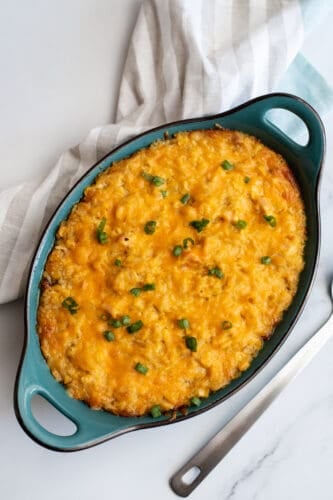 Bake, uncovered, at 350 for about half an hour, or until nice and bubbly! Sprinkle with some green onion and you're set.
This casserole is comfort food like no other!
Storage
Store your casserole leftovers in an airtight container in the fridge for up to four days.
You can also store leftovers in an airtight container in the freezer for up to three months. When it's time to eat, thaw the leftovers in the fridge and then simply reheat in the microwave.
Recipe Notes
If you want to add a little spice, add some jalapenos, chili powder, or a can of diced green chiles to your casserole.
For that extra crunch, you can add vegetables too. I recommend finely chopped red pepper and green onion. Add either, or both, to the batter before you top with cheese. Otherwise, add some green vegetables, like (thawed) frozen peas, cooked broccoli florets, or green beans.
You can also substitute chicken for crumbly crispy bacon pieces. Or use both to jazz up your chicken casserole.
You can use any kind of chicken in this casserole, including leftover chicken, canned chicken, boiled and pulled chicken breast

or

, and shredded rotisserie chicken. Whatever's the most convenient option for you.
If you'd prefer to use fresh corn, you will need about 8 ears of corn. Alternatively, if you use frozen corn, make sure you thaw the corn beforehand.
Another option is to top your chicken casserole with Ritz crackers, saltines, or even Corn Flakes cereal crumbs. Cheesy, creamy, and crunchy – yum!

You can also substitute

for

or Monterey

jack

.
Recipe FAQs
Can I make this casserole ahead of time?
Yes, you can make this chicken and corn casserole recipe up to two days before and place the covered baking dish in the fridge. Then let it sit at room temperature for about 30 minutes before following the baking instructions above.
Is this casserole gluten-free?
Yes, this chicken and corn casserole is gluten-free as it's a rice-based casserole. Just make sure you double-check the can of cream of chicken soup you use to ensure it doesn't have any small gluten additions.
Do I bake my casserole uncovered?
In this instance, I recommend baking this casserole uncovered, so the cheese melts nicely on top.
What do I serve with chicken and corn casserole?
Now, this chicken casserole is definitely a main dish in itself. But you can also serve it with your favorite Southern side dishes, like cornbread, fresh green beans, mashed potato, or three-bean salad. Another option is pairing your casserole with a simple salad like my tomato, cucumber, and onion salad.
Check out these other easy casseroles:
Ingredients
1

box yellow rice

1

stick butter

1

can cream of chicken soup

1-2

cups

shredded cooked chicken

1

can whole kernel corn

drained

1 1/2

cups

cheddar cheese
Instructions
Cook rice according to package directions.

Add rice and all other ingredients, except for 1/2 cup of cheese, into a mixing bowl and stir until well combined.

1 stick butter,

1 can cream of chicken soup,

1-2 cups shredded cooked chicken,

1 can whole kernel corn,

1 1/2 cups cheddar cheese,

1 box yellow rice

Spoon into a casserole dish and top with the remaining cheese.

1 1/2 cups cheddar cheese

Bake at 350 degrees for about 30 minutes, or until bubbly.
Most folks are about as happy as they make up their minds to be.
~Abraham Lincoln