Today we are sharing our Easy Cherry Crisp recipe! It can be put together in about 10 minutes and only takes 30 minutes to cook. The luscious cherries in a crumbly crisp make a dessert to remember…
Hey ya'll! You will love this cherry crisp recipe. It is so easy. If you want to take it over the top, serve it with a dollop of whipped topping or a scoop of vanilla ice cream. Plain or topped, it is sure to please.
Now, most of you know that we at Southern Plate are not usually opposed to buying store brands or mixes. Any way that we can help you save a dollar is okay with us. But cherry pie filling is an exception to that rule. Having tried several store brands and finding that they didn't have many cherries in them, we stick with this recipe instead. So unless you have a trusted brand that you have used before, I'd spend the extra to get a national brand.
Ingredients You'll Need:
Our all-star lineup of ingredients for this Cherry Crisp recipe are:
Cherry pie filling
Flour
Oats
Brown sugar
Cinnamon
Pecans
Butter
Helpful Kitchen Tools
How to Make Cherry Crisp:
Spread pie filling in pie pan or 8×8 baking dish that has been sprayed with cooking spray.
Mix together flour, oats, brown sugar, cinnamon, and chopped pecans.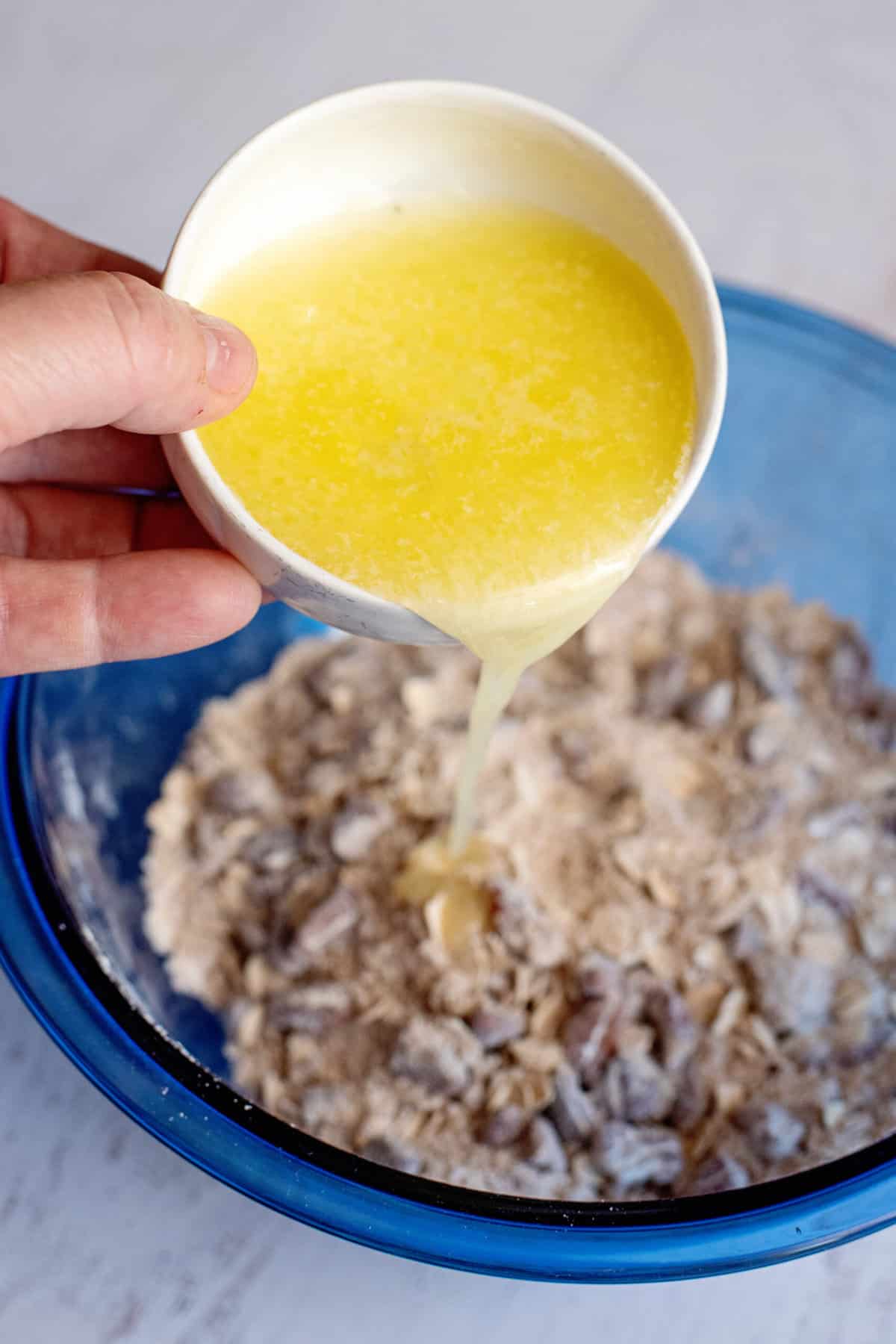 Pour in melted margarine and stir until combined.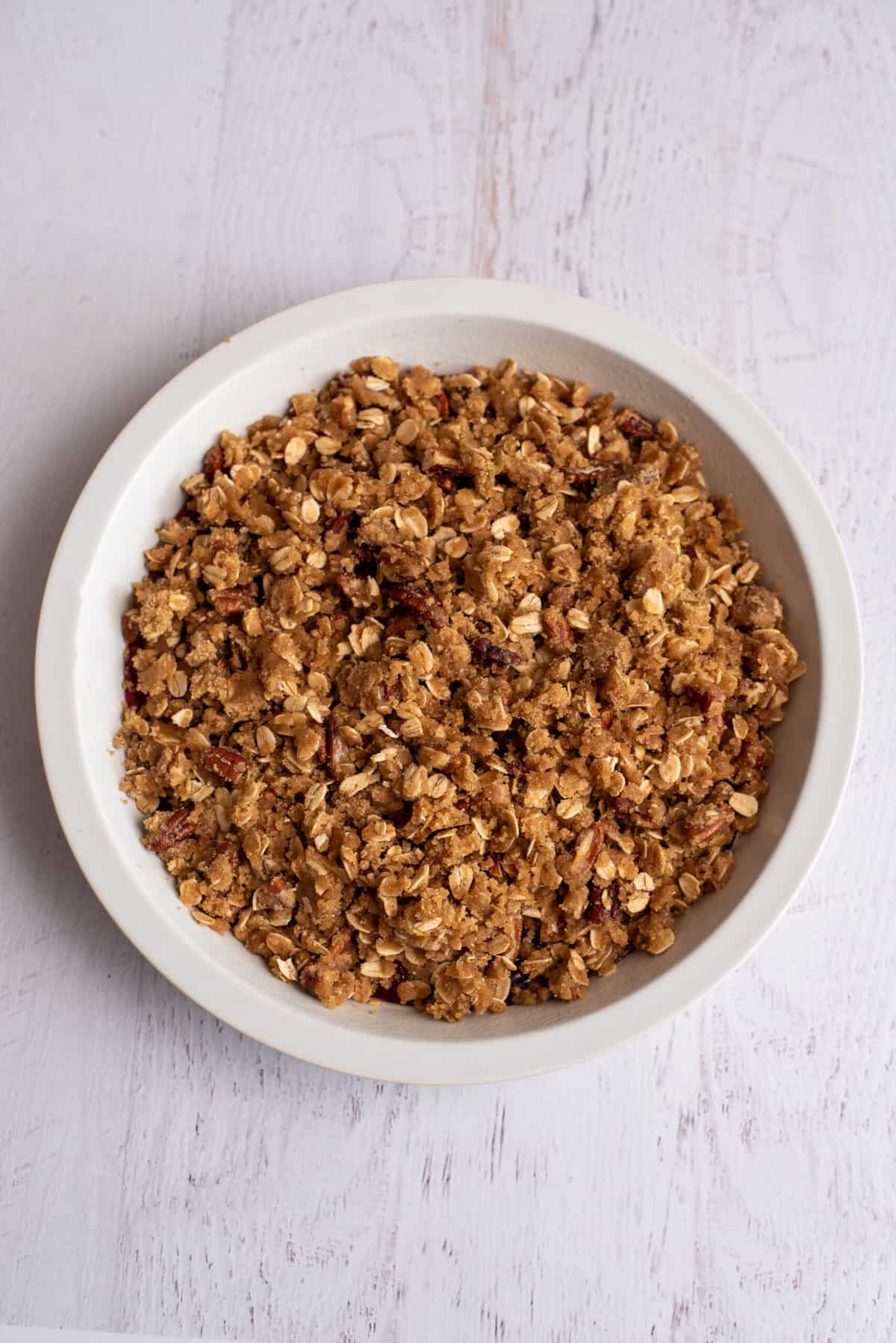 Put small dabs (that's a word we use a lot here) all over the top of the pie filling I tried to use a spoon and then a fork but found my fingers did a better job of pinching off little dabs and putting it on the pie filling.
Place cherry crisp in preheated 350 degree oven and bake for 30 minutes. And Enjoy!
This beautiful colorful, delicious dessert just makes us want to smile.
Ingredients
I can cherry pie fIlling

1/2

cup

all purpose flour

1/2

cup

quick oats

2/3

cup

brown sugar

3/4

teaspoon

cinnamon

1/4

cup

chopped pecans

optional

1/3

cup

margarine or butter

melted
Instructions
Preheat oven to 350 degrees and spray baking dish with cooking spray

Spread cherry pie filling into baking dish.

Mix together flour, oats, brown sugar, cinnamon, and pecans

Pour melted butter or margarine over top of mixture and stir to combine.

Put small dabs of mixture over top of pie filling

Bake at 350 degrees for 30 minutes.

Serve plain or topped with whipped topping or ice cream.
Note: The pecans are optional but really take this dish over the top.
Nutrition
You may also like these recipes for crisps:
Berry Crisp Recipe Low Carb & Delicious
Peach Crisp – And Standing Up For Yourself
Or these recipes with cherries might tickle your fancy:
Cherry Cream Cheese Pie From Grandmama's Kitchen