Combine juicy mixed fruit, sweet mini marshmallows, and refreshingly fluffy whipped topping and you have this delightfully easy old-fashioned 5 cup salad recipe.
This recipe for five cup fruit salad was shared by a sweet Southern Plate reader, Cindy Burton, and published in my third cookbook, Sweetness. 5 cup salad is an old-fashioned fruit salad recipe that's beloved by many Southerners. Also known as Ambrosia Salad or 24-hour salad, it can be traced back to the 1950s.
As the name suggests, it includes 5 cups or 1 cup each of 5 different ingredients: canned mandarin oranges, canned pineapple tidbits, canned fruit cocktail, whipped topping, and mini marshmallows. It sounds unusual, but let me tell you, you're going to love the sweet texture and flavor combination of the juicy fruit pieces, fluffy marshmallows, and refreshing whipped topping.
Now, we all know I love recipes where the instructions include "dump everything in a bowl." Well, spoiler: this is one of those recipes. Yep, all you need to do is combine all the ingredients in a bowl, give it a good mix, and it's ready to serve in about 5 minutes. If that doesn't convince you to give this easy 5 cup fruit salad recipe a go, I don't know what will!
Who's ready to whip up the easiest summer dessert ever? Keep scrolling for some variations too!
Recipe Ingredients
Mini marshmallows
Mandarin orange segments
Frozen whipped topping (like Cool Whip)
Canned pineapple chunks
Fruit cocktail
How to Make 5 Cup Salad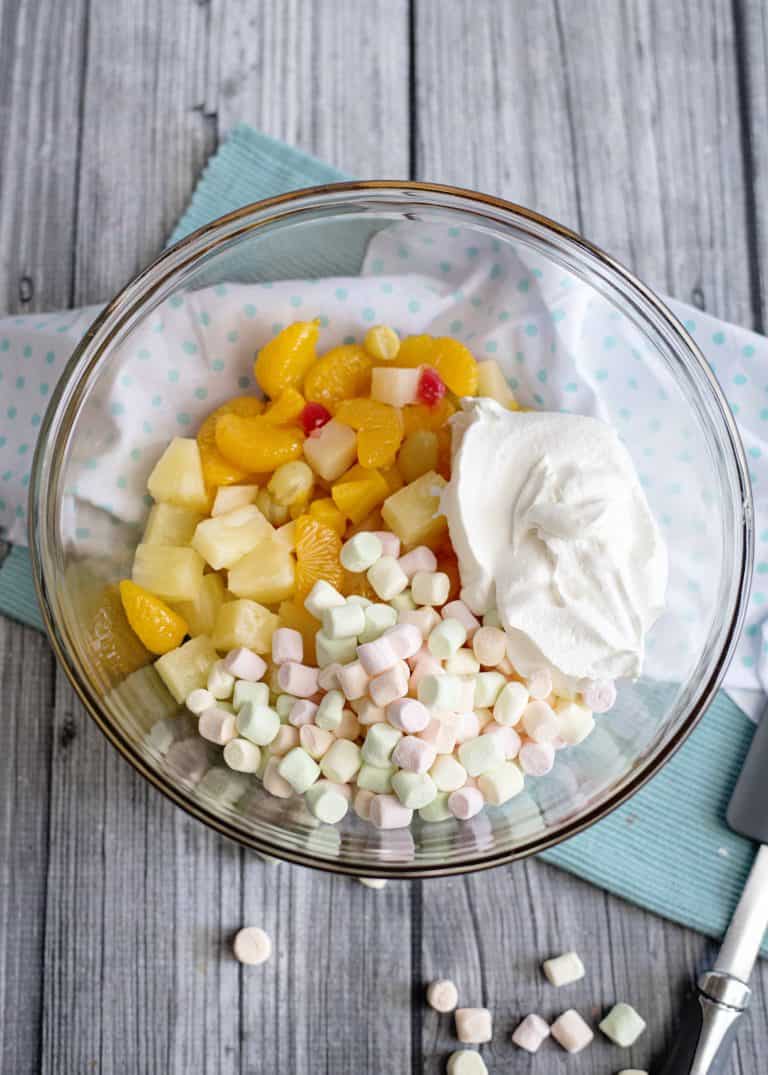 Ready for the instructions?
Dump everything into a bowl.
Told ya!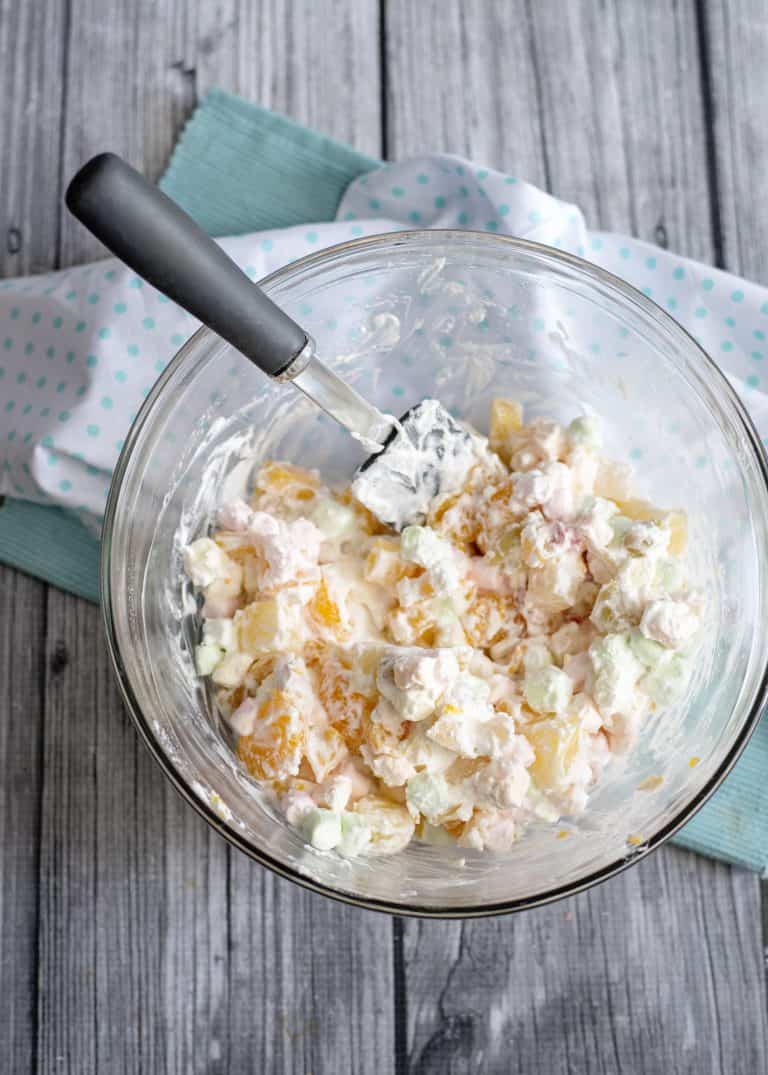 Stir ingredients together.
Done! Look how pretty this is!
You can store this in the fridge for up to a week.
It is a fun, fruity, easy-as-can-be treat. I hope you get to try it soon.
Storage
Store the fruit salad either covered in plastic wrap or in an airtight container in the fridge for up to 1 week.
Recipe Notes
For the marshmallows, I use kosher or vegan marshmallows so they don't have pork gelatin in them. Use whatever you prefer. You can also use either fruit-flavored or plain marshmallows.
Here are some variations you can make to your five-cup fruit salad:

Use different canned fruit or fresh fruit, like chopped apples, fresh banana slices, canned peaches, fresh blueberries, or chopped grapes.
Substitute the fruit cocktail for maraschino cherries.
Add a cup of chopped nuts (chopped walnuts, chopped pecans, chopped hazelnuts, or sliced almonds) or sweetened coconut flakes, which you'll find in most Ambrosia salad recipes.
Substitute the whipped cream for sour cream (the true old-fashioned addition) or plain Greek yogurt. I'm team whipped topping though!
Recipe FAQs
Can I double this fruit salad recipe?
Absolutely! I regularly double this 5 cup salad recipe and just use the whole can of each fruit, plus 2 cups each of the marshmallows and whipped topping.
Can I make my 5 cup salad in advance?
Once again… absolutely! 5-cup fruit salad lasts up to 1 week in the fridge, so I recommend making it at least 24 hours in advance to let all those flavors marry together.
You may also like these other fun fruit salad recipes:
Fresh Fruit Salad With Honey Lemon Dressing
Aunt Cathie's Southern Grape Salad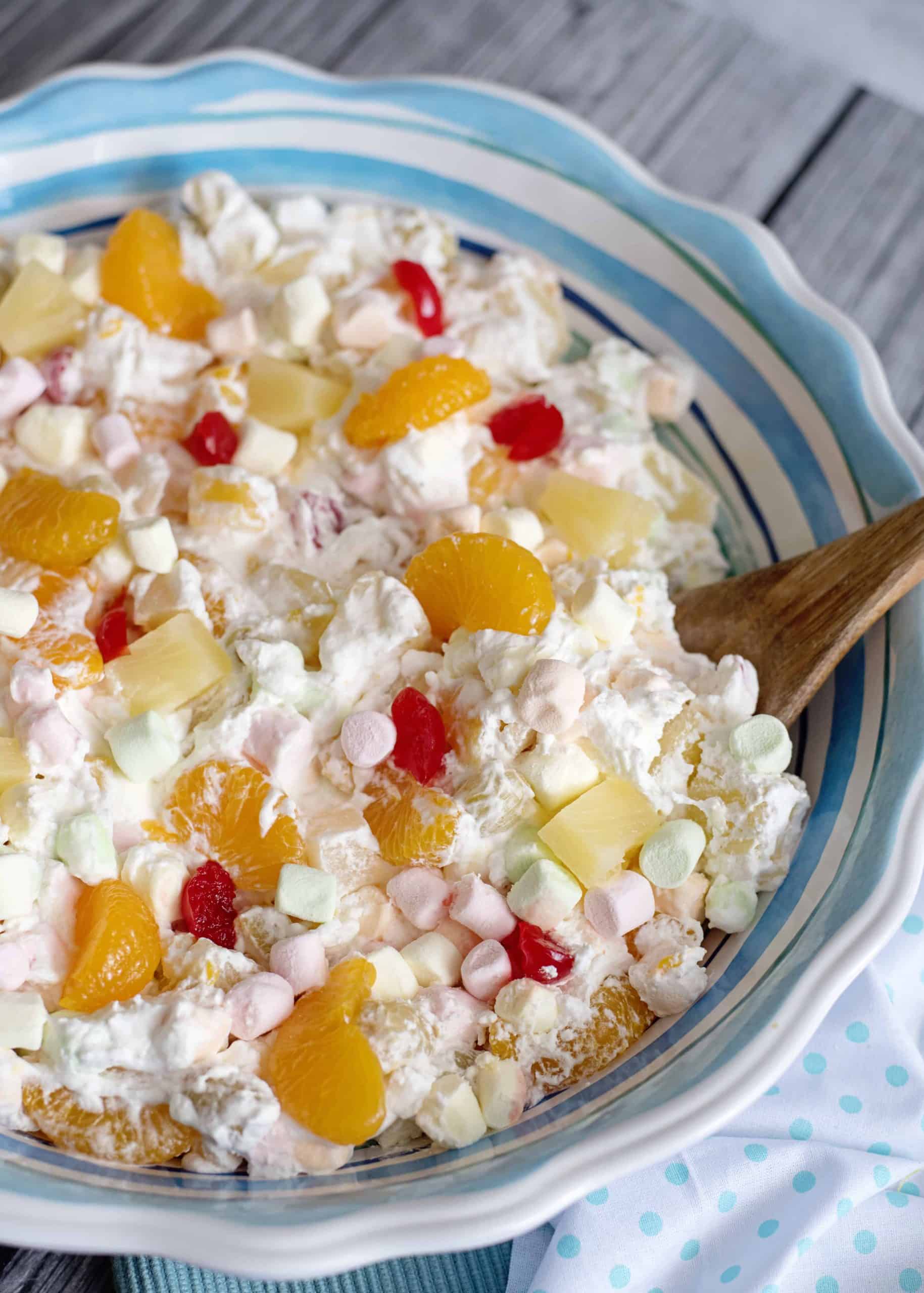 Ingredients
1

cup

mini marshmallows

fruit-flavored or plain (I use kosher)

1

cup

mandarin oranges, drained

1

cup

whipped topping

1

cup

pineapple chunks, drained

1

cup

fruit cocktail, drained
Instructions
Mix together all ingredients in a large bowl. Refrigerate until ready to serve.

1 cup mini marshmallows,

1 cup mandarin oranges, drained,

1 cup whipped topping,

1 cup pineapple chunks, drained,

1 cup fruit cocktail, drained
Nutrition
Do you follow me on Instagram? I post lots of fun quote pictures like the one below. You can click here to follow me over there. If you'd like to see all of my quote pictures on one page, you can click here to view everyone I've made so far on SouthernPlate, there are well over 100! Feel free to download them and share them on your social media, text them to friends, or just enjoy yourself.