These cranberry crunch bars include sweet and tart cranberries with a buttery streusel-like crumble topping and base that make them the perfect addition to your Thanksgiving table this year.
Some recipes just get you talking about the old days, which is why we love them so much. Cranberry crunch is one of those recipes that gets my mother talking about her childhood. The school lunch ladies often made this around the holidays and she loved it so much that one of them gave her the recipe for it, which has led us to enjoy it for the past couple of generations. Nothing like an heirloom recipe to bring memories back to life, especially around the holidays.
You only need 5 ingredients to make this old-fashioned cranberry crunch recipe: cranberry sauce, flour, oats, butter, and brown sugar. All we're going to do is combine our dry ingredients (flour, oats, and sugar) in a mixing bowl and then cut in the butter to make it deliciously crumbly. Then we press half of this into the bottom of our baking dish before adding all the cranberry sauce and then the remaining crumble topping.
Then you have to patiently wait for it to bake before grabbing a bowl and serving your cranberry crunch bar with a big dollop of whipped cream or vanilla ice cream. I've also been known to enjoy one for breakfast, too. If you're a fan of the humble crumble, you will love cranberry crunch. The combination of tart yet sweet cranberries with the buttery streusel-like crumble topping will be the perfect addition to your holiday table this year.
Recipe Ingredients
Whole berry cranberry sauce
Old-fashioned oats
Flour
Dark or light brown sugar
Butter
How To Make Cranberry Crunch
Place your flour, oats, and brown sugar in a large bowl.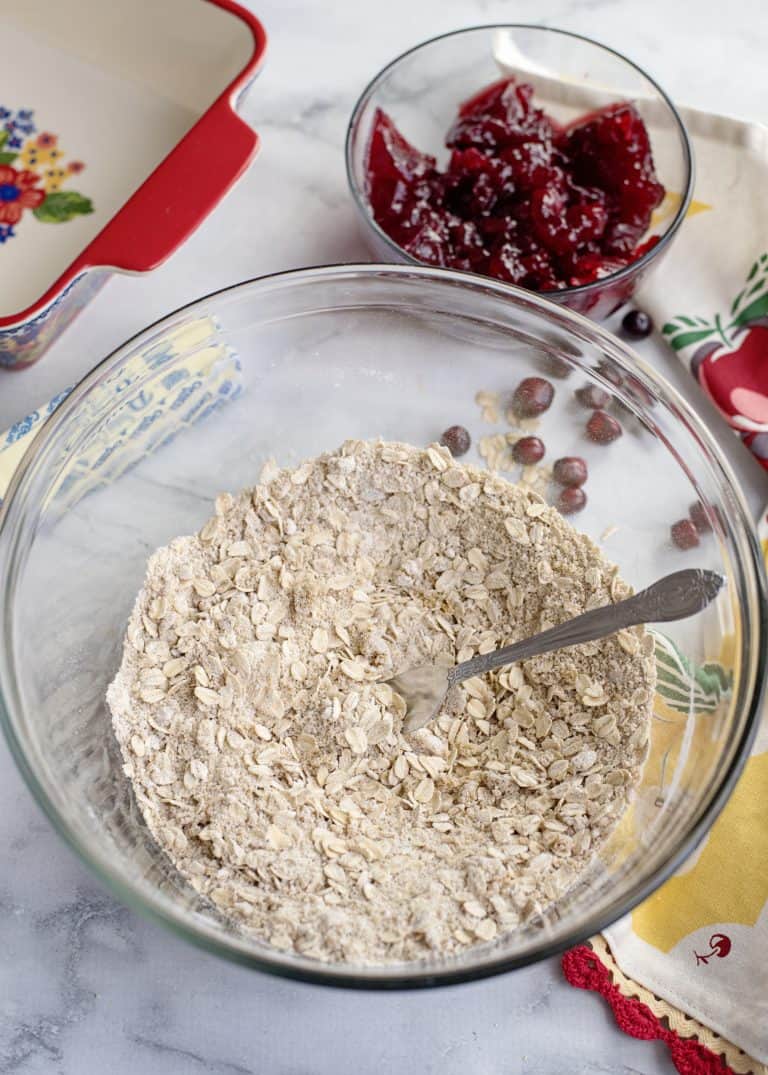 Stir them up.
Add your butter and cut that in with a long-tined fork or pastry cutter.
It will look like this.
Now spray a pie plate or 8×8 baking dish with cooking spray.
You can see some of these pretty dishes by fellow food blogger, Ree Drummond here.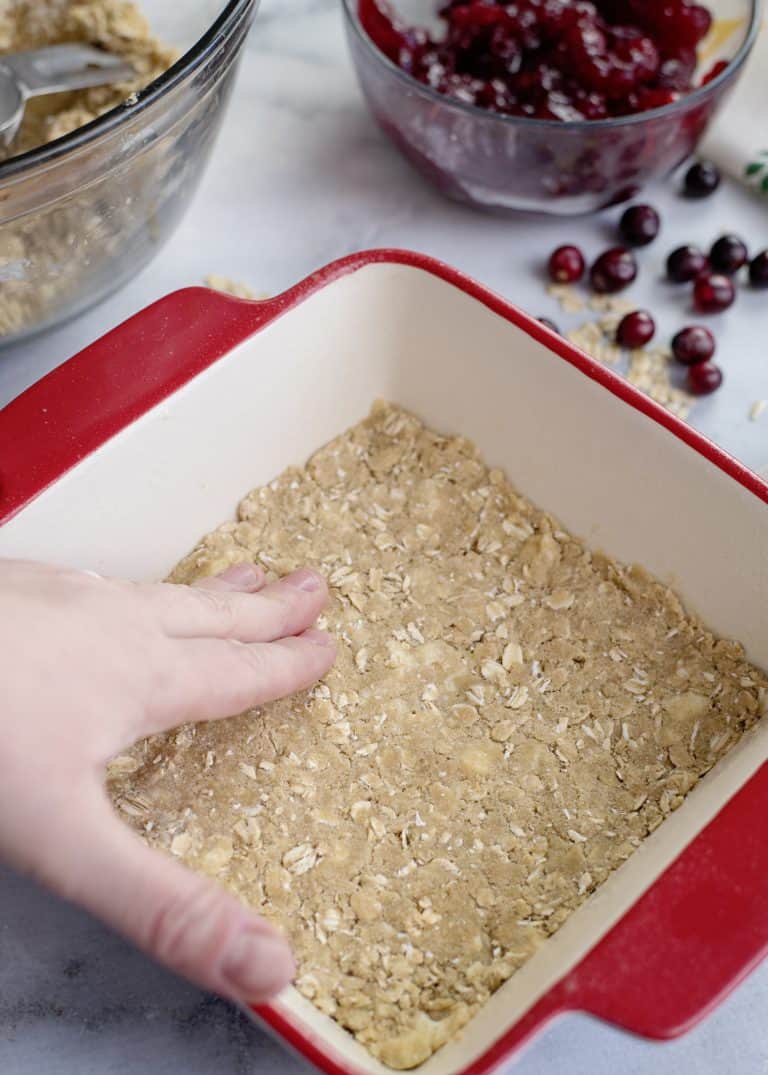 Press half of your crumble mixture into the bottom of the pie plate to form the crust for the cranberry crunch.
Top that with the entire can of cranberry sauce.
Then take that same spoon and spread it around a bit.
Sprinkle the remaining topping over the cranberry sauce.
Bake cranberry crunch at 350, uncovered, for 45 minutes to one hour, or until bubbly and golden brown.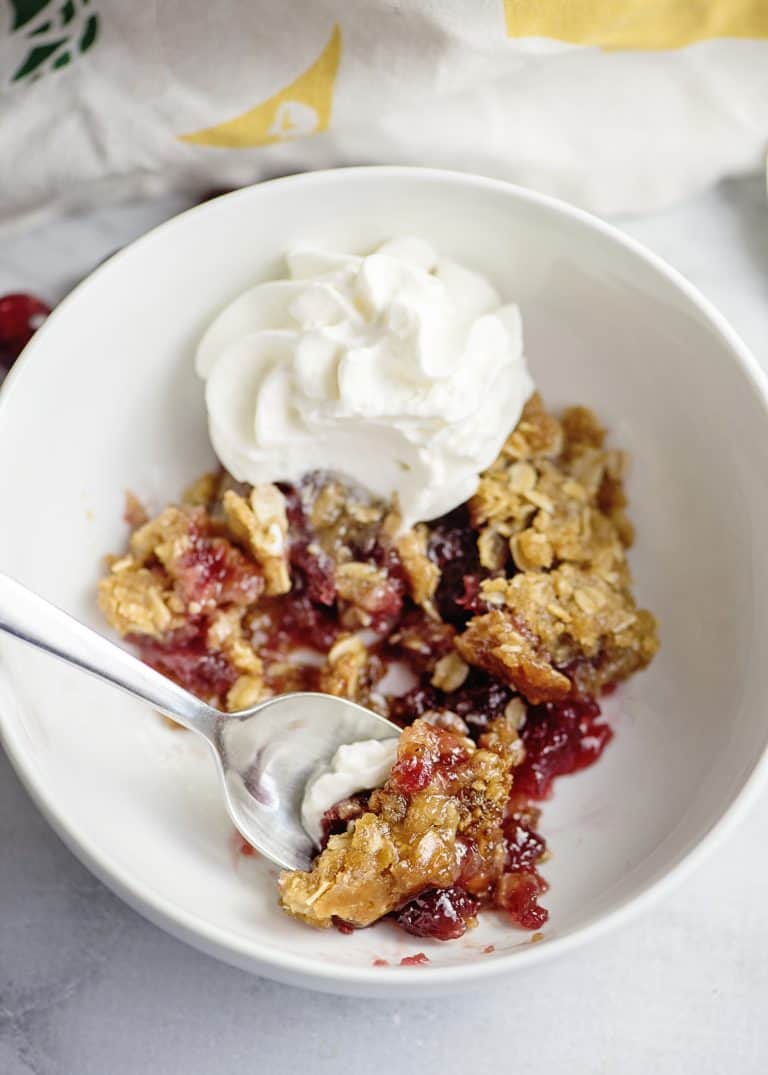 Cranberry crunch is excellent served with whipped cream or ice cream but you can also serve it as a side dish. Enjoy!
Storage
Store leftover cranberry crunch in an airtight container at room temperature for up to 3 days or in the fridge for up to 7 days. You can serve it at room temperature, cold, or reheated either in the oven or the microwave. This is a great recipe to make ahead of time this Thanksgiving.
You can also freeze leftovers for up to 3 months. Thaw at room temperature before serving.
Recipe Notes
I use old-fashioned rolled oats but quick oats will work just as well if that is what you have on hand.
As for brown sugar, I'm using dark because it is my very favorite, but if you have light or prefer light, knock yourself out!
I don't recommend using frozen or fresh cranberries for this particular cranberry crunch recipe, as the cranberry sauce has added sweetness, which is exactly what we want.
If you like, you can add 1/2 cup of chopped walnuts or chopped pecans to the crumble mix for added flavor and texture.
Another option is to make cranberry apple crunch. Spread a cup or so of chopped apples over the cranberry sauce before adding the topping.
Another way to add flavor is to add some spices to the topping. I'd recommend 1 teaspoon of ground cinnamon and 1/4 teaspoon of ground nutmeg.
Check out these other tasty cranberry treats:
Pumpkin Cranberry Bread With Caramel Glaze
Chewy Oatmeal Cranberry Cookie Recipe
Upside Down Cranberry Cinnamon Rolls
Ingredients
1

cup

old-fashioned oats

1/2

cup

all-purpose flour

1

16-ounce can

whole berry cranberry sauce

1

cup

light or dark brown sugar

1/2

cup

butter or margarine
Instructions
Mix the oats, flour, and brown sugar together in a large bowl. Cut in the butter using a long-tined fork or pastry cutter.

1 cup old-fashioned oats,

1/2 cup all-purpose flour,

1 cup light or dark brown sugar,

1/2 cup butter or margarine

Press 1/2 of the crumble mixture into the bottom of a greased 8x8 baking dish.

Spread cranberry sauce over the crust before topping it with the remaining crumbs.

1 16-ounce can whole berry cranberry sauce

Bake at 350 for 45 minutes to 1 hour or until lightly brown. Excellent served with whipped cream or ice cream.
Nutrition
Don't set yourself so firmly on remembering Thanksgiving's past that you forget to put your heart into this one.