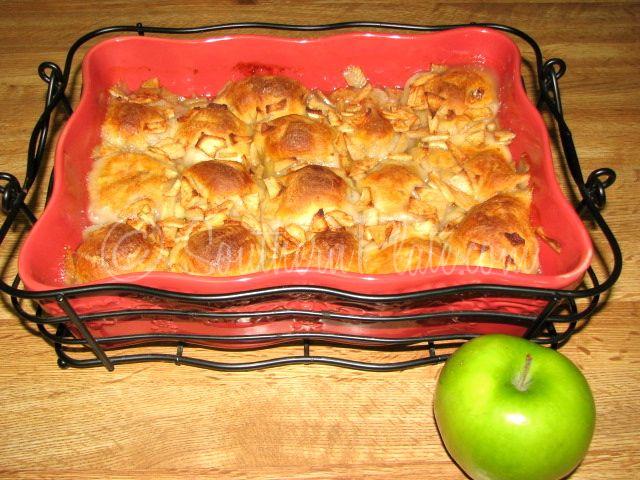 I am so excited that this is apple week for Southern Plate. The weather has turned cooler here and brought with it thoughts of beef stew and apple dumplings. Of course, I love apples cooked any way, Apple Dapple cake, fried apples, apple pie and these apple dumplings.
Tonight I made a big pot of beef stew , a skillet of cornbread and a large casserole full of apple dumplings. Christy wanted me to take some pictures and send her the recipe that I use for apple dumplings. You will see that I am definitely not a photographer but the end product was delicious. This is an old fashioned recipe that uses a little of this and a smidgen of that so I have done my best to measure all the ingredients for you. Do not be scared of adding or adjusting the ingredients to suit your taste. This is a very delicious and forgiving recipe. It would be even more delicious with vanilla ice cream on top!
Before I give you the recipe, let me tell you a little about how I went about making these dumplings. I use the small cheap canned biscuits. We call them whampum biscuits since you whampum on the counter to open them. I open the biscuits, take them apart and lay them out on wax paper to come to room temperature while I prepare the apples. This makes the biscuits easier to roll out. Then I peel the apples and cut them up into little pieces about the size of Chiclets chewing gum. Now the original recipe said to place a small amount of apples (about a heaping tablespoon) on each biscuit and then sprinkle with cinnamon. I can never remember to sprinkle the cinnamon on the apples when I get in a rhythm of making the dumplings so I just sprinkle cinnamon on the apples in the bowl and stir them up to distribute it. If you don't like cinnamon, the dumplings are just as good without it. I have had them both ways and love them either way.
~Mama
Alright, this is where I step in and take over. I, being me, Christy :). Now I know my Mama and Grandmama really well. In fact, I'm pretty confident that I know both of them just about better than any living person at this point. Mama and I are best friends and talk several times a day on the phone and for a good bit of time when I was in college after my Grandaddy had passed away, Grandmama and I lived together as roommates. So knowing the two of them and seeing this post, I know that y'all missed out on the best parts and I'm here to insert them, word for word, as I am sure they went down in the making of these dumplings.
Mama: Mama, this don't look right. Go get me a bath towel because Christy says you gotta have a light background.
Grandmama : Well what kind of a bath towel you want me to get? What you gonna do with it?
Mama: Get me a white one and hurry, I've got to get supper on before they all get here. Lane, baby, can you go do your homework on the kitchen table so I can take pictures here for Aunt Christy's website?
To make this recipe you'll need: Sugar, Cinnamon, 2 cans biscuits (ten count cans), apples (Granny smith is best but others work), and butter.
~in comes Grandmama with the towel~
Mama : Oh now that looks better.
Grandmama: It really brightened it up, didn't it? Let me see how it looks…
~Mama holds up the camera with the image on the back~
Grandmama : Oh I never could see them things on these new fancy cameras…
Peel and slice your apples however you want, a knife is fine.
Mama uses this fancy thing, which is really awesome, but I just use a paring knife and it works just as well. Mama has more storage space than me for gadgets – and she also has the ability to keep up with them far better than I do! If I bought one of these I'd probably use it once and then never be able to find it again.
Grandmama: Jan are you about done? I'm gittin' tired of holding this towel up here…
Mama: Almost, let me get one more picture and then you can put it down.
Grandmama : Well alright, hurry it up, we ain't got all day and I'm hungry. Reckon Christy will really put this on her website?
*Click*
Grandmama: Jan you ain't done took a picture of me did you! Janice! I'll say!
Mama: ~giggle~
Place your diced apples in a bowl and sprinkle with cinnamon. Stir to coat.
Mama: Okay Mama, you can put the towel down now.
Grandmama : Oh good, I think the weather is fixin to come on.
~Grandmama shuffles off into the den to watch her favorite meteorologist~
Take each biscuit and roll it out as best you can on waxed paper. Don't roll it too thin, just roll it out enough to be able to put some apple filling in the center.
Y'all don't know this but every time Mama takes a picture that she thinks turned out well she grins and tucks in her chin proudly as she looks at it. So just pretend that big old shadow isn't there and if she notices it we'll tell her it is in her head and looked fine to us.
Wow, there's the flash! lol
Put a heaping tablespoon of filling in the center of each one.
This is the point in the tutorial where Mama had to stop for a minute to try to help my nephew Lane with a math problem. The real problem occurred when she called me to help her figure out how to help him. My engineer husband wasn't home just then and it was like the blind leading the blind…
Alright well the good news is that Mama turned the flash off in this one but…
~squints~
Lets just use our imagination here.
After you put the filling in each round of dough, fold up the sides and press them together to close them.
Place all of you dumplings in a baking dish (I'm using a 9×13). Top each with a small pat of butter and sprinkle your remaining apples over them. If you don't have apples left, don't worry, just go with it and it will be fine. Sprinkle your sugar over the apples*.
*Mama uses half sugar and half splenda when she makes these.
Mama's Note: If you counted my dumplings, you will notice that I only had 17. My grandson ate two of the raw biscuits and his sister wanted to try one. She was not impressed! But 3 biscuits were missing in action.
Gently pour boiling water over the apples.
Mama says :I know this seems strange pouring water over this but trust me, it will turn into a delicious syrup.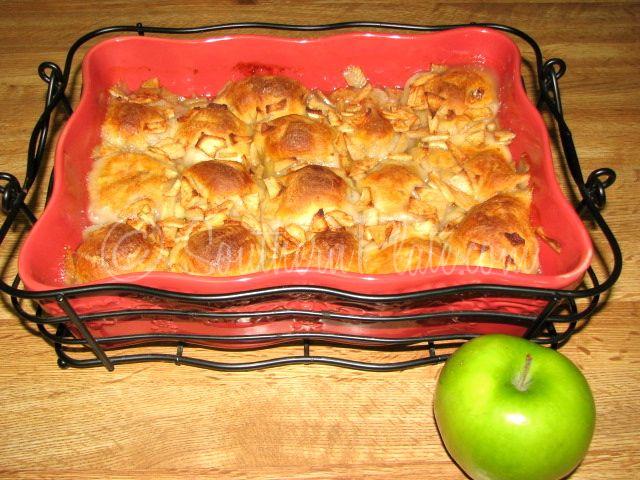 Bake at 350 for one hour.
Sit back and enjoy fall and the all the wonderful flavors that it brings!
Mama: Mama come sit down and eat.
Grandmama: Well just a minute, I'ma cleaning up the stove a little bit coz you done made a mess…
Gotta love 'em!
P.S. I just read this post to mama. She said "Well sounds like you got us pegged alright!"
Old Fashioned Apple Dumplings like my Grandmother Made
Ingredients
2-10 count cans of biscuits
3 granny smith apples
¾ stick butter or margarine
1 cup sugar
½ teaspoon cinnamon
Instructions
Boiling water (Enough to completely cover the dumplings and then another ½ cup)
Let biscuits sit out while you peel and chop apples (They're easier to roll out that way).
Peel and chop apples into small pieces. Place in bowl and sprinkle with cinnamon, stirring to coat.
Roll out biscuit and put a heaping tablespoon of apples in the center. Pull biscuit around apples and pinch to seal.
Place dumpling pinched side down in 13 X 9 casserole dish. Continue making until all 20 dumplings are made and placed in dish.
Cut butter into pats and place on top of dumplings. Pour any remaining apple pieces on top of the dumplings.
Sprinkle 1 cup of sugar over the dumplings.
Then pour boiling water gently over the dumplings. Pour water until it completely covers the dumplings. Then add about another ½ cup. Trust me, the water will turn into a delicious syrup.
Bake at 350 degrees for 1 hour.
"Grandma always made you feel she had been waiting
to see just you all day and now the day was complete."
~ Marcy DeMaree
Yum