Mama Reed didn't really have a recipe for Mama Reed's Caramel Apple Cake, but I took one of her recipes and used it as the base to build it on so I decided to give her credit. It's sort of like a collaboration with the great grandmother I know only through stories, and I like how that feels. After making a spiced baked apple cake I topped it with a Caramel Fudge icing, similar to my Peanut Butter Fudge Icing and Chocolate Fudge Icing, but even better, because it's caramel :).
Ingredients for Caramel Apple Cake
For the cake part, you'll need:
A couple of apples (any kind, 2 large or 3 medium or whatever you have),
Self rising flour (see a tip at the end of post to make your own)
Eggs
Vanilla
Sugar
Vegetable oil
Water
Cinnamon and allspice.
How To Make Caramel Apple Cake Recipe
The icing ingredients for the caramel apple cake are down a little further in the post in the printable card where everything is all together like one big happy family at the bottom.
Stir together your self rising flour and sugar in a bowl.
Peel and chop apples until you are tired of chopping apples.
Then dump them in the bowl with the flour along with all of the other ingredients.
Stir that by hand really well until it is all nice and blendy looking. Or until you get tired of fooling with it.
Pour that into a 9×13 baking dish that you've sprayed with cooking spray.
Bake this at 350 for about 45 minutes, or until set and lightly browned.
There we are. A lovely photo of our baked cake. This cake looks a little dimply when it is done on account of the apples.
How To Make the Icing for Caramel Apple Cake
Oh mercy mercy mercy is this stuff amazing? Yes. Yes, it is.
You'll need:
Confectioner's sugar,
Butter,
More vanilla,
Brown sugar (light or dark works but I prefer dark for this),
Heavy cream, sometimes known as whipping cream.
Place your cream (or milk), butter, and brown sugar in a medium sauce pot.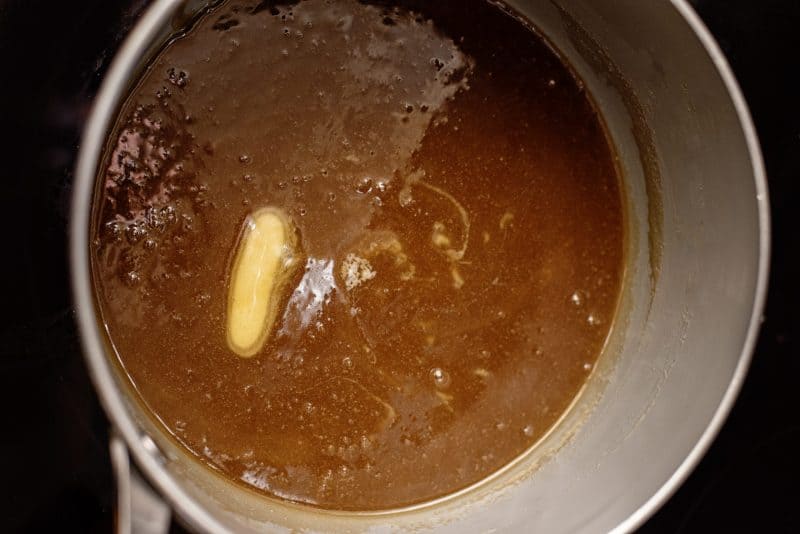 Stir this CONSTANTLY over medium heat until the butter is melted (mostly 😉 and it is all a nice brown mixture like this.
Now crank up that heat to medium high and STIR CONSTANTLY (not kidding here) to bring it to a full rolling boil. Once it is boiling, set your timer for 2 minutes. Exactly.
When that timer dings immediately remove from heat, stir in vanilla, and stir in confectioners's sugar.
Stir fast because this stuff is gonna set up pretty quickly.
Now it is pretty much smooth and creamy.
Quickly spread it over your cooled cake. Quick. Because it gets hard fast.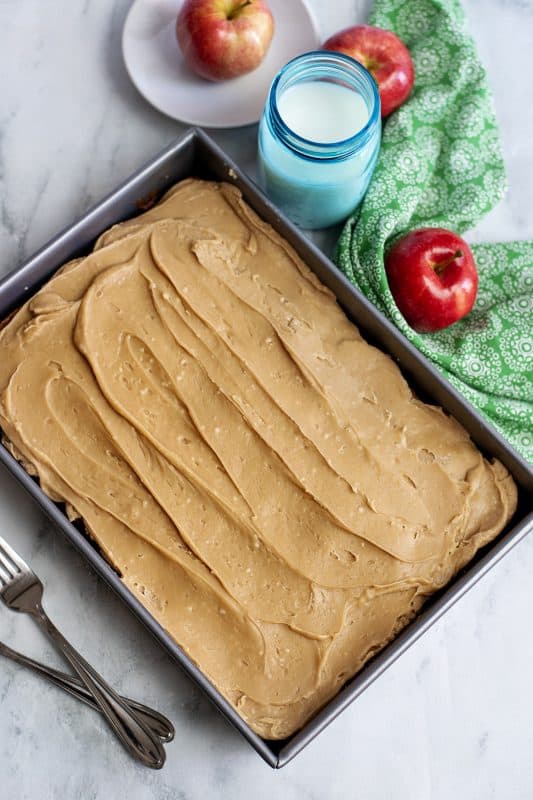 Why are you still sitting here when you have an amazing caramel apple cake just waiting for you to bake it?
Ingredients
2

cups

self rising flour

2-3

apples

peeled and chopped

2

eggs

1

+1/2 cup sugar

1/2

cup

vegetable oil

1/2

cup

water

2

teaspoons

cinnamon

1

teaspoon

allspice

1

teaspoon

vanilla
For Icing
4

Tablespoons

butter or margarine

8

Tablespoons

heavy cream or milk

1

cup

packed dark brown sugar

light is okay

2

cups

confectioner's sugar

1

teaspoon

vanilla
Instructions
Combine all ingredients in a large mixing bowl and mix by hand with a wooden spoon until well blended and smooth. Spread into a greased 9x13 cake pan.

Bake at 350 for 45 minutes.
For icing
Stir together butter, cream, and brown sugar in a sauce pot. Place over medium heat and stir constantly until butter is melted and mixture is well blended. Turn heat up to medium high and stir constantly until it comes to a rolling boil. Once boiling, cook for 2 minutes and then remove from heat. Stir in confectioners sugar and vanilla until smooth. Work quickly and use a wire whisk or electric mixer if you prefer. You can add up to 1/2 cup more confectioner's sugar if needed to thicken. Ice cooled cake as soon as possible.
If you were born after 1950, don't try to ice a layer cake with a boiled icing. Stick with 9x13 sheet cakes. Trust me 🙂
Nutrition
Tips for this recipe:
To make your own self rising flour, simply add 1+1/2 tsp baking powder and 1/2 tsp salt for EACH cup of all purpose flour.
You can use whole milk in place of cream if you like. Please don't use skim or 2 percent. You can, of course, but whole milk is just one step down from heavy cream, once you get into the skim stuff you're pretty far removed and it will make a taste difference. Having said that, what business is it of mine to tell you not to use skim or 2 percent? I'm just gonna get my nose out of your kitchen and back into my own pots. Apologize for the intrusion :).
"Happiness is not determined by what's happening around you, but rather what's happening inside you. Most people depend on others to gain happiness, but the truth is, it always comes from within."
~Unknown