These Loose Meat Sandwiches are full of flavor and absolutely delicious. The dinner rolls these are served on are an absolute must!
Recipe Ingredients
Garlic Powder
Brown Sugar
Onion
Worcestershire Sauce
Soy Sauce
LEAN Ground beef
Cider Vinegar
Seasoned Salt
Black Pepper
2 chicken and 2 beef bouillon cubes, or a cup of chicken broth and beef broth instead (even though only one of each is pictured).
And you need some of these because they are the absolute perfect vessel for our loose meat sandwiches.
It is very important that you use Hawaiian sweet rolls for this. If you use a regular hamburger bun, it's going to fall to pieces and be a big old mess. Plus it won't have that flavor in the bun that these rolls have.
Jyl's stubborn daughter (waves and smiles to Erin) didn't believe me and insisted on trying it on a bun. After that, she had one on a Hawaiian roll like I told her to in the first place and admitted that it was an entirely different experience.
How To Make Loose Meat Sandwiches
Start With Lean Beef
It is very important to start with lean beef so you don't have a lot of meat grease when cooking. All beef prices are sheer madness nowadays, so there isn't much of a difference in buying ground chuck or lean ground beef. Just don't use regular ground beef because there will be far too much grease and you will regret it when you go to serve up these puppies.
Chop up your onions kind of fine.
I know, my onions are not chopped fine but this is about as far as I get before my brain is ready to move onto the next step.
Finely chopped is a relative phrase.
Add onions and beef to a large skillet. Pour in water or if you are using the chicken and beef broth, pour that in here now.
Now start mixing up the ground beef with the water. You'll notice that with the added water the ground beef gets really, really fine. That is what we want. This is how we make hot dog chili and it is perfect for this meat as well. You're going to end up with very fine granules of tender beef and the water cooks out.
You want to put that over medium-high heat and cook it until the meat is done and there is no more pinkness.
It will get done pretty quick in this case because all of that water is cooking it at the same time the heat is.
Now add everything else.
Return this to the stovetop and stir it really, really well. Cook over medium to medium-high heat, stirring often, until the liquid cooks down as pictured below. This part may take anywhere from ten to twenty minutes. Just find something to read and hang out around the stove.
Or even better, let your kids do this part while you go put your feet up.
This is our finished loose meat, all ready for sandwiches.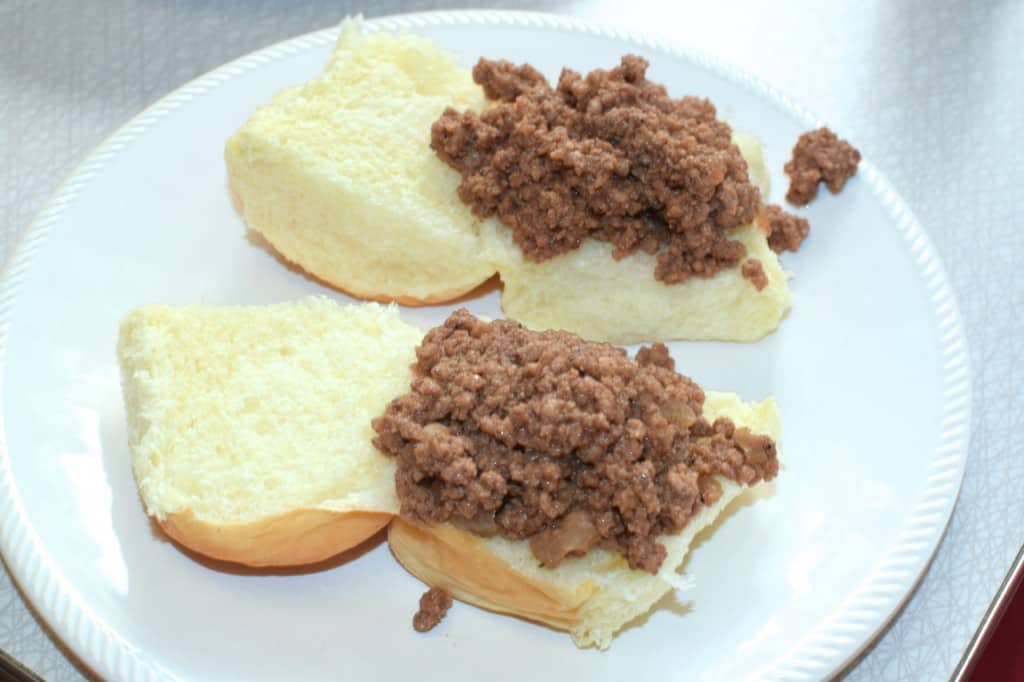 Using a spoon, strain out some of the meat and press it into a pile on top of the center of a cut Hawaiian Sweet Roll. Add salt and pepper to taste.
What Are Some Good Toppings?
These loose meat burgers are absolutely sublime when topped with mustard (and pickles).
One of my daughter's friends had one and insisted on hot sauce and said the same thing about hot sauce.
My son's favorite topping is ketchup.
My husband insists that purity is best and has them as they are, nothing added, just on the roll.
A Word About Bouillion Cubes
I have gotten away from using bouillion cubes to keep salt levels low and substituted with beef and chicken broth. I find these give the meat even more flavor. But use whatever you feel comfortable with.
Recipe FAQs
How to store leftovers?
If you happen to not eat all your meat, simply store it in the fridge for up to three days. Then when you would like some, heat it up in the microwave or add to a skillet with a splash of water. This will warm it up and prevent the meat from burning.
Can you freeze cooked ground beef?
Go right ahead and freeze any of the ground beef you don't eat right away. It will freeze for up to three months in the freezer. You can freeze the meat in a freezer bag or airtight container that is freezer-friendly.
Does this recipe double?
Grab a larger pan and go right ahead and double, triple, or even quadruple the recipe. This is a great ground beef recipe to serve up for birthday parties, family gatherings, and more.
Can I use ground turkey to replace the ground beef?
If you want a leaner loose meat sandwich recipe, opt for ground turkey or even chicken. It will of course change the flavor a bit, but it will still be just as delicious as the beef.
What is the difference between a loose meat sandwich and a sloppy joe?
The biggest difference between a loose meat sandwich and a sloppy joe is that the latter is known for its tomato-based sauce. Loose meat sandwiches are the meat without the sauce.
This loose meat sandwich recipe is one of those recipes you just have to try. Martha Staton emailed me when I shared a special email address with my subscribers and asked if I had the recipe for Maid-Rite or Alley Canteen burgers like she grew up on in Iowa. But wouldn't you know, I have never stepped foot in Iowa and had no idea what she was talking about.
The way she carried on about how good they were got me to do some research right quick-like, though! I found the basic gist of the recipe and then decided what cooking method would be the best way to duplicate it, then added a little of my own seasonings, and here you go… some loose meat sandwiches.
Ingredients
3

pounds

LEAN ground beef

2

tablespoons

cider vinegar

2

tablespoons

brown sugar

2

tablespoons

worcestershire

2

tablespoons

soy sauce

1

whole onion

finely chopped

1

+1/2 teaspoons seasoned salt

1/2

teaspoon

pepper

2

teaspoons

garlic powder

3 to 4

cups

water

eliminate this step if you are using broth

2

beef bouillon cubes

or two cups of broth

2

chicken boullion cubes

or two cups of broth
Instructions
Put beef and onion in large skillet along with water. Chop up beef really really fine while bringing it to a low boil over medium high heat. Cook, stirring and chopping often, until no longer pink.

Add everything else and continue lightly boiling, stirring often, until water is cooked down and mixture gets thick.

Strain beef out and press small mounds of beef onto cut hawaiian sweet rolls. Top with your choice of condiments. Mustard is highly recommended :).

Makes enough for 24 little sandwiches, which is one pack of Hawaiian rolls. Leftovers freeze well.
Video
Notes
Now we use a lot of beef here for 4 servings but consider that one serving is two sandwiches like we have pictured.  The amount of beef and serving size has caused a lot of ruckus in the comments so I wanted to clear it up here. 🙂
Nutrition
You may also enjoy these sandwich recipes: