If you are on Pinterest or Facebook and could use one of those buttons above, I'd sure appreciate it! Now, let's make some Cowboy Pizza!!
Today I'm going to show you how to make a Barbecue Chicken Pizza that will make your taste buds yodel! It comes together quick as a wink, too, whether you use my homemade pizza crust recipe or store bought.
But before we get started with the Barbecue Chicken Pizza, also known as Cowboy Pizza, I'm gonna chat with you a little bit about what to do when you find yourself bobbing along in water that is obviously over your head.
Sit back and get comfy, or scroll on down to the recipe. Whatever cranks your tractor.
Here we go…
Have You Ever Felt Overwhelmed?
If you are the sort of individual who breathes oxygen, you have likely found yourself overwhelmed at some point in your life. If you are like me, this happens on a regular basis. Like when the sun shines or the sky is blue.
Between the technical ins and outs of running a website, photographing and writing new posts, working on a book, trying to answer comments on SouthernPlate and Facebook, business calls and emails, speaking requests and appointments, I also am trying to be a Mama – which is most important. In addition to that like you I am trying to keep up with the house, cooking, cleaning and making sure whatever handyman or work person is needed that day arrives on time, it is safe to say that I can feel pretty overwhelmed at times.
I am likely just like you
I have no staff.
There is no housekeeper.
Supper at the end of the day is cooked by me or not cooked at all.
I often find myself feeling as if I'm running on empty and can't go another step.
How to address overwhelm
That's when I step back and, rather than look at how ill equipped I am to handle everything, I look at the tools that I do have.
This is a list I made last night in my journal…
I have:
The ability to love people
Family
Laughter
Sleep (sometimes)
Peace
Inner joy
God's grace.
and when it comes down to it what else could I possibly need?
What DO you have?
And after making out a list of what I do have, I see that I have all I need to do what I am called to do. And if I do not have what I need to fulfill my calling, then I know that God will give it to me as long as I am open to receiving it and make some room for it to appear.
So I encourage you to step back today and make a list. Rather than focus on what you don't have, list what you do.
How are you equipped? Be honest, be open minded.
When you feel yourself sinking, if you step back and look at the big picture, you'll realize that for every body of water you must cross, there is a bridge.
Now Lets Make Some Cowboy Pizza.
Cowboy pizza can easily be adapted to your favorite flavors but I'm going to show you how I make it and you can go from there.
Ingredients to make Cowboy Pizza the Southern Plate way you'll need:
Shredded Mozzarella
Green onions
Barbecue sauce*
Cooked chicken.
You'll also need a pizza crust but we're about to get to that part.
Barbecue Sauce – I'm using my original barbecue sauce recipe which can be found in my first book. You can use whatever recipe or store bought sauce you like the most.
I'm also streamlining things a bit by starting with a rotisserie chicken.
Let me tell ya why…
I have a rule I've learned to live by in my older age which, surprisingly, did not seem as obvious in my younger years as it does now:
Do not complicate that which is simple.
You're also going to need a pizza crust. You can purchase a store bought one like this (which I get in the refrigerated section, near the cheeses) or you can make your own like this.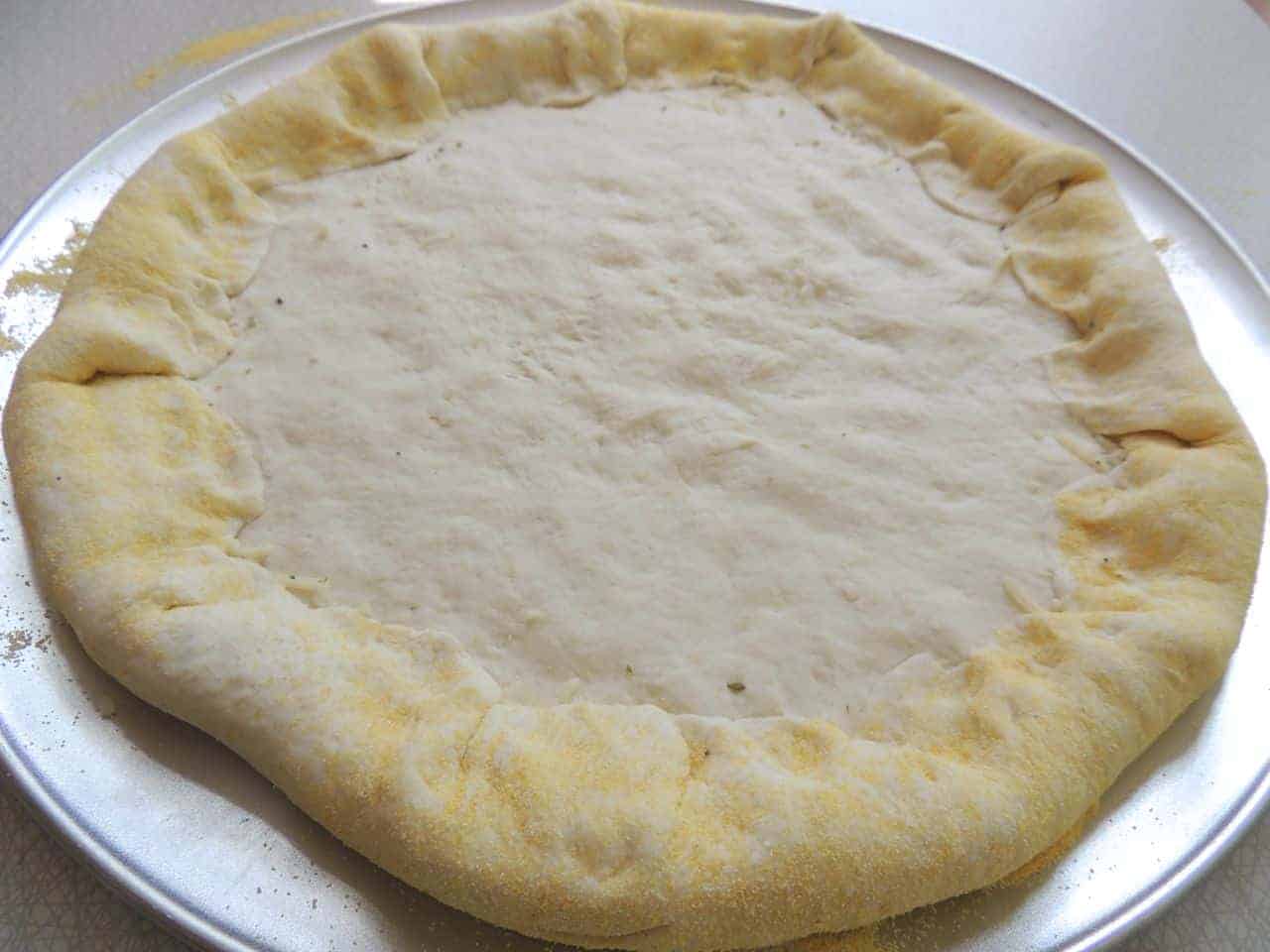 This is my homemade stuffed crust pizza recipe that you can put together in a little over five minutes and is easy as can be. Click here for the recipe with step by step photos.
Now lets make our Cowboy pizza 🙂
Don't blink because this is gonna go fast.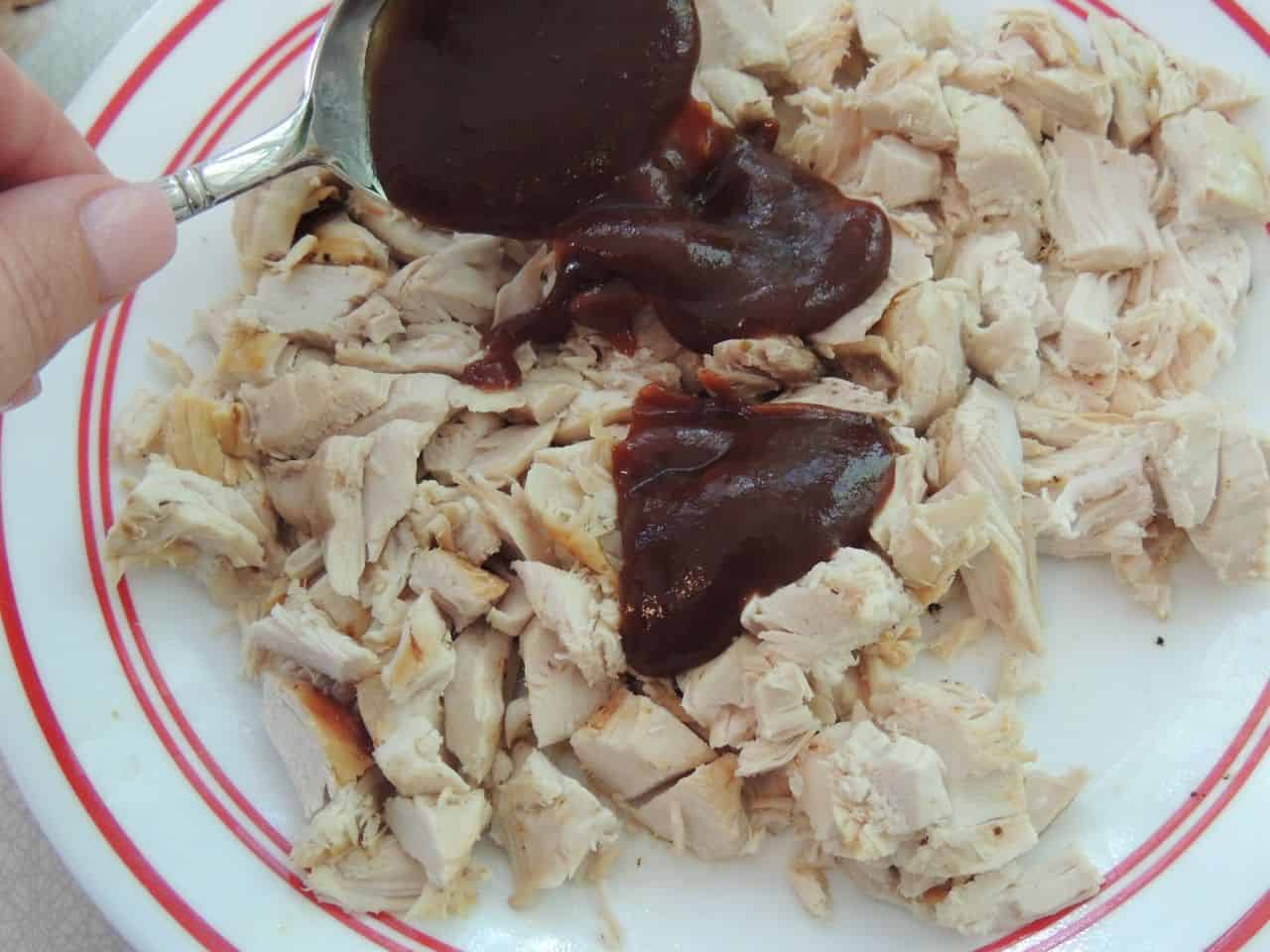 Remove the skin and chop up about a cup or two of chicken. You don't need this much but I was hungry when I made this.
Add in 3-4 tablespoons of bbq sauce of your choice.
Spread some bbq sauce over your crust.
How much you use is up to you. Personally, I like to use about double what is shown here but I toned it down a bit for this post.
Sprinkle sauce with just a little bit of dried oregano.
And a little bit of cheese.
Top with sliced green onions and more cheese.
Bake this at 400 for 20-25 minutes. Serve hot.
God Bless Cowboys and Cowboy Pizza. Yeehaw.
Ingredients
1

Pizza crust

either store bought or homemade (click here for recipe)

16

ounce

bottle Barbecue sauce

1-2

cups

shredded Mozzarella

1-2

cups

chopped

cooked chicken

2

green onions

chopped

1

tablespoon

dried Oregano
Instructions
Toss chopped chicken with 4 tablespoons of barbecue sauce to lightly coat. Set aside.

Spread remaining barbecue sauce over pizza crust (less if you like). Sprinkle with Oregano. Sprinkle with 1/2 of cheese.

Add chicken to top of pizza and sprinkle with remaining cheese, followed by onions.

Bake in 400 degree oven for 20-25 minutes, or until crust is lightly browned and cheese is bubbly. *If you are using a store bought crust, follow baking directions on the package.

Serve warm.
Nutrition
You may also like these recipes:
Real Food Real Fast Pizza Rolls
Pizza Rolls! Who wants the weekend off from cooking??
"Not everything that counts can be counted;
and not everything that can be counted counts."
~ Albert Einstein, Submitted by Wayne Walker