Quick & Easy Oatmeal Carmelitas
5 ingredients + 35 minutes = a delicious batch of soft and decadent oatmeal carmelitas, a bar cookie that's a caramel lover's dream!
I'm a caramel gal. I cast caramel the same longing looks that most folks reserve for chocolate. Creamy, gooey caramel has always called my name louder than any other form of candy. So as a caramel lover, when I tell you that today's recipe is something special, you need to know that I am sharing one of my treasures with you.
I'm pretty sure every time someone eats an oatmeal carmelita, an angel earns its wings or God smiles, or maybe a baby is born, or something like that. Either way, I'm pretty sure it's a big deal in Heaven ;). Oatmeal carmelita bars were first published in a Pilsbury cookbook in 1979 and are still beloved today. One bite and you'll see why.
Fortunately, when I say this is a quick and easy oatmeal carmelitas recipe, I mean it. All you need is 5 ingredients (flour, oats, butter, brown sugar, and caramel) and 35 minutes and you'll have a big batch of these beautiful bars. They're soft and filled with the most irresistible ooey-gooey caramel center. Plus, the oatmeal and brown sugar crumbly topping adds to the caramelized flavor. I tell ya, a caramel lover's dream! Let's get started!
Recipe Ingredients
Brown sugar (I prefer dark)
Old-fashioned oats (quick oats will also work)
Self-rising flour
Melted butter
Caramel
Place everything but the caramel in a large bowl.
Stir that together real good until it's well blended.
Now get a pinch of it to taste because it is WONDERFUL!
Pat half of this oat mixture into the bottom of a greased 9×13 pan.
Take your caramel sauce and BLOP caramel all over the top.
Then spread it out to cover.
Sprinkle the rest of your crumb mixture over the top.
Bake this at 350 for 30 minutes or until lightly browned. Allow them to cool pretty good before cutting so the caramel has time to set up again.
I know, this just sounds so wrong and normally I would quietly encourage you to eat one warm but trust me, that caramel is hot as tar straight out of the oven. Although it is worth a tongue burn, that would inhibit your ability to enjoy then later so I'm thinking of your safety here.
Did you see how easy that was? Seriously! It is amazing that a bar with this much deliciousness can be done with so little effort.
Storage
Store leftovers in an airtight container in the fridge for up to 4 days. You can also freeze them for up to 3 months. You can wait for them to thaw in the fridge or enjoy them from frozen.
Recipe Notes
Traditionally, I could only find the caramel in the Mexican aisle, but these days you can usually locate it in the bakery section at your local grocery store. But if you want to make your own caramel check out our recipe for homemade dulce de leche here.
If you want to step up the indulgence, you can spread 1 cup of semi-sweet milk chocolate chips and 3/4 cup of chopped pecans over the caramel layer. You can use any kind of chocolate (milk, white, or dark chocolate) and your favorite nuts, like walnuts.
For a salted caramel touch, add a pinch to the oatmeal mixture.
Check out these other delicious cookie bar recipes:
Peanut Butter Cheesecake Cookie Bars
Recipe for Chocolate Chip Bars
Butter Bars From Scratch: Gooey Goodness Awaits!
Recipe for Peanut Butter Granola Bars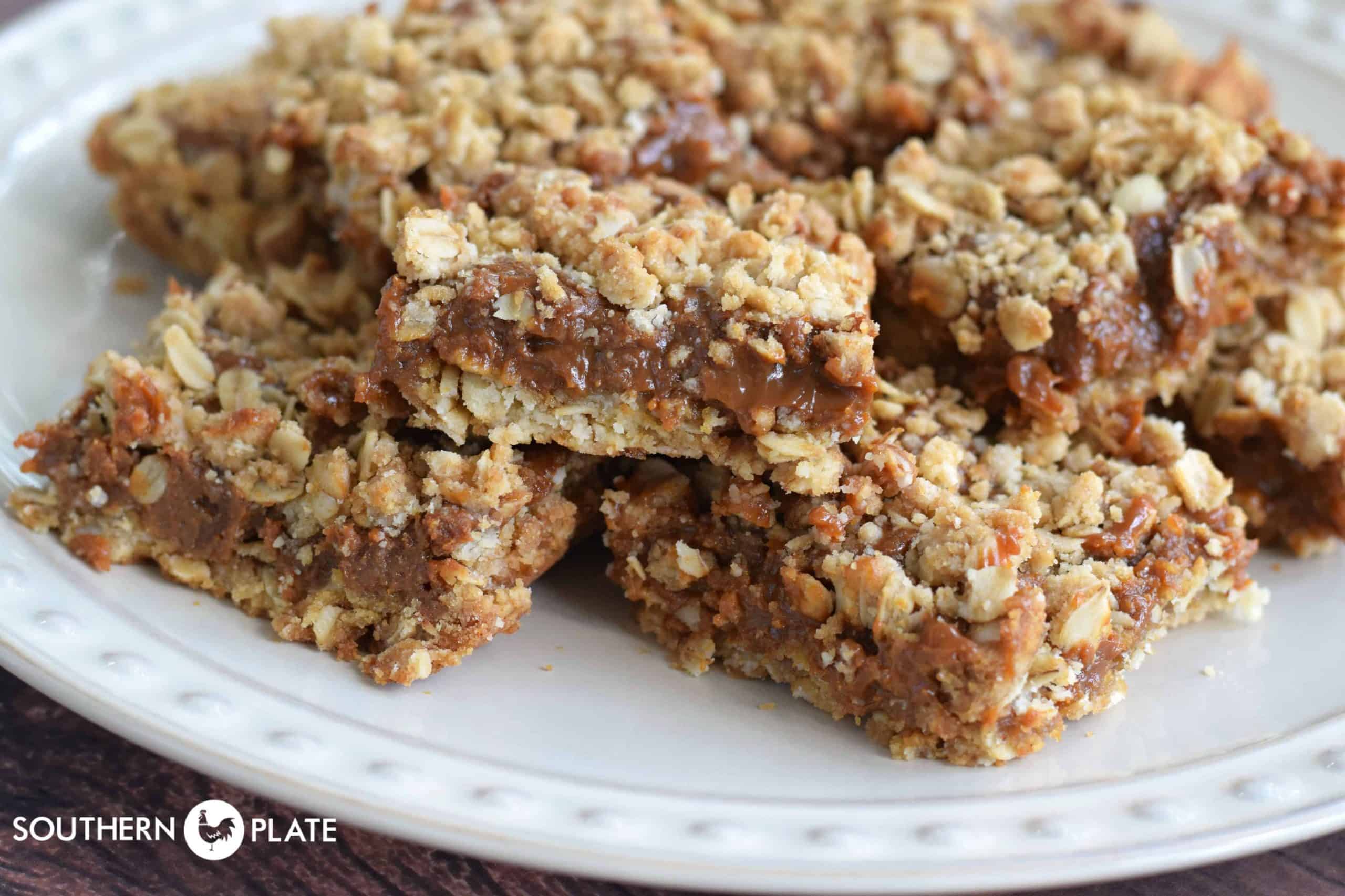 Ingredients
2

cups

self-rising flour

2

cups

old-fashioned oats

1 1/2

cups

packed dark brown sugar

1

cup

butter

melted

2

cans

dulce de leche or caramel

14-ounce each
Instructions
In a large bowl, stir together the first four ingredients until well blended.

2 cups self-rising flour,

2 cups old-fashioned oats,

1 1/2 cups packed dark brown sugar,

1 cup butter

Pat half of the mixture into the bottom of a greased 9x13 pan.

Spread all of the caramel sauce over the top of the oat mixture until evenly covered. Sprinkle this with the remaining crumb mixture.

2 cans dulce de leche or caramel

Bake at 350 for 30 minutes, or until lightly browned. Allow to cool at least slightly before serving so caramel will be set again.
Nutrition
Peace I leave with you; my peace I give you. I do not give to you as the world gives. Do not let your hearts be troubled and do not be afraid. ~John 14:27