Today I'm bringing you another great freezer recipe that you can make ahead of time and pop in the oven on a busy morning or for a quick bite size dessert after supper. These Stuffed Cinnamon Toast Sticks are everything that's good in cinnamon toast combined with a cream cheese filling. Once they're waiting in your freezer, the only work left to do is put them on a pan and bake for a few minutes in the oven. Convenience food from your own kitchen anytime the need arises! I like that. 🙂
In one of my recent posts I shared a little story of my baby girl and have plans to highlight each family member in their own future post. Today, since my son has always loved cinnamon toast sticks, he's the lucky one. If you'd rather not sit and visit with me a while, just scroll on down to the first picture and start reading the recipe. If you have a few minutes to spare, grab a cup of coffee or whatever your choice of beverage is and sit a spell because I feel like chatting :).
Ready? Here we go… ~takes a sip~
Brady was the child who made me a Mama, which was and still is the greatest dream I have ever had. When I found out I was expecting, Ricky and I went to a doctor's office to double check, the news being too good to believe without a professional opinion, and when they told us, we both lost it, crying and squaling like a bunch of idiots in that doctor's office. People were coming to check on us because they thought something was wrong the way we were carrying on.
He was born on July 6, 1999, or as my daughter likes to say "Brady was born in the nineteen hundreds…". and his entry into this world was in a crowded hospital, in the one labor and delivery room with no air conditioning, with a doctor whose only words to me were to yell at me to shut up. That's the nice glossed over version :).
Even though I was on the downhill slope of my twenties at the time, I had serious concerns about my skill as the mother of a newborn. I remember at the hospital, I was so worried and nervous that they would realize I didn't know what I was doing and not let me bring him home. Every time I would go to change a diaper or feed a bottle, if a nurse came in, I just stopped and held him to me for fear they would see how piteous I was at performing the task. But surprisingly, they let me have that baby of mine and as we pulled out of the hospital parking lot, I looked back in relief as if we'd managed to con our way out of a prison.
Me and my sweet baby had made it out!
The next year was a blur of photographs, spitting up (everywhere, at all times), colic screams, postpartum depression (which the "shut up" doctor told me to "get over") and very little sleep.
When I say "very little sleep" I'm not kidding. There is a huge difference between not getting "enough" sleep and not ever being able to sleep for more than an hour at a time, being awakened by screaming, staying awake for an hour or so, and then going back to sleep only to have the process repeat, every day, week after week, month after month. THAT is sleep deprivation and it's brutal.
~All my parents of colicky babies raise your fist in solidarity yo!~
Around seven or eight months, our family doctor gave me something to help Brady with the colic. It helped immensely. He and I finally got to settle into our relationship a bit more with a lot less crying on both of our parts.
Brady was a strong willed baby, toddler, and child. I like to say he "showed significant leadership potential at an early age". He was a good kid, but knew his mind and had a definitive idea of how he wanted things. He would spend hours lining up his hot wheels cars in a perfect line going through the house and then get down on the floor to examine the line from all angles, pushing one this way or that just a fraction of an inch to achieve the precision he wanted. Talking to him was, as one neighbor described it "Like talking to a little thirty year old trapped in a toddler's body." It is no surprise now that he plans on becoming an engineer once he graduates.
When he was four, he began shortening my name of "Mama" to "Ma". I wasn't too fond of the moniker at the time and preferred Mama so whenever he would call me "Ma" I would shorten his name in reply and say "Yes, Bra?". You can imagine how that went over ~grins~.
After a week or so of this, he came into the kitchen one day and casually learned up against the cabinets and said "We need to talk."
I turned and said "Okay baby, what do we need to talk about?"
"Well, I'm getting older…" the words came so naturally out of the mouth of my four year old as he continued "and when I say words like 'Mama' it kind of sounds like baby talk. So that is why I am calling you 'Ma' instead." I looked at my baby boy and tried to see the man he saw himself as. Nodding in purposeful understanding, I kissed his head "Okay then. I guess I'll be Ma".
Both kids have called me that ever since.
My Brady has a deep and wide compassionate streak, as witnessed by anyone who has ever been belittled or bullied in his presence. In kindergarten, the kids colored pictures of themselves as Native Americans and one child told a girl her picture was ugly. She immediately began crying. Brady got up from his seat, went over to her and said "Let me see that. Oh wow! that is the best picture of all. I wish my picture looked like that!". He then proceeded to bring his picture and critique it next to hers, showing her how each of her features and strokes had been a better choice until she was smiling again.
He spent that entire year guarding over his classmates like that, anytime someone needed encouragement or lifting up, Brady was there. The school took notice and started pairing him up with kids who were shy, didn't have many friends, or were perhaps not being treated well. Brady just had a natural tendency to become best buddies with whoever was sitting by him and, just like he does now, he always made sure to bring them all along to the party.
He loves suits and we have always had to have one hanging in his closet ever since he was two years old – because a big part of our world is that you just never knew when Brady was going to wake up and want to wear a suit.
When he was just seven, the attorney general of our state came to speak to his school as a favor to my family and they let Brady meet him at his car and show him around the school. Brady went in his best suit and happily played tour guide as if it was his job every day of the year.
The school assembled in the auditorium and they asked Brady, at the last minute, if he would like to introduce him. "Sure" he said as he took the mic and walked up on stage. "Boys and girls, can I have your attention please? We have a very special guest today…" He began and went on to explain why it was an honor to have the state attorney general there to speak to them before finally introducing him amid a round of applause.
I stood at the back of the auditorium watching this child and marveling at the amazing young man who had been entrusted to my care. The mayor leaned over to me and said "Who IS that kid?". As always with my son, I felt like I was still learning who he was as well.
But that's my boy. He's always been that way and as he has grown he has become even more of the Brady
we know and love.I tell both of my kids that God has a special purpose for their lives and they have each grown up knowing that it is their responsibility to become educated spiritually, intellectually, and to grow in the wisdom they are going to need to fill that role when the time comes. I have no doubt that Brady has already been filling that role for years and will continue to do so.
I do have regrets as his mother, but they all stem from the times where I intervened and didn't let him go out on the limb he was gung ho to go out on. I've learned my lesson and pray that God will give him more opportunities to go out on as many limbs as he would like, so I can have opportunities not to intervene. That's the hard stuff, but I've learned that one of the greatest things I can do as his mother is stand back and cheer him on, even when I can't breathe for watching. Loving Brady kills me like that sometimes.
And here is a treat he has always enjoyed. I hope to make it for his son one of these days.
To make this, you'll need pretty much the same ingredients you'd use for cinnamon toast Bread (I prefer wheat), Sugar, Butter, and Cinnamon, plus Cream Cheese (check out my easy homemade cream cheese recipe), an Egg, and Vanilla.
I try to get one of the nice long squared off loaves of bread for this and the store brand usually has what I am looking for. We save the more expensive bread for our sandwiches and such. I don't use leftover bread of this but rather buy a brand new loaf so I can make enough to freeze and last a little bit.
Place softened cream cheese, egg, sugar, and vanilla in a bowl. Beat with an electric mixer until smooth and creamy.
I know the color is a bit yellow in this photograph and you'll see it a bit whiter looking in the next photo. This is because I was taking these at precisely 3:36 in the morning, because I happened to wake up around 3:00 AM and I thought "I should do that tutorial now and then I can freeze them and bake them when everyone wakes up later!".
Yeah, so anyway the lighting wasn't what it could have been. Because the sun was asleep – like the rest of my family. Like I would have been were I sane but honestly, where is the fun in that?
So what I do is lay out all of my bread on a baking sheet in twos. Then, I go and spread filling in between each set of slices like this.
Once all of the little cream cheese filled sandwiches are made, I place this pan in the freezer for about ten minutes. What this does is help toughen up the bread just ever so slightly so that it doesn't smoosh when we cut it into fingers.
After that, I cut the crusts off and cut each sandwich into three sticks.
I place those back on that same baking sheet and freeze these (uncovered) for about twenty to thirty minutes.
During this time, melt your butter so it has time to cool down a bit before we have to use it.
Also, stir your cinnamon and sugar together in a bowl.
Note: You will most likely need to melt more butter and stir more cinnamon and sugar together halfway through. I always have to and those will be the measurements given in the recipe at the bottom. However, I coat my sticks on all sides. If you just coat top and bottom your butter and cinnamon mixture will go further and your stuffed cinnamon sticks won't be as sweet.
Now dip each stick into melted butter and then cinnamon sugar.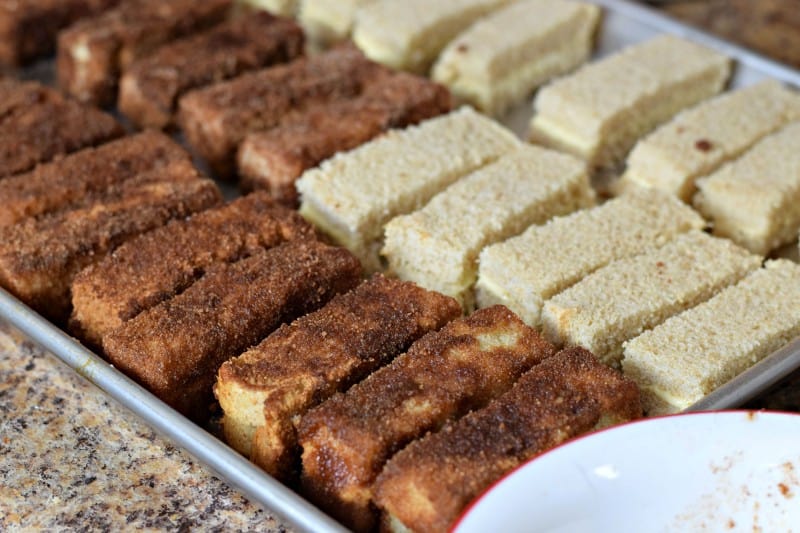 Repeat until all sticks are coated. Place this baking sheet back in the freezer until sticks are frozen firm, about an hour. Then, remove from baking sheet and place in zipper seal bag before returning to store them in the freezer.
To bake, place frozen sticks on baking sheet and bake at 400 for 8-10 minutes. Serve warm.
Ingredients
For filling
8

ounces

cream cheese

at room temp

1

egg

1

teaspoon

vanilla

1/4

cup

sugar
For cinnamon coating
1

cup

sugar

may need to double

1

tablespoon

cinnamon

May need to double

1/2

cup

butter

melted and cooled (may need to double)
Instructions
In large mixing bowl place cream cheese, egg, vanilla, and 1/4 cup sugar. Beat with electric mixer until smooth and creamy.

Lay out bread in stacks of two on a baking sheet. Spread filling in between each stack to make a sandwich. Place baking sheet in freezer for about ten minutes.

Remove from freezer and trim crusts off bread. Cut each sandwich into three sticks and place all sticks back on baking sheet. Return to freezer for 30 minutes to an hour.

Remove from freezer. Stir together cinnamon and remaining sugar in a small bowl. Place melted butter in another small bowl.

Dip each stick quickly in butter and then cinnamon sugar mixture, turning to coat. Place back on baking sheet. Repeat until all are done. Return to freezer and freeze for one hour. After they are completely frozen, remove from baking sheet and place in zipper seal bag in the freezer until ready to use.

To bake: Place desired number of stuffed cinnamon sticks onto baking sheet and bake in a 400 degree oven for 8-10 minutes. Enjoy!
Notes
Note: For less sweet cinnamon toast sticks, dip only the top and bottom in butter and cinnamon sugar mixture.
If you dip all sides (as pictured), you'll need to replenish your butter and cinnamon sugar mixture halfway through.
Nutrition
"Success is the ability to go from one failure to another without loss of enthusiasm." ~Winston Churchill