My easy-peasy spicy and sweet pickles recipe includes dill pickles marinated in a sweet, spicy, and tangy brine made with sugar, pickling spice, and white vinegar.
Julie Hutson sent me this handed-down recipe a few years back and my mother and I quickly got to making these spicy and sweet pickles and found they were the best pickles we'd ever eaten. They taste like the old-fashioned pickles my grandmother used to spend weeks creating! Over the past few years, I've developed my own way of making them and simplified it a bit for me (I tend to simplify everything but my household clutter, go figure) and so I decided that I just HAD to bring this easy sweet pickle recipe to y'all for the benefit of everyone who has never tasted a truly wonderful sweet and sassy pickle.
You are in for a treat… and very likely the best pickle you've ever had in your life. Fortunately, this sweet pickle recipe is super quick and easy to make. We start with whole dill store-bought pickles, which will marinate in a pickling liquid that's a little bit sweet thanks to the sugar, a little bit spicy thanks to the pickling spice, and a whole lot tangy thanks to the white vinegar. The instructions are as simple as combining all the ingredients and patiently waiting for them to get all good and pickled. You can eat them the next day, but these old-fashioned sweet pickles taste better the longer you let them marinate.
I've included lots of serving suggestions below for how you can make the most of your sweet and sour pickles. But I won't tell a soul if you simply eat them out of the jar because I do the exact same thing! Alright, who's ready to get pickling?
Recipe Ingredients
Sugar
White vinegar
Pickling spice
WHOLE dill pickles
How to Make Sweet Pickles
First, drain off all of your pickle juice into a bowl and remove all of the pickles from the jar.
Now, to that jar (or any sterilized jar), I want you to add the pickle juice…
Vinegar…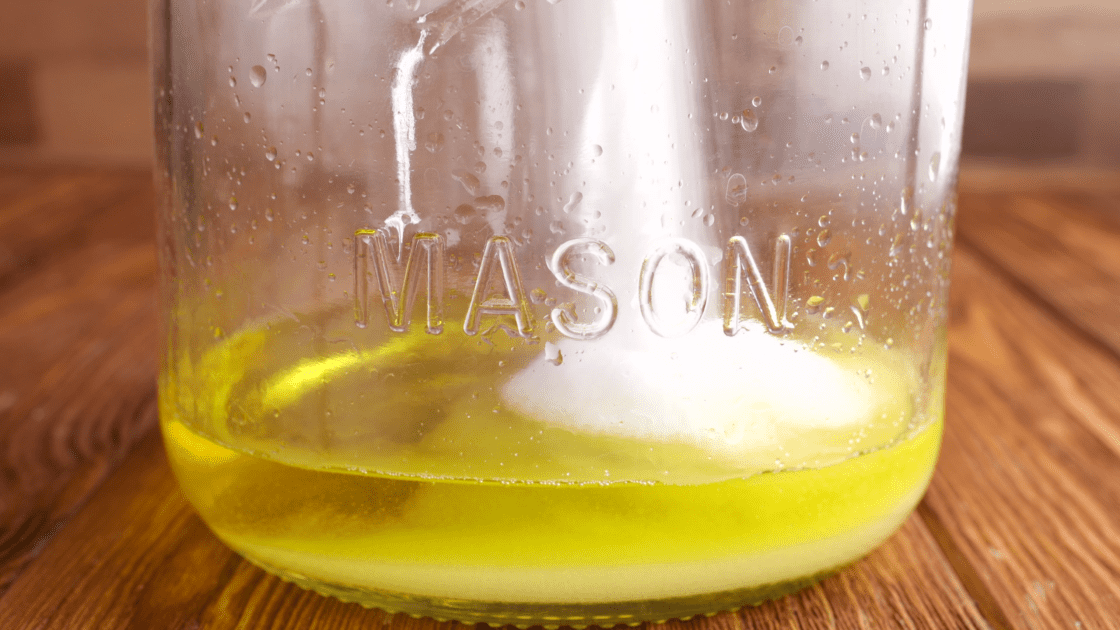 Sugar…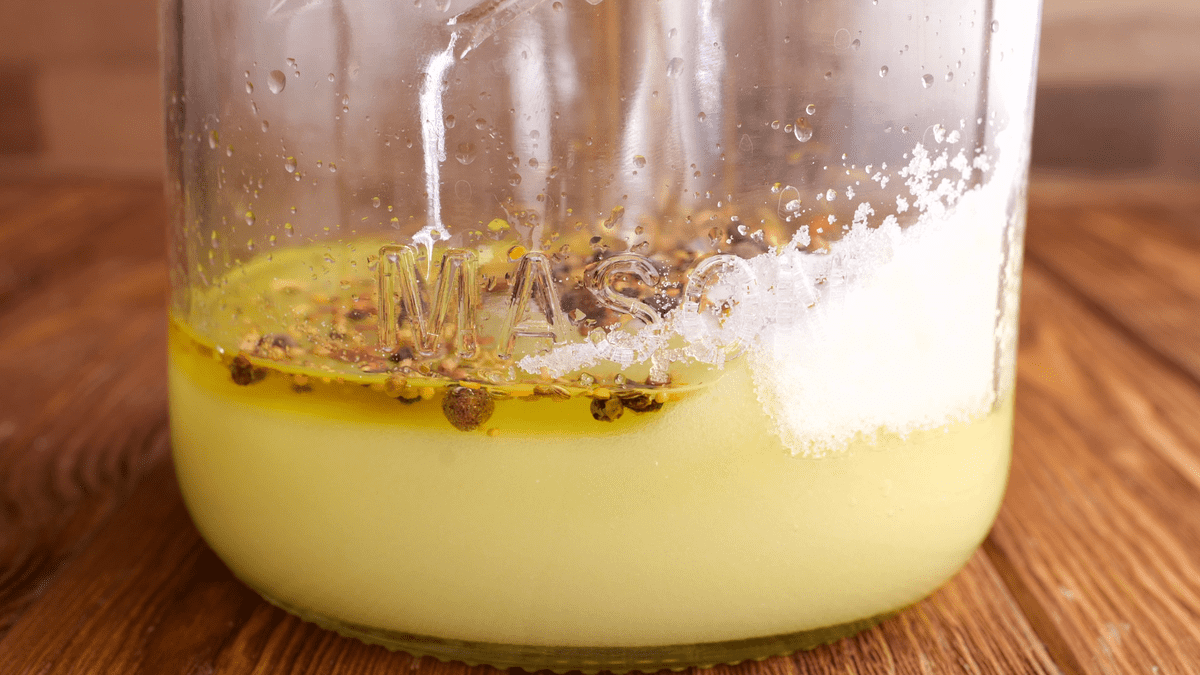 And the pickling spice.
Some people tie this up in cheesecloth. Mama ties hers up in a bit of muslin (which is a plain cotton fabric). I just toss mine in there because I like the added zest of biting into a peppercorn and such from time to time. Plus, I think they look prettier that way.
Give that jar a good shaky shake.
Aww come on, you can do better than that, put your arms into it!
There ya go!
Now slice those pickles.
You can cut them thin or thick, whichever you like best. I like mine a little thicker because it means I don't have to eat as many 😉.
Put all of your sliced pickles back into the jar with the pickling liquid.
Now class, on the rare occasion that one or two slices don't fit, what do you do?
That's right! You eat them! It is good to have a taste comparison anyway so you can see what the frog was like before he became the prince.
Put your lid on the jar and give this another good shake.
It's Pickling Time!
At this point, you'll see a good bit of undissolved sugar at the bottom. I set my jars out on the counter for a few hours and turn them upside down every hour or so to help with this.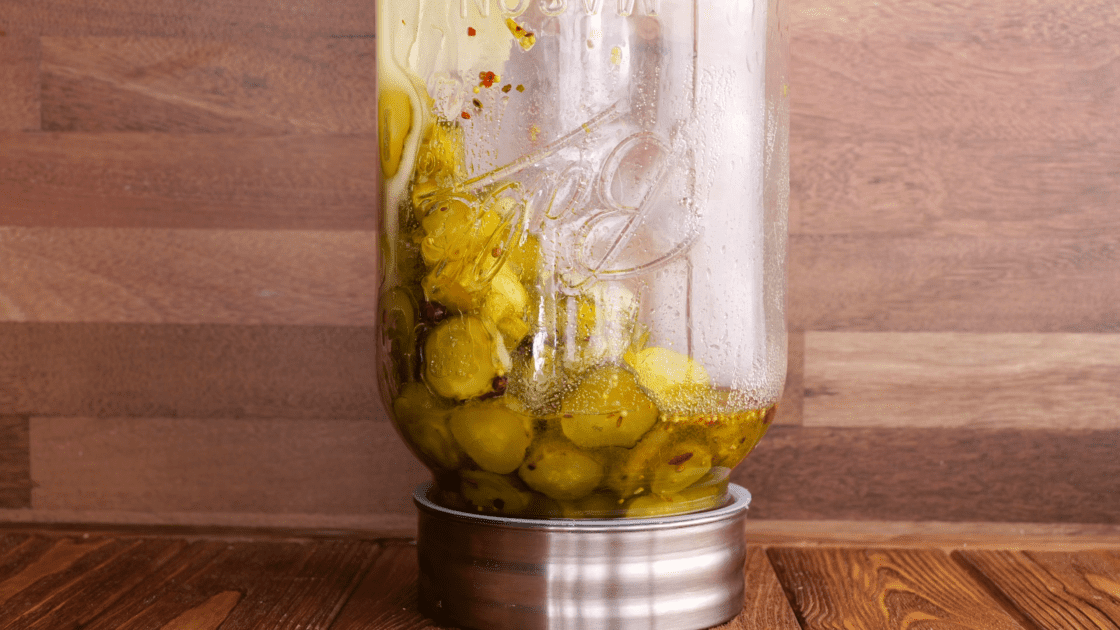 Like this. In a few hours, most of that sugar will be dissolved. The rest will take place over the next day or so.
Before you go to bed, put the jar in the fridge. In the morning, look and see if you need to turn it over again.
All of the recipes for this say to wait anywhere from 3 to 5 days before your pickles are ready. But seriously, how do you wait that long?
Go ahead and try a few the next day. They will be awfully good by then and they just get better every day after. They'll have their full flavor in about three days.
Have mercy! They sure are good!
Storage
When stored in an airtight container (like a pint jar or a mason jar) in the fridge, our refrigerator pickles will last up to 2 months. If you'd like them to last longer, check out my canning tutorial.
Recipe Notes
If you like, you can use apple cider vinegar instead or a combination of both.
Some sweet pickle recipes also include 1/2 to 1 cup of thinly sliced onion as well (either white onion, yellow onion, or sweet onion like Vidalia), so feel free to add sliced onion to your jar as well.
Substitute the whole dill pickles for 2 cups of cucumber slices instead to make an old-fashioned bread and butter pickle recipe. Pickling cucumbers are the best, but any fresh cucumbers will work.
Recipe FAQs
What is pickling spice?
You'll find pickling spice in the spice aisle at grocery stores like Walmart. It depends on the brand, but it will include a combination of these spices: cinnamon, allspice, mustard seed, coriander, bay leaves, celery seed, crushed red pepper flakes, black peppercorns, and dill seed.
How do you serve sweet pickles?
Here are some ways to serve your sweet pickle relish:
You may also like these other pickle recipes:
Ingredients
1

46-ounce jar

whole dill pickles

1/2

cup

white vinegar

1/2

cup

pickle juice from the jar

3

cups

sugar

1

heaping tablespoon

pickling spice
Instructions
Drain all the pickle juice from the jar into a bowl and set it aside. Remove the pickles from the jar.

1 46-ounce jar whole dill pickles

Into that pickle jar (or any mason jar), pour 1/2 cup of reserved pickle juice, as well as the white vinegar, sugar, and pickling spice.

1/2 cup white vinegar,

1/2 cup pickle juice from the jar,

3 cups sugar,

1 heaping tablespoon pickling spice

Put the lid on tightly and give it a good shake. Sugar will not be dissolved but that is okay.

Slice whole pickles into slices, thick or thin, based on your preference. Return sliced pickles to the jar.

1 46-ounce jar whole dill pickles

Place the lid on the jar and shake again. Set it out on the counter for a few hours, turning upside down every hour or so, and then right side up again the next hour. Place pickles in the refrigerator after a few hours. Allow them to marinate for about three days for full flavor.
Video
Nutrition
The cure for anything is salt water: tears, sweat, or the sea.
~Isak Dinesen
Submitted by Sandra Smith. Click here to submit your own.