This scrumptious tamale pie recipe includes taco-spiced beef, fluffy cornbread, and melted cheese and french fried onions on top. It tastes as good as it sounds.
There's a sweet story to tell about this tamale pie recipe. I met my friend Debbie during the aftermath of the April 2011 tornadoes. I was recovering and so were many families. We met at a local church and when she saw that I was recovering too, dear Debbie wanted to bring over some food to help keep me off my feet.
Tamale pie is one of her go-to recipes. As soon as I took the lid off and got a whiff of the cheese, spicy beef, and those french fried onions I had to ask for the recipe. She was gracious enough to share it and I'm tickled to death to share it with you.
Oh mercy, is this ever good! It's like a cross between a Mexican casserole and a cornbread casserole. You get all those delicious Mexican flavors on the bottom, with a fluffy cornbread topping. Fortunately, this tamale casserole is so easy to make for supper as well. It's easy to see why this comfort food main dish is now a firm family favorite in my household.
I feel a cooking session coming on…
Recipe Ingredients
Ground beef
Rotel
Taco seasoning
Corn
Shredded cheddar cheese
French fried onions
Corn muffin mix
The fixings for the corn muffin mix (eggs and milk)
How To Make Tamale Pie

First, brown your ground beef and then drain it.
Then add in the taco seasoning…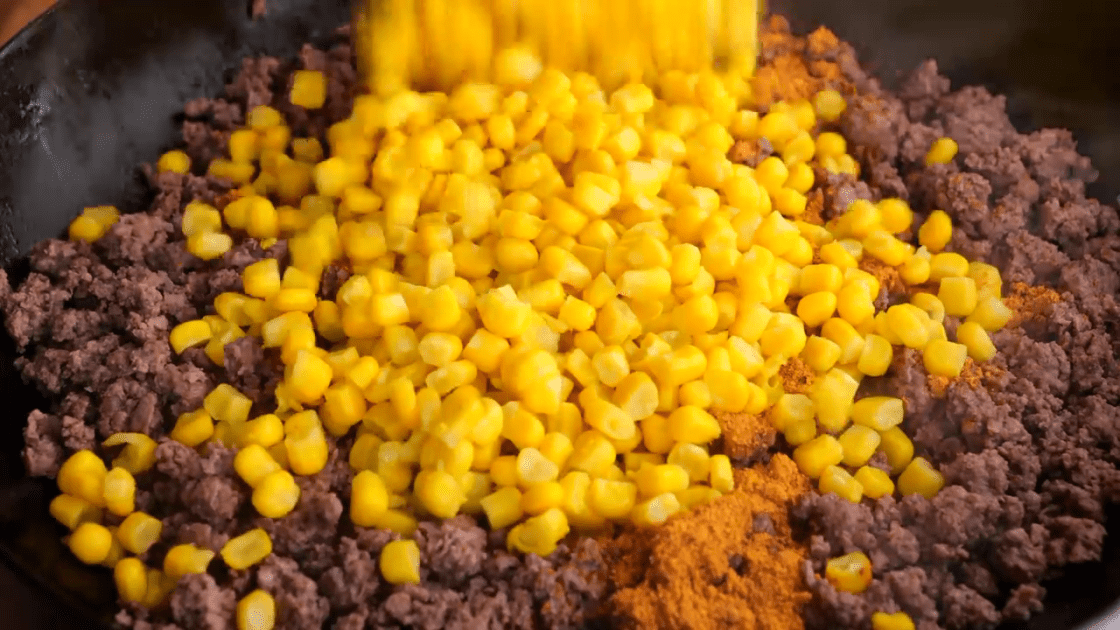 Corn…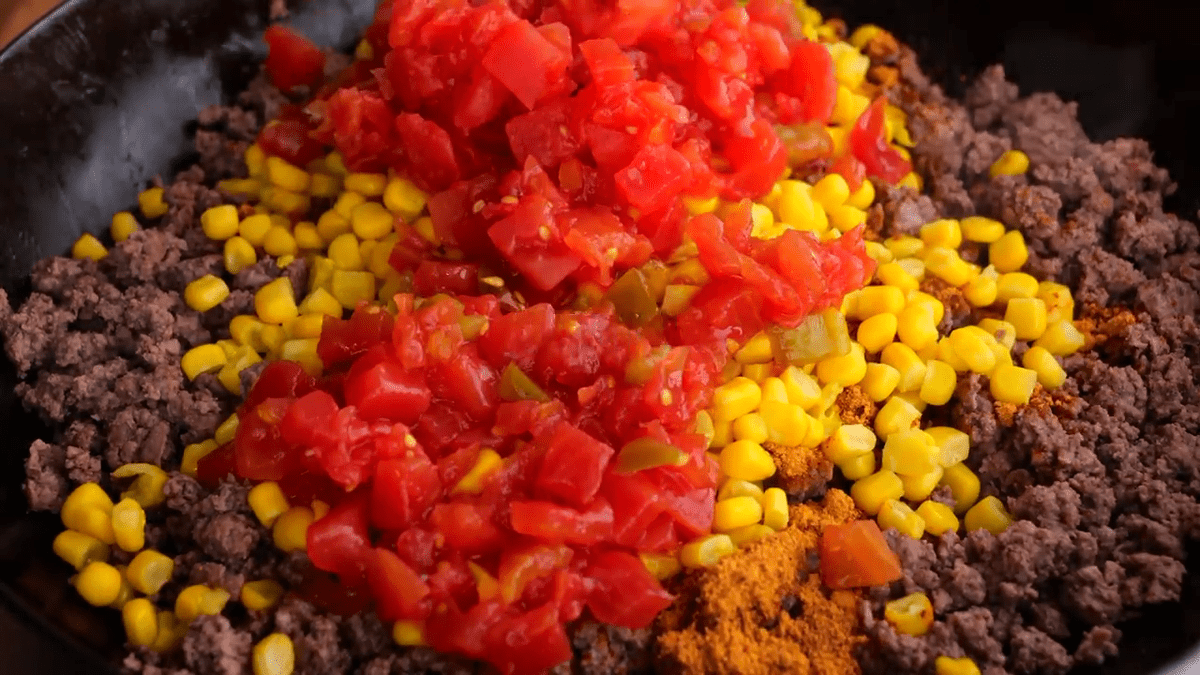 Rotel tomatoes…
And 1/2 of the french fried onions.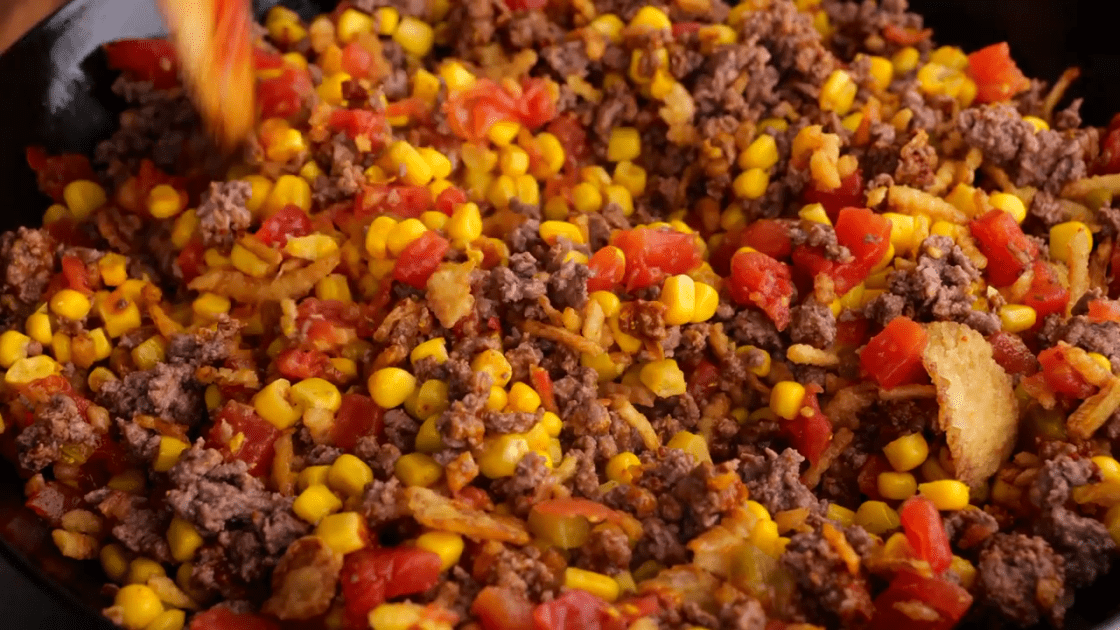 Stir up your ground beef mixture.
Spread this into the bottom of a 9×13 baking dish.
Don't dig into the pie yet, it's about to get even better thanks to that Jiffy mix.
Now, you need to make the cornbread mixture.
Add the Jiffy corn muffin mix to a mixing bowl and mix according to package directions.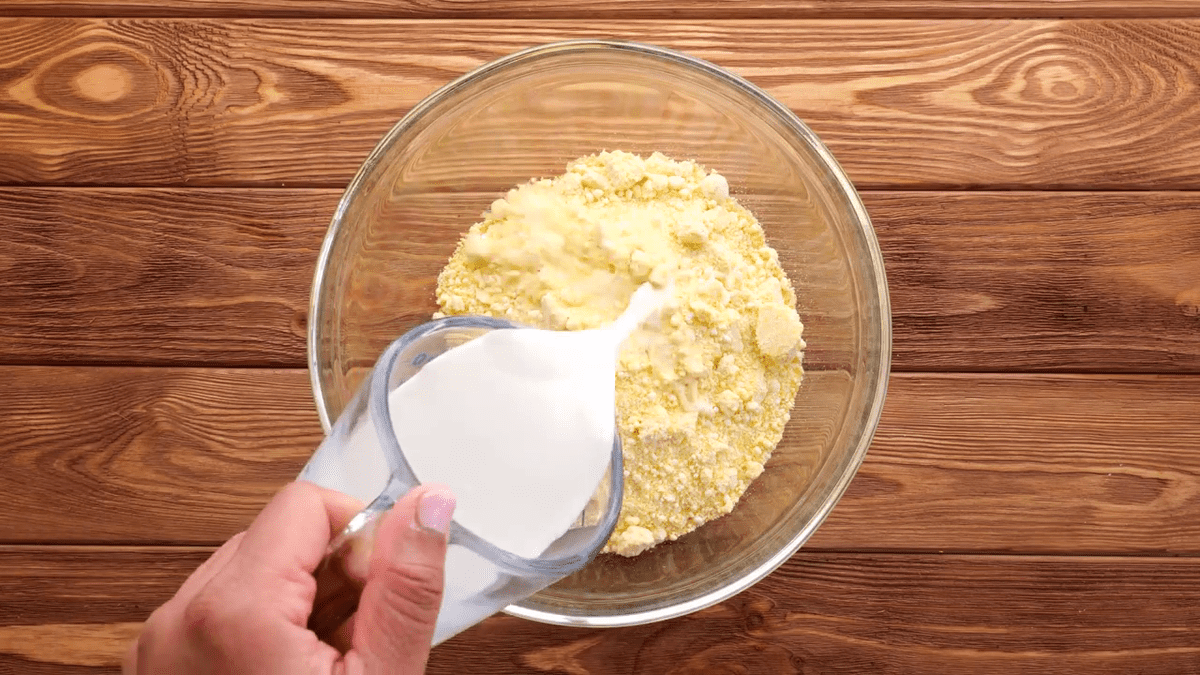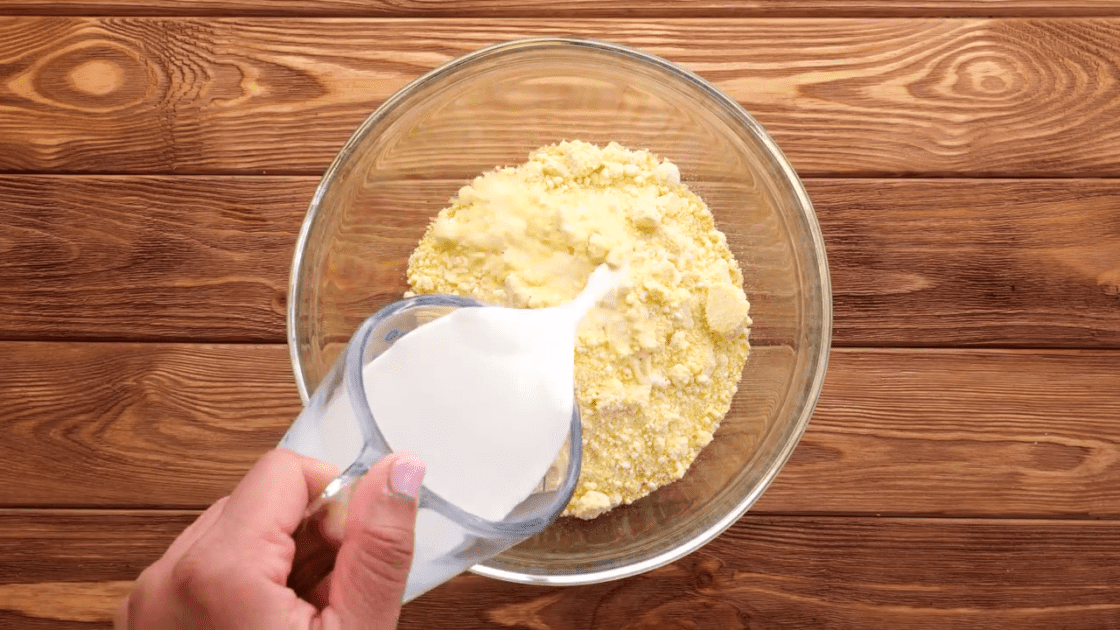 This usually includes milk…
And a couple of eggs.
Mix those ingredients together.
Then spread the cornbread mix over the top of the ground beef mixture in the baking dish.
Bake that at 400 for about 20 minutes, or until the cornbread is golden brown.
Top with shredded cheese and remaining french fried onions and return to oven until cheese is melted.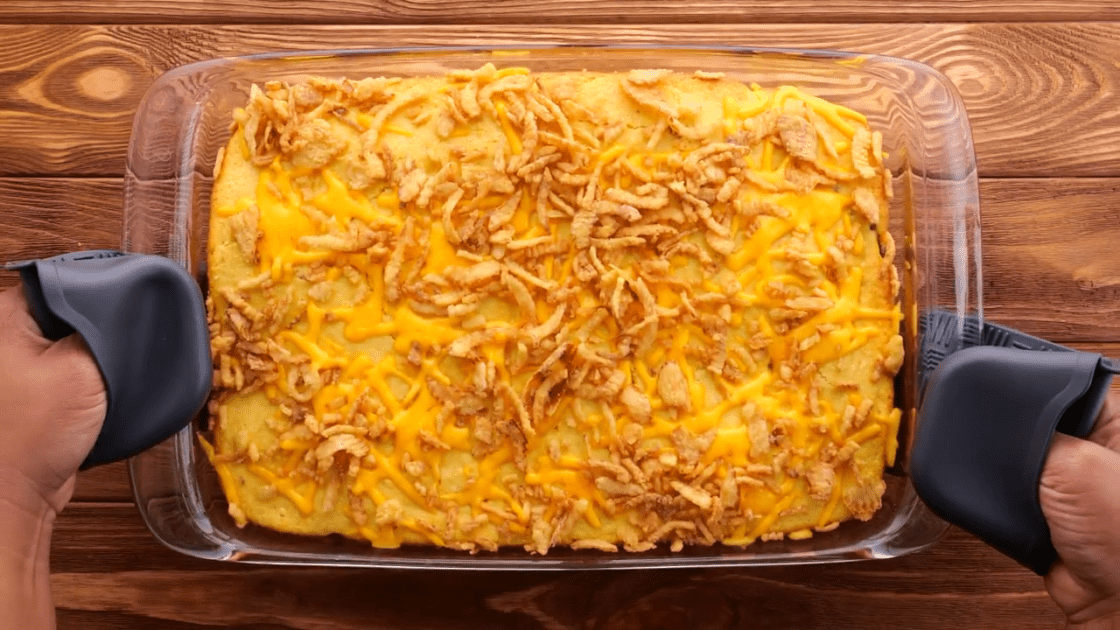 Your tamale pie should look like this fresh out of the oven. YUM!
Serve with sour cream and guacamole if you like and ENJOY!
Storage
You can store leftovers in an airtight container in the fridge for up to 5 days. It's best to reheat in the oven to make the top nice and crispy again.
This tamale pie recipe also freezes really well. Just make sure it is sealed in an airtight container and you can feel good making a large batch and freezing some for later. I find that it usually stays good for 2 to 3 months. Just take it out of the freezer the night before to let it thaw out before you go ahead and warm it up for some good eatin'.
Recipe Notes
You can add some black beans or even

a kidney

can

in place of some of the beef. This way, you get more fiber and it's a little easier on your pocketbook.
Another option is to substitute the lean ground beef for ground turkey, ground chicken, or even rotisserie chicken or cooked and shredded chicken breast.
Feel free to substitute the cheddar cheese for Monterey Jack cheese or a Mexican cheese blend.

You can also substitute the whole kernel

for

if you prefer or have it on hand already.

Here are some additions you can add to this tamale pie recipe:

A can of black olives, drained.
A cup of chopped bell pepper and a cup of chopped yellow onion. Saute them in the skillet with the ground beef.

1 teaspoon of

for added heat.
You may also enjoy these ground beef recipes:
Ground Beef Stew (with a secret!)
Instant Pot Beef Barbacoa Tacos
Beef Tater Tot Casserole Recipe
Stuffed Peppers With Ground Turkey or Beef
Ingredients
1 1/2

pounds

ground beef

1

packet

taco seasoning

1

can

whole kernel corn

drained

1

can

original Rotel tomatoes

3

cups

french fried onions

2

boxes

corn muffin mix

and ingredients to make it according to pkg directions

1/2

cup

shredded cheddar cheese
Instructions
In a large skillet, cook the ground beef until done, breaking up as you do so with a wooden spoon or whatever you grab out of the kitchen drawer first. Drain off the grease.

Stir in the taco seasoning, corn, Rotel tomatoes (juice and all), and half of the french fried onions. Spread into the bottom of a 9x13 baking dish.

1 packet taco seasoning,

1 can whole kernel corn,

1 can original Rotel tomatoes,

3 cups french fried onions

Prepare the Jiffy cornbread mix according to package directions all in one mixing bowl. Spread the cornbread batter on top of the meat mixture.

Bake, uncovered, at 400 for 20 minutes or until the cornbread topping is golden. Top with shredded cheese and remaining french fried onions. Return to oven until cheese is melted. Serve with sour cream.

3 cups french fried onions,

1/2 cup shredded cheddar cheese
Notes
To save money, you can substitute rinsed and drained canned black beans or kidney beans for some of the beef in this recipe. Add them in step 2.
Nutrition
"Be kind whenever possible. It is always possible."
~Dalai Lama
~Submitted by Jenny. Submit yours by clicking here.