What do you get when you combine pepperoni, Italian sausage, ziti pasta, and lots of tasty pasta sauce with melted mozzarella cheese? My easy baked ziti recipe is the ultimate Italian-American comfort food.
I make a lot of different dishes at my house. There are the regulars, the ones we love and want to have over and over, and then the new recipes that I whip up from time to time and try out on the family to see if it sticks. I know the folks in my house pretty well so it's a very rare thing for them to not like something I come up with. But every now and then I happen upon a dish that has everyone taking one bite and then asking if we can have it again the next day. This easy baked ziti recipe has been requested every single supper since the first time I made it.
My goal was to have an incredibly flavorful and saucy ziti that went a little beyond the norm and I am really thrilled with how this one turned out. The family agreed this should be called Killer Ziti and I have to admit that I've been wanting it again myself, so I'm making it again tonight. They won out… or maybe I did. I guess in the end, we'd really have to lay the blame on the baked ziti.
Fortunately, I don't mind because as the name suggests, this is such an easy recipe to make. We just have to brown our Italian sausage with the onion and garlic, then add in the remaining ingredients. This includes ziti pasta, pizza sauce, spaghetti sauce, and pepperoni.
Now, don't be alarmed by the large amount of sauce. Because we only partially cook the pasta, it's going to fully cook in the oven and soak up all that sauce. Place this delectable combination in a baking dish (layered with lots of mozzarella cheese and the aforementioned extra sauce), and bake! It'll be ready in no time at all, which will please everyone in the household.
The flavorful sauce, ooey-gooey melted cheese, and meat combine to make a stand-out dinner. Like a classic lasagna casserole but easier to make, I hope you give this easy baked ziti a go today!
Recipe Ingredients
Shredded mozzarella cheese
Pepperoni (FYI, this particular brand of pepperoni seems to have less grease than others)
Spaghetti sauce
Pizza sauce
Minced garlic
Onion
Ziti pasta
Italian sausage
How to Make My Easy Baked Ziti Recipe
Cook ziti according to package directions, but only cook it for half of the recommended time.
Drain in a colander and run cold water over it to stop the cooking process.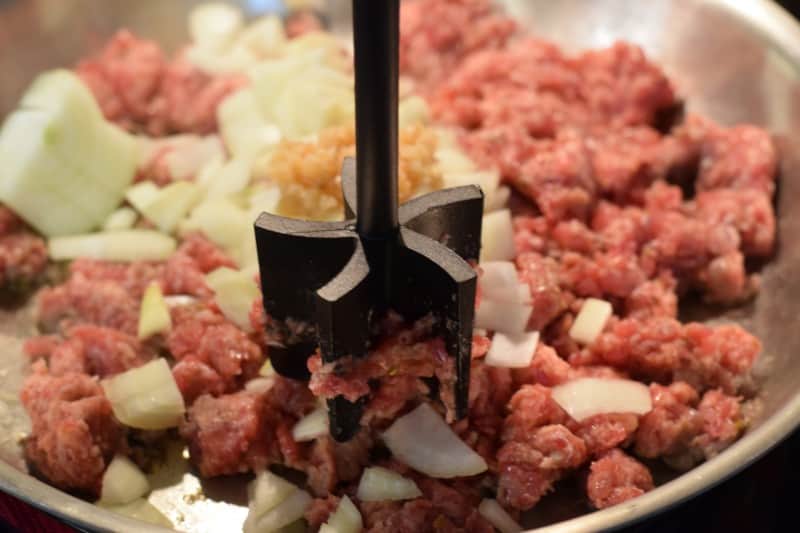 Remove sausage from the casings. To do this, just cut a line down one side with a knife and it will come open and slip off.
Place sausages in a large skillet and add onion and garlic. Saute that over medium-high heat until sausage is nicely brown and has no pink in the middle.
This is my little handy dandy meat chopper thingie. I got mine on Amazon but they are available in a bunch of places. I get a lot of questions whenever I show it and yes, you really do need one!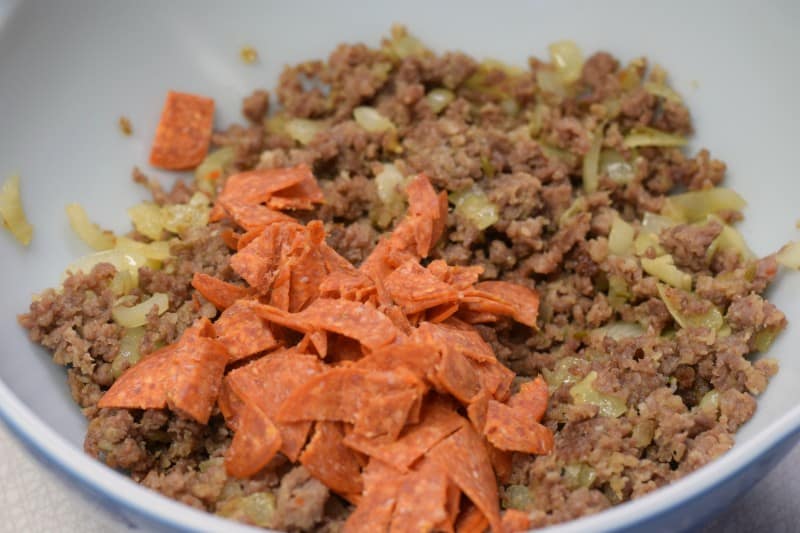 Pour that into a large bowl (that can handle the heat of it) and add chopped pepperoni.
Add partially cooked pasta, an entire jar of pizza sauce, and half the jar of spaghetti sauce.
Stir until it is all mixed up really well.
Did I mention that this is a large bowl? Oh yes, I did. If you overlooked that at this point you may be looking for another bowl…
Get Layering!
Now put half of the remaining spaghetti sauce in the bottom of a 3.5 to 4-quart baking dish (a 9×13 will work great) and place half of your pasta mixture on top of that, spread about a bit.
Sprinkle about a cup or cup and a half of shredded cheese over it.
Add the rest of your mixture, spread the remaining spaghetti sauce on top, and sprinkle with about another cup and a half of cheese.
Place this in a 350 oven, uncovered, for 30 minutes, or until the top is just very lightly brown.
But it doesn't have to be brown, good and melty after 30 minutes is fine, too.
Now go eat your saucy, flavorful, easy baked ziti.
Storage
Store leftovers in an airtight container in the fridge for up to 4 days and simply reheat in the microwave.
You can also freeze leftovers for up to 3 months. Thaw overnight in the fridge before reheating in the microwave.
Recipe Notes
You can easily substitute the sausage for ground beef, ground pork, or ground turkey.
For more flavor, add some seasonings while cooking the meat, like 1 tablespoon of Italian seasoning and/or 1 tablespoon of fresh herbs: basil, rosemary, thyme, or oregano work best.
While I'm just using mozzarella, many baked ziti recipes use a combination of different types of cheese, like an Italian cheese blend or parmesan cheese/mozzarella/ricotta cheese. The ricotta cheese definitely makes the dish creamier, if that's what you're looking for. I'd only add the ricotta to the middle layer though and just top with the parmesan and mozzarella.
For heat, add 1/2 teaspoon of crushed red pepper flakes.
Serve with a garnish of fresh basil or fresh parsley.
Recipe FAQs
Are spaghetti sauce and pizza sauce the same thing?
Spaghetti sauce and pizza sauce are similar with slightly different seasonings. Spaghetti sauce also comes with lots of options, like the ragu sauce I'm using or simply a marinara sauce. I recommend using both as the delicious taste speaks for itself, but if you only want to use spaghetti sauce, I'm not going to stop you! And if you want to use my homemade recipes for spaghetti sauce and pizza sauce, I'm also not going to stop you.
Should I cover my baked ziti?
No, you want to cook the baked ziti uncovered to allow the cheese to brown.
Can I substitute ziti for penne pasta?
Yes, you can use penne instead of ziti. However, if you want to do as Italians do, use ziti for baking and penne for creamy pasta dishes. Other kinds of pasta that work are rotini, bowtie, or shell pasta.
What do you serve with baked ziti?
Here are some side dishes to accompany homemade baked ziti, although it's a hearty and filling main dish as is:
Check out these other pasta dishes:
Slow Cooker Angel Chicken Pasta
Cheese Stuffed Shells (3 Cheeses Included)
Ingredients
1

16-ounce box

ziti noodles

1/2

package

pepperoni

about 1 cup

1

pound

Italian sausage, casings removed

1

medium onion, chopped

1

tablespoon

minced garlic

1

14-ounce jar

pizza sauce

1

45-ounce jar

spaghetti sauce of your choice

3

cups

mozzarella cheese
Instructions
Cook ziti according to package directions, cutting cooking time in half. Once half cooked, drain in a colander and pour cold water over to stop the cooking process. Set aside and allow to drain fully.

1 16-ounce box ziti noodles

In a large skillet, place sausage, onion, and garlic. Chop and stir often over medium heat until fully brown and no longer pink in the center. Remove to a large bowl. If there is grease, drain first.

1 pound Italian sausage, casings removed,

1 medium onion, chopped,

1 tablespoon minced garlic

Coarsely chop pepperoni and add to sausage. Add the entire jar of pizza sauce and 1/2 of the spaghetti sauce along with partially baked pasta. Stir until mixture is well combined.

1/2 package pepperoni,

1 14-ounce jar pizza sauce,

1 45-ounce jar spaghetti sauce of your choice

Spread half of the remaining spaghetti sauce in the bottom of a 3.5 or 4-quart baking dish (a 9x13 dish works well too). Top this with 1/2 of the pasta mixture, sprinkle half of the cheese on top, top that with the remaining mixture, and spread the top with the remaining spaghetti sauce. Finish with the remaining cheese.

Bake at 350, uncovered, for 30 minutes.
Nutrition
This recipe is featured in Weekend Potluck
"That ship that you're waiting on to come in? Maybe you should build it."
~unknown wise person