Before I get to this quick and easy 1 Minute Peanut Butter Syrup…If you're on Pinterest of Facebook I'd really love it if you could use one of the buttons above. Thanks so much! Follow me on Pinterest by clicking here.
On National Peanut Butter Day each year, since my family is made up of a bunch of peanut butter fanatics I drop what I am doing and rush into the kitchen to mix up a batch of this delicious syrup Here's the recipe to show you how easy it is to make and some of the many uses for it.
This very versatile recipe has a simple formula: 1 part peanut butter to 2 parts syrup. The syrup I'm using in this post is Honey but you can also use maple syrup, karo syrup or even pancake syrup in it's place.
Ready? Lets get started! Don't blink because you'll miss it if you do 🙂
Place peanut butter and honey (or whatever syrup you're using) in a microwave safe bowl or measuring cup. Heat for 30 seconds in your microwave, stir. Heat thirty seconds more and stir until smooth and creamy.
You're done!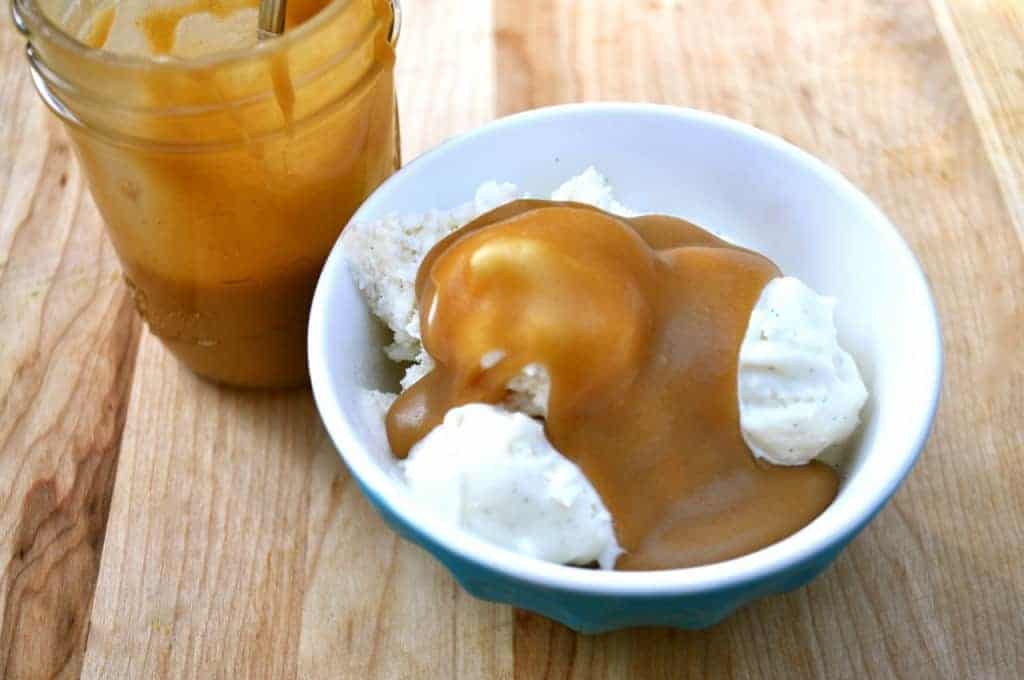 This is excellent over ice cream…
But it's also amazing over pancakes.
Be sure and try it on biscuits, waffles, french toast, regular toast, and if all else fails, just eat it with a spoon!
Leftovers can be stored in the fridge.
This 1 Minute Peanut Butter Syrup is a peanut butter lover's heaven!
Surprise your family tonight with this delicious treat!
Ingredients
1/2

cup

honey

maple syrup, corn syrup (karo), or pancake syrup

1/4

cup

creamy peanut butter
Instructions
In microwave safe bowl or measuring cup, combine syrup and peanut butter.

Microwave for 30 seconds. Stir. Microwave thirty seconds more. Stir until creamy and well combined.
Excellent over biscuits, pancakes, french toast, waffles, toast, and ice cream. Leftovers can be stored in the refrigerator.
Nutrition
For more peanut butter recipes, including allergy options,
be sure and click here to visit my Treasure of Peanut Butter Recipes Post!
Give me a NEW day with sunshine OR rain and you've still given me a NEW day,

another opportunity in which to rejoice and be thankful.

Submitted by Kim. Click here to add your quotes to our collection!