Candied Peanuts (2 Ingredients Only)
Using just two ingredients, these sugar-coated candied peanuts are crunchy, sweet yet savory, totally addictive, and taste like a homemade version of Boston Baked Bean peanut candy.
Let me list all the reasons why I love this candied peanuts recipe. First, it's so easy to make. You just need a little bit of patience as you make the sugar syrup and then cook the peanuts. Second, you only need two ingredients: peanuts and sugar. Yep, this candied peanuts recipe is gluten-free and vegan. I've included some variations below, but we're sticking to the basics for these deliciously crunchy sugar-coated peanuts.
Third, this recipe is so inexpensive. I love my candied pecans, but pecan halves are definitely more expensive than peanuts! Finally, these candied peanuts taste SO good. They're sweet yet savory, crunchy, and totally irresistible. Just try and not to eat them all at once!
Candied peanuts make a great gift for the holidays. I also enjoy serving them as a game-day snack and after dinner as a nibble for the adults. Keep reading to see some more serving suggestions!
Recipe Ingredients
Raw peanuts (purchased on the aisle right next to the pecans and such).
Sugar
Also some water but we're unusually blessed in that most of us reading this have that readily available at all times.
Helpful Kitchen Tools
To begin with, place the sugar and water together in a nice pot and stir it up a bit.
Put this sugar mixture over medium heat and stir constantly until the sugar is dissolved.
Note: I am making a triple recipe in all of these photos. You won't have this many unless you triple the recipe as well.
Like this.
Now add your peanuts.
No, we're not going to remove those skins. They'll be just fine and besides, we aren't into high maintenance food.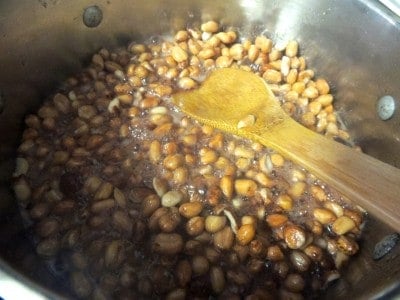 Put this back on medium heat and cook for about 30 minutes, until the liquid has all evaporated and you're left with sugar-coated peanuts. I promise this will happen. Stir constantly during this.
See? Told ya!
Now spread the boiled peanuts out onto an ungreased cookie sheet.
Place this in a 300-degree oven for 30 minutes, stirring every 10 minutes.
Remove your roasted peanuts from the oven, allow to cool, and package in bags or airtight containers.
Mama just puts hers in little mason jars.
Enjoy!
Storage
Store your candied nuts in an airtight container either at room temperature or in the fridge for up to one week.
You can also freeze a batch of candied peanuts in an airtight container for up to 3 months. Thaw them at room temperature for a few hours before serving.
Recipe Notes
Besides enjoy as a delicious

, h

ere are some serving suggestions for your candied peanuts:

Enjoy them sprinkled on vanilla ice cream for dessert.
Add a handful to your favorite salad or coleslaw.

In the end (once the peanuts have soaked up the sugar syrup), you can add a teaspoon of additional spices if you like. Sweet-wise, opt for cinnamon, pumpkin pie spice, or gingerbread spice for the holidays. For spice, add chili powder or cayenne pepper. You could also simply add a teaspoon of salt or vanilla extract.
Instead of peanuts, you can use

other "smooth"

. This includes macadamia,

, or

.

Substitute the white sugar for brown sugar for a sweeter version of these caramelized peanuts.
Here are more tasty peanut recipes:
Peanut Butter Cheesecake Cookie Bars
Peanut Butter Brownies with Peanut Butter Fudge Icing
Yellow Cake with Old Fashioned Peanut Butter Icing
Peanut Butter Pie Recipe: Made the Old Fashioned Way
Ingredients
1

cup

sugar

1/2

cup

water

2

cups

peanuts

raw, skin on
Instructions
Preheat oven to 300. In a medium saucepan, combine sugar and water. Place over medium heat and stir until sugar dissolves.

1 cup sugar,

1/2 cup water

Add peanuts to sugar water. Continue to cook over medium heat, stirring constantly, until the peanuts are completely sugar-coated and no sugar syrup remains. This will take about 30 minutes.

Pour the boiled peanuts out onto an ungreased cookie sheet and spread them out a bit. Bake for 30 minutes, stirring every 10 minutes. Allow the roasted peanuts to cool on the cookie sheet and then store in a sealed container.
Nutrition
"What sunshine is to flowers, smiles are to humanity. These are but trifles, to be sure; but scattered along life's pathway, the good they do is inconceivable."
~ Joseph Addison
Submitted by Jenny. Please click here to submit your positive or encouraging quotes.