This Jiffy corn casserole recipe might be the easiest casserole you'll ever make. Moist and tender, it's no wonder it's one of my family's favorite side dishes.
Today, I'm introducing you to my Mama's Jiffy corn casserole recipe. If you've never had cream corn casserole and you have even the smallest inkling of a liking for corn or cornbread, you really should pick up the stuff to make this today! You can serve it as a side dish, a bread, or just close the blinds and eat it all by yourself.
Corn casserole is like a moist and soft alternative to Jiffy cornbread. Like cornbread with creamed corn. It's sweet yet savory and has a deliciously creamy and corny taste and flavor. Are you intrigued yet?
This easy cornbread casserole recipe includes an old tried and true corn casserole staple: a Jiffy corn muffin mix. Jiffy mix added a lot to my childhood. They were (and are) incredibly cheap and only required one egg and 1/2 cup of water to make a single-layer cake. My mother was from the old school set and thought every supper had to include meat and three, plus dessert, so we had a lot of Jiffy cakes! Jiffy mixes ran about 4 for a dollar back in the day and are still very affordable now. They were and are awfully handy to have around for quick desserts and I love that they make a single layer of a cake, which is perfect for a family of four.
Besides Jiffy corn muffin mix, you're going to need cream corn, canned corn kernels, butter, eggs, cheese, and sour cream. The instructions are as simple as dumping everything bar the cheese in a bowl, giving it a mix, and pouring it into a casserole dish. Then bake it in the oven and add the cheese towards the end for that golden brown topping. I mean, do casseroles get any easier than this? I don't think so!
Alright, who's ready to make an easy corn casserole from Jiffy?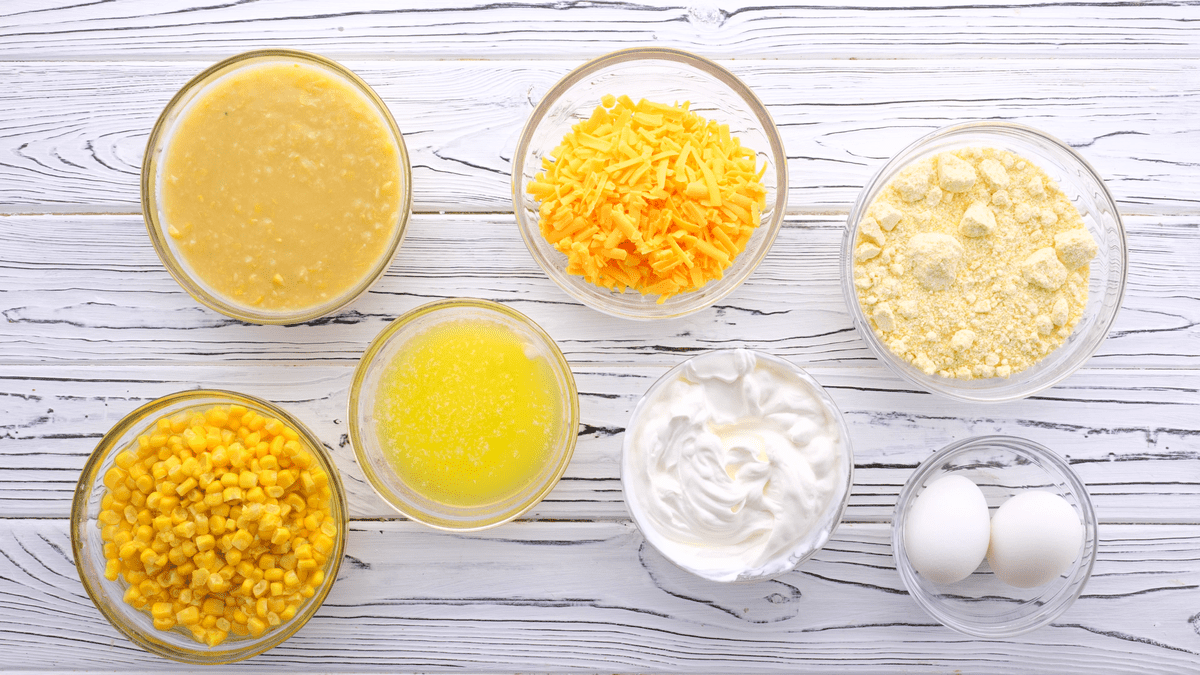 Recipe Ingredients
Creamed corn (Check out our creamed corn recipe here)
Sweet whole kernel corn
Eggs
Sour cream
Jiffy corn muffin mix
Butter
Cheddar cheese (optional)
How to Make Mama's Jiffy Corn Casserole
And now for my favorite cooking instructions: dump everything in a bowl.
Leave the cheese out until later though.
Neither my recipe nor Mama's says to drain the canned corn kernels. We pour a little of the water off of it if there is a lot and then just dump it right on in.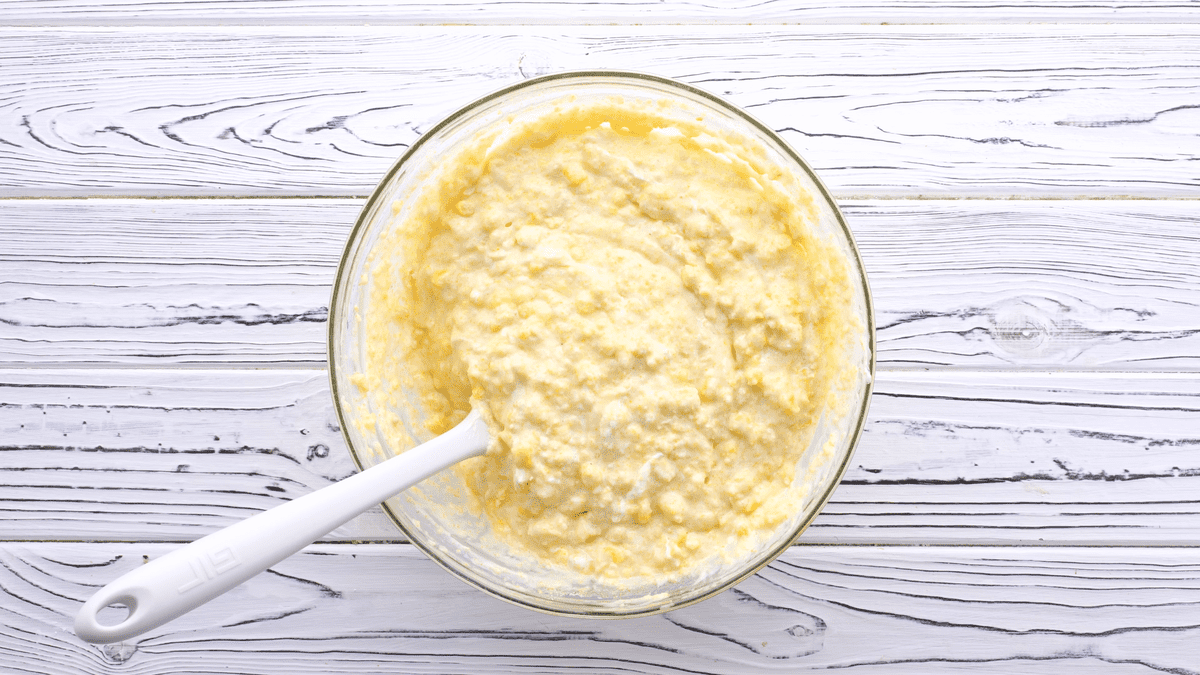 Stir the corn mixture.
Pour the Jiffy corn casserole mixture into a 9×13-inch baking dish.
Bake this for about 30 minutes and then top with the shredded cheddar cheese.
Return to the oven for about 15 minutes, until the cheese melts and the center is firm.
Oh my, how good does the baked corn casserole look?
Enjoy!
Storage
Store cheesy corn casserole leftovers in an airtight container in the fridge for up to 5 days. Reheat in the microwave, oven, or air fryer. You can also freeze leftovers for up to 3 months.
Recipe Notes
Here are some delicious additions to add to your Jiffy corn casserole:

Crispy crumbled bacon bits
Minced garlic clove or garlic powder
A small can of green chiles
Diced onion, whether that's white onion, green onion, or freshly chopped chives.
1 diced bell pepper or jalapeno pepper

Substitute the cheddar cheese for a different kind of cheese, like Pepper Jack cheese or parmesan cheese.
Recipe FAQs
Is this a corn casserole or corn pudding?
You can call this corn dish whatever you like. It will taste great either way. But I can tell you that corn pudding with Jiffy mix is more pudding-like and often has sugar added. This recipe for corn casserole is more moist and tender versus a custardy thickness of corn puddin'.
What's the difference between corn casserole and corn souffle?
This recipe for corn casserole can technically be labeled corn souffle, as they're basically the same dish. Corn souffle doesn't have added sugar and uses eggs to create a fluffier texture, which is this corn bake. I believe corn casseroles were simply labeled corn souffle back in my grandma's day.
Yes, your Jiffy corn casserole should be light brown on top with a soft and moist center.
What do you serve with corn casserole?
Corn casserole is one of my favorite Southern side dishes and is the perfect side dish to pair with some turkey breast for Thanksgiving or roast chicken year-round. It also tastes great with chili to soak up all those delicious juices. I love warming leftovers in a skillet and adding a fried egg on top for a different kind of breakfast dish too.
Can I make my corn casserole ahead of time?
Yes, you can make this creamed corn casserole recipe up to 48 hours in advance. You can either prepare the casserole up until baking and place the wrapped casserole dish in the fridge for up to 2 days. Place it on the counter for 30 minutes before cooking as instructed. Alternatively, cook the casserole and simply reheat leftovers in the microwave or air fryer before serving. Leftovers last up to 5 days in the fridge.
You may also enjoy these recipes:
Jalapeño Cornbread Muffins with Cream Cheese
Hot Water Cornbread Only 2 Ingredients
Mexican Cornbread Recipe by Mama
Jiffy Cornbread Casserole With Ham and Cheese
Ingredients
1

can

cream-style corn

15-ounce

1

can

whole kernel corn

11-ounce

2

eggs

1

cup

sour cream

1

box

Jiffy corn muffin mix

can use another cornbread mix

1/2

cup

butter

melted

1

cup

shredded cheddar cheese
Instructions
Preheat the oven to 350 degrees. Grease a 9x13-inch casserole dish.

In a mixing bowl, combine the cream corn, whole kernel corn, eggs, sour cream, muffin mix, and melted butter. Pour into the prepared dish.

1 can cream-style corn,

1 can whole kernel corn,

2 eggs,

1 cup sour cream,

1 box Jiffy corn muffin mix,

1/2 cup butter

Bake in the preheated oven for 30 minutes or until lightly brown. Remove from the oven and sprinkle shredded cheese over the top. Return to the oven for 15 minutes or until the center is firm.

1 cup shredded cheddar cheese
Video
"Never let anyone's opinion of you be your goal. They may not like you."
~ TD Jakes.
~Submitted by Southern Plate Reader, Micha.