Crock Pot Creamed Corn Recipe
This crock pot creamed corn recipe has the same rich and creamy old-fashioned flavor, but is so easy to make with just 5 ingredients and a hands-off cooking method.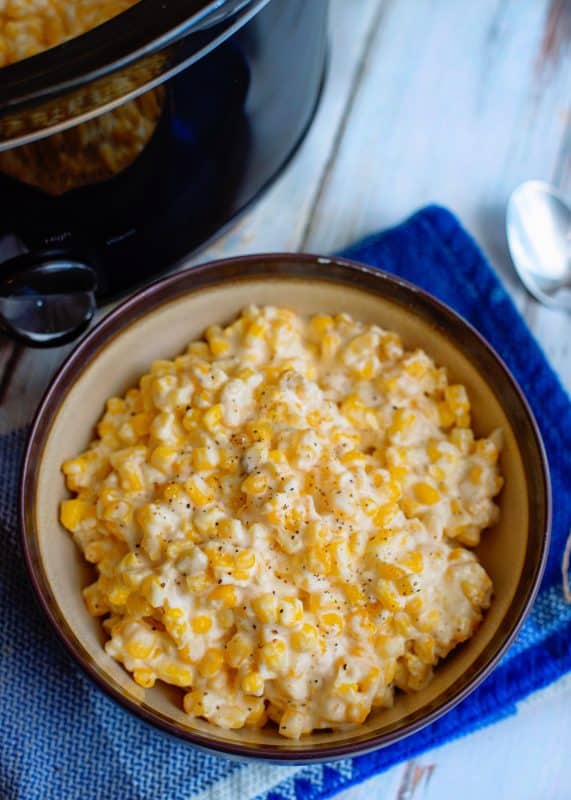 We are huge fans of this crock pot creamed corn recipe in our house and you know how I love a good shortcut to a delicious dish. I am using the ease of a slow cooker to give us old-fashioned flavor. Yep, I promise this comfort food side dish tastes exactly like Grandma's!
There are no side dish recipes as easy as this one. All you have to do is plop all of the ingredients in the slow cooker and walk away. Who can say no to such a hands-off and easy creamed corn recipe? Not me, especially when the kitchen is busy during holidays and such.
So, what makes this creamy corn dish so utterly delicious? It's the combination of cream cheese, evaporated milk, butter, and sugar (with salt and pepper to taste). These ingredients work together to make a rich, creamy, and flavorful sauce with a touch of sweetness that coats the corn kernels. While this is a popular side dish, y'all know I could happily eat a bowl as a main dish!
Keep scrolling to check out my serving suggestions. You may also want to check out my other easy-peasy creamed corn recipe.
Recipe Ingredients
Frozen whole kernel corn
Cream cheese (check out our easy recipe for homemade cream cheese here).
Evaporated milk (did you know you can also make evaporated milk at home? Find the recipe here).
Unsalted butter
A wee bit of sugar
Salt and pepper
How to Make Crock Pot Creamed Corn
First, place the corn in the slow cooker. Next, add all your other ingredients, cutting up the cream cheese a bit.
Lastly, you are going to cook on high for 2-3 hours or on low for 3-6 hours, stirring every now and then.
Y'all don't blink because that is all there is to this recipe. All done! Easy peasy!
I usually serve this creamed corn straight from the crockpot but you can transfer it to a pretty bowl if you'd like.
Enjoy!
Storage
You can store your leftovers in an airtight container in the fridge for up to 5 days. Reheat on the stovetop or in the microwave until heated through. While you can freeze leftovers for up to 3 months, the consistency won't be the same.
Recipe Notes
If you'd like to add a little heat and an extra kick to your recipe you can use jalapeno cream cheese instead of plain and add a small can of hot green chiles to spice things up!
Garnish with chopped green onion, finely chopped chives or fresh parsley, cooked crumbled bacon bits, or a sprinkle of diced jalapenos.
You can also add some extra flavoring in terms of herbs and spices if you like. Options include garlic powder, onion powder, rosemary, and thyme.
While I typically use frozen corn, you can use whatever you have on hand, whether that's fresh sweet corn or canned corn.
If you want cheesy corn, go ahead and add 3/4 cup of grated parmesan cheese to your slow cooker just before serving and give that a good stir. You can also do half parmesan cheese and half shredded cheddar cheese.
Another way to add sweetness is to substitute the sugar for honey.
Recipe FAQs
Why do you put cream cheese and evaporated milk in this slow cooker creamed corn recipe?
Don't worry your pretty little head about the addition of cream cheese. This recipe tastes like creamed corn, not cheesy at all. The cream cheese just adds a beautiful smooth texture. As for the evaporated milk, it adds a special richness to dishes and is perfect for this one.
What do you serve with slow cooker creamed corn?
This is a great side dish to serve over the holidays or for Thanksgiving dinner alongside baked ham, turkey, or turkey breast. Otherwise, serve it year-round with your favorite main dish, like Southern sticky chicken, fried chicken, or pork chops. Another option is to serve it as a side at your next game day, party, or potluck alongside some of the other popular Southern side dishes linked below.
You may also enjoy these sides:
Fried Potatoes Recipe (Steppin' Up The Flavor)
Oven-Baked Mac and Cheese (Southern Plate Favorite)
Superfast Corn Succotash Recipe
Southern-Style Fried Okra Recipe
Ingredients
28-32

ounces

frozen whole kernel corn

8

ounces

cream cheese

at room temp, cut into pieces

1/4

cup

butter

1

can

evaporated milk

4 ounces

1

tablespoon

sugar

salt and pepper to taste
Instructions
Place corn in the slow cooker and add other ingredients over the top.

28-32 ounces frozen whole kernel corn,

8 ounces cream cheese,

1/4 cup butter,

1 can evaporated milk,

1 tablespoon sugar,

salt and pepper to taste

Cook on high for 2-3 hours or on low for 3-6 hours, stirring from time to time. Enjoy!
Nutrition