Studded with sweet corn, cheddar cheese, and spicy bits of jalapeño peppers, this deliciously moist and decadent Mexican cornbread recipe is sure to be a favorite.
Most families I know make a version of this deliciously moist and decadent cornbread known to us as Mama's Mexican cornbread recipe. Whenever I make this cornbread, I can happily eat two pieces of it, hot from the oven, and nothing else. Even my husband, who really doesn't care for cornbread unless it's sweet, comes running whenever I make this. My son's only complaint is that I don't cut the pieces bigger so he doesn't have to keep coming back! Needless to say, when I make this Mexican cornbread recipe for supper, there usually isn't any left.
Fortunately, it's a quick and easy cornbread recipe so I don't mind making it again and again. First, we gotta gather our ingredients: canned cream-style corn, vegetable oil, an egg, self-rising cornmeal flour, sugar, onion, shredded cheese, jalapenos, milk, and salt. The instructions are as easy as pre-heating a skillet in the oven, mixing all of the ingredients together, and then pouring the cornbread batter into the hot skillet. In about 30 minutes, it's ready to serve.
Yep, this Mexican cornbread recipe is quick, easy, and absolutely delicious. It takes traditional cornbread to a whole new level as it's packed full of flavor thanks to the sugar, cheese, corn, and jalapenos. A touch sweet, a touch spicy, and a whole lot of savory, I bet your family will come back for seconds just like mine.
And hey, if you like this recipe, check out my Mexican cornbread casserole and cheesy jalapeño cornbread muffins. Now let's bake some cornbread, y'all.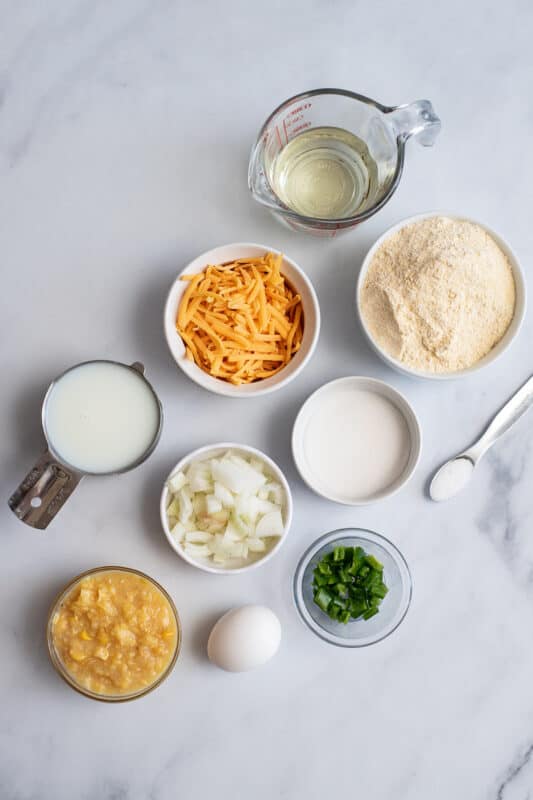 Recipe Ingredients
Canned cream-style corn
Vegetable oil
Egg
Self-rising cornmeal mix
Sugar
Chopped onion
Shredded cheddar cheese
Diced jalapeno
Milk
Salt
How to Make My Mexican Cornbread Recipe
Place a seasoned cast-iron skillet (or 8-inch round cake pan) in the oven and preheat to 350.
In a large mixing bowl, combine all ingredients.
Stir all of that up pretty good with a spoon or whisk.
Next, pour about a tablespoon or so of vegetable oil into the hot skillet and swirl it around a good bit.
But please use a potholder because this is going to be hot!
Pour your batter into the prepared pan and bake at 350 for 30-40 minutes or until all golden brown on top.
Here it is all baked up.
Turn that cornbread over onto a large plate…
Then stand aside because when the family catches a whiff it might spark a stampede!
Storage
Store leftover cornbread in an airtight container in the fridge for up to 1 week. You can serve it cold or warm it up quickly in the microwave, oven, or air fryer.
You can also freeze leftover cornbread for up to 3 months. I'd double-wrap it in plastic wrap then aluminum foil to prevent freezer burn. Thaw at room temperature or overnight in the fridge before serving cold or reheating as above.
Recipe Notes
You can use white or yellow cornmeal mix. And you want self-rising cornmeal mix, not just cornmeal. Cornmeal mix includes all-purpose flour, cornmeal, baking powder, and salt.
It's traditionally made in cast iron but it will turn out just fine if you make it in a cake pan or even an 8×8 baking dish. Just go with whatever cranks yer tractor.
Here are some variations to make this recipe work for you:

Use chopped canned green chiles instead of jalapenos.
Add some extra veggies (about half a cup or so), like chopped green bell pepper.
Swap onion for diced green onion or red onion.
Use pepper jack cheese, Monterey Jack cheese, sharp cheddar cheese, or a Mexican cheese blend instead.
Swap the cream-style corn for Mexican corn or frozen corn kernels.
Substitute the sugar for honey.
Use buttermilk instead of milk.
Use melted butter instead of oil.
Recipe FAQs
What is Mexican cornbread made of?
Homemade Mexican cornbread starts off with a cornmeal flour base and then usually includes cheddar cheese, cream corn, onion, and jalapenos.
Why do you add sugar to cornbread?
To everyone who wasn't raised on sweet cornbread, I know putting sugar in there feels so wrong. Cornbread isn't supposed to be sweet. T'ain't fittin' and I know that. But, this is my Mama's Mexican cornbread recipe and the sugar is just a scant amount and it really works well with the heat of the jalapeños. Trust me, y'all. Sugar in cornbread is magic and just adds to the flavor.
How do I make my cornbread crust crispy?
Get your pan nice and hot (this is going to be key) and then pour the batter into the hot pan that's been coated in oil. This will help to create that crispy crust you are looking for.
What does adding an extra egg to cornbread do?
The extra yolk in the egg helps to make it moister. If you want to add another egg, I recommend doing yolk only for the second cornbread.
Why does my Jiffy cornbread fall apart?
Overcooking cornbread can cause it to fall apart. Every oven cooks differently, so keep an eye on it if you've made it before and it fell apart. To tell if it's done, it should be crispy brown on top and when you insert a toothpick it should come out clean.
What do you serve with Mexican cornbread?
Enjoy this side dish with any of these delicious main meals:
You may also enjoy these comforting cornbread recipes:
Cornbread Chicken Pot Pie Made From Scratch
Cornbread Casserole With Ham and Cheese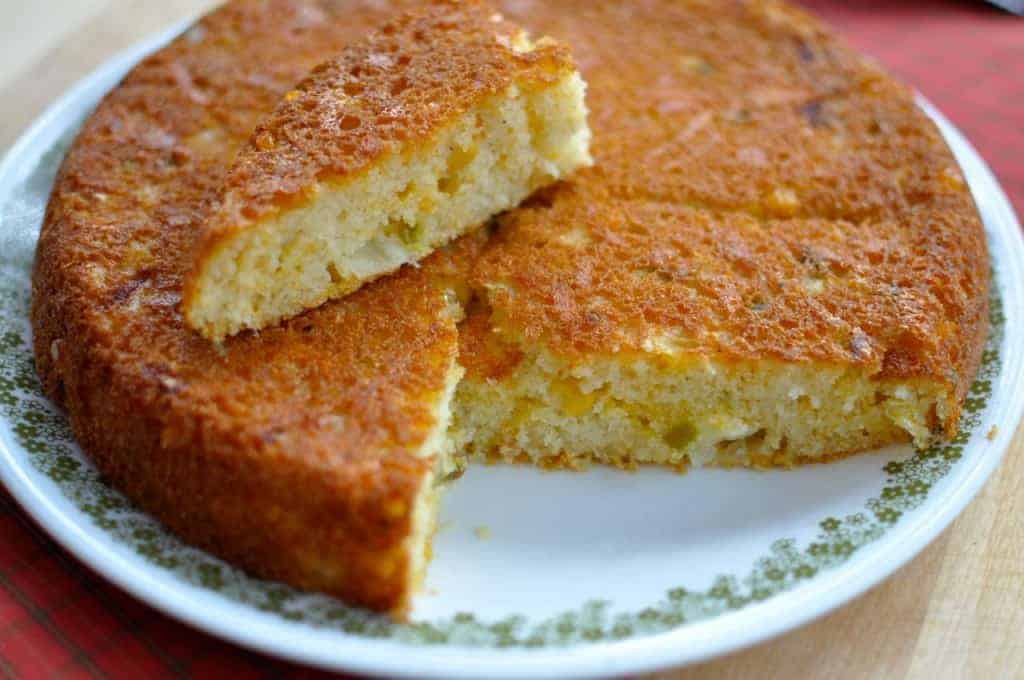 Ingredients
1.5

cups

self-rising cornmeal mix

1.5

tbsp

granulated sugar

1/2

teaspoon

salt

3/4

cup

shredded cheddar cheese

1/2

cup

vegetable oil

1/2

cup

chopped onion

1

tablespoon

diced jalapeño, seeds removed

3/4

cup

milk

1

egg

1/2

cup

canned creamed corn
Instructions
Place a seasoned cast-iron skillet (or 8-inch round cake pan) in the oven and preheat to 350.

In a large bowl, mix together all ingredients.

1.5 cups self-rising cornmeal mix,

1.5 tbsp granulated sugar,

1/2 teaspoon salt,

3/4 cup shredded cheddar cheese,

1/2 cup chopped onion,

1 tablespoon diced jalapeño, seeds removed,

3/4 cup milk,

1 egg,

1/2 cup canned creamed corn,

1/2 cup vegetable oil

Pour a tablespoon of vegetable oil into a skillet and swirl it a bit to cover the bottom (the skillet is hot so please hold it with a potholder).

Pour the cornbread batter into the skillet and bake it for 30-40 minutes or until it's golden brown on top.

Turn it out onto a plate, cut, and serve.
Nutrition
How to become a positive person in three easy steps:
1. Think about the next thing you say before you say it.
2. Make it positive.
3. Repeat. 🙂
~Christy Jordan