Crock Pot Dressing With Cornbread
It isn't the holidays without a serving of my Grandmama's moist and delicious crock pot dressing with cornbread.
There is nothing like Southern cornbread dressing for Thanksgiving! Moist and delicious, this slow cooker stuffing recipe is best served warm with sides of cranberry sauce and ample amounts of chicken or turkey inside.
Often reserved as an exclusive Thanksgiving recipe, my grandmother changed all of that with her slow cooker chicken and cornbread dressing recipe. Now we have this Thanksgiving stuffing and family favorite all year long thanks to the little effort involved in preparing it.
This easy crock pot dressing is full of delicious ingredients, like homemade cornbread, cream of chicken soup, chicken broth, boiled eggs, and the meat of your choice. All you have to do is prep the ingredients, mix them all together, and layer them in the slow cooker. In a few hours, your crockpot stuffing will be ready to go onto the Thanksgiving table. Just think about that oven space you'll save!
I've often said there is no sight prettier than an old lady with a casserole dish. But the sight of my Grandmother toting her crock pot had it beat by far! This is from my grandmother Lucille's recipe files to you. Enjoy!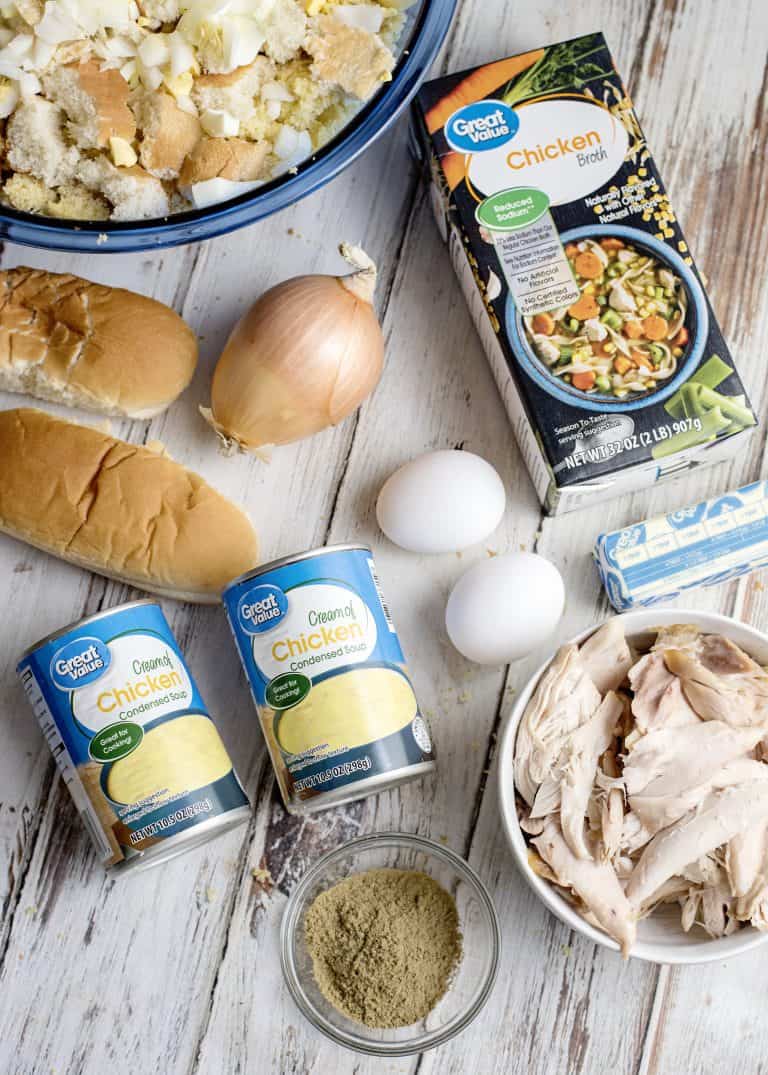 Recipe Ingredients
Cornbread (here are our hot water cornbread and Dixie cornbread recipes)
Hamburger or hot dog buns
Cream of chicken soup
Stick of butter
Ground sage
Chopped turkey
Chicken
Onion
Boiled eggs
Broth
Crumble up your cornbread into bread cubes. Add the crumbled-up buns as well. This is in a really really large bowl (I think four quarts).
Chop up your eggs and onion. Add those in.
Add in onions, egg, sage, melted butter, 1 can of cream of chicken soup, and chicken stock.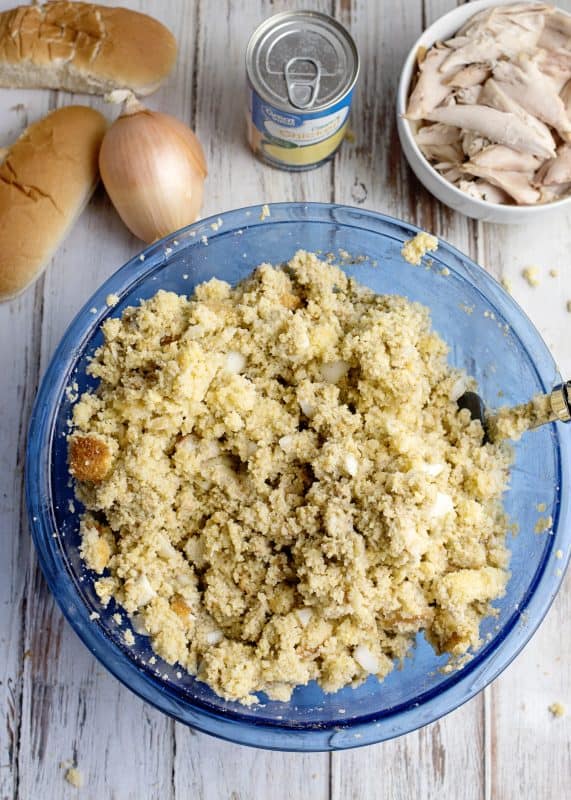 Stir that up really well.
Take a bite just to taste it 😁. SO GOOD! At this point, my taste buds are pretty excited about crock pot dressing!
Now take that other can of cream of chicken soup and spread half of it in the bottom of your slow cooker.
Top with 1/3 of the dressing mixture.
And 1/2 of the turkey.
Repeat again, ending with the stuffing mix.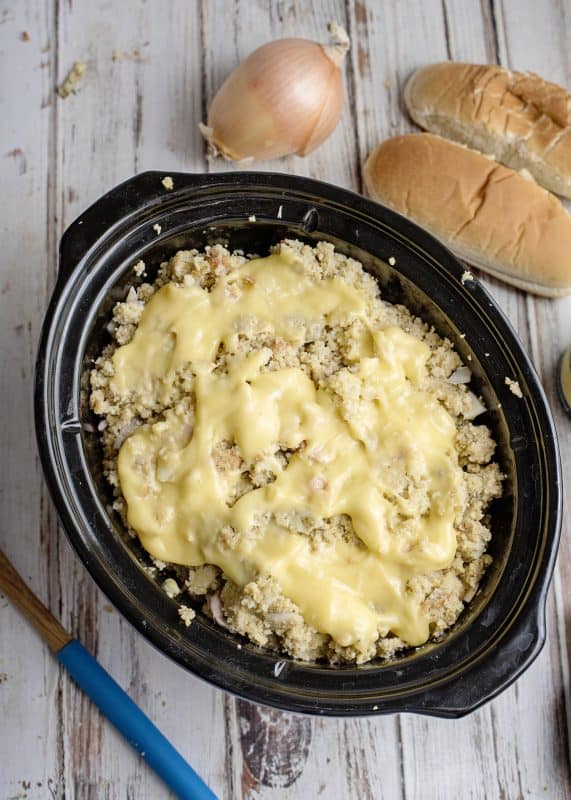 Spread the remaining half of the cream of chicken soup over the crock pot dressing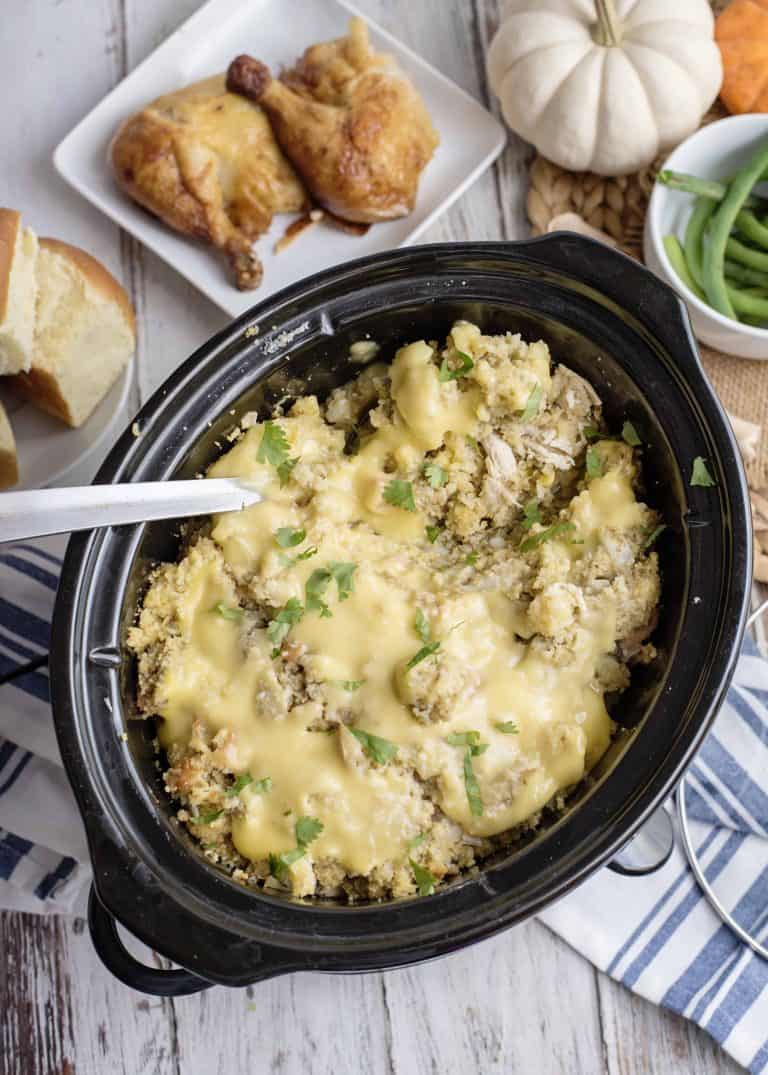 Cover your slow cooker and cook on low for 3 hours and it's ready to serve!
Enjoy!
Storage
Store cornbread stuffing leftovers in an airtight container in the fridge for up to four days.
Recipe Notes
Rather not use canned cream of chicken soup? Make your own with this recipe.
You can omit the meat if you like, or even use a rotisserie chicken in place of having to cook

the

or

.

Are you looking at this and thinking "Well my Mama always added chopped celery" or "My mama never used onion…"? Then go ahead and add celery or leave out the onion. Make it your own! Other vegetable additions include a cup of sliced mushrooms.
If you're adding celery, you can also substitute one of the cans of cream of chicken soup for cream of celery soup too.

The same goes for the mushrooms and

cream of

.

Why the buns? They help hold the stuffing together and give it body. Everyone I now adds in some "light bread" to their crock pot stuffing. It just works and it's delicious. Hint, put these out on the counter first thing in the morning so they can get a little stale. This makes them easier to crumble.

You can make

out of any leftover

as well (whether that's

or French

). As long as it isn't

, it doesn't have to be one of these bun varieties.

To make this in the oven instead, follow the instructions but layer the ingredients in a 9×13-inch baking dish instead. Bake uncovered for 45 minutes to 1 hour at 350 degrees.
If you want to add more flavor, add a teaspoon of poultry seasoning or a 1/4 cup of chopped fresh parsley.
You could also add 1/2 to 1 cup of chopped pecans or chopped walnuts to the cornbread mixture, or 1/2 cup of dried raisins, cranberries, or chopped dried apricots.
Recipe FAQs
What do you serve with crock pot cornbread dressing?
Serve your slow cooker stuffing for Thanksgiving dinner with other popular side dishes, like French's green bean casserole, mashed potato, and honey glazed carrots. As mentioned above, it also tastes great with roast chicken or turkey and a side of cranberry sauce. You can also use this crock pot dressing recipe to stuff bell peppers or summer squash for something different.
Can I make my slow cooker cornbread dressing in advance?
Yes, you can definitely make this dressing recipe ahead of time. You can either prep the ingredients until you place them in the slow cooker and leave them covered in the fridge overnight. Otherwise, the cooked crock pot stuffing will last in the fridge for up to four days, so you can reheat as needed.
Check out these other sensational slow cooker recipes:
Pot Roast Recipe In A Crock Pot
AMAZING & EASY Crock Pot Chicken Lettuce Wraps
Crock Pot Turkey Breast: Flavorful, Juicy, Perfect!
Ingredients
3-4

cups

shredded turkey or rotisserie chicken

optional

3-4

cups

broth

from your turkey or canned

2

pans

cornbread

9-inch

1

medium onion

chopped

2

hard boiled eggs

chopped

1/2

cup

butter, melted

or one stick

2

cans

cream of chicken soup

2

tablespoons

dried sage

2

buns

hot dog or hamburger
Instructions
Set aside one can cream of chicken soup and the turkey (or chicken).

3-4 cups shredded turkey or rotisserie chicken,

2 cans cream of chicken soup

In a large bowl, crumble the cornbread and buns. Add all other ingredients. Stir until well mixed.

3-4 cups broth,

2 pans cornbread,

1 medium onion,

2 hard boiled eggs,

1/2 cup butter, melted,

2 cans cream of chicken soup,

2 tablespoons dried sage,

2 buns hot dog or hamburger

In the bottom of a 6-quart slow cooker, spread half of the remaining can of cream of chicken soup. Top with 1/3 of the dressing mixture and 1/2 of the meat. Add another 1/3 of the dressing and remaining meat, then the remaining stuffing mix. Spread the rest of the cream of chicken soup over the top.

2 cans cream of chicken soup

Cover the slow cooker and cook on low for 3 hours. Serve hot.
Nutrition
This recipe featured on Meal Plan Monday.
If the only prayer you said in your whole life was "thank you" that would suffice. ~Unknown
Click here to get my recipe for Giblet Gravy, perfect with Crock Pot Dressing!