Low Carb Note: To make this Good N Melty Pimiento Cheese Dip dish low carb, serve with pork rinds in place of bread cubes.

Who doesn't love a melty, gooey cheese dip? This one takes that to the next level because using Pimiento Cheese gives it a whole new (an unexpected) burst of flavor. Since this dip is flavorful and cheesy, but not spicy, it makes the perfect spring or summer dip to take to get togethers with family and friends. Mine is pictured with bread cubes (which my kids love). I just bought a large loaf of Italian Bread for the whopping price of $1 and cut it into cubes. However, this is also great with crackers and y'all may think this is crazy, but my friend, Jyl, and I eat it with pork rinds. Tastes amazing with a great crunch at the end!
Making this is as simple as stirring three things together and baking it in the oven so lets head on into the kitchen and get this party started!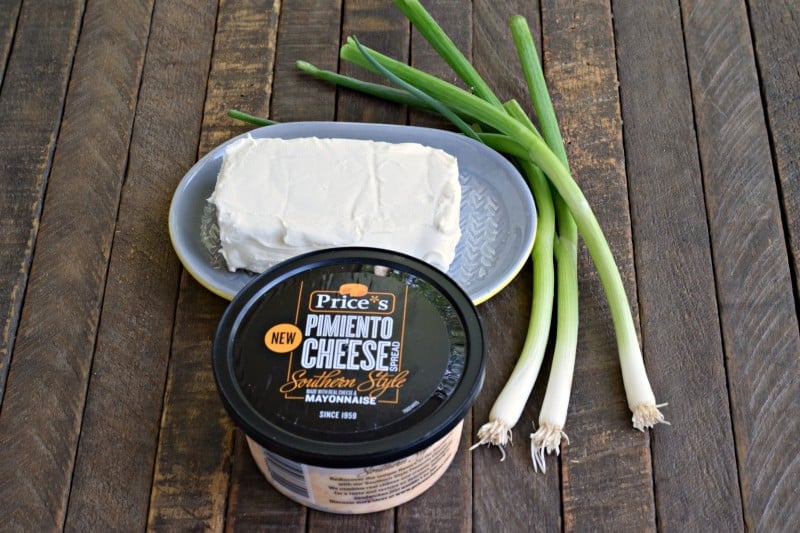 You'll need: A container of Pimiento Cheese (I'm using Price*s Southern Style Pimiento Cheese because it's awesome), two or three green onions, and a brick of cream cheese. 
Important note: Your cream cheese needs to be room temperature. Seriously, it really does. I set mine out before I go to bed at night and make this the next morning so that tells you how long this may take to happen. Please try to plan accordingly.
Place all ingredients in a mixing bowl. Mix with an electric mixer (or elbow grease, but I prefer electric mixer) until fully combined.
Spread this into a small baking dish. Bake at 350 for 20-25 minutes, or until nice and melty with a wee bit of browning around the edges.
That was it. If you blinked you might have missed it!
Now comes the fun part, the eating…
Serve with bread cubes, crackers, or chips.
Although, I don't think you'd be out of line just putting a ton of spoons in that dish of cheese – but your guests might balk a bit.
Until they taste it, oh my goodness, this stuff is so good. I think this is what Pimiento Cheese Lovers eat in Heaven. Come to think of it, I've been good all day so we just might call this supper tonight!
Instructions
Place both cheeses in large mixing bowl. Chop up onions and add to cheeses.

Blend with an electric mixer until fully combined.

Spoon into small baking dish and bake at 350 for 20-25 minutes, or until lightly browned around the edges.

Serve warm with crackers, bread cubes, veggies, etc.
Notes
Low Carb Note: To make this dish low carb, serve with pork rinds in place of bread cubes.
This post was graciously sponsored by Price's Pimento Cheese but all opinions contained herein are my own. Special thanks to Price's for supporting Southern Plate and helping me share a great product with my readers.
 You might also enjoy this recipe! Challah Bread
Yum