Take creamy homemade mashed potatoes to the next level with a layer of melted cheese. These cheesy mashed potatoes are melt-in-your-mouth levels of delicious!
Who doesn't love mashed potatoes? This creamy comfort food is the perfect accompaniment to almost any main meal. We certainly love a mashed potato recipe or five on Southern Plate. We've got homemade mashed potatoes with evaporated milk, mashed sweet potatoes, mashed potato cakes, and cheesy garlic mashed potatoes with mozzarella cheese as well. But today we're turning our attention toward cheesy mash.
This cheesy mashed potatoes recipe my Mama graciously passed onto me takes regular homemade mashed potatoes up just a notch. All you need is 5 ingredients: potatoes, shredded cheddar cheese, butter, sour cream, and evaporated milk. Oh yes, I don't mess around. If you want creamy mashed potatoes that melt in your mouth, this is the recipe for you.
The instructions for this easy recipe are as simple as can be. Simply boil the potatoes until tender, mash them with the evaporated milk and butter, stir in the sour cream, top them with the cheese, and bake! So quick and easy but baked mashed potatoes with cheese are just that little bit extra delicious. What more could you want? Keep reading for step-by-step instructions and some ideas for what to serve alongside your cheesy mashed potatoes.
Recipe Ingredients
Potatoes
Shredded cheddar cheese
Margarine or butter
Sour cream
Evaporated milk
How to Make Cheesy Mashed Potatoes
Peel and slice your potatoes and place them in a large pot.
Cover with water and cook until tender.
Drain them puppies but keep 'em in the pot.
Then add a stick of butter…
And the whole can of evaporated milk.
Add a teaspoon of salt.
Mash all of that together with a handheld potato masher.
You can do this with your hand-held or electric mixer, of course.
I normally do use my mixer for creamy mashed potatoes. However, with these I just prefer them to be a little more rustic and I enjoy the texture of hand-mashed potatoes or "country mashed potatoes" as they are often called.
Stir in the sour cream.
Oh, nice and creamy!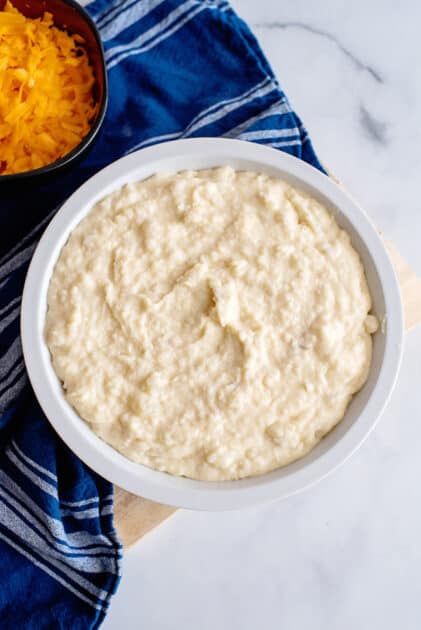 Spoon the potato mixture into a deep dish pie plate or another oven-safe dish.
Top generously with shredded cheddar cheese.
Now you want to place this in the oven at 350 degrees until this cheese melts.
Enjoy!
Storage
Store leftover mashed potatoes in an airtight container in the fridge for up to 3 days. I recommend reheating them on the stovetop with a little extra milk to give them back that creamy consistency.
Recipe Notes
Let your butter sit at room temperature while you prep the potatoes. It'll melt into the potatoes more quickly that way.
You can use any kind of cheese in your cheesy mashed potatoes. This might be shredded mozzarella cheese,

,

sharp cheddar, or a combination of mozzarella and parmesan cheese. The choice is all yours.
Recipe FAQs
What are the best potatoes to use in mashed potatoes?
You want to use a good starchy potato, like Russet potatoes, Maris Piper, or Yukon Gold potatoes.
What do you serve with cheesy mashed potatoes?
This is a regular Thanksgiving side dish at my house, so I serve it with roasted turkey, cranberry sauce, and green bean casserole. But throughout the year, I also love to serve my cheddar mashed potatoes with roasted chicken, pork chops, baked ham, pot roast, and chicken fried steak.
If you want to be extra fancy, add a garnish of chopped fresh parsley, minced chives, or thinly sliced green onions. Another great topping is cooked crumbled bacon bits. Yum!
Check out these other perfect potato recipes:
Honey Roasted Sweet Potato With Cinnamon
Loaded Twice Baked Potatoes (Freezer Friendly)
The Best German Potato Salad Recipe
Ingredients
6

large potatoes

1

small can

evaporated milk

1

stick

margarine or butter

1/2

cup

sour cream

2

cups

shredded cheddar cheese

salt
Instructions
Cut up potatoes, place them in a pot, and cover them with water. Cook until tender and then drain.

Add them back to the pot and add margarine, evaporated milk, and about a teaspoon of salt. Mash potatoes with a hand-held potato masher or with a mixer.

1 small can evaporated milk,

salt,

1 stick margarine or butter

Add sour cream and mash or stir until blended.

Spread the potato mixture into a pie plate or casserole dish. Top with shredded cheese and bake in the oven at 350 until the cheese melts.

2 cups shredded cheddar cheese
Nutrition