This pat-in-pan pie crust is a flaky and lightly sweet homemade pie crust. Mixed in the pan, it's quick, easy, and makes a perfect pie crust every time.
This is one of my basic homemade recipes that has come in handy for me on countless occasions. Let's list all the boxes it ticks:
It's not the least bit fussy. In fact, you mix the ingredients in the pie dish so you don't even dirty up a bowl.
It's a very quick and easy homemade pie crust recipe. It will take you less than 10 minutes to mix the ingredients together in the pie dish. Because really, that's all there is to it. You mix together the dry ingredients, add the wet ingredients, and form the pie dough. Then it's just a matter of doing exactly what the title suggests: patting the pie crust out into the pan. That's it! There's no rolling needed.
The ingredients to make your pat-in-pan pie crust are kitchen essentials: flour, sugar, salt, vegetable oil, and milk. I know, no butter, it's shocking! Anyway, I bet you already have all of these ingredients in your kitchen right now.
The flaky and slightly sweet homemade pie shell works well for endless recipes. I've included lots of suggestions below to get you started, but it's the perfect accompaniment for all of those wonderful old fashioned pies.
Are you ready to make my quick and easy pat-in-pan pie crust recipe? Let's go!
Recipe Ingredients
Flour
Sugar
Salt
Vegetable oil
Milk
Helpful Kitchen Tools
How to Make Pat in Pan Pie Crust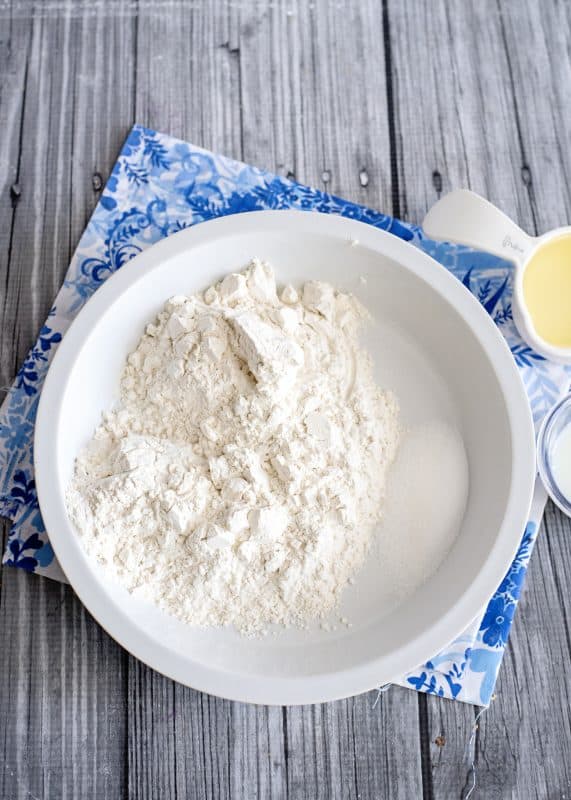 Place salt, sugar, and flour into pie plate.
Stir them together.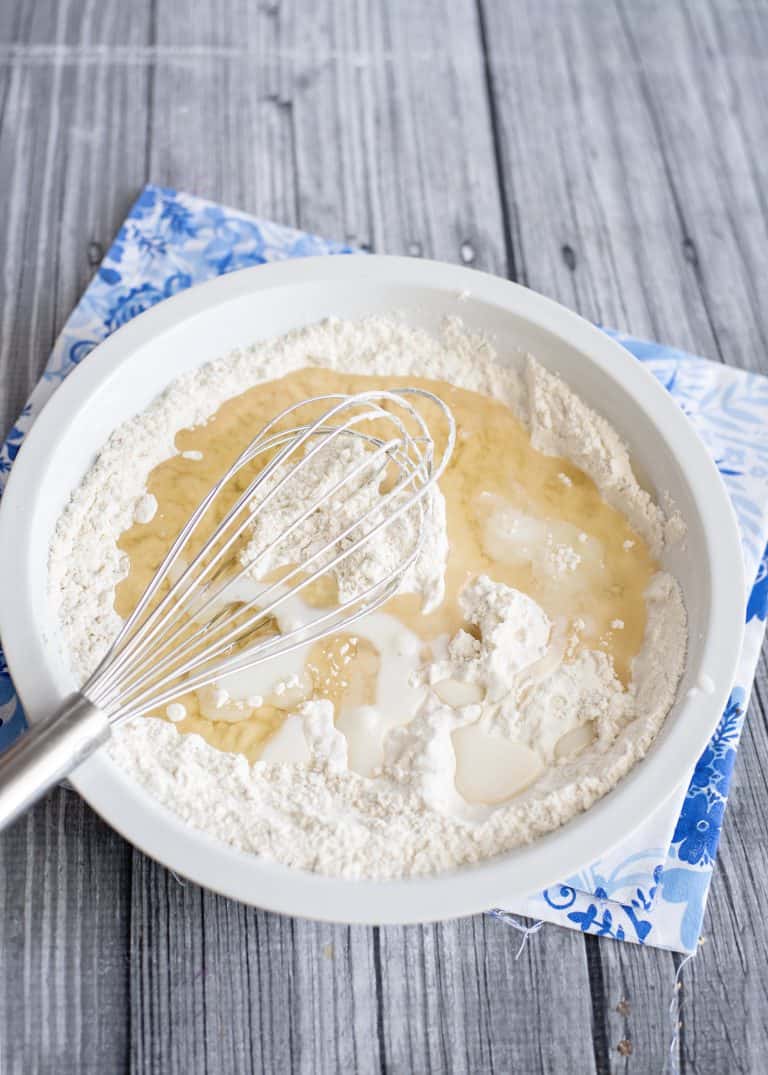 Now add your oil and milk.
Stir the pie dough together until it kind of forms a ball or "wad". I guess "forms a ball" sounds better though. GREAT JOB! (Can you tell I'm a mother?).
Now just pat that pie dough ball out, first to fit the bottom of your pan, then keep on patting until it goes up the sides.
Note: To make a thick crust like this with plenty of dough to flute the edges, double the recipe.
VOILA! There you have your pat-in-pan pie crust!
All ya gotta do now is prick the pastry with a fork and bake it at 350 for about 10 minutes. Then you're ready to fill it with your pie filling (no pie weights needed).
However, if your recipe requires an unbaked pie crust, then you're good to go right now.
Now you didn't think I was going to give you a pie crust and not give you something good to put in it, did ya? Puleeeeeze! You know me better than that! Keep scrolling for lots of options.
Storage
If you're not baking the pie straight away, you can freeze the unbaked pie crust for up to 2 months. Just form it into a ball, double-wrap it, or store it in an airtight container, and freeze it. Then let it thaw at room temperature or in the fridge before you pat it out into your pie dish.
Recipe Notes
For a richer pie crust, substitute the milk for heavy cream.
For a savory pie crust, simply omit the sugar.
This recipe is for a traditional 9-inch pie shell. But as mentioned, you can easily double the recipe if you want to make a larger pie or have a thicker crust.
Recipe FAQs
Should I sprinkle the pie pan before laying in the crust?
No, there's no need to sprinkle your pie dish with flour or grease it before adding this crust. Because we mix the dough in the pan, which includes oil, it will already be greased enough.
Can I make my homemade pie crust with whole wheat flour?
I haven't tried this particular recipe with whole wheat flour, but I think it should work out just fine.
Is this pie crust recipe vegan?
To make it vegan, use your favorite dairy-free milk alternative.
How do I make this pie crust recipe gluten-free?
Once again, I haven't personally tried it, but I don't see why substituting the all-purpose flour for gluten-free flour shouldn't yield the same results.
Pie Recipes
Here ya go, just a few pie recipes to make with our pat-in-pan pie crust:
Ingredients
1.5

cups

all-purpose flour

1.5

tsp

granulated sugar

1

tsp

salt

1/2

cup

vegetable oil

2

tbsp

milk
Instructions
Mix together flour, salt, and sugar in a pie pan.

1.5 cups all-purpose flour,

1.5 tsp granulated sugar,

1 tsp salt

Stir in milk and slowly add oil. Keep stirring until a good dough forms (you may not need all of the oil).

1/2 cup vegetable oil,

2 tbsp milk

Mix well with a fork and pat the pie dough out to fit the pan.

Bake at 350 until brown (usually about 10 minutes). If the recipe calls for an unbaked shell, skip this step.
Nutrition
In the desert, there is always sunshine but for growth, you need rain.