Lay out a table with every dish imaginable, absolutely everything under the sun, and if there is fresh fried corn on that table,
you'll know where to find me.
There is nothing in this world like the flavor of fresh corn, shucked and cut off the cob and cooked up in a skillet. No matter how hard companies may try (and I do appreciate their efforts!), no frozen or canned corn can even come close. The taste is night and day, as if it were two different vegetables entirely.
A Family Affair
When we were little, shucking corn was a family affair. Mama would put a few buckets on the front porch and we'd each get our own brush and then everyone would set to work. We'd shuck a few bushels (at least) and she'd set to cutting it off the cob and cooking it up for everyone. I remember being able to have all the corn we wanted at dinner but it seems now that I'm grown and have my own family, I can never have such bounty. No matter how much I make, we always want more.
If you don't grow your own corn and aren't lucky enough to have a neighbor who does, keep an eye out on your grocery stores for a sale.
Ingredients:
You'll need fresh corn, a stiff brush, a bit of margarine, salt, pepper, and water.
For the brush, you can just get a nice stiff dish brush, it'll do just fine. Mama says back in the day no one bought their corn silk brush. The Fuller Brush man would go door to door and he'd give you one in hopes you'd order some things from his catalog. They sold brushes, brooms, and cleaning supplies and such.
Peel back the husks on your ear of corn..
Like so
Remove what silks you can with your hand.
Then take hold of all of the husks at the base and…
Break it off.
If kids are watching, you should make a big GRRR sound when you do this and act like you are straining really hard. It will impress them, honest.
Here is our almost ready ear of corn. There are a few silks left on it that we need to get at though.
If you take your stiff brush and just brush against the directions of the silks, that should do the trick. You may have to grab at a few and pull them off. If a few end up in your corn, the world won't end. In fact, you won't really notice because once you taste this, I doubt you'll find time to draw breath again until you are done devouring as much as you can possibly fit onto your plate.
But maybe that's just me. 🙂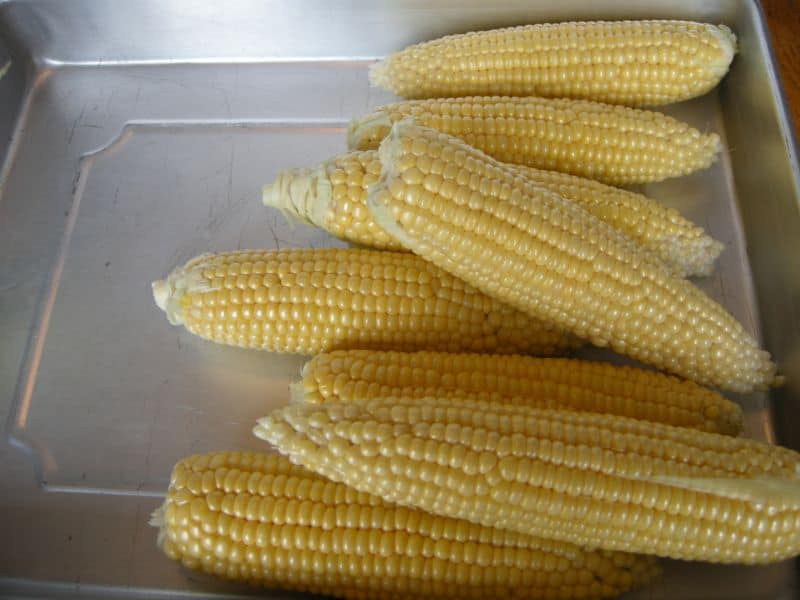 Here is our corn. It wants to be cooked. It wants us to eat it. It wants to make us happy.
Good corn.
I am using eight ears and it was enough for four of us to have generous helpings of. However, I could have used sixteen ears and we would have eaten all of that, too. I know I keep going on and on about that but I'm stressing a point here.
Did I mention how much I love fried corn?
This is one of my favorite super-sharp knives and if you think it is awkward trying to hold a super sharp knife, an ear of corn, and focus and photograph at the same time, you're right on the money. 🙂 Bear with me.
Take each ear and stand it up like so. Run your knife blade down the side to cut the kernels off. HOWEVER, you don't want to cut them off right at the ear, you want to leave a bit of the kernel bottom on the ear for the scrapings. The scrapings are what is going to give our fried corn it's body. So basically, try to cut about 3/4 of the kernel off but leave the rest.
Mama likes to place her ear of corn in the center of an angel food cake pan and then cut the kernels off and scrape it. The center of the pan helps hold the ear and the kernels and scrapings fall right into the pan below. I would do this if I ever actually used an angel food cake pan enough that I didn't have to go hunt it down when I wanted to shuck corn. Angel food pan = tube pan.
Kernels cut off, ready to scrape!
See how all of the little holes in the cob are filled? In the next picture you'll know what I'm talking about better.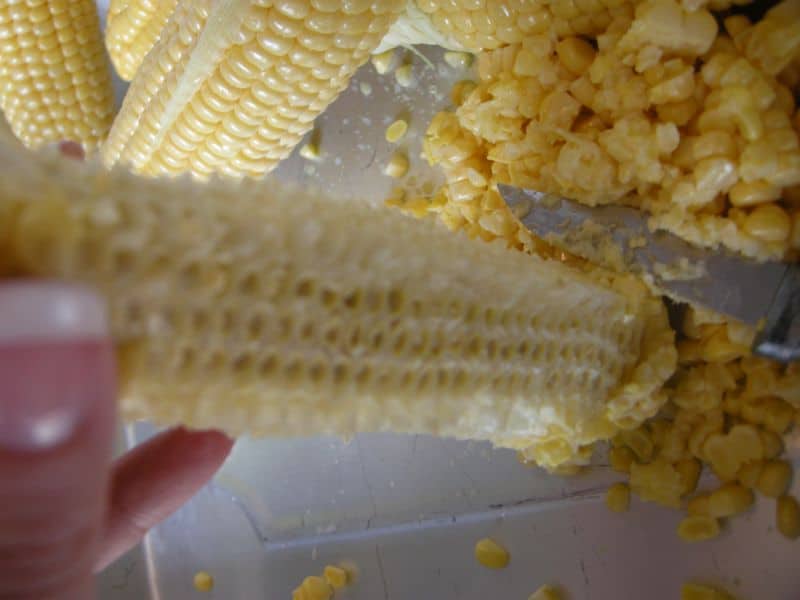 Take the blade of your knife and scrape down the corn cob. See how the holes are empty now?
We've gotten all of that good pulp out of there.
If you have stuff all over your hands like I do, you've done good!
Here is our corn all ready to go!
I know this smells good but you don't want to eat it now. This is due to reasons which I do not feel need documenting on a food blog. Trust me on this.
Cook
Corn
First.
Now, in a large skillet, put about two tablespoons of butter or margarine and a tablespoon or so of bacon grease.
Add your corn and about a 1/2 cup of water.
How much water you end up needing is really dependent on your corn. Some corn will be starchier and need more, some corn will be thin and actually need thickening. For my corn here, I actually ended up needing a cup of water. If your corn ends up looking a little thin, you can stir in a tablespoon of corn starch or flour in with two or three tablespoons of water (mix it up pretty well) and then add that to your corn.
Salt and pepper to taste. This is always a very personal thing. I am using about 1/2 tsp pepper but if you prefer a more peppery corn, by all means add more!
I added about 1/2 tsp salt too. These are good starting points but most people add more.
In general, if you are preparing a meal for guests you should always under-season and then allow them to season their food to their personal taste.
Bring that to a bit of a boil and then lower the temperature of the stove eye to allow it to just simmer. Stir it often and cook for about thirty minutes.
One of my reader's (Hey Dianna!) posted a comment back when I announced that I was getting a new kitchen with a house attached and asked me what I meant by stove eyes.
Dianna: OK. I gotta ask. What do you mean your stove has five eyes? I've never heard of a stove having eyes. You also said, "turn off the eye" in your Sweet Tea post. Is my stove watching me?
Okay, this was an eye opener for me! I had to call Mama and ask her what else they could possibly be called. She informed me that in other places they refer to them as "burners". I've always heard them called eyes. I know, I really do need to get out more.
Yum, YUM, YUM!!
I could just dive into a vat of this, I swear.
Ingredients
Fresh ears of corn

I am using eight for this

margarine

salt and pepper

water

butter
Instructions
Shuck and remove silks from corn. Cut kernels off cob with a sharp knife, leaving about 1/4 of the kernel. Scrape cobs clean with the blade of the knife. Place about 3 tablespoons butter in skillet. Add corn and corn pulp. Season to taste with salt and pepper. Add 1/2 cup water (more if needed).

Bring to a slight boil, stirring constantly. Reduce heat to simmer and continue cooking and stirring for about thirty minutes.

If you are wanting to freeze for later, just cook about half way through and then cool and place in freezer bags or containers and label. Thaw when ready to use and cook for half an hour just as described above.
Nutrition
Who needs watchdogs?
This is Henry. He is one of our squirrels.
Watching Henry from the sun room is one of Daz's favorite activities now.
If squirrels ever try to take over the world, I think we have a pretty good early warning system. Unless..
…it's Thumbcat's shift.
We're officially living in our new house but the unpacking may take a few weeks due to the fevered schedule at school as the year comes to a close. I ache for summer break!
It's wonderful to be able to walk into the kitchen and look out over my gardens each morning, especially now that we live in a house big enough that me walking into the kitchen and making coffee doesn't wake everyone! I've had a wonderful time walking around the yard, getting to know the place a bit. My heart is in flowers right now. I want them everywhere and I'm doing my best not to be heartsick that I can't afford more! ~grins~
I have a few small pots on the front porch (they really need to be bigger to be in better proportion but you work with what ya got!) and another small pot on the back porch. Katy picked out a geranium and we have it sitting at the top step. I am longing for overflowing baskets of flowers and ferns around my doorway but am going to be content that I have the doorway to begin with!
I hope you are all having a wonderful week and thank you all so much for the emails and comments. I cannot tell you enough how much I love reading over the comments throughout the day. Two more weeks til school is out and I can devote a little more time to responding!
In my next post, I'm going to tell you all about my move, what I fed everyone, and a little more about the new town we live in now. I did the tutorial on Jiffy Poke cake, too, so I'll bring that to you soon as well!
I am so very grateful to each and every one of you for taking the time out of your busy lives to read my ramblings!
Gratefully,
Christy 🙂
P.S. I have a name for my new home, and a neat story behind it. I'll tell ya soon! It really did name itself but a reader had a hand in letting me know that!
I wish you enough sun to keep your attitude bright no matter how gray the day may appear.
I wish you enough rain to appreciate the sun even more.
I wish you enough happiness to keep your spirit alive & everlasting.
I wish you enough pain so that even the smallest of joys in life may appear bigger.
I wish you enough gain to satisfy your wanting.
I wish you enough loss to appreciate all that you possess.
I wish you enough hellos to get you through the final good-bye.
– Author unknown

Contributed by Southern Plate reader, Jay. To contribute your uplifting or positive quote, please click here.