Alabama White Barbecue sauce is a regional specialty that has received national acclaim for good reason!

Today, I'm bringing you a real rarity. In fact, it is pretty much unheard of outside of North Alabama. White BBQ Sauce, even my husband (who is from a town in Georgia only four hours away) had never heard of it. A lot of folks in south Alabama have never heard of it.
This is truly a regional thing, but also a regional requirement. EVERY BBQ restaurant in North Alabama features white bbq sauce on their menu, their meats, and their tables and North Alabamians eat it with everything from french fries to bread to chicken and ribs. This unique, tangy flavor is the perfect compliment to just about everything.
Personally, I like to use so much that my food is swimming in it. How about we make up a batch for you?
To make your own white barbecue sauce, you'll need: mayonnaise, black pepper, salt, lemon juice, white vinegar, and sugar.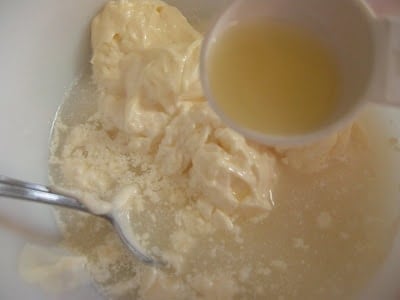 Place mayonnaise in a bowl, add vinegar and lemon juice.
Next, add in salt, pepper, and sugar.
Mix it all well with a whisk, or just put all of  your ingredients into a large jar with a lid and give it a really good shaking! That's all there is to it!
You have just made White Barbecue Sauce!
Before you go wow your friends, get a french fry or a piece of chicken and give it  good dunking so you can be the first to taste!!!
YUM!!!
I could just live on this y'all, honest!
Ingredients
White Barbecue Sauce

2

Cups

Mayonnaise

1 1/2

Tablespoons

salt

2

Tablespoons

black pepper

6

Tablespoons

white vinegar

6

Tablespoons

lemon juice

4

Tablespoons

white sugar
Instructions
Mix all ingredients together and stir well.
Yum