Alabama White Barbecue Sauce
Alabama white barbecue sauce is a regional specialty that has received national acclaim for good reason! Uniquely sweet yet tangy, let me show you how to make it for yourself at home. One bite and you'll be serving it with every meal!
Today, I'm bringing you a real rarity. In fact, it is pretty much unheard of outside of North Alabama. Even my husband (who is from a town in Georgia only four hours away) had never heard of it. A lot of folks in South Alabama have never heard of it.
I'm talking about Alabama white bbq sauce. This is truly a regional thing, but also a regional requirement. Every BBQ restaurant in North Alabama features white bbq sauce on their menu, their meats, and their tables and North Alabamians eat it with everything from French fries to bread to chicken and ribs. My husband loves to smother his chicken in Alabama white barbecue sauce. Personally, I like to use so much that my food is always swimming in it.
So, what makes this homemade white bbq sauce so irresistible? Well, it has a uniquely sweet yet tangy flavor, thanks to the combination of mayonnaise, lemon juice, white vinegar, and sugar. Let me tell you, it truly is the perfect compliment to just about everything. So how about we make up a batch for you? This recipe has the simplest ingredients and instructions ever, after all – mix and serve. That's my style!
Recipe Ingredients
Mayonnaise
Black pepper
Salt
Lemon juice
White vinegar
Sugar
How to Make Alabama White Barbecue Sauce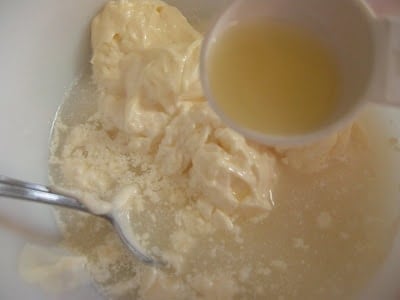 Place mayonnaise in a small bowl and add the vinegar and lemon juice.
Next, add salt, pepper, and sugar to the mixing bowl.
Mix all ingredients together with a whisk or just put all of your ingredients into a large jar with a lid and give it a really good shake. That's all there is to it!
You have just made Alabama white barbecue sauce!
Before you go wow your friends, get a French fry or a piece of chicken and give it a good dunking so you can be the first to taste it. YUM!
I could just live on this y'all, honest!
Storage
Pop the sauce in a mason jar or airtight container and store it in the fridge for up to 4 days. But we all know it's not gonna last that long! Lucky it only takes 5 minutes to whip up another batch (or you can always simply double the recipe).
Recipe Notes
If you like, substitute white sugar for brown sugar or use a combination of both.
Another substitution is using apple cider vinegar (or a combination again) instead of white vinegar.
Some white sauce recipes also include prepared horseradish. If that's your thing, I'd go with just a couple of teaspoons.
Some also add in mustard, so if you like you can add 2 teaspoons of yellow mustard, dijon mustard,

spicy brown

, or even

.

For an extra pop of flavor, go ahead and add 1/2 teaspoon of your favorite seasoning, like Cajun seasoning or Old Bay seasoning.
For a lighter version, replace half of the mayo with sour cream or Greek yogurt. It won't affect the taste.
Want to add some heat? If you're going to add the prepared horseradish, opt for hot horseradish. Then add 1/2 teaspoon of hot sauce and 1/4 teaspoon of cayenne pepper to make things extra spicy.
Recipe FAQs
Where did Alabama white BBQ sauce originate?
We have Robert Gibson from Big Bob Gibson's Bar B-Q in Decatur, Alabama to thank for introducing us to Alabama white sauce way back in 1925.
What do you serve with Alabama white barbecue sauce?
Alabama white sauce tastes fantastic with any grilled or barbecued meat, like grilled chicken tenders or chicken breast, pork chops, Southern-style pulled pork, beef brisket, crockpot beef ribs, North Alabama-style pulled chicken, steak kabobs, and air fryer chicken wings. You can baste it on the meat two or three times towards the end of cooking, or simply pour it over the top when serving.
It also tastes great as a dipping sauce with fries and veggies, like my baked zucchini fries, parmesan oven fries, and roasted sweet potato wedges. Another option is to use it as a salad dressing. It tastes absolutely amazing with potato salad, coleslaw, and roasted vegetables.
You may also enjoy these sensational sauces:
Homemade Pretzels and Cheese Sauce
Ingredients
2

cups

mayonnaise

1 1/2

tablespoons

salt

2

tablespoons

black pepper

6

tablespoons

white vinegar

6

tablespoons

lemon juice

4

tablespoons

white sugar
Instructions
Mix all ingredients together and stir well.

2 cups mayonnaise,

1 1/2 tablespoons salt,

2 tablespoons black pepper,

6 tablespoons white vinegar,

6 tablespoons lemon juice,

4 tablespoons white sugar
Nutrition