Symphony Brownies are the showstopper brownie recipe you need in your life.

I have never met a brownie I didn't like but I have to admit that these Symphony brownies, even though they are crazy easy to make, are the most delicious ones I've ever had. Scroll on down if you'd like to jump right to the recipe. Keep reading if you have time to visit a spell.
The "Visiting A Spell" Part
So how is this whole parenting thing working out for ya? Not for wimps, huh? I've been at it myself going on thirteen years now and my respect for my mother (and awe at her still having hair in her head) has deepened daily.
Trying to raise two individuals, who each entered into this world with their own distinct personalities, is clearly one of the toughest jobs I've ever taken on, but also the most important and with rewards and a pay grade that will never be matched by anything else I do.
Teaching my kids values, morals, right and wrong, how to behave, show compassion, educating them, urging them to excel where they have the ability to excel rather than settling for "good enough", building them up while gently reminding them of how far they have to go – Whew. I'm tired just typing about it.  And lets be honest here, instilling a work ethic into kids sure was easier back in my Grandmama's day – but I don't want my kids out picking cotton in a field if I can help it so I have to get creative and be persistent. Man, this is heavy stuff.
In the midst of all this though, and equally important, is that I want us all to have some fun. I come from a fun family and I want my kids to say the same thing when they grow up. So as a result we joke, we kid, we prank, and we laugh. Every blessed chance we get.
Teaching your child to look for joy in their lives, in their days, and in each situation, is a lesson I rank right up there with teaching them to balance their checkbook, tie their shoes, and do the right thing. Without the ability to find joy in a situation and without the training to be on the lookout for it, we end up desolate and without hope. Depressed and without motivation. Down and out with no reason to rise. No sir. My kids won't be going there.
Maybe we were strange but…
Joy was something we had in each day of our lives growing up. We had laughter and jokes and pranks and rear end pinches every time we happened to be bent over when our Mama came into the room. Tickles, whoopee cushions, and fake ice cubes with plastic flies in them. We had Elvis sing a longs that turned into strange operettas and breakfast biscuits that turned into bb gun skeet disks when Daddy decided to try his hand at making them by himself.
We had our share of hardships, too and there were times when our parents had to be serious with us, but those times were balanced with all of the moments they were silly with us as well.
Raising kids is serious business, and I do make mine tow the line, but remembering to teach them the valuable lesson of looking for joy and having fun in life is pretty serious business, too. The "joy" part of this post is where Symphony Brownies come in…
I was reminded of this when I got to spend last week with some wonderful people, two of which were Buddy and Carol Smith. These are some joyful people. Always kind, looking after others before themselves, and just experts at making you feel loved. Carol and I talked a lot about our kids and her grandkids and during one conversation she said "You know, we have a lot of fun at our house when the grandkids come over. We just try to have fun with them. We're always laughing and joking around." We laughed with each other as we recounted the things we'd done with our own families. We talked about road trips and pranks, making our kids laugh and laughing right along with them. We spoke of the joy in our families – and then we talked about brownies 🙂
These are the brownies Carol told me about on one of our bus trips to a little village outside of Quito, Ecuador. "Oh! Have you ever made Symphony Brownies? Everyone just loves them!" she began, and I was already writing this post in my head as soon as she said the word "brownie".
This is one of those super easy recipes that your kids will remember growing up with. I can hear our children now "My Mama was always pulling things to get me to laugh…Oh and she made these brownies! Everyone loved them…"
Look for the joy today but most importantly, each time you find it, remember show it to your kids.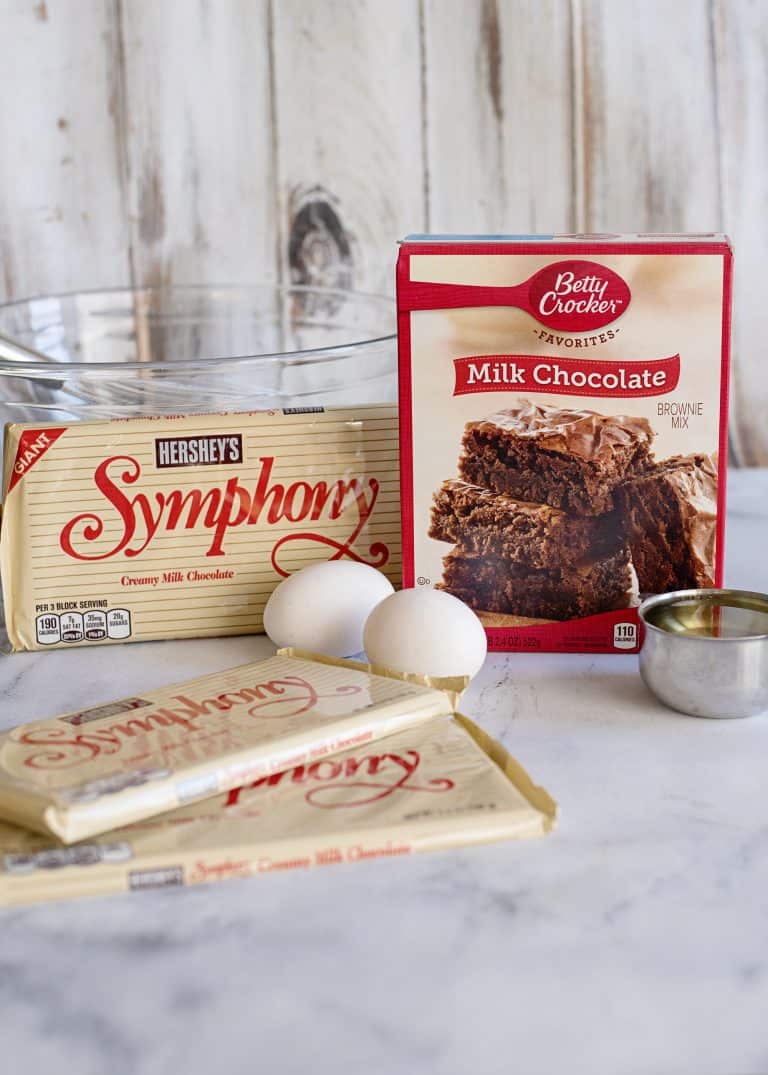 You'll need: Brownie Mix (the box that makes a 9×13 pan), and two symphony bars.
You'll also need whatever ingredients your brownie mix calls for 🙂
The symphony bars I got are the large 8 ounce ones. You can use any type of chocolate bar you like or even individual chocolates (the mini bars).
Prepare your pan by spraying with cooking spray or by lining with foil and then spraying with cooking spray. If I'm making these to take somewhere and I want to make sure they're all cut pretty, I line it with foil and spray. For us, I just use cooking spray.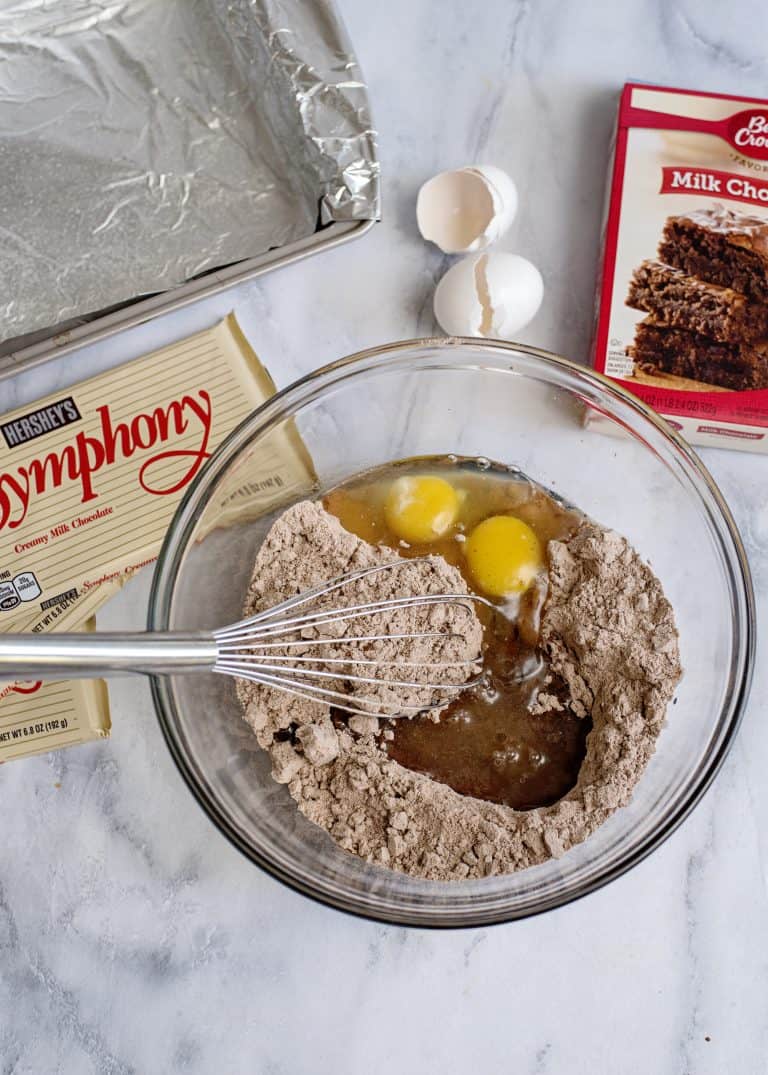 Mix up your brownie mix according to package directions.

Yum! I love me some brownie batter!
Spread 1/2 of your brownie batter into the bottom of your baking dish.
Place chocolate bars on top of the brownie batter. You may have to break it up a little bit to get it to fit but it'll work.
And in the end you'll have brownies…so it's all good 🙂
Pour the rest of your brownie batter on top of the chocolate.
Bake at 325 for 45-50 minutes.
Remove and allow to cool completely.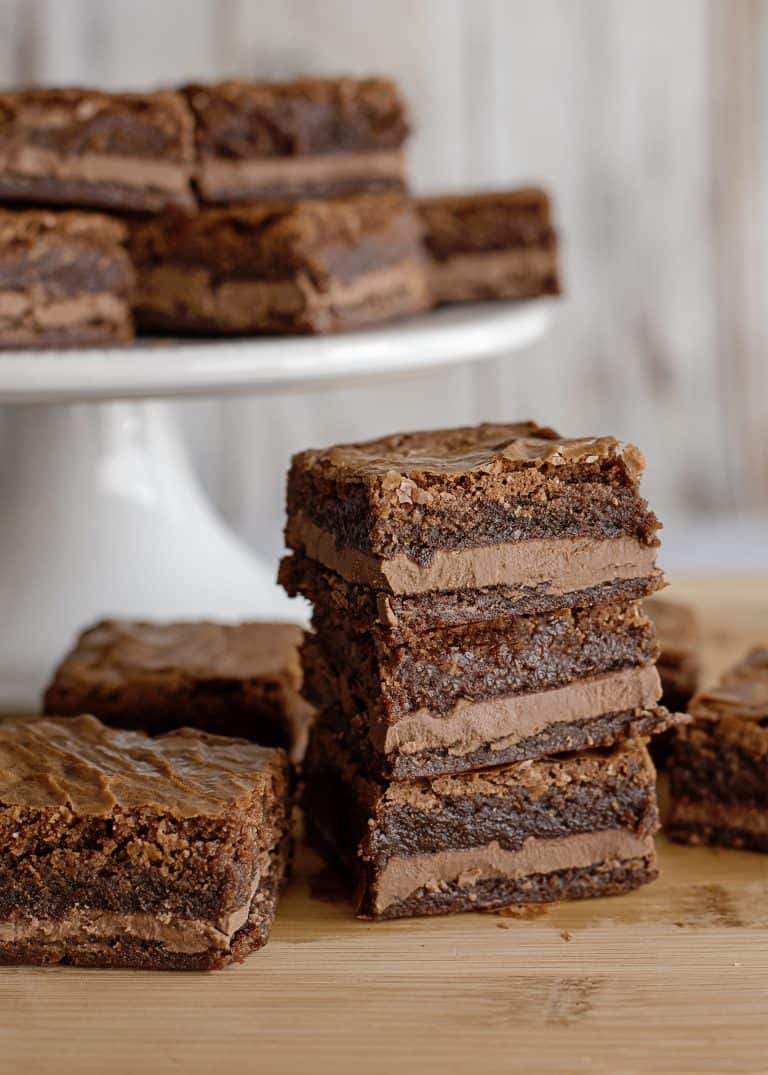 Prepare for well deserved oohs and ahhhs! I think I need to make some of these today, how about you? If you end up making them, share a pic on Instagram and tag @southernplate or post it on my Facebook wall!
Ingredients
1

9x13 size Box Brownie Mix

prepared according to package directions

2

8 ounce

Symphony Bars

can use other milk chocolate bar
Instructions
Spray an 8x8 baking dish lightly with cooking spray. Prepare brownie mix according to package directions.

Spread half of brownie batter in bottom of pan. Top with a layer of chocolate bars. Pour remaining brownie batter over top of chocolate bars and gently spread to cover.

Place in 325 degree oven and bake for 45-50 minutes. Allow to cool completely before cutting. ENJOY! (and believe me, you will!)
Notes
*We want to lower our oven temperature just a bit since these brownies are the amount for a 9x13 pan but we're baking them really thick in an 8x8 pan. Lowering our temperature will help them cook evenly instead of the outside getting done before the middle does.
This recipe was originally published in 2012. I updated the photos in 2019.
You might enjoy this recipe as well:
https://www.southernplate.com/oreo-stuffed-brownies/
How do you teach joy to your family?
What is the best prank you've ever pulled on them?
Tell us in the comments below!
Weeds are nothing but flowers in disguise!

Submitted by Linda (thanks, Linda!). Submit your quote or read many others by clicking here.

Click here to follow me on Instagram

This recipe featured in Meal Plan Monday and The Weekend Potluck
Yum