This recipe for Mama Reed's Tea Cakes was originally published in October of 2008. I updated the photos in May of 2019.

If you've never had a southern tea cake, they are rather difficult to describe. I can assure you though, despite appearances, it is nothing like a cookie. This tender little cake is soft and pillowy, with just a touch of sweetness. A very simple and comforting flavor, they are generally only iced for company or special occasions, at other times getting only a light sprinkling of sugar as they come out of the oven. Note: Click here for my old fashioned crispy tea cake recipe.
Mama Reed's tea cakes are something I dearly love to bake. One of the main reasons (despite the flavor and texture) is that I don't eat a lot of sugar and therefore can't really eat most of the yummy desserts I make for Southern Plate. These tea cakes are perfect because they are not loaded down with sugar and super sweet taste as most cookies are. They are the perfect treat with an afternoon cup of coffee or as a snack. If you are expecting something really sweet, you'll want to add the icing.
Mama Reed (Adle Reed was her given name) made these on a regular basis and the day she made them all ten of her kids were allowed to eat as many as they wanted as they were coming warm out of the oven. Can you imagine the thrill of that?. After they cooled the tea cakes would be placed in a large glass jar with a screw on lid and the children had to come ask permission before they got one, so they wouldn't ruin their supper. Mama still talks about that every time I mention tea cakes. She had the pleasure of knowing Mama Reed personally. In fact, Mama Reed is the one who taught my mother how to cook. Though, I've only known her through my mother's memories, we've talked about her so much over the years that I can't help but feel a closeness to her, especially when I make these tea cakes.
The teacake ingredients are simple: Butter, Sugar, Eggs, Vanilla, and Self Rising Flour. 
Begin by placing room temp butter in a large mixing bowl with sugar. Beat this with an electric mixer until well creamed together and fluffy.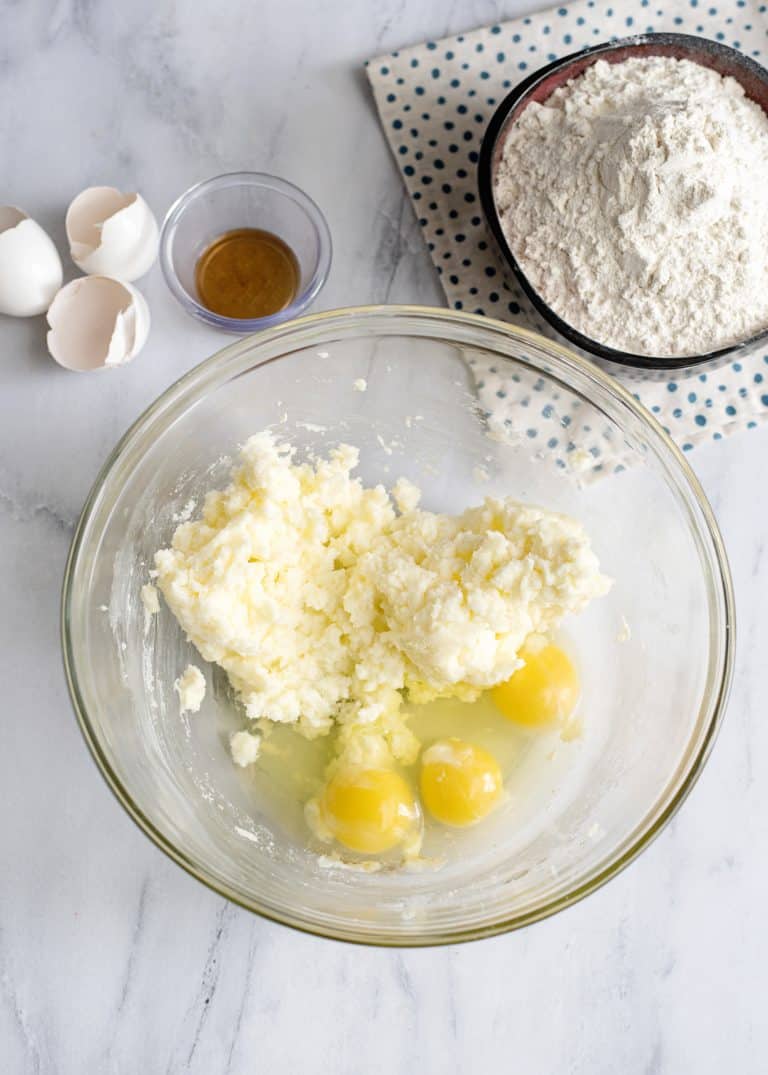 Now add eggs and beat again until well incorporated. 
Dump in all of your flour and vanilla. Mix again. 
Until a nice dough like this is formed.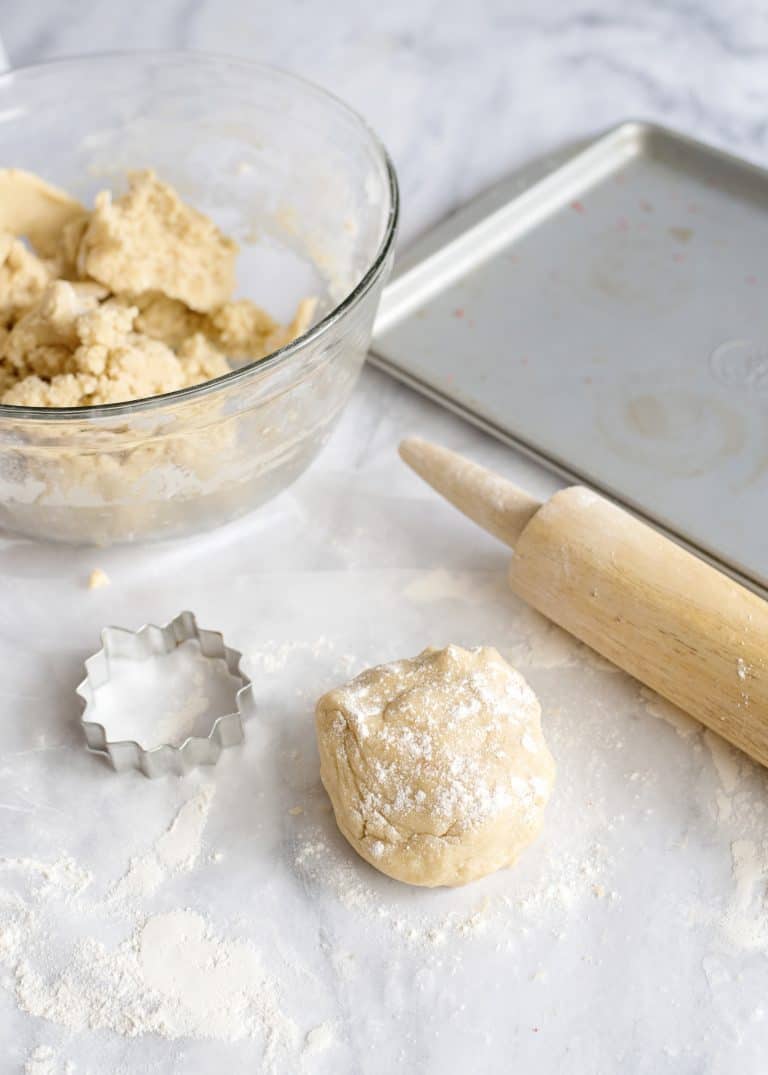 Turn your dough out onto a floured surface. I like to line my countertop with waxed paper and flour that so all I have to do is fold up the waxed paper and there is no mess left behind.
Roll them out to about 1/4 inch thickness or so. You can make them a little thicker if you like. Cut out your cookies. I like to use a round cookie cutter with a bit of a frill but sometimes I make hearts. 
My goal is to be loving and delicate with these tea cakes. I don't know if that's because they require it or because of all of the wonderful stories I can't help but think about as I roll them out and cut them. Whenever I make them, it is as if there is a direct link between myself and those who have made them before me. These tea cakes just represent a lot to me.
Its very important when you make old family recipes like this, that you tell your kids all of the stories behind them. Even if its something simple like "Your grandaddy used to love these", make sure they know. To young kids, this is a sort of "living history" that helps them to identify with their roots and ancestors. To be able to bite into the same kind of cookie or cake or pie that their great great grandfather used to beg for when he was a boy, now thats something that sticks in a child's memory.
Don't just tell them the story one time, either. Tell them each and every time you bake that particular item. Even today, whenever I smell fresh green beans, I remember stringing them as a child on my front porch with Mama while she told me the story of how she used to sit on Mama Reed's front porch and string beans with her and how much she enjoyed that time they shared.
I'll never be able to bake a cake without thinking about the story of the
seven cakes
on Christmas Eve when my grandmother was a girl. Do you have old family recipes with precious memories attached? If not, why not start them now?
Spray your baking sheet with nonstick cooking spray. Bake them at 350 until done, about ten minutes or so.
These are the done tea cakes. As soon as you take them out of the oven you can sprinkle a little colored sugar on them if you like, but do it while they are warm so it will stick. 
This is how Mama Reed did them for "every day". However, when company was coming she would mix up a little quick cookie icing and ice the tops of them in pretty pastel colors. Well folks, I can't think of any better company I'd like to have than all of you so I guess its time to mix us up some icing!
But first, remove them from the pan and let them cool somewhere because they do need to be completely cooled before you ice them. This is just a simple cookie icing. Nothing fancy but it sure does taste good. You'll need confectioner's sugar, vanilla, margarine, and food coloring. Just use the cheap food coloring bottles, no need for the fancy stuff here.
Place two tablespoons of well softened margarine or butter in a bowl, top with 1/2 C confectioner's sugar. Cut in your butter with a fork and then add two tablespoons of milk and a little vanilla. 
Stir that until smooth and creamy. Add in food coloring if you like. If it becomes too runny, just add another tablespoon or two of confectioner's sugar. 
Spoon the icing on the center of your tea cake (this icing is excellent on sugar cookies).Spread it around with your spoon, and top with colorful sprinkles.
See how pretty these are? I feel like it's my birthday or something! (it's not)
They are equally pretty with untinted icing as well.
And of course, my favorite is just simple colored sugars.
But you can also mix it up and do a little of each.This icing is going to be very wet when you first make it and ice your cookies but it will dry after an hour or so. Just leave your cookies spread out to dry and once it does you can stack them in a cookie jar or on a plate.
I hope you get to make this beloved family recipe soon – and I hope it becomes a beloved recipe for your family as well!
Ingredients
1

Cup

butter

softened

1

Cup

sugar

3

eggs

3 1/2

Cup

self rising flour

1

teaspoon

vanilla
Simple Icing (optional)
2

tablespoons

butter, room temp

1/2

cup

confectioner's sugar

2

tablespoons

milk

1

teaspoon

vanilla

few

drops

food coloring, optional
Instructions
Cream butter and sugar. Add eggs and mix again. Add vanilla and flour and mix well. Roll thin on floured board, cut with cookie or biscuit cutter. Bake at 350 for ten minutes. Sprinkle with colored sugar while warm or ice with simple icing.
to make simple icing
Cut butter into confectioner's sugar in a small bowl. Add milk and vanilla and stir until smooth and creamy. If desired, add a few drops of food coloring and stir until blended.

Spoon a small amount of icing into center of each cookie and spread with the back of the spoon. Sprinkle rainbow sprinkles over top while still wet and allow to dry, about an hour, before stacking cookies.
"You've got to work hard at being happy just like some folks work hard at being miserable." ~Dolly Parton
I'm having so much fun sharing my days on instagram. Click here to follow me
Yum