Easy Southern Tomato Pie Recipe
Nothing makes me think of summer like this easy cheesy Southern tomato pie recipe, using fresh ripe tomatoes direct from my garden, as well as balsamic vinegar and fresh basil in a flaky pie crust.
Yes, when we say tomato pie down South we are not talking about pizza. This easy tomato pie recipe is a beloved dish in the South that you must make this summer. It includes layers of juicy ripe tomato, fresh basil, balsamic vinegar, gooey cheese, and tangy mayo in a flaky pie crust. How refreshing does that sound?
A Southern tomato pie is a savory pie that resembles a savory tart, but deep dish style as it's baked in a pie plate. Speaking of, you can use a store-bought pie crust or a homemade pie crust, whatever works for you. This recipe works for breakfast, lunch, and dinner too. Prep it in advance for an easy weeknight dinner and serve it alongside your favorite summer sides. Alternatively, serve the pie as a side with grilled chicken. However you serve it, I know you're going to love it!
For my fellow garden enthusiasts… if you're excited to grow some tomatoes this season, here's my guide to putting up tomatoes the super easy way.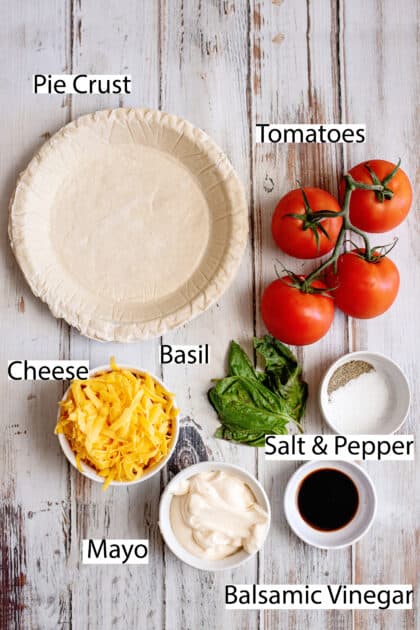 Recipe Ingredients
3 or 4 Fresh tomatoes
Cheddar cheese
Mayo
Fresh basil leaves
Balsamic vinegar
Kosher salt and pepper
Regular pie crust, already baked
How to Make Southern Tomato Pie
Wash and slice your tomatoes.
There is an important decision to make at this point. Do you want your tomato pie juicy or not? I like mine juicy, so I'm going right on ahead from here.
If you want yours to be less juicy, take these tomatoes and sprinkle a little bit of salt on them, then put them in a colander over the sink and allow them to drain for about 10 minutes. They'll still be somewhat juicy but not nearly as much.
This will also make your tomato pie slices come out prettier. I suggest doing this if you are serving it to company. If you are serving it to family, just skip this step because they know you can cook and they'd rather have a big old slice of juicy tomato pie!
Arrange 1/2 of those gorgeous fresh tomato slices in your baked pie shell.
Sprinkle 1/2 of your salt and pepper over them, then tear up some basil leaves and sprinkle those over them, too.
Now take one teaspoon of balsamic vinegar and drizzle that over them.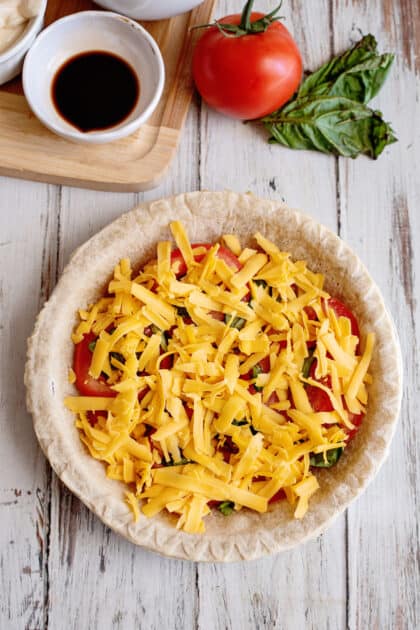 Top with half of your shredded cheese.
Repeat with your remaining tomatoes, salt, pepper, basil leaves, and…
Cheese.
Now spread the mayonnaise over the top of the cheese mixture.
Like so.
Bake at 350 for 30 minutes or until it is golden brown like this.
Serve warm or cold.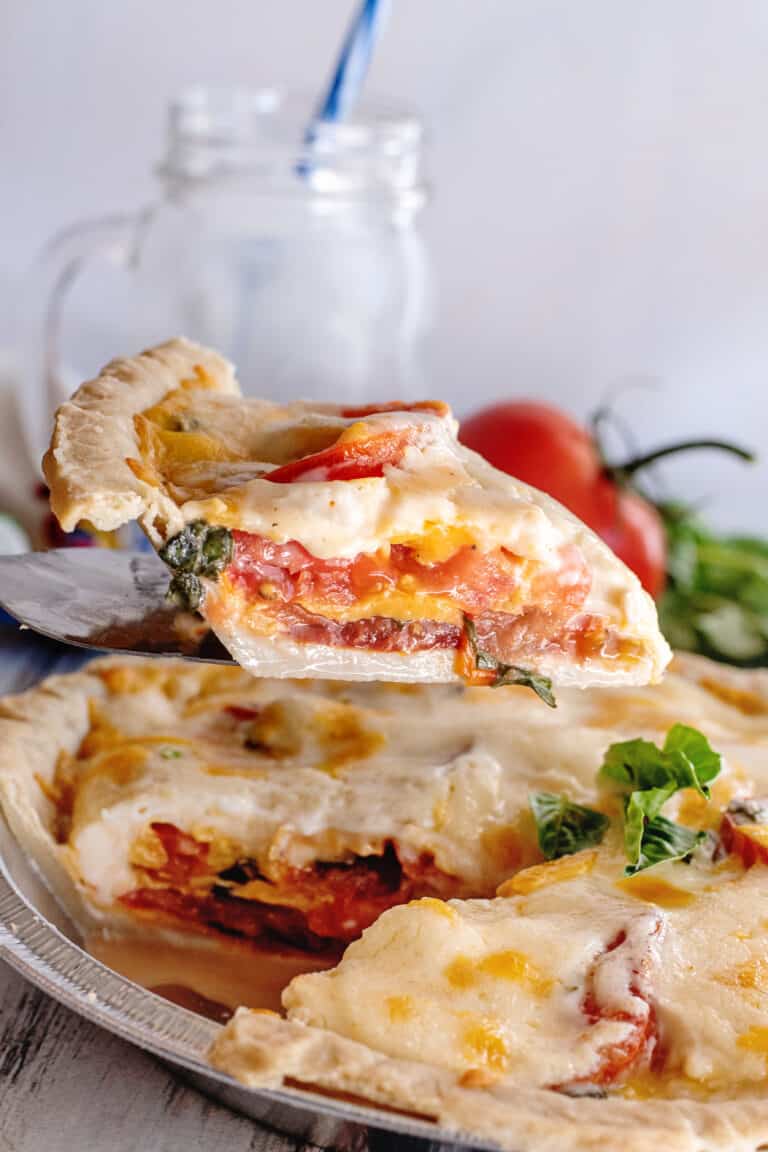 Look at all of those delicious layers.
This some good eatin'!
Storage
Store your tomato pie leftovers in an airtight container in the fridge for up to two days.
I don't recommend freezing this pie, as the mayonnaise and tomatoes make the pie crust too soggy once thawed.
Recipe Notes
You can use a variety of cheese in this pie, including sharp cheddar cheese, , , or a combination of Gruyere and cheddar cheese.
You can also fry some bacon and crumble it into small bacon pieces to place in the layers.
Recipe FAQs
Does the tomato pie taste like mayonnaise?
If you don't like mayonnaise, don't worry, you're in good company. Not once in my entire life have I ever said "Oh yum, mayonnaise". So if you don't like mayonnaise, whenever you see me using it you should know that you aren't going to end up with a mayonnaise taste when you're done. So it's safe, mayo not-likers (because calling us mayo haters is just too harsh).
What tomatoes are best in a tomato pie?
Beefsteak, plum, or Roma tomatoes are the best as they're not as juicy as heirloom tomatoes. You can also use green tomatoes, as long as they're fresh and ripe.
Why is my tomato pie runny?
Tomato pie can get runny if the sliced tomato is too juicy. Follow the instructions above concerning juicy tomatoes. Another option is to sprinkle cornmeal on the bottom of the pie crust, which will stop it from getting soggy.
Can I make tomato pie ahead of time?
Yes, you can make your tomato pie up to two days in advance. I like to bake it in the morning when it's cooler, place it covered in the fridge, and then serve it for dinner that night.
What do I serve with this tomato pie recipe?
Tomato pie is quite filling, so I like to serve it alongside some of my favorite summer side dishes. This includes corn salad, potato salad, baked beans, and Caesar salad. Alternatively, serve the pie as a side alongside some grilled chicken for dinner.
Here are some more of my favorite tomato recipes:
Tomato, Onion, and Cucumber Salad
Bruschetta (Tomato Stuff on Bread)
Tomatoes and Okra Recipe with Bacon
Tomato Basil Soup Recipe (Quick, Easy, and Delicious)
Ingredients
3

medium-sized tomatoes

6

large fresh basil leaves

if you don't have fresh, use 2 teaspoons dried

1 1/2

cups

shredded cheddar cheese

1/2 to 3/4

cup

mayo

2

teaspoons

balsamic vinegar

1

teaspoon

kosher salt

1/4

teaspoon

ground black pepper

1

pie crust

baked but not browned
Instructions
Cut tomatoes into slices.

Place in a colander and sprinkle with 1/2 teaspoon of table salt. Allow to drain for 10 minutes (can skip this step if you like).

Arrange 1/2 of the tomato slices in the baked pie crust. Top with 1/2 of kosher salt, 1/2 of pepper, 1/2 of basil, 1/2 of vinegar, and 1/2 of cheese.

6 large fresh basil leaves,

1 1/2 cups shredded cheddar cheese,

2 teaspoons balsamic vinegar,

1 teaspoon kosher salt,

1/4 teaspoon ground black pepper,

1 pie crust

Repeat.

Spread mayo over the top of the pie. Bake at 350 for 30 minutes or until lightly browned.
Nutrition
"Do not anticipate trouble or worry about what may never happen. Keep in the sunlight."
~Benjamin Franklin