Are you ready to try my easy Southern stewed potatoes recipe? With a butter coating, these tender and soft stewed potatoes never last long on my supper table.
I was tickled that so many people wanted to know how I made the potatoes that were pictured with last week's meatloaf. Stewed potatoes are the ultimate old-time Southern comfort food and something I make fairly often for my family. They are so stinking easy to whip up and make a filling side dish to go with just about everything. I can also honestly say that there have never been any left, no matter how much I make. That's right y'all, this one is a plate-licker.
The thing is, they are so easy that I found myself trying to come up with a more complicated recipe to bring you instead of mine because I was a little embarrassed at how simple this butter stewed potato recipe is. Don't worry, I came to my senses. After all, the whole premise of Southern Plate is to bring you the recipes that folks in my family use every day. That's the great thing about traditional Southern food: in its natural form, it is simple as can be and very inexpensive.
So here we go, my last-minute no-fuss side dish that everyone loves. All you need is potatoes, butter, salt, and water. Basically, all you need to do to make my easy stewed potatoes is to boil the potatoes and then stir in the butter before serving. That's all there is to it. If you don't already make stewed potatoes in your house I hope you'll give these a try because until you taste them, you won't believe something so easy could be so good.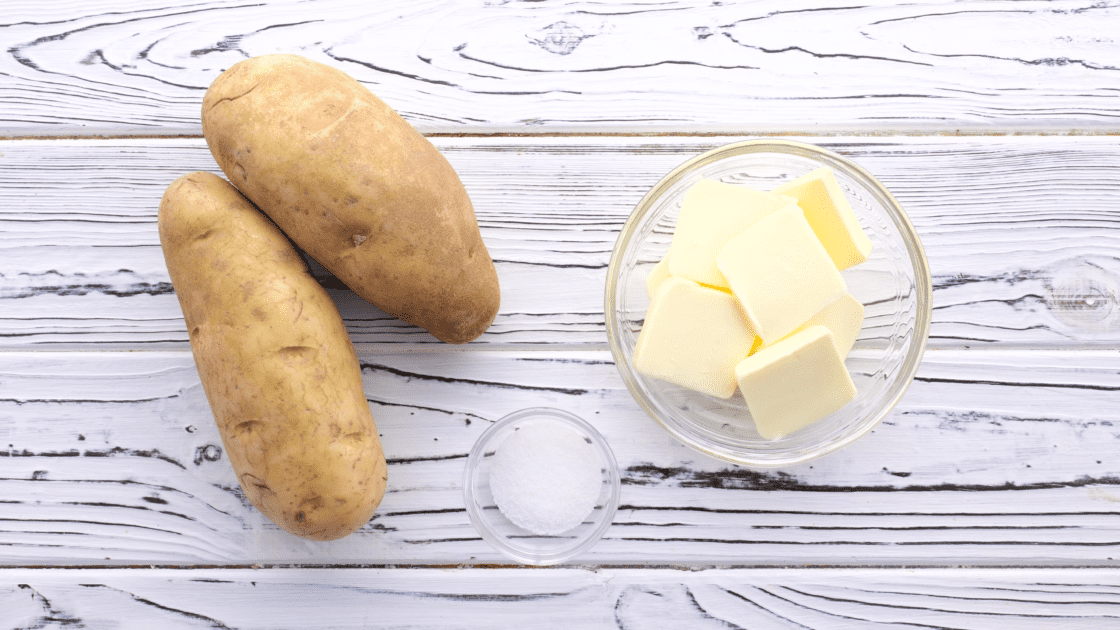 Recipe Ingredients
Potatoes
Unsalted butter
Salt
Water
How to Make Stewed Potatoes
Fill a large pot about 1/2 to 3/4 full. You basically just want enough to cover your potatoes.
I salt my water a little bit and then put it on to boil while I get my potatoes ready.
Peel dem taters…
Some folks like to use vegetable peelers, but now I use my old trusty paring knife.
Then slice them into thick and chunky slices.
Place potatoes in the boiling water and cover them.
Bring to a boil.
You want to continue boiling the potato chunks until they are fork-tender (10 to 15 minutes or so).
Usually, I just stick a fork down into my water and see if it splits in half like this, then I know they are done.
Once they're done, take the boiled potatoes off the heat, pour them into a colander, and drain well.
Now I just put them back into the pot and toss in a stick of butter or margarine.
Cut butter into little pats so it melts quicker.
Add a little more salt.
A good rule of thumb is to start with about half a teaspoon.
Let the butter melt and stir them up well.
Spoon them out to serve.
Season with extra salt and black pepper to taste and enjoy your old-fashioned stewed potatoes.
Okay, just one more close-up because I couldn't resist! How delicious do they look?!
Storage
Store leftovers in an airtight container in the fridge for up to 4 days. You can easily reheat them in the microwave or on the stovetop.
Recipe Notes
For extra flavor, if you have any bacon drippings or bacon grease floating around, add a couple of tablespoons when you add the butter.

Another way to add more flavor is through dried herbs and spices. When you stir in the

, add a teaspoon of

or

.
Recipe FAQs
How many potatoes do you use?
I usually do one to two for each person, depending on the size of my potatoes. If they are small, I might do two or three per person. If you end up with leftovers (which I never do), these refrigerate and reheat well so if you're in doubt, just make a few more. I promise they won't go to waste!
What are the best potatoes to boil?
I recommend Russet potatoes or Yukon Gold potatoes, but any kind of white potatoes work.
What's the difference between mashed potatoes and stewed potatoes?
The main difference is that you add cream or milk to your mashed potatoes or creamed potatoes, whereas all you add to your stewed potatoes is butter. You also don't mash your stewed potatoes before serving (although if you want to, I'm not gonna stop you).
How do you serve Southern stewed potatoes?
The traditional Southern way to serve stewed potatoes is with cornbread and black-eyed peas. This was such a common supper growing up! But nowadays, you can serve them as a side dish with any kind of main meal. Here are some suggestions: chicken fried steak, pork chops, meatloaf, roast chicken, and a Southern Plate favorite… fried chicken. Add a side of vegetables like fresh green beans and you're good to go.
Another option is to serve the Southern side dish with some toppings, like shredded cheddar cheese, hot sauce, chopped green onion, cooked crispy bacon bits, and/or sour cream.
Do I have to peel my potatoes?
Yes, I recommend peeling the potatoes for stewed potatoes as unpeeled potatoes take away from that creamy texture, which we definitely don't want!
Here are more potato recipes:
Loaded Twice Baked Potatoes (Freezer Friendly)
Homemade Mashed Potatoes With Evaporated Milk
Ingredients
enough potatoes for those you want to feed

1

stick

unsalted butter or margarine

1

teaspoon

salt
Instructions
Fill a pot 1/2 or 3/4 full with water and add a teaspoon of salt. Put on to boil.

Peel potatoes and cut them into thick slices. Place potatoes in boiling water. Bring to a boil and cook until fork tender.

enough potatoes for those you want to feed

Drain boiled potatoes in a colander. Place back into the pot and add butter and salt. Stir and allow butter to melt.

1 stick unsalted butter or margarine,

1 teaspoon salt
Video
Nutrition
"Tell me who you go with and I'll tell you who you are."
Submitted by Sue Bankston, who heard it from her dear mother growing up.