Scroll to the bottom for the full recipe of Cheesecake Fluff in a printable format
I love a cool and fruity dessert, and I love cheesecake so this Cheesecake fluff is the perfect combination. This recipe combines the best of both worlds for a delightfully simple dessert that is almost too easy to be believed. Perfect for a church social, family reunion, picnic, or afternoon on the porch.
Now let's make this little Springtime treat!
Recipe Ingredients:
Whipped Topping*
Cream Cheese* (here's how to easily make homemade cream cheese)
Cherry Pie Filling*
Sugar*
*INGREDIENT NOTES:
There are a lot of substitutions you can make here so I just want to rattle them off real quick.
*Notice that I'm using generic whipped topping.
It was cheap and it was at Dollar General = I'm happy. If you have nightmares about store bought whipped topping you can always make your own homemade whipped cream. Maybe you'll save the world, maybe you won't, but it helps some folks sleep at night so that can't be a bad thing. I have a recipe here. I don't know how much is equivalent but shoot for making about three cups.
*Cream Cheese Low Fat or Fully Loaded
You can use low fat if you want or go fully leaded. All on you. Just make sure it's room temp when you make this – or as close as your patience will allow.
*Cherry Pie Filling Go For A Brand Name
I try to get name brand when I buy cherry pie filling because so many of the generics have far less cherries in it. I love generics and I am sure there are some that are good out there but just make sure you get a brand you have experience with or you are liable to open the can and see mostly gel.
*Sugar
You can use real sugar, Swerve, or whatever granulated sweetener you like. No judgement here and if you get judgement elsewhere, kick 'em out of your kitchen. Minding one's own business should generally be a full time job anyway.
In a large mixing bowl, combine cream cheese, sugar, and whipped topping.
Beat this with an electric mixer until fully blended and smooth.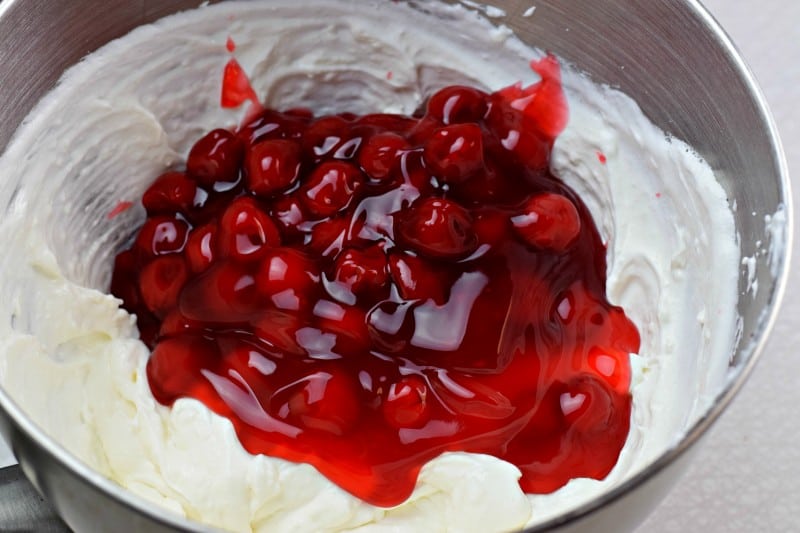 Add in entire contents of cherry pie filling. Stir this in by hand until fully blended.

Cover and refrigerate until ready to serve.
Ingredients
8

ounces

cream cheese

at room temp

1/2

cup

Splenda or granulated sweetener of your choice

8

ounces

cool whip

21

ounce

can Cherry Pie Filling
Instructions
In large mixing bowl, place cream cheese, sugar, and cool whip. Beat with an electric mixer until fully blended and creamy, about 1-2 minutes.

Add in the entire contents of the can of cherry pie filling. Stir by hand until fully blended. Store this, covered, in the refrigerator until ready to serve.
Notes
Read post for substitutions, tips, and additional suggestions.
Nutrition
Get a few bites before your husband comes home because it won't last long after that!
You may also enjoy these cheesecake recipes:
Caramel Apple Cheesecake Unbelievably Blissful
An Easy Cheesecake Recipe With Cheesecake Topping Options