Cheesecake fluff is like a deliciously creamy and refreshing cheesecake mousse. Made with just 4 ingredients (cream cheese, whipped topping, sugar, and cherry pie filling). I hope you can make my easy cheesecake fluff recipe soon.
Do you love cool fruity desserts? How about cheesecake? If you answered yes to both questions, you're going to love my quick and easy cheesecake fluff recipe. It combines the best of both worlds for a delightfully simple dessert that is almost too easy to be believed. It's perfect for a church social, family reunion, picnic, or afternoon on the porch.
All you need to make my cherry cheesecake fluff is 4 ingredients: cream cheese, frozen whipped topping, sugar, and cherry pie filling. Oh yes, it's the definition of creamy! The instructions are just as simple. We simply beat together the first 3 ingredients, add the cherry pie filling, and refrigerate. That's all there is to it.
The question is, does cheesecake fluff actually taste like cheesecake? The answer is yes, it tastes exactly like cheesecake filling without the signature graham cracker crust and is super creamy. Keep scrolling for lots of options and variations, like a keto cheesecake fluff recipe. Now let's make this little springtime treat!
Recipe Ingredients
How to Make Cheesecake Fluff
In a large mixing bowl, combine softened cream cheese, sugar, and whipped topping.
Beat this with an electric mixer until fully blended and smooth.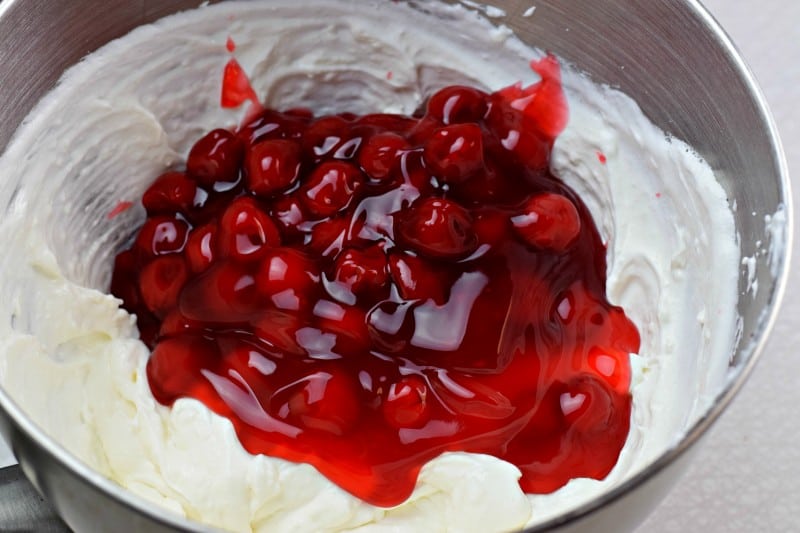 Add in the entire contents of cherry pie filling.
Stir this in by hand until fully blended.
Cover with plastic wrap and refrigerate until ready to serve.
Get a few bites before your husband comes home because it won't last long after that!
Storage
Store leftover in an airtight container or covered in plastic wrap for up to 1 week in the fridge.
You can also freeze leftovers for up to 3 months. It actually tastes really good partially frozen, so just thaw it for about 30 minutes before serving.
Recipe Notes
Now, I'm just using generic whipped topping (sorry Cool Whip). It was cheap and it was at Dollar General = I'm happy. If you have nightmares about store-bought whipped topping you can always make your own homemade whipped cream (shoot for 3 cups).
You can use either low-fat or full-fat cream cheese, as long as it's at room temperature!
I try to get name-brand when I buy cherry pie filling because so many of the generics have far fewer cherries in them. I love generics and I am sure there are some that are good out there, but just make sure you get a brand you have experience with or you are liable to open the can and see mostly gel.
But speaking of… use whatever flavor of pie filling you want. You could also substitute the pie filling for 2-3 cups of fresh fruit, like chopped fresh strawberries for strawberry cheesecake fluff. There are lots more mix-in options below.
You can use real sugar, Swerve, or whatever granulated/powdered sweetener you like (another keto-friendly option is powdered erythritol).
For added texture, stir in some chopped nuts like walnuts or pecans, or even mini marshmallows. Yes, really!
Recipe FAQs
How do you make keto cheesecake fluff?
Keto cheesecake fluffy is typically made with heavy cream, cream cheese, and the keto-friendly sweetener of your choice. Beat the heavy cream until stiff peaks form and in a separate bowl beat together the cream cheese and sweetener. Then combine all ingredients until fluffy. If you opt for this alternative plain cheesecake fluff recipe and don't include pie filling, there are so many variations:
Add sugar-free caramel sauce.
Stir in chocolate chips or 2 tablespoons of unsweetened cocoa powder, or add crushed chocolate on top.
Serve with fresh berries, like chopped strawberries, raspberries, or blueberries.
Sprinkle some chopped nuts on top, like chopped walnuts, almonds, or even candied pecans.
Mix a spoonful of peanut butter or your favorite nut butter into the mixture to make peanut butter cheesecake fluff.
Stir in a teaspoon of vanilla extract.
For lemon cheesecake fluff, stir in 1 teaspoon of lemon extract or 1 teaspoon of fresh lemon juice/the zest of 1 lemon.
Add 1/4 cup pumpkin puree and a teaspoon pumpkin pie spice.
Top with toasted unsweetened coconut flakes.
The options are truly endless!
Check out these other cool fruity desserts:
Congealed Salad With Dr. Pepper
Fresh Fruit Salad With Honey Lemon Dressing
Bananas in Red Stuff (a.k.a Strawberry Glaze)
Ingredients
8

ounces

cream cheese

at room temp

1/2

cup

sugar or sweetener

8

ounces

Cool Whip

1

21-ounce can

cherry pie filling
Instructions
In a large mixing bowl, place cream cheese, sugar, and frozen whipped topping. Beat with an electric mixer until fully blended and creamy (about 1-2 minutes).

8 ounces cream cheese,

1/2 cup sugar or sweetener,

8 ounces Cool Whip

Add in the entire contents of the can of cherry pie filling. Stir by hand until fully blended.

1 21-ounce can cherry pie filling

Store this, covered with plastic wrap, in the refrigerator until ready to serve.
Nutrition