Outside of the Southern United States, most folks refer Southerner's congealed salads as Gelatin or Jell-O salads. Yep, we just like to be different.
The possibilities of a congealed salad are endless, much to the delight of it's devotees. My great grandmother, who lived the majority of her life as a sharecropper, considered congealed salads to be the ultimate treat. Back in her day, though, it was a treat which could only be enjoyed in the winter due to them not having a refrigerator. Alabama summers would never allow the gelatin to set up in this heat!
Winter Treats from My Grandmotherr
My grandmother says that in the winter time Lela had an old wash tub she kept out back of her house. She'd let it fill up with water and as soon as it got cold enough to freeze, off she'd go to mix up a congealed salad in her kitchen and then set it out on top of that ice to set up in time for dinner.
When Lela was older, she lived with my Grandmama and Granddaddy. Each week they'd make their pilgrimage to the grocery store, the one time Lela went out. She'd get dressed up in her good dress and hard leather shoes, hook her black handbag in the crook of her arm, and come back with twinkling eyes and a brand new container of pre-made congealed salad. In her mind, she had really moved up in the world to be able to afford such a thing!
I Never Had A Congealed Salad I Didn't Like
Much like my great grandmother, I've never met a congealed salad that I didn't like. On a recent visit to Georgia though, my sister in law managed to shoot this one to the top of my list by making this salad with one of my most favorite things in the entire universe! Dr. Pepper. And sense I don't drink it very often anymore I love finding ways I can sneak it into my life with just a little bit here and there.
So today folks we're gonna make a congealed salad with Dr Pepper Feel free to use your favorite fizzy drink (in the South we call all these 'Coke'), the original recipe called for cherry.
How To Make A Congealed Salad With Your Favorite Fizzy Drink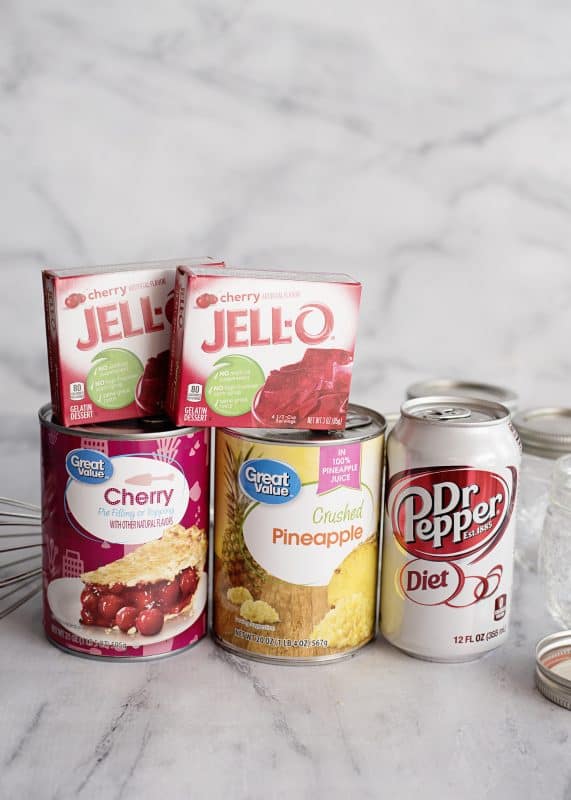 For our congealed salad the ingredients we'll need are:
Crushed pineapple, 2 packages of cherry gelatin, 1 can of pie filling, and a dr pepper (or coke/fizzy drink of your choice). The actual recipe is at the bottom of this post. You can use sugar free gelatin if you like as well as low sugar cherry pie filling! It will turn out just as delicious! *Note: I use kosher gelatin that is found at most grocery stores now, but Jello brand (pictured) is not.
Drain your pineapple, reserving the juice.
In a saucepan, bring 1/2 C water and pineapple juice to a boil. Once boiling, add gelatin. Stir until dissolved.
Stir in Diet Dr Pepper (or coke of choice).
Now the great thing about this recipe is that you aren't quite gonna use that whole can. There is a nice little swig left for ya in there! When you do that, it's gonna foam up some. Just lettin' ya know so you don't worry.
Add in pie filling and stir that up.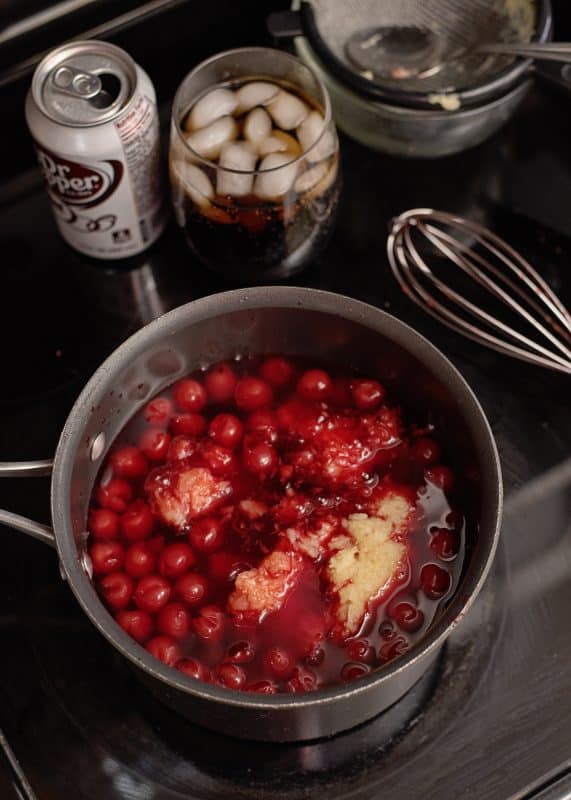 Until it looks like this. Add in pineapple.
To place in a mold, take a jello mold or simply a bundt cake pan and spray with cooking spray. Pour contents inside and refrigerate until firm and congealed, this will take a few hours. To turn out mold, dip just the bottom in warm (not hot) water for a few seconds to help gelatin release, then turn out onto plate. Or you can do it like I like to do…
Use individual 8 ounce mason jars to spoon it out into.
See how pretty? Now put the lid on these and store them in the fridge. Make sure they are good and cold before serving so they will be set properly. Individual little desserts are such a fun way to serve this!
Top with some whipped topping to finish it all off. Enjoy this deliciously different salad!
Servings:
4
8 ounce jars, or enough for 5-6 people if placing in a mold.
Ingredients
20

ounce

crushed pineapple

1/2

cup

water

2-

3 ounce pkgs

cherry gelatin

20

ounce

Cherry Pie Filling

3/4

cup

Diet Dr Pepper

or favorite coke
Instructions
Drain pineapple, reserving the juice. Set aside. In a saucepan, bring pineapple juice and water to a boil. Add gelatin and stir until dissolved. Stir in diet dr pepper. Stir in Cherry pie filling. Stir in pineapple. Pour into mold or serving bowl. Refrigerate until firm. Serve cold.
Nutrition
This post was originally published in July of 2009. I updated it April of 2019
This recipe is featured on Meal Plan Monday and Weekend Potluck
If you're visiting for the first time today, you might want to check out some of my favorite posts below!
Granny Jordan's Frozen Cranberry Banana Salads
How to Make Homemade Banana Pudding
There are around 2000 more so be sure you scroll through the index page! Southern Plate is filled with classic Southern recipes, quick and easy family favorites, and stories galore! I am so grateful you stopped by and do hope you'll have time to say hello in the comments section below.
Thank you all for letting me be a part of your lives and for all that you give me each and every day.
Gratefully,
Christy 🙂
You have it easily in your power to increase the sum total of this world's happiness now. How? By giving a few words of sincere appreciation to someone who is lonely or discouraged. Perhaps you will forget tomorrow the kind words you say today, but the recipient may cherish them over a lifetime.

~Dale Carnegie Submitted by Southern Plate reader, Ticha.

To submit your positive or motivational quote click here!