Made with refreshing jello and sweet juicy cherries in a flaky pie crust, this easy no-bake cherry jello pie recipe is the perfect summer dessert.
I'm thrilled to bring you this deliciously easy cherry pie recipe today. I just love cold fruit pies and this one is a new spin on my fresh strawberry pie for the cherry lovers among us! It was actually inspired by the children's book, Enemy Pie, which has a recipe to go with it. My daughter's librarian is truly the best! The story goes that the perfect way to kill your enemies is to make them your friends by baking a Cherry Enemy Pie.
Since it uses canned cherries, this is one of those pies you can keep all of the ingredients on hand for and make whenever the mood strikes you. You only need a few other ingredients too: sugar, cherry jello, cornstarch, and a pie crust.
Trust me when I say this cherry jello pie is so easy to make. We just need to cook the cherry pie filling, which only takes about 10 minutes. Then you have to patiently wait for it to cool before you pour it into the baked pie shell, which is filled with canned cherries. After a little bit more chill time, it's ready to serve.
Let me tell you, the combination of the flaky pie crust, refreshing jello, and juicy cherries is a flavor, texture, and taste sensation! Add a little whipped cream on top and folks, I just can't get enough.
If you're on the hunt for a cherry cream cheese pie instead, click here. Not let's whip up this deliciously fresh-tasting cherry jello pie recipe.
Recipe Ingredients
Sugar
Sweet pitted cherries
Cherry gelatin
Cornstarch
Regula-sized pie crust (store-bought or here's my recipe for an easy homemade pie crust).
How to Make Cherry Jello Pie
In a medium saucepan, place your gelatin, sugar, and cornstarch.
Stir those together.
Pour in your water and stir again.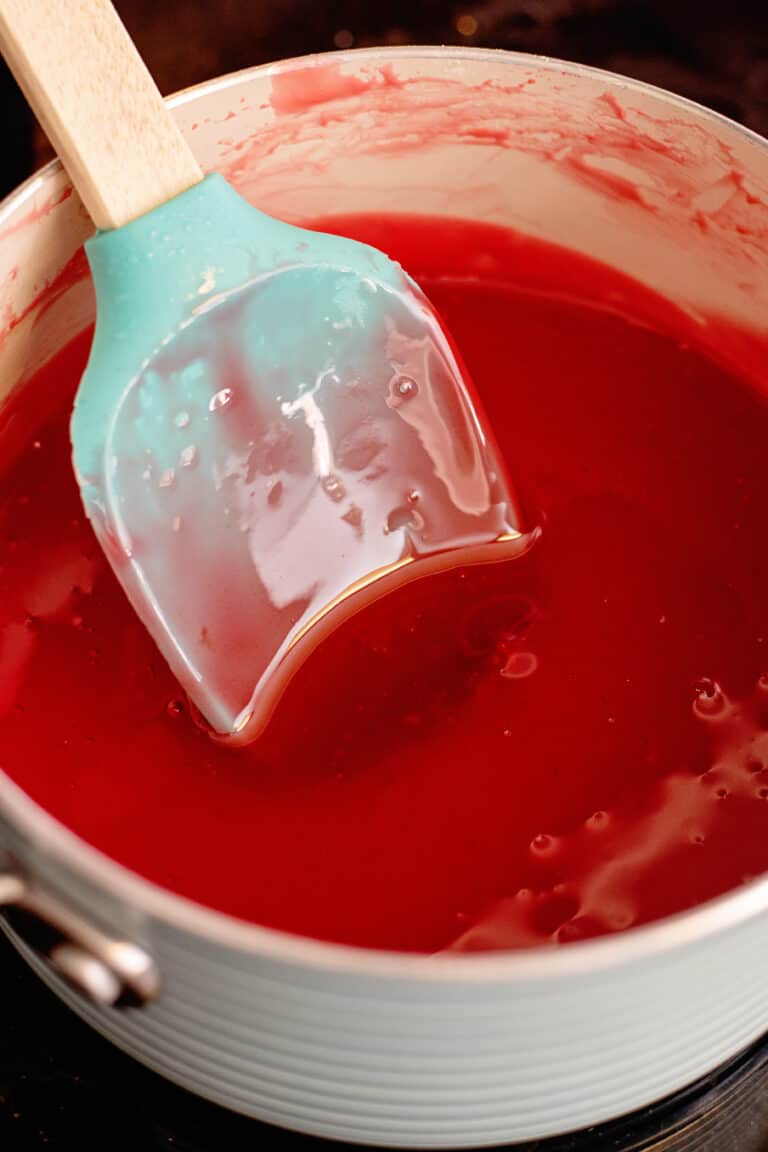 Now place this over medium-high heat and stir constantly until it becomes translucent.
This will take about 10 minutes or so. It won't become totally clear unless you are really, really patient.
I knew a patient person once – and it wasn't me. So let's just go for translucent.
Basically, you want to cook it long enough for everything to dissolve together and form a gel of sorts.
Then set that aside and let it cool for a bit (about half an hour).
Once cooled, drain the cherries well and place them in your baked pie crust.
See this pretty crust? It's my mix in the pan one. It's so easy and I love how it tastes.
Now pour your cooled cherry pie gel over the cherries.
Cover and refrigerate until well chilled.
It will look a little like this when it's time to serve it to your friends, families, loved ones, and your very best enemies!
I highly recommend adding whipped cream (here's my homemade whipped cream recipe) and a fresh or maraschino cherry on top!
Storage
Store leftover pie in an airtight container in the fridge for up to 1 week. I don't recommend freezing jello pie.
Recipe Notes
For best results, chill the pie overnight. This is a great pie recipe to make in advance!
You can use any kind of pie crust, including a graham cracker crust or even an Oreo cookie crust.
Check out these other treasured cherry recipes:
Easy Crescent Cherry Cream Cheese Cobbler
Ingredients
1

cup

sugar

1

cup

water

3

tbsp

cherry-flavored gelatin mix

1

15-ounce can

sweet pitted cherries

3

heaping tbsp

cornstarch

1

regular-sized pie crust

baked, homemade pie crust recipe,
Instructions
Combine sugar, cornstarch, and dry gelatin mix and stir well. Add water and cook until thick and clear over medium-high heat, stirring constantly to prevent scorching.

1 cup sugar,

3 tbsp cherry-flavored gelatin mix,

3 heaping tbsp cornstarch,

1 cup water

Set aside and let cool for about 30 minutes.

Drain cherries well and arrange them in the bottom of the baked pie shell.

1 15-ounce can sweet pitted cherries,

1 regular-sized pie crust

When the pie filling is cool, pour it over the cherries and chill the pie until ready to serve. Serve with whipped cream.
Am I not destroying my enemies when I make friends of them?
~Abraham Lincoln