When I was little, we couldn't wait for supper each night. Mama always put together budget meals based on what we had and what she could afford, but all I remember is how delicious the food was. This is one of my dear favorite meals as a girl and still is. It is a prime example of a budget meal, and so very good! Oh goodness I'm getting hungry. I see this meal and I feel like a little girl coming in from playing outside, just barely stopping as I ran into the house and took my seat at our table. Remember how we'd fly through that front door when Mama called us for supper? Just as you hit the door you'd get a whiff of what was cooking and realize that you were starving.
Now I realize some folks are just not sauerkraut fans. Chances are, I lost 'bout half of you in the title of this post, but some folks saw that photo and your stomach started growling, and chances are pert dern good that you'll be having this for supper tonight. Those who don't fit into this category, feel free to think of the rest of us as weird, we won't mind and there will be more sauerkraut for us! Everyone has their preferences and it's all good either way.
This is one of those meals that is great with slices of polish sausage but I still like to cook it how Mama did growing up, just by chopping up a few weenies and cooking until the kraut and weenies brown a bit. You can add as many weenies or sausage as you like and if you're vegetarian, just get some vegan hot dogs and keep on keeping on. If you want to take it up a notch, you can make your own sauerkraut like I do in this post.
You'll need: Sauerkraut, weenies, salt, and pepper.
How many weenies you use is up to you. We used to have to determine this based on how many we had, so to be able to use as many as you want is a big step up nowadays.
I have a friend from Germany ~waves to Gudrun~ who swears by the bagged sauerkraut so I started buying it and now I'm a convert, too. You can get it in the refrigerated section near the weenies usually and sometimes near the deli if they have a refrigerated section there as well. Mama likes the kind you get in a glass jar and we've both used the kind that comes in a can (which you get on the vegetable aisle). Overall, they are all good and there isn't a lot of price difference so it is up to you to pick your favorite .
Slice your weenies and put them in a large skillet.
Add in about two cups of sauerkraut. Cook this over medium to medium high heat, stirring often.
Season with salt and pepper to taste. You can start with 1/4 teaspoon of salt and 1/8 teaspoon of pepper and then adjust to make it just right for you. Cook this until your weenies and sauerkraut get a little browned or you can just cook it until everything is heated through.
Now here is a supper from the old days!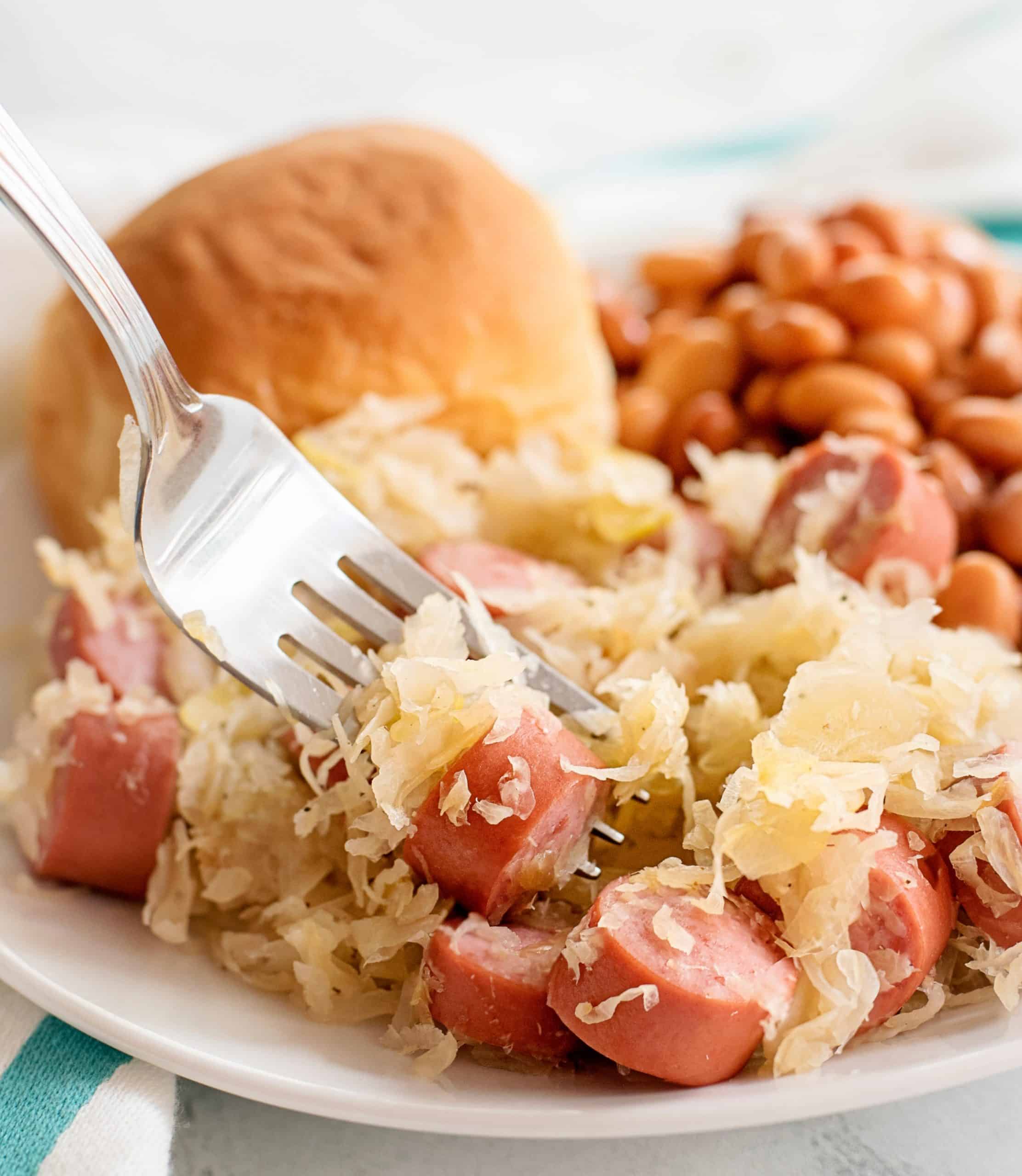 Ingredients
2-4

weenies

or polish sausage

2

Cups

sauerkraut

Salt and Pepper to taste
Instructions
Slice weenies into small pieces. Place in skillet over medium to medium high heat. Add Sauerkraut. Cook, stirring often, until kraut and weenies brown slightly. Salt and pepper to taste. Serve hot.
Nutrition
This was originally published in 2010. I updated the post and photos in 2020.
Life is really simple,
but we insist on making it complicated.