This is an old-fashioned Southern main dish. As the name suggests, all you need is sauerkraut and weenies to make this tangy yet delicious dish.
This sauerkraut and weenies recipe was one of my dear favorite meals as a girl and still is. It is a prime example of a budget meal (very common in the South back in the day) and so very good! Oh goodness, I'm getting hungry.
Now, I realize some folks are just not sauerkraut fans. Chances are, I lost about half of you in the title of this post. But I know some folks saw that photo and your stomach started growling, and chances are pretty darn good that you'll be having this for supper tonight. Those who don't fit into this category, feel free to think of the rest of us as weird. We won't mind and there will be more sauerkraut for us! Everyone has their preferences and it's all good either way.
This is one of those meals that is great with slices of polish sausage. But I still like to cook it how Mama did growing up; just by chopping up a few weenies and cooking until the sauerkraut and weenies brown a bit. That's all there is to it. You can add as many weenies or sausage as you like and if you're vegetarian, just get some vegan hot dogs and keep on keeping on. If you want to take it up a notch, you can make your own sauerkraut as I do in this post.
Recipe Ingredients
Sauerkraut
Weenies
Salt and pepper
Helpful Kitchen Tools
How to Make Sauerkraut and Weenies
Slice your weenies and put them in a large skillet.
Add in about two cups of sauerkraut.
Cook this over medium to medium-high heat, stirring often.
Season with salt and pepper to taste.
You can start with 1/4 teaspoon of salt and 1/8 teaspoon of pepper and then adjust to make it just right for you.
Cook this until your weenies and sauerkraut get a little brown or you can just cook it until everything is heated through.
Now here is a supper from the old days!
Storage
Store leftovers in an airtight container in the fridge for up to 3 days. I recommend reheating on the stovetop on low heat until heated through.
Recipe Notes
How many weenies you use is up to you. We used to have to determine this based on how many we had, so to be able to use as many as you want is a big step up nowadays.
I have a friend from Germany ~waves to Gudrun~ who swears by the bagged sauerkraut so I started buying it and now I'm a convert, too. You can get it in the refrigerated section near the weenies usually and sometimes near the deli if they have a refrigerated section there as well. Mama likes the kind you get in a glass jar and we've both used the kind that comes in a can (which you get on the vegetable aisle). Overall, they are all good and there isn't a lot of price difference so it is up to you to pick your favorite.
As mentioned, you can use a different type of sausage with the sauerkraut. For example, sauerkraut and brats (bratwurst) is a popular dish in Germany. Kielbasa or franks also work.
For extra flavor, add 1 diced apple to the skillet as well.
Recipe FAQs
What goes well with sauerkraut and weenies?
Here are some serving suggestions for your sauerkraut and weenies:
Do you drain sauerkraut before cooking?
If you're using jarred sauerkraut, you'll want to drain it before using it.
What condiment goes well with sauerkraut?
Mustard, ketchup, green tomato relish, and hot sauce (like sriracha or tabasco sauce) all pair perfectly with sauerkraut.
How do you season sauerkraut?
Besides salt and black pepper, if you want a touch of sweetness add up to a tablespoon of brown sugar. If you want a more savory flavor, add a teaspoon of caraway seeds. Alternatively, for a kick, add a dash of red pepper flakes or a teaspoon of paprika.
What food goes well with sauerkraut?
Here are some other dishes that pair well with sauerkraut:
Hot dogs or hot dog chili
Grilled cheese sandwich
Polish sausage or kielbasa sausage
You may also like these recipes:
Southern Fried Cabbage With Bacon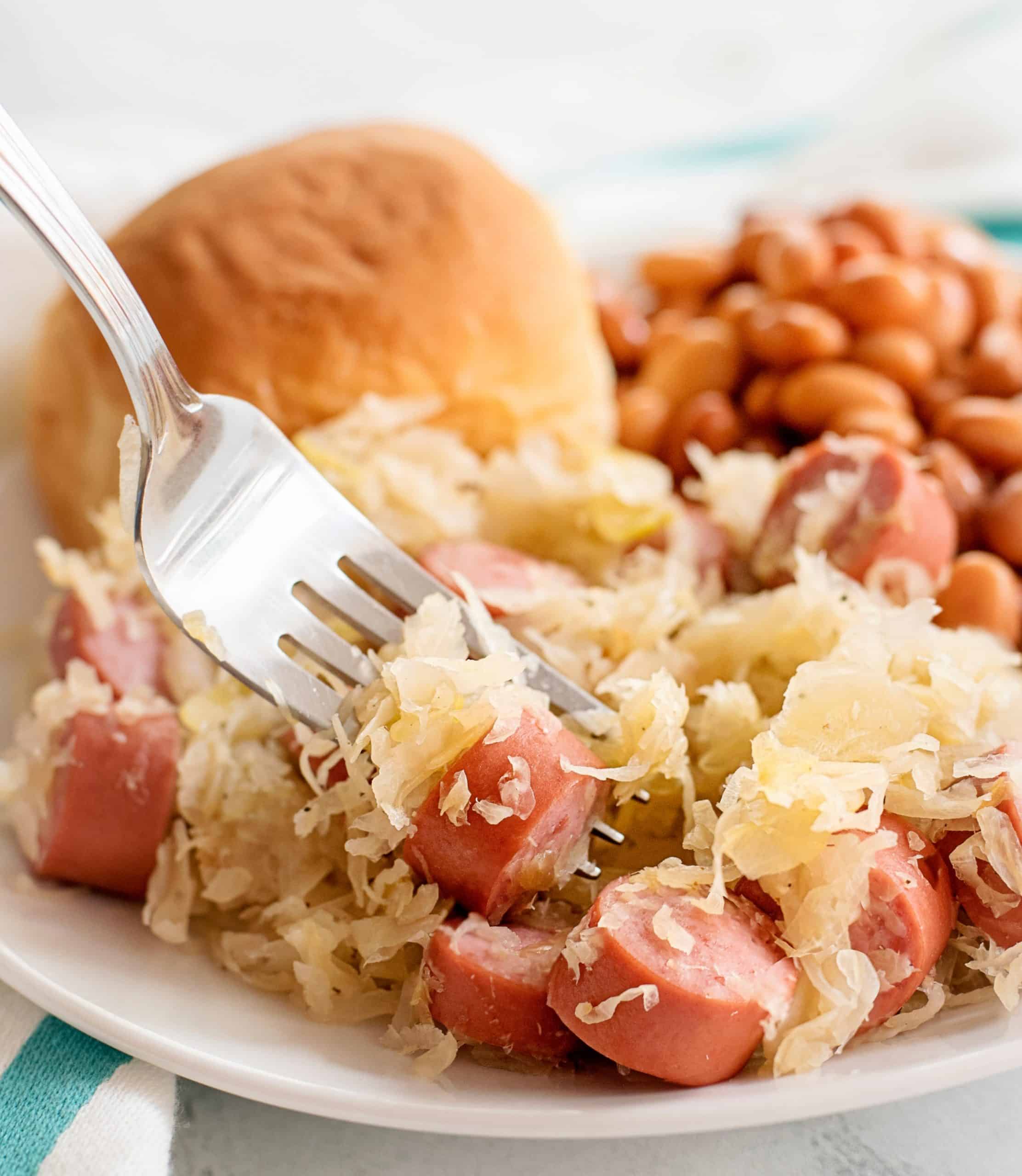 Ingredients
2-4

weenies or polish sausage

2

cups

sauerkraut

salt and pepper to taste
Instructions
Slice weenies into small pieces and place them in a skillet over medium to medium-high heat.

2-4 weenies or polish sausage

Add sauerkraut. Cook, stirring often until kraut and weenies brown slightly. Salt and pepper to taste.

2 cups sauerkraut,

salt and pepper to taste
Nutrition
This was originally published in 2010. I updated the post and photos in 2020.
Life is really simple,
but we insist on making it complicated.