My mother loves homemade cranberry sauce, she always has. Me, I was a died-in-the-wool devotee of "the kind with the rings on it" from an early age and only discovered the beauty of homemade as an adult.
Since we only had cranberry sauce on Thanksgiving and at my grandmother's house, I thought it was her "special" recipe. She always served it in an oval pressed glass dish, all sliced up and ready to go.
But for those of y'all who like it how my Mama does (and myself these days, too!), here is a handy little recipe that can be made up quick as a wink and is sure to impress – almost as much as the fact that you loved them enough to make it.
What's The Difference Between Cranberry Sauce and Cranberry Relish?
People often ask, how Cranberry Sauce recipe is different from cranberry relish. The fact of the matter is cranberry sauce tends to be sweeter cuz it's cooked. While cranberry relish is still tasty just not quite as sweet and it also is not cooked.
The Ingredients You'll need for our Cranberry Sauce recipe are:
Sugar
Cranberries
Walnuts*
Crushed pineapple
Lemon juice
*You will only need one cup of crushed pineapple but I only had a large can so used that and ate the rest. ~sighs~ It's a tough job 😉
*Walnuts are optional. Feel free to substitute pecans or leave the nuts out altogether if you like.
How to Make Homemade Cranberry Sauce Recipe
Drain pineapple juice into a cup.
Add enough water to make one cup of juice.
Now could use fresh cut pineapple if you can find it and it's stored with the juices or you surely can buy a pineapple and juice some of it to use in this recipe.
If you have those means, do whatever cranks your trailer.
Place cranberries in medium to large sauce pot.
Add pineapple juice/water
Sugar is next.
Stir that up and bring it to a boil, stirring every now and then.
Continue boiling until all of the berries are popped and mixture is thickened.
You may actually hear them pop, which is pretty cool and impresses kids.
Once all of the berries are popped, remove from heat and add all other ingredients (including lemon juice).
Remember, if you'd rather not add nuts that is fine, too!
Ooh yum!
Pour your homemade cranberry sauce into bowl and allow to cool.
How Do I Know When It's Ready to Serve?
Once cool the mixture will be "jelled" and resemble store bought cranberry cause in texture, but much more impressive in taste – because YOU made it!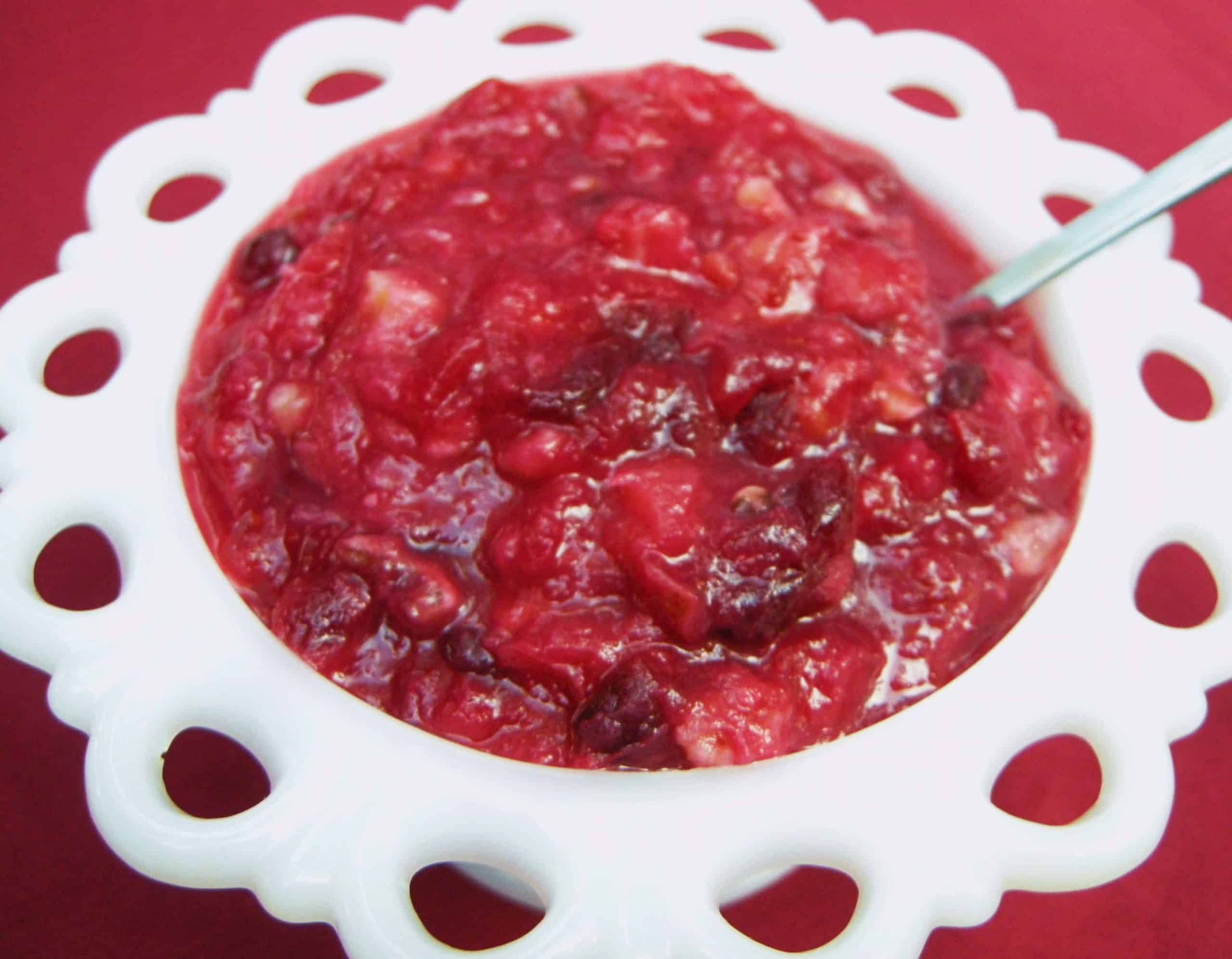 Ingredients
12

oz

Bag of fresh cranberries

1

cup

Canned or fresh pineapple (reserve juice and use remaining pineapple later)

If using fresh you will need to juice some

1/2

cup

Sugar

1/2

cup

Walnuts

Nuts are optional

1

tsp

Lemon juice
Instructions
Drain pineapple juices into a measuring cup. Add water to make one cup of liquid

Place cranberries, cup of liquid, and sugar into a medium saucepot. Stir

Bring to a boil over medium heat until all cranberries have popped and mixture is thickened, stirring every now and then.

Once all the cranberries are popped, removed from heat and add all other ingredients . Mix and pour into bowl and let cool. Once cool the cranberry sauce mixture will be jelled and ready to serve
Nutrition
You may also like these other cranberry recipes:
Cranberry Orange Meatballs Appetizer Anytime
Wake at dawn with a winged heart and give thanks for another day of living.

~Kahlil Gibran

To submit your quote, click here. Need a little pick me up? Browse through for inspiration.

Lots of folks are grateful to have you in their lives and I'm one of them. 🙂