This is the easiest tiramisu recipe you'll ever meet! With creamy coffee and caramel flavors soaking into the soft ladyfinger cakes, this tiramisu is the perfect decadent summer or winter dessert.
I am an avid supporter of authentic tiramisu. If it is on the menu at a restaurant, I order it. If a grocery store sells it, I'm buying it. And if I'm making it, it is going to be good. I don't have a t-shirt yet but I can come up with a pair of pom-poms if need be and I even wrote a little jingle for it this morning: "Tiramisu! It's so good for you! Tiramisu! It's so good for you!".
This easy caramel tiramisu recipe is the best I've tasted to date and so very simple to throw together! Instead of mascarpone, I use cream cheese and no eggs. Add in a packet of lady finger cakes, instant coffee, some fluffy whipped cream, and a drizzle of delicious caramel sauce and you have a rich, decadent, and thankfully not-too-sweet dessert that is served cold.
I love the tiramisu layers. Dig your fork into a bite and you will get so many different flavors and textures: coffee and caramel-soaked lady fingers and that deliciously sweet whipping cream and cream cheese mixture. I can never stop at just one bite though!
It's the perfect dish to take to a summer barbecue or party. If you're looking for more summer desserts, I've got you covered. Check out these posts: 12 summer pie recipes, 5 freezer-friendly summer desserts, and 6 make-ahead summer cakes.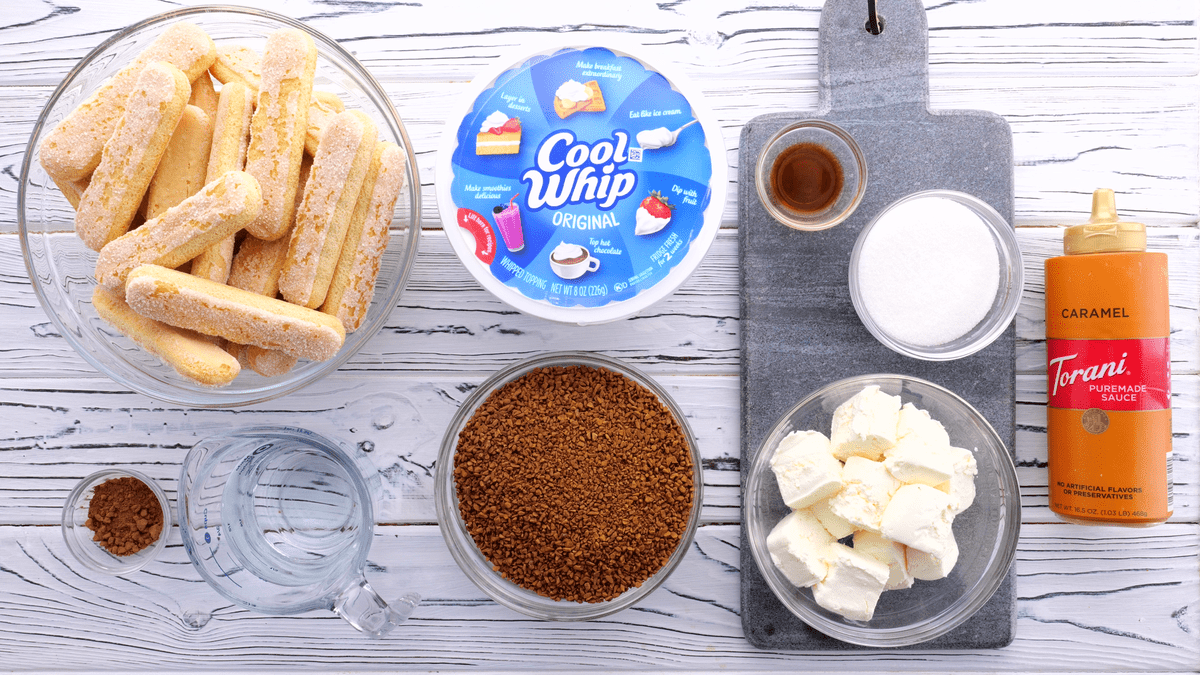 Recipe Ingredients
Ladyfingers
Light whipping cream (or regular), like Cool Whip
Vanilla extract
Cream cheese (check out my easy homemade cream cheese recipe)
Sugar (or your favorite powdered sweetener. I use Swerve).
Instant coffee
Caramel sundae syrup
How to Make My Easy Tiramisu Recipe
To start with, take 3/4 a cup of hot water and add enough instant coffee to make two cups of it.
So I'm using two of these little sleeves.
Stir that up and set your coffee mixture aside.
Place your cream cheese, granulated sugar or sweetener, and vanilla in a mixing bowl.
Mix this with an electric mixer until well blended.
Add in the Cool Whip and mix again, scraping down the sides as needed, until smooth and creamy.
In the bottom of an 8×8 pan, place the bottom half of your ladyfingers.
Ladyfingers are little soft cakes that have been split in half so you may not think you have enough but once you take them apart you do.
Now just drizzle half of your coffee mixture over those with a spoon, trying to keep it kind of sorta even if you can.
Then do a little zig-zag of some caramel on top of that.
You don't want too much, just a quick few lines. That way it will soak in and blend with the coffee flavor rather than having a runny goo at the bottom of your dish.
Spread 1/2 of your cream mixture over the soaked ladyfingers and then repeat the process one more time.
So add another layer of ladyfingers on top of the cream cheese mixture…
Drizzle the coffee mixture over them…
Add the caramel sauce…
And finish with a final layer of our faux mascarpone.
End by sprinkling a little cocoa powder over the top, if you like.
Cover with plastic wrap and refrigerate for several hours (preferably overnight).
Look at this photo. Guess what? It tastes even better than it looks.
I've heard that the word "tiramisu" is Italian for "pick me up"? I don't know about you, but I think I need a little pick-me-up right about now!
As easy as this is to make, I hope you give it a try soon!
Storage
When stored in an airtight container, your leftover tiramisu will last in the fridge for up to one week.
Freeze your tiramisu in plastic wrap and then aluminum foil for up to three months. Thaw at room temperature for about 20 minutes and then sprinkle with cocoa again before serving.
Recipe Notes
You want to use thinner caramel syrup in this tiramisu recipe, not the thick stuff that comes in a jar. The thinner the syrup, the easier it will soak into the ladyfingers along with the coffee.
Ladyfingers are sometimes hard to find. My Krogers usually have them, and Publix always does, but you may have to ask for help finding them at both places. They generally tend to hang around the bakery area. If you can't find them, you can substitute angel food cake (sliced thin), pound cake (again, sliced thin), or even a homemade yellow sponge cake. However, these will make your end product a bit sweeter. That is fine, I just wanted you to know ahead of time.
Many tiramisu recipes include alcohol, like Kahlua. If you like, you can add two tablespoons of your favorite liqueur to your coffee. Options include dark rum, brandy, or even Bailey's.
You can use whatever coffee you have on hand, whether that's cold brew, drip coffee, espresso coffee, or even decaf. We just need two cups!
The cocoa powder is optional, but you could also use

or

chocolate shavings instead.
Recipe FAQs
Can I use homemade whipped cream?
You sure can. Knock yourself out. Finding out how much heavy cream you'll need is gonna be on you so play with it until you get 3 cups. Check out my homemade whipped cream recipe with evaporated milk here.
Can I make this tiramisu recipe ahead of time?
Yes, this tiramisu actually tastes better after a couple of days and will last in the fridge for up to one week, so you can definitely make it in advance.
You might also enjoy these other no-bake summer desserts:
Ingredients
1

package

ladyfingers

12 split in half makes 24 pieces

3

cups

whipped topping

8

ounces

cream cheese

at room temperature

1/3

cup

sugar

or sugar substitute, I use Swerve

1

teaspoon

vanilla extract

1-1.5

cup

instant coffee

3/4

cup

hot water

add more hot water as need to make about 2 cups total with the coffee

1/2

bottle

caramel syrup ice cream topping

cocoa powder for sprinkling on top

if desired
Instructions
Stir enough instant coffee into hot water until dissolved to make about 2 cups and set aside.

1-1.5 cup instant coffee,

3/4 cup hot water

In a large mixing bowl, place the cream cheese, sugar, and vanilla. Beat at medium speed with an electric mixer until smooth and blended. Add whipped topping and beat again, scraping down sides as needed, until well blended and creamy.

8 ounces cream cheese,

1/3 cup sugar,

1 teaspoon vanilla extract,

3 cups whipped topping

Place 1/2 of the ladyfingers in the bottom of an 8x8 baking dish. Use a spoon to drizzle 1/2 of the coffee over them. Top your soaked ladyfingers with a few zig-zag squirts of the caramel topping.

1 package ladyfingers,

1-1.5 cup instant coffee,

1/2 bottle caramel syrup ice cream topping

Place 1/2 of the cream mixture over this and spread to cover. Repeat this process once more and then sprinkle a bit of cocoa powder on top to finish it off, if desired. Cover and refrigerate for several hours before serving. Serve cold.

cocoa powder for sprinkling on top
Video
Notes
The more coffee you use the stronger that flavor will be in the recipe so adjust the amount of coffee to your taste.  You may need to add more hot water.  Adjust to your liking.
Nutrition
Calories:
347
kcal
|
Carbohydrates:
48
g
|
Protein:
8
g
|
Fat:
14
g
|
Saturated Fat:
9
g
|
Sugar:
14
g