Today, Mama shares her recipe for Fabulous Dried Apricot Muffins with us! Take it away, Mama!
Today I am bringing you a recipe for some wonderful muffins.  They have little nuggets of golden deliciousness in every bite.  But first, I'd like to tell you how I came to have this recipe.  If you are a regular reader of Southern Plate stories, you know that both Christy and I have had accidents that broke both our legs. I broke both of mine in 2004 and Christy's accident was last year.  Now you may think the odds are that very few people have that happen to them.  But before I was in my accident, a friend of my ours had a terrible car accident that broke both her legs. When she found out about my accident, she traveled over 100 miles to visit with me and give me hope.  She was the one person I knew who could answer all my questions.  I remember that my number one question was, "Will I ever wake up in the morning and just get out of bed without having to think about it?"   She assured me that I would and I have!  I may never be "as good as new" but I'm just proud to be here and grateful for every day I have.   Her visit with me meant so much, more than she will probably ever realize.  I only hope that I have been able to convey that to her.
When she came to our house, not only did she bring hope and some things to make me more comfortable, she also brought two baskets of wonderful muffins.  Muffins are one of my number one favorite treats. Christy feels that way about cookies.  As I have told you before, I am a bread lover and muffins are the dessert of breads, literally. I am always on the lookout for a new and delicious muffin recipe.  It is one of the first sections I go to in every cookbook I look through.
These muffins are great to have on the weekends when you just want to sit and relax before starting the day or for a brunch with an omelet or fruit salad.  I have made them the day before and reheated them in the microwave and they are just like fresh from the oven.  Don't be surprised if the dough doesn't look like normal muffin batter.  It is much thicker but turns out with wonderful results.  They would be equally good with dried peaches.  If you are a muffin lover like me, please give these a try.  I know you will not be disappointed.
This is the line up for our delicious apricot muffins.  We will need dried apricots, water, sugar, butter (or margarine), sour cream, flour, baking soda and salt.
Chop apricots with a sharp knife and soak in boiling water for 5 minutes.
In mixing bowl, cream butter and sugar until fluffy.
Add sour cream and mix well.
This is what your mixture will look like after you have mixed in your sour cream. 
I could have left this picture out but it wanted to be included so much!
Combine flour, baking soda and salt.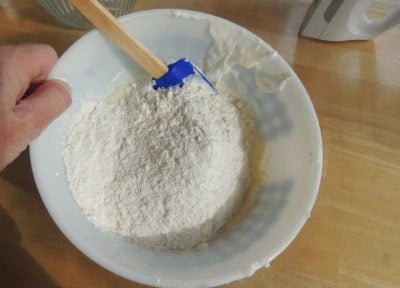 Pour dry ingredients into batter mixture and fold in until well combined.
Drain apricots and pat dry with paper towels.
Dump those apricot nuggets into your batter.
Now isn't that so pretty?
 Like little sunshine pieces just waiting for you to taste.
Stir to incorporate the apricot pieces.
Line muffin tin with papers and fill 2/3 full.  I had 15 muffins instead of the 12 but that gave me three to eat with no guilt!  If a recipe makes extra, the extra should be for the cook to enjoy.  At least, that's my way of thinking today.
Bake in a preheated 400 degrees oven for 18 to 20 minutes or until lightly golden brown.
Slather with butter, eat, and enjoy!  Have a wonderful day!
Ingredients
1

cup

chopped dried apricots

1

cup

boiling water

1

cup

sugar

1/2

cup

butter or margarine

1

cup

sour cream

2

cups

all purpose flour

1

teaspoon

baking soda

1/2

teaspoon

salt
Instructions
Soak diced apricots in boiling water for 5 minutes.

In large mixing bowl, cream sugar and butter until fluffy.

Add sour cream, mix well.

Combine dry ingredients; Stir into creamed mixture just until fully mixed.

Drain apricots, pat dry with paper towel and stir into batter.

Fill greased or paper lined muffin cups.

Bake at 400 degrees for 15-20 minutes or until tests done.
Nutrition
Never let a stumble be the end of your journey. 
~Unknown